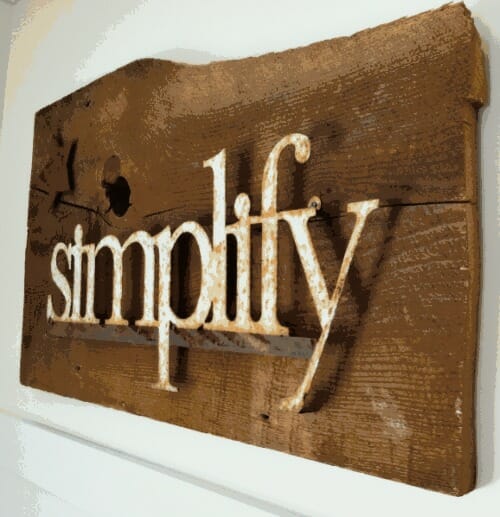 In general, I'm home A LOT — mostly by choice, since I've chosen to work from home while my kids are around. But also, in the super cold, extremely snowy, LONG winter months, it's almost impossible to easily get out and about with 2 little kids.
Being home all the time can get old, and sometimes frustrating when the kids just need to run around for a while, but for the most part, I like it (and I honestly think my kids do too).
However, it also means it's even more important for my home to feel simple, organized, bright, cheery, user-friendly, inviting, etc. etc. because who wants to sit around all day in a place that doesn't feel welcoming and inviting?? Not me!
Of course, I'm not going to walk around behind my kids picking up every last crumb, toy, book, or game. But I have noticed that there are a few things I do every single day (out of habit now) that really help my home to feel "homey" — and a place I love spending all my hours each day.
.
As you'll hopefully notice, the 6 tips listed below are all extremely simple, usually only taking a few seconds or maybe a couple minutes to implement. And if you do any of these things around your house, you can most likely testify to the fact that these simple gestures do, in fact, make huge difference in the overall "feeling" and "vibe" your home gives off.
Also, I should mention that I do not do any of the things listed below in attempts to make my home more presentable for unexpected guests or because I'm worried someone else might think my home is messy and cluttered. NO, the 6 things I've listed below are done because it helps ME to enjoy spending time in MY home. Period!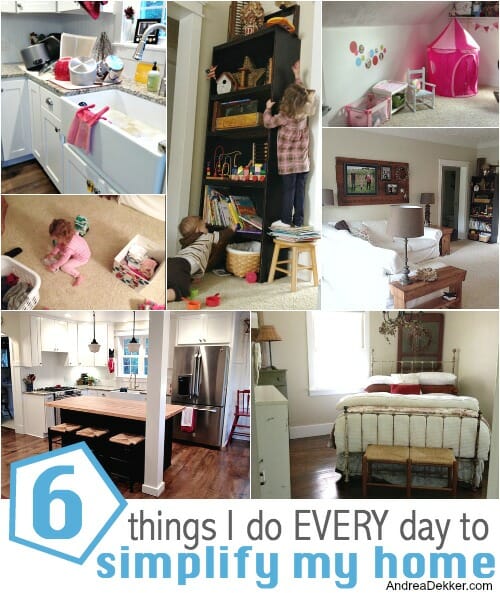 1. Make the beds.
This is #1 on my list for a reason… I absolutely can not stand looking at messy, unmade beds in my house! It literally takes seconds to make the beds (especially kids beds) and it instantly transforms the entire room to look neater, more organized, less cluttered, more inviting, etc.
I can honestly say that I can't remember a time (ever) in my entire life when I have not made my bed for the day.
2. Open the curtains.
I don't like dark, dreary rooms — and since we use room-darkening shades on almost all our windows, I immediately open all the curtains and blinds at the first hint of daylight (our house is set back off the road a ways, so we don't need to worry about people looking in.)
This takes me less than 1 minute and it instantly makes everything lighter and brighter (literally and figuratively!)
3. Clear off tables and counters.
I know I'm more anti-clutter than some people — but I do think we would all agree that less surface clutter creates a simpler, more calming, and more peaceful atmosphere.
I certainly don't think every flat surface needs to be 100% spotless, but in general, I like to have my kitchen table, my kitchen counters, and my bathroom counters relatively clutter free.
This usually involves putting a few dishes away, putting the toothbrushes back in the drawer, hanging up a towel or two, and quickly wiping down the counter to remove any crumbs from breakfast. Nothing major, but it's an instant pick-me-up!
4. Stack dirty dishes.
Although we put almost everything in the dishwasher (even small pots and pans), we do hand-wash larger pots, pans, casserole dishes, baby bottles, and some of our good knives. However, we usually only wash dishes after dinner at night — so if I get any hand-wash-only dishes dirty during the day, they will sit out for several hours, which means I need to stare at them all day long.
To make things look just a bit neater, I'll often stack them nicely right next to the sink. Sometimes I'll even put a kitchen towel over them to "hide" them from plain sight.
I realize this might sound a little dorky, but I do feel like it helps to make the kitchen seem cleaner and neater — and no, I'm not trying to impress anyone, this is just how I like it for myself (and remember, I'M the one who's home all day!)
5. Pick up as we go.
Again, I don't want you to envision me ruthlessly running around behind my kids picking up every single thing they get out… but I will say that we have regular pick-up times throughout the day, and we do pick everything up at those times.
Before we eat lunch and before bed are the 2 major pick-up times… but sometimes we'll do quick mini-pick-ups before dinner, if we're leaving the house for a while, if friends are coming over to play, or if we've made such a huge mess and there's no more floor space to comfortably play 🙂
I think this "rule of thumb" is great for kids — but also adults too.
I'm always on the look-out for things I can quickly pick up and put away throughout my house — clothes, towels, games, toys, papers, kitchen items, food, mail, etc.etc. It takes me 10 seconds to grab something and put it away — and doing this all day long means there is little left to do at the end of the day.
6. Go through my nightly routine.
Speaking of the "end of the day", Dave and I have our own nightly routine… and WOW, does it make a HUGE difference in the overall look and feel of our home.
You can read about our routine in more detail here… but the basic concept is that we quickly do a general once-over of the entire house after the kids are in bed. We finish cleaning up anything from dinner and anything from the kids' baths. We wash the dishes, pack lunches, get stuff ready for breakfast or pull meals out of the freezer for tomorrow's dinner. We put away any toys, books, games, or clothing left sitting out, fold any remaining laundry, etc. etc.
I know this might sound like a lot, but since I try to keep up on things during the day, since we do this every night, and since we do it together, it honestly takes between 15 and 30 minutes total, to do everything listed above (and yes, it's totally worth that 15-30 minutes!)
Not only does this allow us to both enjoy a couple hours in a nice clean home before we go to bed, it also allows ME to sleep better knowing everything is put away and cleaned up… and I don't think I have to mention how fabulous it feels to wake up to a relatively clean and organized home every morning!
.
Like I mentioned above, these 6 things are all relatively simple habits to develop and besides #6, they all take mere minutes (or even seconds) to accomplish. And the payout from these simple tasks is so rewarding — it makes it that much easier for me to stick with these daily and nightly routines.
As someone who spends many MANY hours at home each week, I can confidently say that these 6 simple tasks, chores, to-dos (or whatever you want to call them) have greatly improved the overall feel and mood of my home — if that makes any sense!
And honestly, even if you aren't at home all day, every day, I can't imagine you would NOT benefit from implementing some of these simple tips into the time you do spend at home.
What are your best daily tips and tricks for a simplified home?