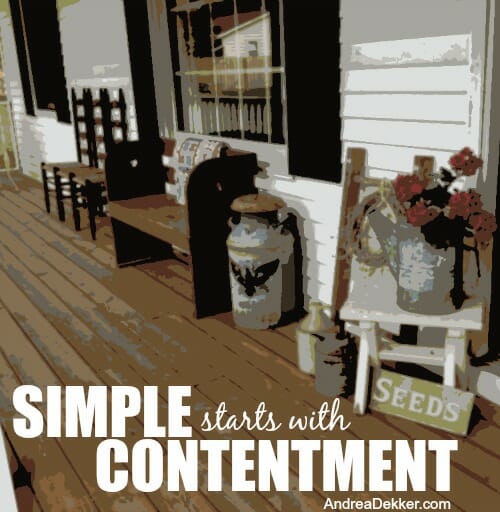 Last week, I shared a little bit about What Simple Living Means for Me, and as I wrote that post I kept coming back to the idea that "simple starts with contentment".
During the past several years of my life, I'm confident that the times when everything feels the simplest and least chaotic or stressed have also been the times when I'm most content — and I know many friends and family members who would agree, based on their own life experiences.
Now, for those of you who know me, you might be thinking that I'm not necessarily very content because (as I've mentioned many times before) I'm constantly striving to improve and better myself, my business, my family, my home. etc. etc.
And you're right!
However, I think there IS a difference between striving to improve, and never ever being content with where you are right now.
For me, I thoroughly enjoy thinking ahead to different house projects we want to save up for, when we want to work on them, and what we want the end results to look like. I also frequently look for opportunities to learn more about my various hobbies, blogging, house projects, etc.
And while I'm definitely not always content (I think that would almost be impossible) I do feel I've gotten A LOT better at accepting and enjoying where I am right now, versus constantly reminiscing about "the good old days" or anxiously awaiting the fun stuff in the future.
Obviously, it's still really fun to think back on great memories we've had in the past, and to get excited about upcoming opportunities; but for the most part, I've been trying harder to be more content — and I can tell my efforts are paying off in the form of a simpler, more organized, less stressed home and life.
This does not mean everything is EASY or FUN or PERFECT or TROUBLE-FREE. It just means that I'm trying not to stress about as much (especially not about the small things) and just enjoy my current situation — whatever that may be.
If you're striving towards a simpler way of life, I'd encourage you to also strive towards more contentment. Here are 5 concepts that have helped me — and they might just help you too!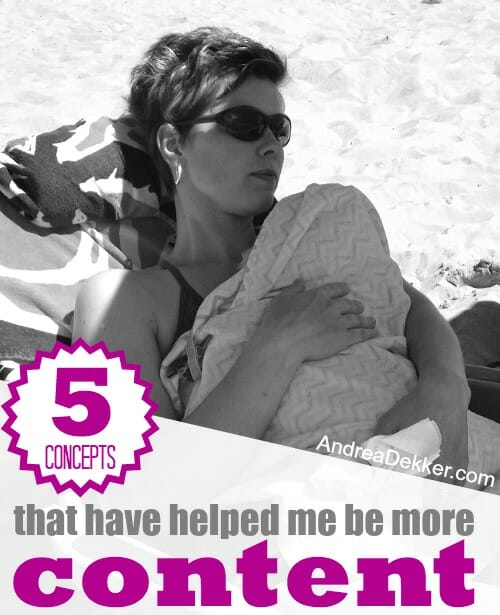 1. Shop Less.
I've never been a huge shopper — but I do really enjoy online shopping because I've been able to find some AMAZING deals and freebies via some of my favorite online shopping sites.
However, I've found that even the best deals on Craigslist, Amazon, or ThredUp can cause me to want more or be less content with what I already have — especially if I can find something "better" or "newer" for only a couple bucks.
So every now and then, Dave and I will implement a full month of no-spending. This might sound extreme, but we do have some ground rules that allow us to still pay our utility bills, buy basic groceries, etc.
Doing something like that once a year can really bring some perspective to how much time we spend shopping and thinking about things we want to buy. If you think about it, even window shopping, grocery shopping, or flipping through weekly store ads can easily cause us to want more or different things and be less content with what we already have.
2. Take a Break from Media.
This might sound a little crazy for me to say — considering I make my living from the internet. However, I will say that over the past few years, I have MAJORLY cut back on the amount of media I expose myself to on a regular basis.
We canceled our newspaper subscription and all our magazine subscriptions over a year ago. And thanks to our love of Netflix and ChromeCast, we watch almost no live TV — which means no commercials.
I've also scaled back on the amount of social media I do. Even though I KNOW it would be beneficial to my business to be involved with Instagram, Twitter, Pinterest, Google +, etc. etc. I've resisted the urge to spend any amount of time with those social media platforms.
I use Facebook, and that's about it. And even with Facebook, I use it almost exclusively for business purposes because I've found that when I'm on my personal Facebook too often, I end up reading about all the fun trips and vacations and outings people are taking — while I'm here at home with my kids in the freezing cold Michigan winter!
I'm not saying I have anything against the other social media options or that I'll never use any of them, I'm just saying that right now, I'm content and happy to stick with Facebook and not spend much time on anything else.
Also, while I'm hesitant to admit this, I read VERY few other blogs because I've found that when I see all the cool trips or sponsors or giveaways or opportunities other bloggers have, it makes me feel like I should be doing more to grow my blog and build my business. And, as I mentioned in this post last week, I really don't want to spend my time growing and building my blog because I truly am content with where things are right now — and any extra time is better spent with my family.
3. Make a "Done List" and/or Start a Gratitude Journal
I blogged about making a "done list" several years ago, and I still get random emails and comments from people who have claimed that making a "done list" has totally changed their outlook on daily life — and I fully agree.
There are SO many days when I'm feeling bad about how little I've accomplished, like I've done nothing productive, or like I have little to show for the last 24 hours… until I actually write down (or at least think about) everything I've done that day.
It's amazing how much more content I feel after realizing my day was not a total "waste".
Along the same lines, starting a Gratitude Journal is a great way to look back on our day or our week and realize everything we have to be thankful for. I can't speak for everyone, but I have a feeling that if you have access to the internet to read this post, you're most likely better off than millions of people around the world without homes, food, clean drinking water, access to education, or other basic necessities.
When we look at life from that perspective, it's almost impossible NOT to be more content!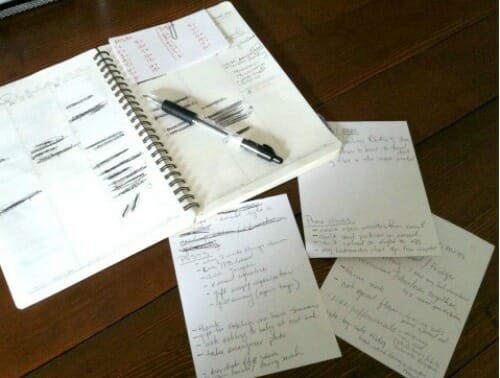 4. Stay Home
I know what you're thinking — the fact that Dave and I are more introverted, the fact that I really enjoy being home, the fact that I work from home and Dave is home all summer long…
And you're right — we do live a very "homecentric" life. However, I also think that staying home has played a HUGE role in our ability to keep things simple, even with 2 full-time jobs, little kids, tons of house projects, and all the extra stuff we do.
This does not mean that we never leave the house or never do anything fun with family and friends. But it does mean that we seriously question and evaluate whether certain opportunities are worth it for us or whether they will just cause more stress and craziness.
Even simple opportunities to go out to eat or to a local attraction usually cause us to want something we didn't want before we left the house (sometimes unconsciously) and with little kids, the "can we have this" almost never stops when we are out and about. Everything from a ride on the carousel at the mall to special candies in the grocery store check out lane are often begged for over and over again.
Needless to say, we often feel it's a lot simpler and easier to spend more time at home versus going out and about. Plus, this decision also saves us time, energy, and money (win, win, win!)
5. Purge Things you Don't Need, Use, Want or Love
Obviously, I can't write a post about simplifying and contentment without at least mentioning the importance of purging 🙂
And not just purging for the sake of getting rid of things and creating more space (although those are both huge benefits). More importantly, when you purge, really stop to think about the things you no longer need, use, want or love.
I know that when I get rid of those unwanted, unneeded, unused, and unloved items around my house, I instantly feel a weight lifted off my shoulders. More breathing room, more space, more peace of mind, and more happiness — all of which are helpful when striving towards more contentment.
Also, I've found that when I purge the stuff I'm not using, I appreciate, value, and use the things that are left that much more.
As always, I'd encourage you to start small — maybe pick one thing from this list to work on for a while. Then add in another.
I did not make these changes over night — and to be perfectly honest, I didn't make all of these changes voluntarily! Having kids (especially a fussy, sensory baby like Nora) forced me to simplify, stay home, shop less, etc. etc. out of sheer necessity to preserve any amount of sanity I had left.
After a couple of years of living that way, I realized how much more content I was… and that my life was actually much simpler than before!
Crazy all the things we learn from our kids 🙂