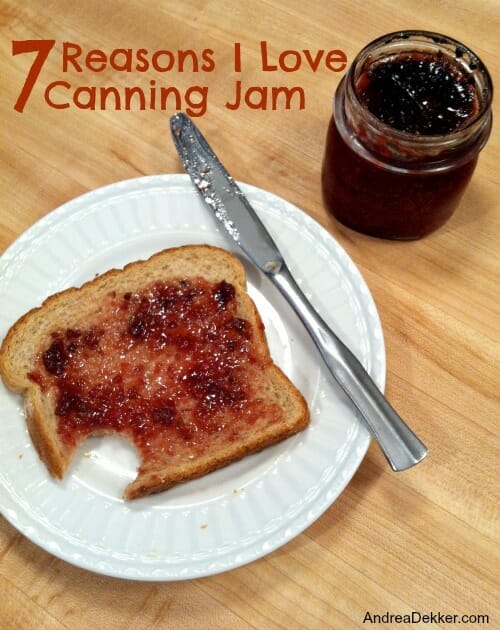 When it comes to home-canned fruits, veggies, sauces, salsas, and jams — there really is nothing better (at least in my opinion).
If you've never tasted home-canned foods, you don't know what you are missing. However, unless you intend to start canning, I wouldn't recommend trying home-canned food… because once you do, it will be REALLY hard to go back to the store bought stuff 🙂
I will be the first to admit that although I do love the taste of home-canned food, I don't always love the canning process. It can be labor intensive, time-consuming, and messy — and unless you grow all your own produce, it can be even just as expensive as buying store bought fruits, jams, salsas, etc.
However, it's the taste that keeps me canning year after year (also the lack of preservatives and the fact that I can use all local Michigan ingredients)
In my opinion, peaches, applesauce, and salsa are some of the messiest and most tedious foods to can — but I still do it because we love the taste and I love having a pantry full of fresh-from-the-garden foods during the cold winter months.
Jam, on the contrary, is one of the easiest.
I absolutely love canning jam!
Want to know why?
Here are just a FEW of the many reasons:
1. Home-canned jam taste 100 times better than anything you could ever buy in the stores.
.
2. Home-canned jam is relatively frugal if you pick your own berries.
Depending on the price of the berries, it usually costs me less than $1 per jar (including the cost of sugar and the lids) to can my own jam. I honestly have never purchased jam from the store, but I think it's significantly more than $1 — and the two products really can't compare.
3. Home-canned jam only takes about 20 minutes per batch (with my time-saving tip).
Yes, I've timed myself — numerous times 🙂
And in case you're wondering, a batch of jam make approximately 6-9 cups. The picture below is 2 batches, but I used tall jam jars for most of it because we eat it fast enough and this way, I need fewer lids.
4. Home-canned jam can be accomplished any time of the year.
Thanks to my trusty time-saving tip where I freeze the smashed berries the day I pick them (to lock in the freshness) I am able to can jam whenever I have the time — even in the middle of January.
And if you don't want to pick your own berries (or if you ran out of time this summer) just go purchase a few bags of frozen berries from the store. It might be a bit more expensive than picking your own, but the taste will be the same and you'll save yourself a few hours in the hot sun!
5. Home-canned jam requires very few ingredients and supplies:
berries or fruit of choice

sugar
fruit pectin (Sure Jell is a common brand)
some sort of container (you can use plastic if you're making freezer jam, but cooked jam requires glass canning jars)
lids and rings (not applicable for freezer jam)
a few bowls, spoons, and a ladle
a large pot
some towels
That's it, you con't need any professional, bulky, or expensive canning equipment — plus, it doesn't take hours to clean up the kitchen after you're finished.
6. Home-canned jam only requires a small amount of fruit.
There's no need to spend hundreds of dollars on produce to make jam — you can literally start with just a few cups of fruit. Most of the recipes I use call for 4-6 cups of mashed fruit — which is usually around 2 pints of whole berries.
Even with the sugar, the lids, and any other supplies you might not have, you could most likely can your first batch of jam for less than $15… so if you totally mess up and ruin your jam (you probably WON'T) you will only be out a little time and money.
Granted, I usually get a lot of fruit when I can jam, but I only can jam every 2-3 years so I do a whole bunch and then I'm set for a while. However, if that is really overwhelming for you, just start with a few cups of fruit this year and see if you like it.
7. Home-canned jam makes amazing (and relatively frugal) gifts.
I've given lots of food gifts that include a jar of home-canned jam, and almost every time, they rave on and on about the jam (maybe this says something about my cooking though!)
One of my favorite food gifts to give to busy families is lunch-packing supplies. And of course, no lunch-packing supply package is complete without at least one jar of homemade jam 🙂 I've also given homemade jam and freshly baked bread as gifts for Christmas or birthdays (especially to people who don't necessarily want/need tangible gifts).
It never goes unappreciated — that's for sure!
.
OK, so for those of you who are licking your lips and thinking "I need to can some jam", here are a few more resources for you:
I promise that although it might seem overwhelming at the beginning — and you might have a few mess-ups the first time — once you get the hang of it, you'll realize just how easy it is to can your own jam.
The only problem is that you'll never be able to revert back to store bought jam!
What are your favorite reasons for canning jam?