Last week Wednesday morning, I picked over 17 pounds of strawberries.
I had been trying to get out and pick berries for a couple weeks already — but you know how it goes…something else always came up.
Then, on July 2, I checked the website for the U-Pick farm I was planning to pick from and it said July 5 was the last day for picking (and they were closed on July 4). So, I made arrangements to pick the very next day (July 3), and hoped it wouldn't rain!
Well it was cloudy, cold, and over-cast… but it didn't rain, and I got more strawberries than I actually needed, so I was thrilled.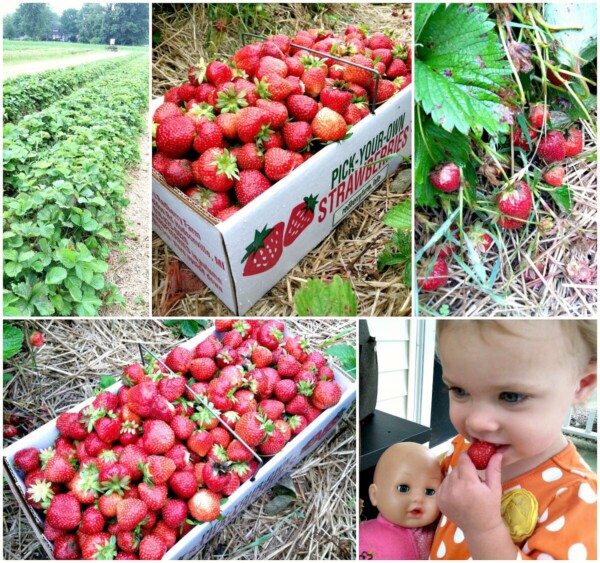 If you've ever picked fresh-from-the-farm berries, you know that once you get them home, there's only a small window of time before they start going bad, getting molding, and turning to mush (like only 2-3 days at the most). So since I obviously didn't want to waste any of my time, money, or these delicious berries, I started washing and slicing them up right after I got home.
In case you're wondering, 17 pounds of strawberries is A LOT to wash, hull, smash, slice, etc. — especially after you've just spent the morning hunched over picking the berries. It's definitely worth it — especially since I only can jam every other year — but it's still a long morning/afternoon of strawberries.
As you can imagine, the last thing I felt like doing after spending all morning picking berries and all afternoon washing, smashing, and slicing berries was to spend all night making another huge mess in my kitchen canning jam.
No thank you!
Plus, some of the jam I make requires the addition of blueberries and raspberries — neither of which are available locally yet.
So once the berries were washed, I smashed them up just like I was going to make jam… BUT I didn't actually make any jam.
Note: the next sentence is my tip — don't miss it!
Instead, I measured out exactly how many cups of smashed berries I would need for my different jam recipes (strawberry, triple berry, and strawberry/rhubarb) and put that amount of smashed strawberries into individual (labeled) freezer containers.
By doing this, I'm assured that the freshness of the berries is at it's peak, and I give myself the freedom to can jam whenever I have the time, energy, and necessary ingredients.
Now doesn't that just sound WAY less overwhelming!
.
For example, I'll do the same thing when I pick blueberries and raspberries in mid-July and late-August, so later this fall, when I make the time to can a couple batches of triple-berry jam, all I have to do is defrost my pre-measured containers of smashed strawberries, smashed blueberries, and smashed raspberries; then add my sugar and pectin, and I'm making jam.
No picking, washing, cutting, smashing of any berries. No extra mess in my kitchen. No extra hours spent.
I can finish an entire batch of jam (and clean up) in about 30 minutes flat once the berries are defrosted — heck, I can probably even do that during one of Nora's short naps 🙂
.
I'm waiting to get free rhubarb from my parent's garden, so whenever I get the rhubarb, I'll defrost the strawberries for my favorite strawberry-rhubarb jam. And since I'm super busy this week getting ready for our upcoming vacation, I decided to put berries for my strawberry jam in the freezer too. We still have 1 jar of strawberry jam and 2 jars of strawberry-rhubarb jam left, so I'm in no rush to make more before we leave.
For those of you who might be hesitant to freeze your smashed berries for jam, let me assure you that I have personally done this many, MANY times and never once experienced any negative side-effects from using frozen berries (and I've canned a lot of jam).
Since I literally freeze the berries within hours of picking them off the plants, the frozen smashed berries taste super fresh and the jam has tons of flavor. Also, in case you're wondering, I've left my berries in the freezer for several months (even over a year) with no issues.
.
If you have ever felt overwhelmed by the thought of canning your own jam, please try this tip. If worse comes to worse and you decide not to make jam, just add some sugar to your containers of smashed berries and use them as a yummy topping for ice cream or strawberry shortcake!
By the end of my crazy "strawberry day", I had all 17+ pounds of berries washed, hulled, sliced or smashed, and divvied up into containers for jam, shortcake, and smoothies… all stacked nicely in the freezer.
I did leave one huge bowl of berries out for eating and making a couple of my most favorite strawberry pies 😉
A Few More Jam-Making Resources:
I hope this tip will help you to simplify the process of canning jam, and give you the confidence to try making a batch (or more) of jam this summer. I promise, it's not as overwhelming as you think… and if you've never tasted homemade jam, you have NO idea what you've been missing out on!!
Get out there and pick (or buy) some berries, smash them up, and put them in the freezer for the next time you have a "Martha Stewart Moment" and feel like making homemade jam.
What are your best tips for simplifying the canning process?