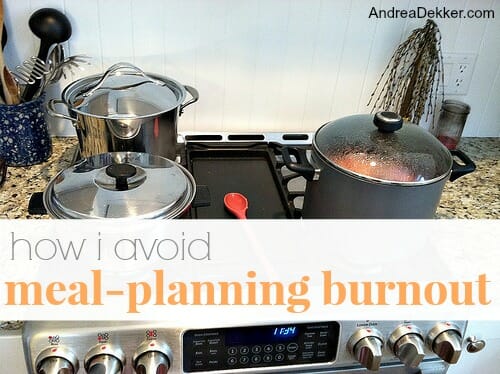 I get lots and lots of meal-planning questions — especially this time of year when the weather is cold and people are more willing to stay in the kitchen and cook. More recently, I've gotten a handful of questions asking how I avoid meal-planning burnout — or what I do when I start feeling meal-planning burnout coming on.
At first, I wasn't quite sure how to answer this question, but after thinking about it for a few weeks, I came up with 6 main factors that have really helped me to simplify my meal planning and (for the most part) avoid meal-planning burnout.
1. I use daily themes to plan our menu each week.
Instead of planning a specific meal for each night of the week (which can sometimes feel overwhelming), I've created "themes" for each weeknight.
MONDAYS: Mexican or Italian

TUESDAYS: Casseroles or stews

WEDNESDAYS: Breakfast

THURSDAYS: Meat (pork chops, chicken, ribs, burgers, brats, steak, meatloaf) or leftovers

FRIDAYS: Mexican or Italian (whatever we didn't have on Monday)

SATURDAY: Soup, salad, sandwiches, leftovers, or out to eat

SUNDAY: Lunch with family, a big meal at home, or leftovers (depending on what we did Saturday and the rest of the week). We also have frozen pizza almost every Sunday night.
So even though I still have TONS of different recipes to choose from each night, I now have a "guide" to go by.
Also, I should mention that we don't follow this plan 100% of the time. This is our GUIDE, but depending on our weekly schedule or the types of meals I make, we might have leftovers more often or we might skip eating at home for various reasons (basketball team dinner, plans with friends or family, etc.)
I've been planning our meals this way for almost three years now, and in general, it has made meal-planning a lot less overwhelming and it helps me make sure we're eating a decent variety of meals (not just pasta every night).
Read more about this system here.
.
2. I usually only cook 2-3 meals a week.
So this might sound like I'm directly contradicting everything I just said above — but it's true, I usually only end up cooking a full meal 2-3 times a week.
Here's how I make this work on a weekly basis…
0-1 night = eat at family's house, friend's house, or go out to eat.

1-2 nights = salad, sandwiches, or leftovers.

1 night = breakfast (which doesn't usually require much "cooking")

1-2 nights = meals from the freezer.

Since I often make double or triple batches when I do cook, we have several pasta dishes, casseroles, soups, stews, etc. in the freezer for busy weeknights. This means that at least 1 or 2 times a week, I can simply pull our meal from the freezer. Depending on what the meal is, I might also make veggies, a salad, potatoes, fruit salad, or bread to go along with it.

2-3 nights = cook a full meal.

And when I do cook a full meal, I often try to make a double or triple batch of whatever I'm making so our freezer stays stocked. Since our family is small, this doesn't take much extra work and saves me SOOOOO much time in future weeks and months.
For me, having a couple meals in the freezer all the time (and planning for leftovers or going out to eat) makes meal-planning feel much less overwhelming because I know I won't have to cook every night of the week.
Read more about this concept here.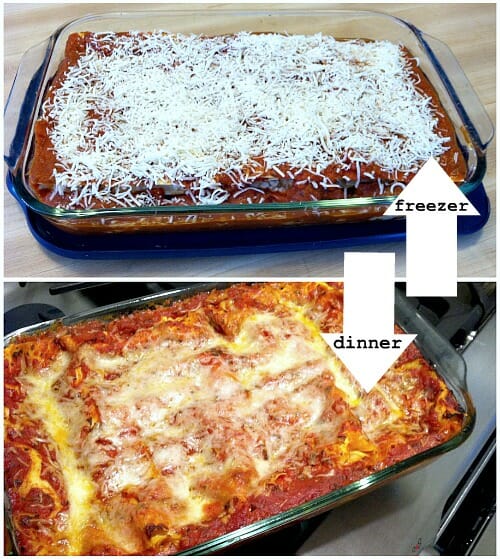 .
3. I keep lots of partially cooked foods and ingredients in the freezer.
Along with keeping a few full meals in the freezer for those busy nights when I don't have time to cook, I also TRY to keep lots of partially prepared foods and ingredients in the freezer to make cooking on other nights more manageable.
For example, I almost always have 2-cup containers filled with cooked and shredded chicken and turkey, and 2-cup containers filled with cooked ground beef, ground turkey, ground sausage, and even prepared taco meat. This makes whipping up a quick casserole, quiche, lasagna, or Mexican meal a snap because the meat is already cooked and ready to go. I can simply add noodles, rice, veggies, etc. and shove it in the oven!
Another time and money-saving thing I've been doing for the past few years is buying discount produce (specifically peppers, onions, broccoli, carrots, etc.) Since they sometimes aren't great to eat raw, I wash them and chop them up into bite-size pieces when I get home, and then put them in gallon zip-top bags in the freezer for quick stir-fries, casseroles, soups, etc.
I can't tell you how much time and energy this has saved me when 5:00 PM rolls around. I can just dump the already cooked, washed, and chopped ingredients into a simmering pot of soup or into a hot pan and most of the work is done for me!
Read more details about how I make this work here.
.
4. I take our weekly schedules into consideration before making my meal plan.
Since Dave and I often have VERY different schedules week-to-week, we almost always need to take that into consideration before I can even begin to plan our meals.
Here is a rough outline of the process I go through when planning our meals — and keep in mind, although it seems long and drawn out when it's typed, it only takes a few minutes to actually walk through the following 3 steps.
STEP 1: Go over our weekly schedules.

Dave and I sit down on Sunday afternoons and quickly go over each other's schedule — when he has practices and games, when I have meetings and phone conversations, which one of us will be putting Nora to bed, etc. etc.

STEP 2: Figure out what time we will eat each night.

This is not exact, but because we both have very different schedules, it's helpful to know when each person will be coming home and/or leaving again so I can decide when we'll need dinner to be ready.

STEP 3: Plan meals to fit around our weekly schedule.

If I know Dave won't be home from practice until 6:30, then I know I'll have extra time to make a meal that night. Or if Dave is coming home at 5:00, but then I need to leave at 5:30, I know that might be a good night for leftovers (so I'll plan a bigger meal the night before to assure that we'll have leftovers).
Obviously every week doesn't go according to our plans! Sometimes we have an unexpected event that changes our schedule, someone gets sick, we don't have the right ingredients in the house, or a dinner invitation gets canceled at the last minute.
In these situations, I like to have some type of back-up plan. I always have ingredients to make pasta, quesadillas, or breakfast in the house… and if worse comes to worse, we'll have grilled cheese, frozen pizza, or Culver's 🙂
So even if we're not eating at home every night of the week, the fact that we take a few minutes to consider our schedules BEFORE I make my meal plan helps to avoid meal-planning burnout because I rarely ever waste my time making a meal that doesn't get eaten or planning something for a night we won't have time to eat at home anyway.
.
5. We eat REALLY simply.
I think the biggest issue when it comes to meal-planning is that people try to go over-board or think that just because they are actively planning a weeks worth of meals, it has to be elaborate, fancy, or gourmet.
Nope — that's now how the Dekker's do it!
Yes, there are days when I go all-out and make a huge ham dinner, a roast with all the side dishes, or even "Thanksgiving dinner" in the middle of the week — but that's definitely not normal for a weeknight. As you can see by the content above, we eat very simple meals of pasta, casseroles, soups, salads, sandwiches, etc.
However, I don't think "simple" needs to mean "boring" — and I think both Dave and I will agree that "simple" can be VERY DELICIOUS! Plus, I can guarantee that making a simple meal at home is a lot faster, cheaper, and healthier than not having a meal plan and going out to eat every night.
And in case you're wondering, I get most of my meal-planning inspiration from my own blog — not that I have such awesome recipe posts in my online recipe box, but just because those are honestly our favorite recipes, the ones I always have ingredients for, and the ones I can practically whip up without even looking at the recipe!
Read lots more about what specific foods we eat for breakfast, lunches, dinners, snacks, etc. in this post.
6. We're not "foodies", we're not picky, and we have no food allergies or sensitivities.
The fact that neither Dave nor I are "foodies" (or picky eaters) definitely helps when it comes to meal-planning too. We do not feel the need to have gourmet foods, we don't feel it's essential to eat natural and organic all the time, and we don't have an issue with eating semi-homemade meals or some processed food.
And although I don't have any experience meal-planning for someone with food allergies or sensitivities, I can pretty much guarantee meal-planning is more difficult in these situations. We fortunately don't have to work around any of this — which makes it SO much easier and offers a wider variety of simple meal options.
As I think about my meal-planning experiences, these are the 6 factors I believe have helped me avoid meal-planning burnout. Yes, there are days and weeks when I'm not super excited about planning our meals, but then I just remind myself that it will only take a few minutes and that it saves me SO much time and stress later in the the week.
A few more meal-planning resources:
Here are all my meal-planning posts
Here are all my freezer-cooking posts
Here is my entire online recipe box
Here are a few sample meal plans from previous years
Here's a link to my free printable meal-planning resources
If you're experiencing meal-planning burnout, I hope that some of these tips and resources will help!
Meal-planning really is a fabulous way to save time and money — you just need to find the system that works well for you and your family.
What are your tips to avoid meal-planning burnout?