Fun Fact: There are 85 different shades of white in the line of Behr paint at Home Depot! I'm sure I would love them all; however, I hope I never do that much painting — ever.
Dave and I closed on our first house 7 years ago this month — and we've been painting like crazy ever since. Well, I'm usually the one who paints, but Dave does the taping (and agrees to live in the mess of all my painting projects) so I still consider it a team effort!
I had never painted anything before we bought our first house, and I was sure I would mess something up. However, after a few long afternoons of painting, I started to get the hang of it and quickly realized just how easy (and inexpensive) it was to completely transform a piece of furniture or an entire room with just a little paint.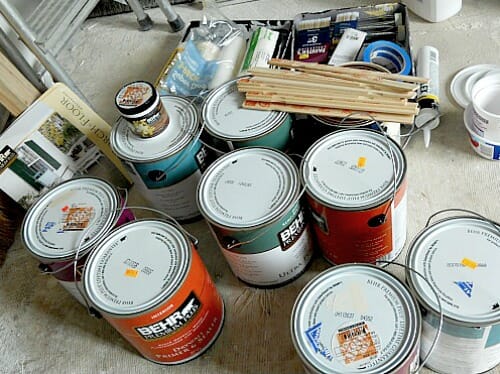 Painting isn't necessarily my most favorite activity in the whole world, but I do enjoy it for the most part — and that's good because we've gone through over 40 GALLONS of paint since we've moved into our farmhouse…
YIKES!
Anyway, as I share more and more picture of the interior of our home, I continue to receive more and more emails asking about the different paint colors we use. And since I have a select few favorite colors I use over and over again, I thought it would be a good post topic.
Keep in mind, that I know absolutely NOTHING about interior design, I have no training, and I have never sought a professional opinion — these are simply the colors I like best (all of these colors are Behr colors — and no this is not a sponsored post.)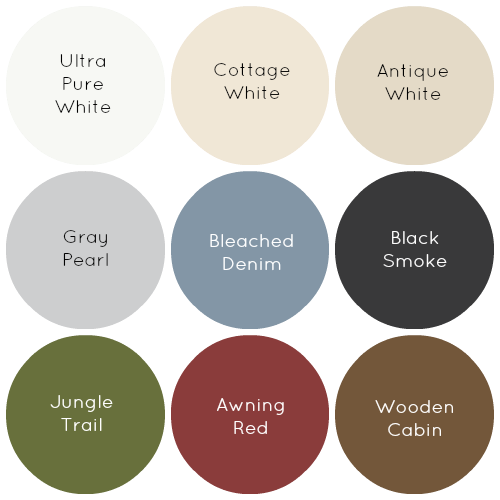 Ultra Pure White:
I use this color for all the trim — doors, windows, baseboard, crown molding, beadboard, etc.
Cottage White:
This color has a bit of a yellow undertone and it's super cheery. It's the color of our kitchen, Nora's nursery, our hallway, and our office.
Antique White:
This color is more "tan" than "yellow". I used this color in our living room, our master bedroom, and our master bathroom.
Gray Pearl:
I used this color in the bedrooms and bathroom upstairs. I really like it but I'm sure that whenever we renovate the upstairs, I'll choose something a little more neutral 🙂
Bleached Denim:
We used this color for the upstairs landing area — and I really love it. The color looks quite purple in the picture below, but it really is more of a denim blue.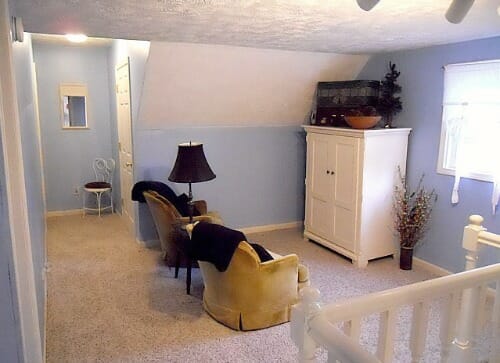 Black Smoke:
This color is only used for furniture – no black rooms in our house! We have lots and lots of black furniture and it all gets painted with Black Smoke.
Jungle Trail:
I use Jungle Trail a lot — on Dave's dresser, the armoire in our living room, and our kitchen chairs to name a few. I usually go over it with a brown glaze to "dirty it up" a bit… but it's definitely my favorite green color!
Awning Red:
If I had to pick a favorite accent color, Awning Red would be it. Red is my all-time favorite color for decorating (along with white of course) and this red is perfect for our farmhouse. My most favorite red piece is the hutch in our dining room.
Wooden Cabin:
This is another color I use for painting furniture — and it's such a lovely deep brown color. Very rich, warm, and rustic.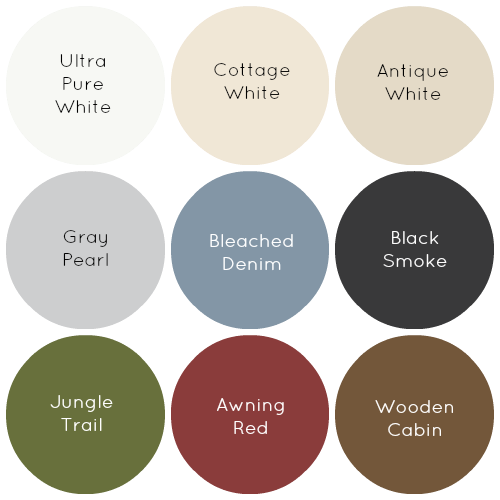 So like I said before, I honestly know nothing about proper use of color or have any skill with interior design — these are just my favorite go-to colors after 7 years of painting (and way too many gallons of paint)!
Oh, and if you're wondering why I always use Behr paint from the Home Depot — it's simply because they almost always have a $5 rebate per gallon over Memorial Day and Labor Day weekends. I usually buy 3-5 gallons of untinted paint to get the rebates, and then I bring the paint back in to be colored whenever I have a new project.
My next painting project…
Painting ALL the white railings around our front porch, back porch, and back entryway — which means I'll be buying lots more white paint this Memorial Day 🙂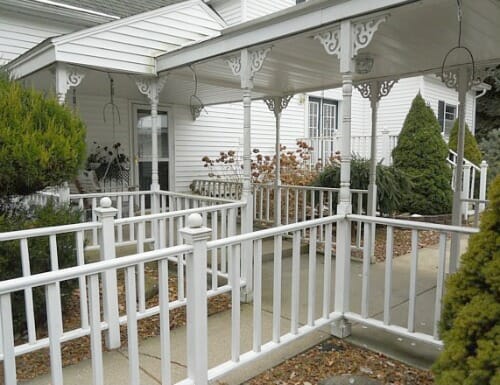 What are your favorite paint colors?