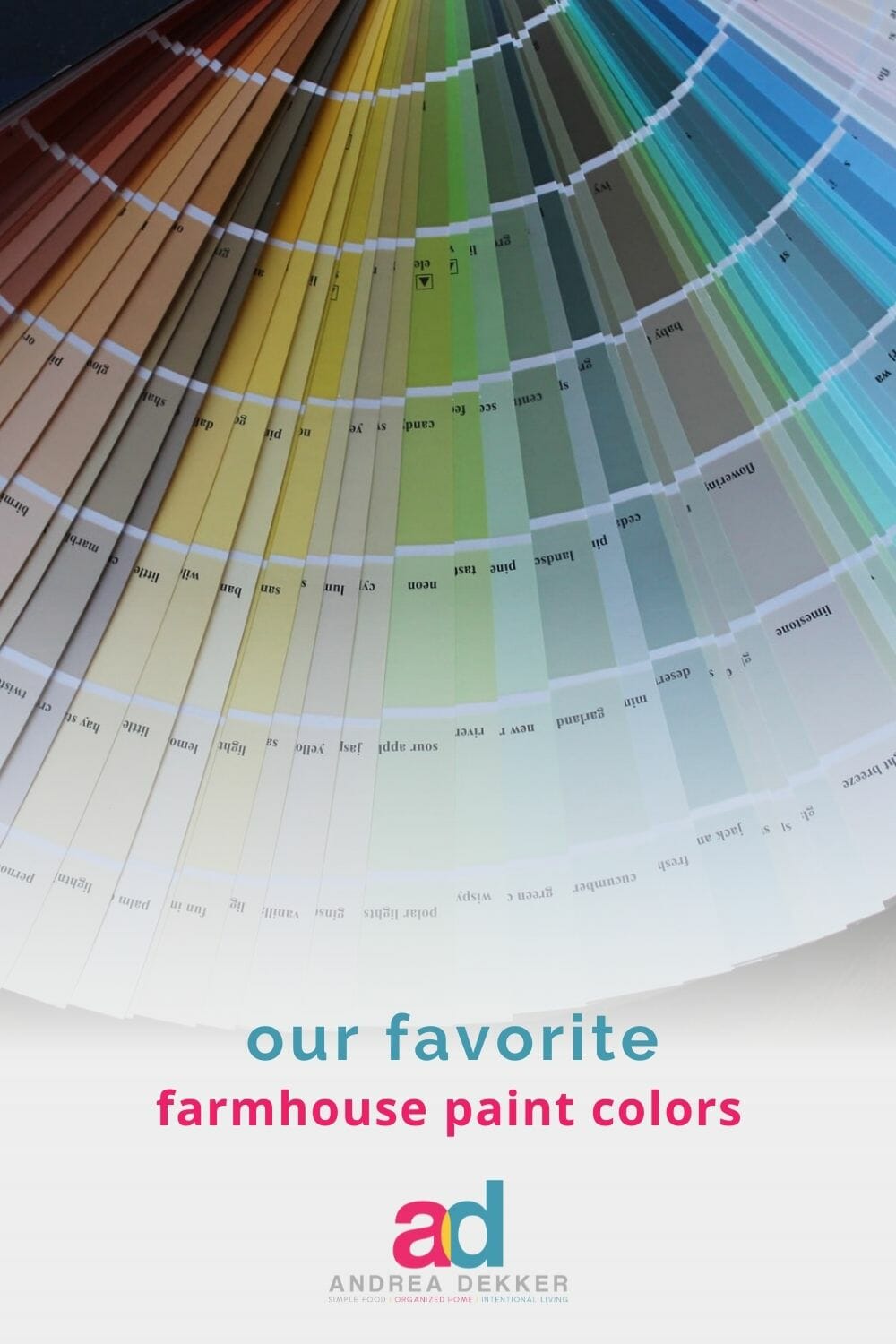 One of the quickest and least expensive ways to give a facelift to any space in your home is with a fresh coat of paint. Use our all-time favorite farmhouse paint colors for inspiration!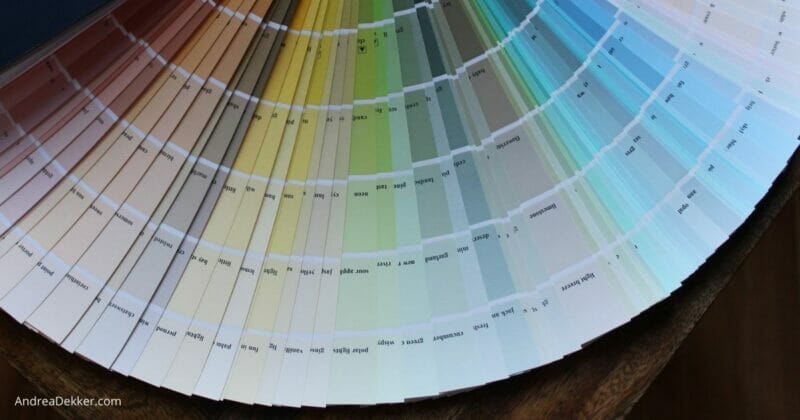 Dave and I closed on our first home in June of 2006 — just weeks before our wedding — and I've been painting something ever since!
Walls, doors, windows, kitchen cabinets, furniture, the front porch… there's always something!
I've often thought that I should have kept track of how many gallons of paint I've gone through — but it's probably best if I don't know!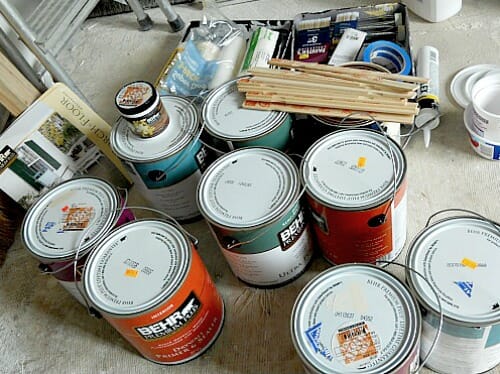 Painting isn't my most favorite pastime, but I do enjoy it — especially when I can work uninterrupted while listening to a favorite podcast or audiobook.
It's actually somewhat therapeutic for me — like watering flowers and sweeping the floors.
Plus, the ability to breathe new life into an outdated piece of furniture or an unattractive space in my home brings SO much joy and satisfaction — especially when I can do the transformation in a day and on a budget!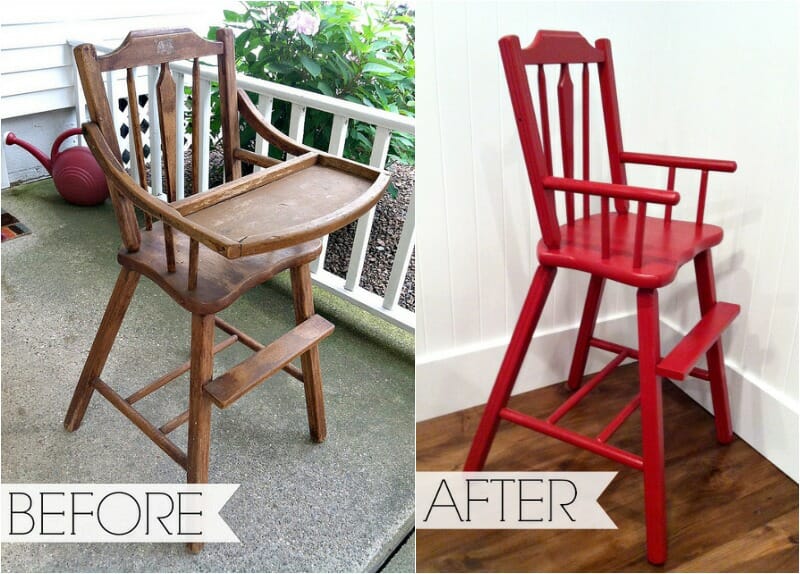 How I Got Started Painting
Truthfully, I had never painted anything before we bought our first house.
At the time, I figured we'd need to hire a professional to do all our painting… until my grandma assured me I could do it myself.
She helped me for a few days… and the rest is history!
Since then (2006), I have painted (and repainted) pretty much every room in our first house and our farmhouse… AND I've painted and sold thousands of dollars worth of "rustic farmhouse furniture" through Craigslist and Facebook Marketplace.
I guess you could say I was "hooked" once I realized how quickly a coat of paint could transform a space (or a piece of furniture).
Humble Beginnings…
I still chuckle to myself when I think back to my early painting days. Back then, I just waltzed into the paint store, picked a color I liked, brought it home, and started painting.
I never considered how all my various paint colors would work together in our home. This meant that our first home was initially a rainbow of colors ranging from light green to dark red… I believe I even used blue at one point.
It was a MESS!
Unfortunately, I have no pictures because that was pre-blog, pre-social media, and pre-cellphone camera for me (we didn't even have the internet back then)!
Thankfully, after only a couple of years, I realized my style was much more "neutral"… and I began the slow process of repainting everything I had initially painted after we moved in.
It didn't take lone for me to realize how much easier it was to decorate if I simplified my paint selection and kept the wall colors nuetral…
And just like that, my personal farmhouse style was born.
I fell in love with a white-on-white-on-white-on-cream-on-beige color palate… with a few pops of red, dark green, and brown to darken things up.
This instantly streamlined the look and feel of our home — pulling all the rooms together and creating the cohesive-looking space I had failed to create before.
Two years after I had re-painted everything in our first house, we purchased our current farmhouse and I started all over again!
We removed brightly colored wallpapers and dutifully painted whites and creams over bright purple and blue paint, tie-die splatters, colorful fish murals, and dark brown sponge paint.
It has taken us 10 years… but we're essentially finished (for now — LOL!)
If you're interested, you can watch a video tour of our home HERE!
I often get asked design questions or to help "pick out paint colors", but I'm often not all that much help unless the person asking has the exact same style as I do.
I have zero training in paint or design, but I know what I like in my home… which is good enough for me!
If you'd like to add a little farmhouse charm to your home… might I suggest starting with one of my favorite colors below!?!
My Favorite Farmhouse Paint Colors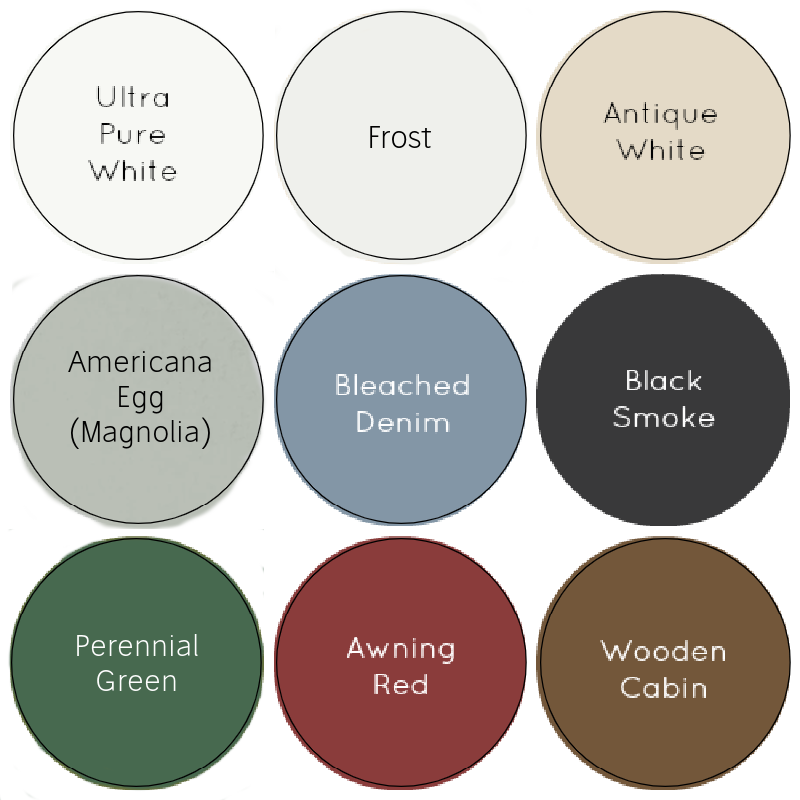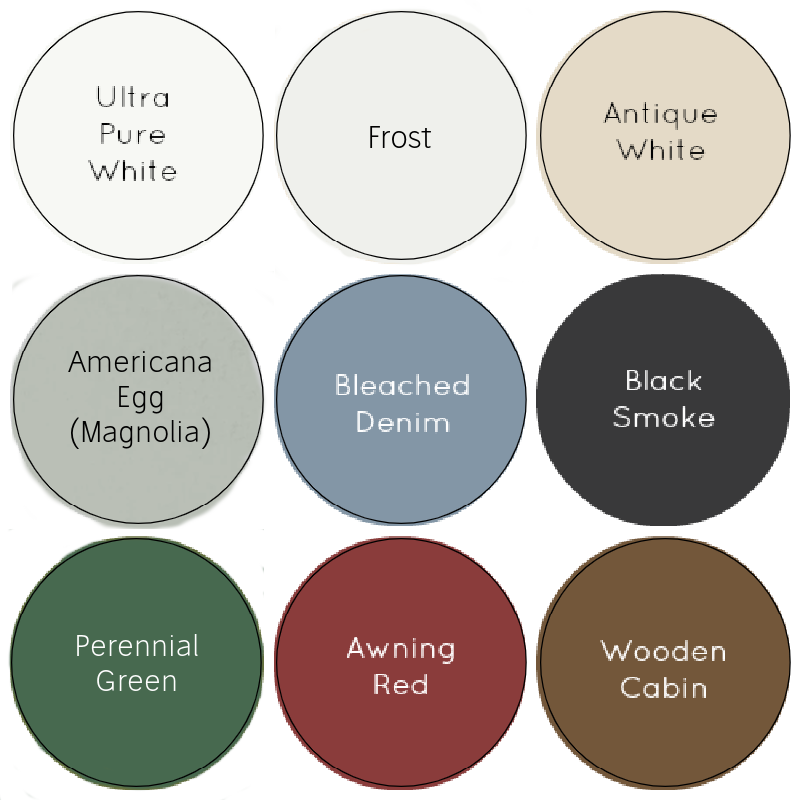 Find a Favorite Behr Paint Color: This post is not sponsored by Behr, but I really love their paint (found at The Home Depot). I use it almost exclusively! You can see all their different paint selections here.
Ultra Pure White (Behr):
I decided early on to use one color for all the trim in our farmhouse.
I know it's trendy to paint the trim differently depending on the room, but simplifying our paint stash to one trim color has saved my sanity more than once!
I use Behr Ultra Pure White in semigloss for ALL the trim in our home, garage, and outbuilding — doors, windows, baseboard, crown molding, beadboard, etc.
I always keep a gallon on hand for touch-ups throughout the year… and even though semigloss is pretty easy to wipe up, it's often just easier to paint over grungy spots where the kid's dirty hands touch constantly.
Frost (Behr):
I realize this sounds like an odd color for that cozy farmhouse feel (it sounds rather… well, COLD to me!)
However, I've found that Beher Frost (in an eggshell finish) works wonderfully with warm tones and cool tones (in my novice knowledge of design).
It does have more of a greyish/blue undertone, but it looks and feels SO fresh, bright, and clean that it has become my favorite white.
I have now repainted many of the spaces in our home and outbuilding with Frost and it really takes on the look and feel of whatever accessories and colors I use for the different rooms.
See Frost In Our Home:
our outbuilding
our new laundry room
Antique White (Behr):
Antique White is the perfect farmhouse color… but I wouldn't actually consider it to be "white".
It's more of a really warm, cozy, soft tan… and works wonderfully with my decor.
I used Antique White (in an eggshell finish) for the majority of our main floor, and I get compliments on this color all the time. It looks amazing with white trim and dark wood floors.
See Antique White in our Home:
Americana Egg (Magnolia):
I'm in love with the Chalk Style paint from Magnolia — but it's crazy expensive, so I only use it for small projects (like a piece of furniture or a few cabinet doors).
Americana Egg is the perfect shade of light green (even though it looks more like grey on the swatch) and I'm thrilled with how it turned out for our laundry room and bathroom cabinets.
This chalk paint is very easy to use — just apply one coat with a brush (never a roller), wait 10 minutes or so, and apply the second coat.
I used a darker wax over my paint to give a slightly aged look… but that's not completley necessary.
Bleached Denim (Behr):
I don't use this color much anymore — but it's a really nice shade of farmhouse blue (if blue is your thing).
I like it for furniture pieces especially (like a mirror or an old hutch with chippy paint!)
It would also be a cute accent wall for a child's bedroom — it works for both boys and girls in my opinion — and it looks great distressed with a dark wax or glaze over top.
Black Smoke (Behr):
I LOOOOOOOVE a distressed black book shelf, picture frame, bench, or side table — maybe it's because I keep most of my walls and furniture so light that the black really adds a nice "pop" of color.
If you're looking for a good black that covers well, Black Smoke (in eggshell) is the way to go!
I often use this color for the base coat (when I paint furniture) and then paint over with another color. When I sand the topcoat off, the black smoke comes through and it instantly looks older and more rustic.
Perennial Green (Behr):
Perennial green is a dark, almost blueish green that we use for our front door, our shutters, and several inside projects too (like the chairs and hutch in our dining room).
It's very "primitive" and fits my farmhouse style perfectly!
Awning Red (Berh):
Awning Red is my most favorite accent color — especially for our Red, White, and Blue Farmhouse!
Some of my favorite furniture pieces are Awning Red — including the hutch in our old dining room, the red bench by the front door, and my Grandma's antique high chair.
Wooden Cabin:
This is another color I use for painting furniture — it's such a lovely deep brown color.
Wooden Cabin is very rich, warm, and rustic — it gives a nice wood look to furniture that is made out of particleboard or other non-wood materials.
If a space in your home could use a little facelift, I hope I've inspired you to pick up a paintbrush and get to work.
You'll be amazed how much better, brighter, cleaner, and more "put together" your home can look and feel with a little updated paint!
And if you struggle to "pick out paint colors", my novice advice would be to find a neutral color you love and use that throughout your entire house. Then choose a few accent colors and find ways to insert them into each space as well — this will really help to create that cohesive look and feel without fully redecorating your entire home!
One thing to keep in mind… paint colors often look VERY different online and in the store than they do in person. I'd encourage you to try a smaller sample size in your home before you commit to the full gallon!
What are your go-to paint colors?