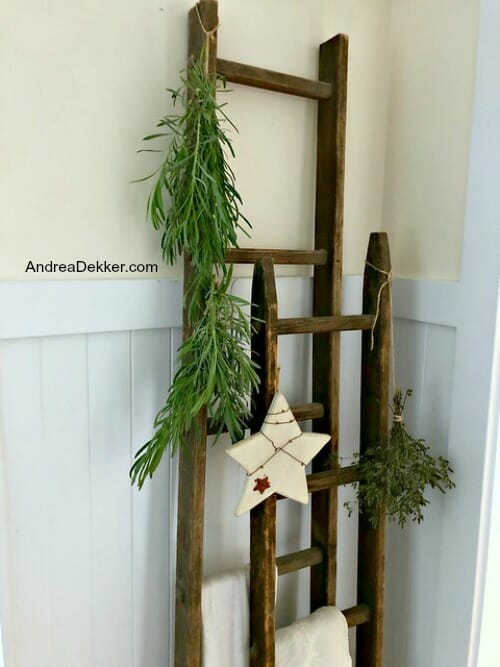 I regularly have all sorts of thoughts about quick tips and various randomness I'd like to share with you.
Often, they are too short to warrant a full blog post… but potentially too wordy to share on social media… so the ideas just sit in my brain, taking up valuable real-estate until I get them out!
Today, I'm sharing "A Few Quick Things" in an attempt to recover some of my brain real-estate! 🙂
This post contains affiliate links, read my disclosure policy and contact me with any questions you have.
1. Are You Using Jet-Dry In Your Dishwasher?
Our plumber told us that MOST dishwashers these days require the use of Jet-Dry in order to stay "under warranty".
Not only does Jet-Dry help to prevent streaks on your glassware, but it also helps to keep your dishwasher running smoothly and prevents much of the gross build-up I referred to back in this post about how I clean our dishwasher.
Previously, I have used vinegar in the Jet-Dry compartment, but that doesn't help to break up the grease and grime as well — and I've also read that the acidity in vinegar can potentially cause the rubber gaskets to disintegrate — yikes!
For only a few bucks every 3 months, Jet-Dry seems to be a quality "investment" for the longevity of our dishwasher!
2. "Later" is Clutter's BFF…
Are you guilty of putting off home projects until "later" — when it's more convenient, when you have more time, when the kids are sleeping, when you have a day off from work, after the holidays, etc. etc.
I think we ALL are at some point in life!
Don't fool yourself into thinking "later" will be any more convenient than RIGHT NOW, and just get started!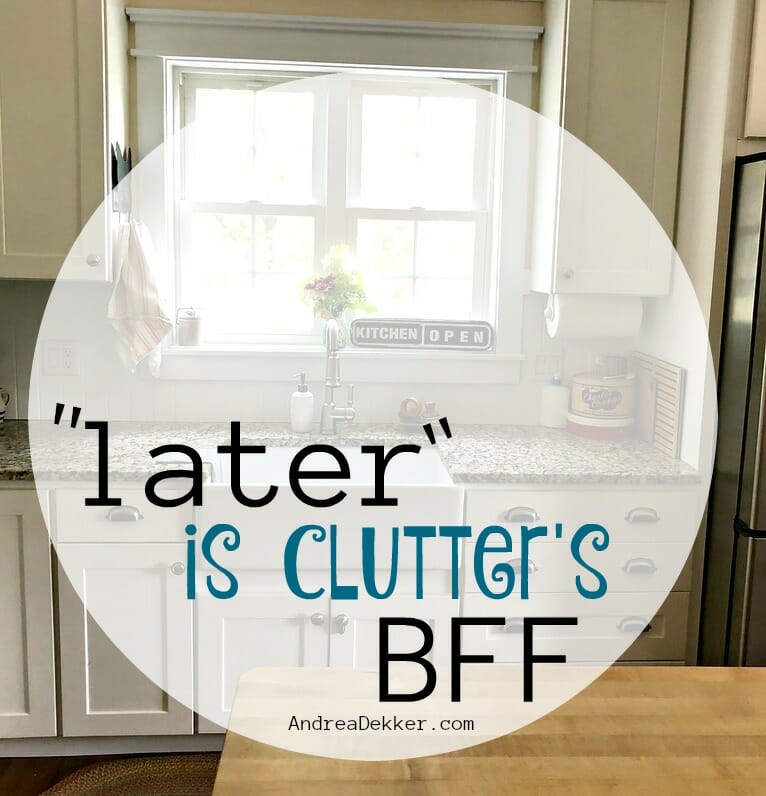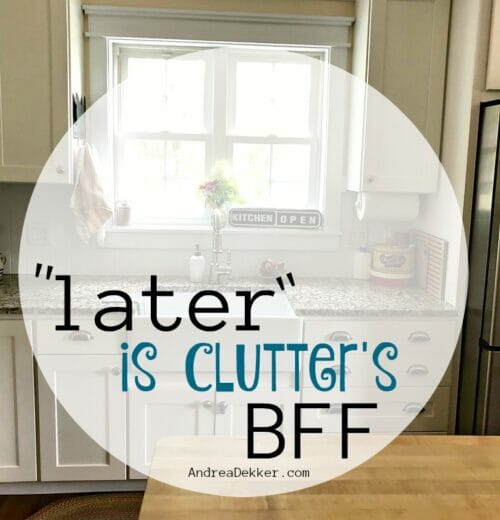 3. A 16-Week Purge Update:
Speaking of decluttering our homes… are you participating in the 16-week full-house purge?
I don't intend to do any formal updates on my 16-week purge this year, but I do want to bring your attention to it again — just in case you're ready to jump on the bandwagon and get started purging and organizing your home BEFORE the holiday season and BEFORE the New Year.
I'm 5 weeks in, and I've actually tackled more than 5 rooms because I had a little extra time and energy, so my hope is that I'm finished with time to spare.
HOWEVER, there is no "right" or "best" or "perfect" time to start a purge… and it doesn't need to be 16 weeks either. You could start TODAY with a 10-week purge and be finished by Christmas Day. You could start tomorrow with a 5-week purge and just do as much as you can. You could start this weekend with a 1-week purge and devote as much time as you can to move things OUT of your home in those 7 days.
Do whatever you feel is doable for YOU, for your energy level, for your home, for your schedule, etc.
My main goal is simply to encourage and motivate you to do something to improve the conditions of your home and your life…
Oh, and I have a FREE Printable for those of you who like to write things down!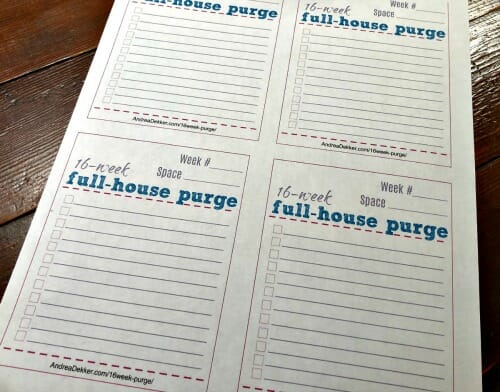 4. An American Girl Doll for Nora!
The other week, I posted a Facebook question about where to buy used American Girls Dolls and the response was AMAZING!
If you're in the market for an American Girl doll (new, used, real, knock-off, etc. etc.) you must read through the comments on my FB post — there are so many fantastic ideas, coupon codes, discount websites, tips, tricks, etc. to find great deals on any and all American Girl dolls, books, accessories, and more!
I was originally assuming we would find a used doll and accessories to surprise Nora with ON her birthday (end of November). However, after reading your comments, thinking through things on my own, and talking with Dave, we feel it will be the most fun for her to be able to CHOOSE her doll — either directly from the website or from a used site.
I honestly don't know what type of doll she wants — if she wants it to look like her or if she'd prefer one of the "original book dolls" that we could hopefully find used (I'm selfishly voting for Kirsten or Felicity!)
Either way, I think she'll be happier in the long run if SHE gets to decide… and since her birthday is just days before the big Black Friday and Cyber Monday sales, I feel confident we can find a good price on a new doll (if that's what she wants).
I'll keep you posted once we make a purchase — and thanks again for sharing your HUGE wealth of knowledge on this topic!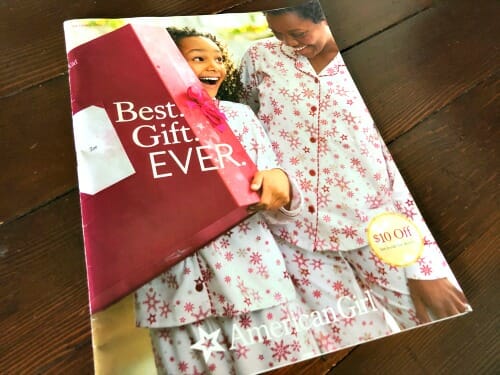 5. My Instagram Account:
About 18 months ago, I finally became somewhat active on Instagram (I had an account for almost 7 years before that, but never posted anything!) Over the last 18 months, Laura from HowToGYST.com has been faithfully managing my Instagram and Pinterest accounts — and serving as an invaluable "sounding board" for all my social media questions.
However, Laura has a lot going on in her own business, with her own family, and in her own life — making it nearly impossible for her to continue helping me out with social media.
So, I'm "on my own". I'm learning and researching, but my page will probably be quieter than before as I really don't know what I'm doing… so this is your fair warning that nothing is "wrong", I just don't have someone helping me anymore!
That said, I'd love for you to follow me… I'm shooting for 10,000 followers as that number will allow me to utilize many more cool features (yes, I have a long way to go… but… baby steps!)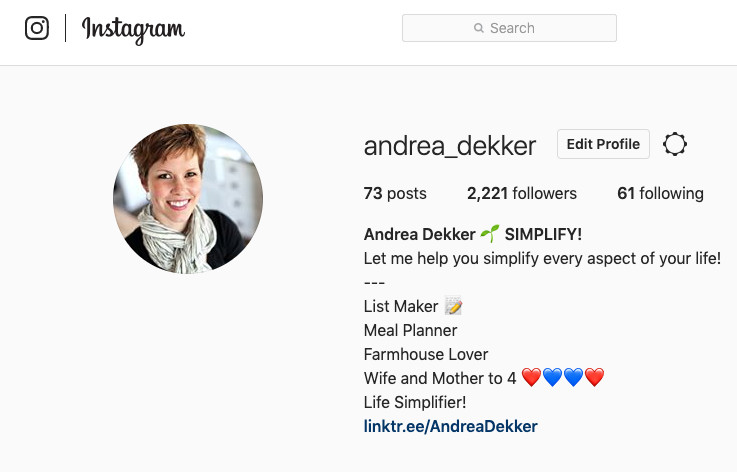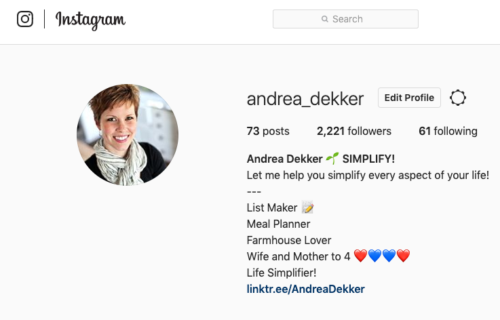 6. How I found SUPER Inexpensive Checks
I ran out of checks (after years and years of using the same batch of checks) so I had to order more. The free checks previously provided by our bank were now $20 for 80 checks plus shipping!
I knew I could find them cheaper, and after asking around on social media, I ended up purchasing checks from Bradford Exchange. I got 150 checks for $4.89 with a roll of free address labels and free shipping!
Oh, and my checks are a really cute primitive farmhouse design!
I honestly don't know how I ended up with such a great deal — the website had an offer to buy 2 sets of checks, get 2 sets free (which would have been 600 checks). After I clicked on that deal, it brought me to a new page that offered buy 1 set get 1 set free (300 checks), and then at the checkout, it offered the option to buy 1 set for $4.89, get the free address labels.
Since I hardly go through any checks, but we do go through lots of address labels, this was the best deal for me!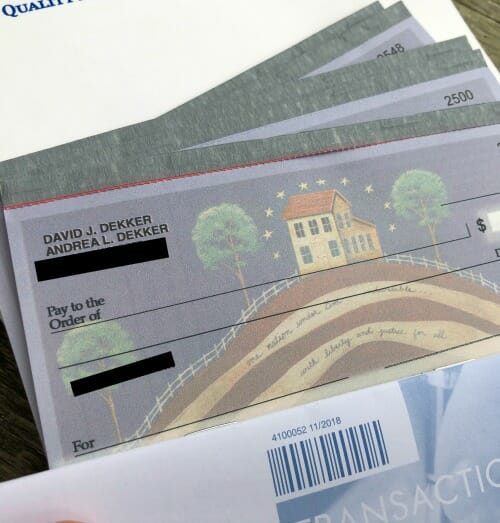 7. A Bunch of Tips to Get Rid of Ants.
Do you have ants anywhere in your house?
If so, read ALLLLLL the comments on my Facebook post!
SO many clever and interesting ways to eliminate these pesky bugs — many of which I've never heard of before!

8. A Fantastic Homemaking Resource!
Every year, the Ultimate Bundle Team offers a number of E-book and E-resource Bundles on a variety of topics.
The only one I'm usually interested in enough to purchase and promote on my blog is the Ultimate Homemaking Bundle — I know I can always find at least a few resources that significantly benefit my life… so it's ALWAYS worth the price for me.
The bundle usually goes on sale in April — but this year, they're offering a 2-day FLASH SALE of the 2019 Ultimate Homemaking Bundle starting TODAY!
I purchased and skimmed through many of the resources in this bundle last April and I can confidently say it is worth every penny of the $29.97 price tag. Everything from cleaning and organizing to meal planning, motherhood, and marriage — there's something for every "homemaker", no matter what that term means to you!
Buy the bundle for yourself… or buy it as gifts for the upcoming holiday! Whatever the case, you'll want to buy it SOON as this flash sale will be over tomorrow night (Oct. 17, 2019)!
9. James' Preschool Pictures…
James loves school — but he did NOT want to get his picture taken for school pictures.
I told his teacher not to press the issue as I wasn't planning to order pictures anyway… and when I picked James up 2 hours later, his teacher mentioned it didn't go well and they only got 1 sideways-glancing shot.
When the digital proofs came out a few days later, Dave and I scanned the sea of smiling preschool portraits until we came across James' lone proof… I think we laughed together for a solid 5 minutes!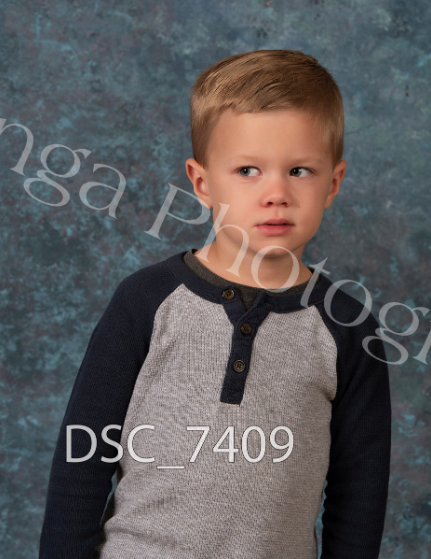 Aaaaaand…. that wraps up the very first edition of "A Few Quick Things"!
Have a good rest of the week!