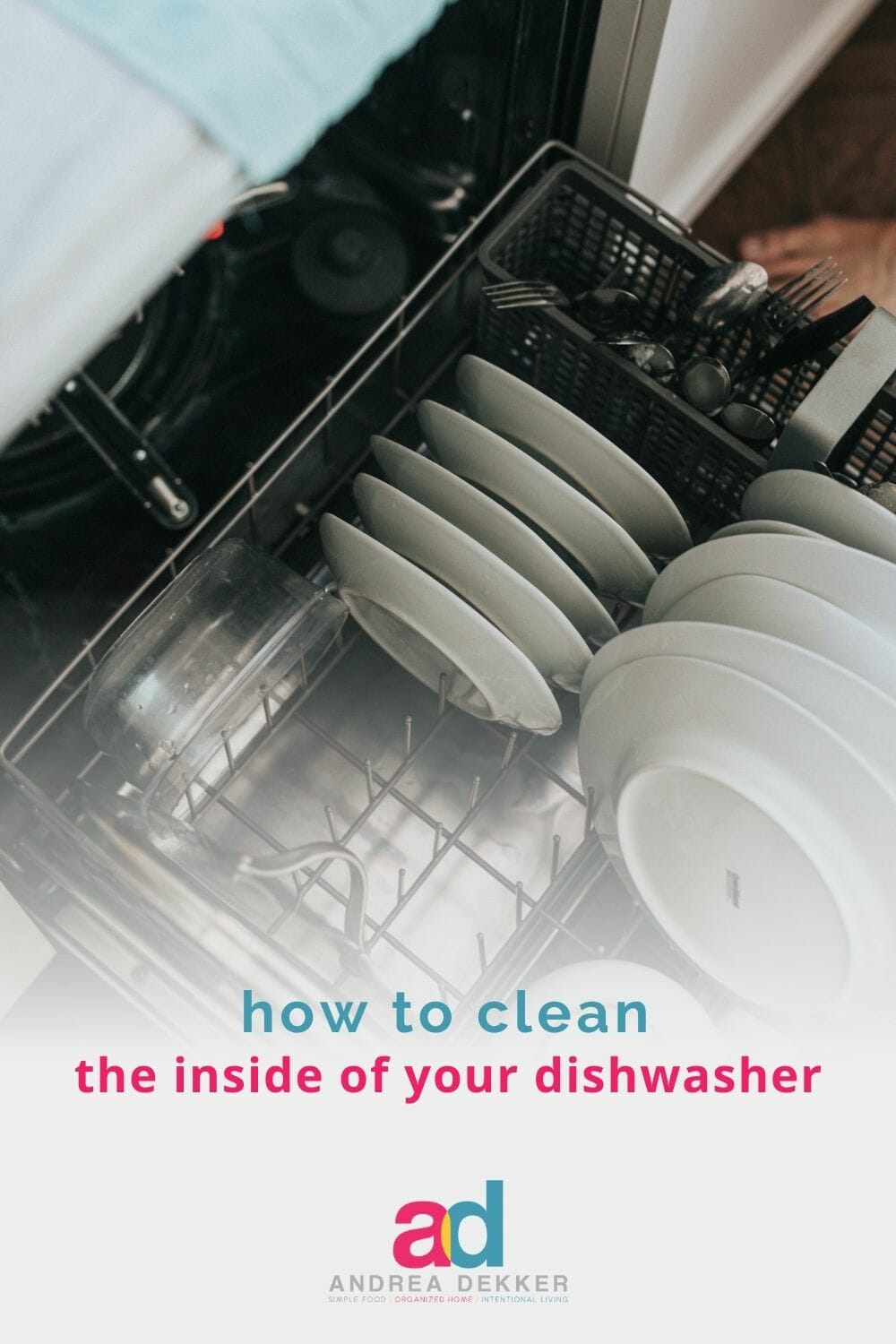 INSIDE: Get the simple, 3-step cleaning process that will have the inside of your dishwasher looking (and smelling) like new again!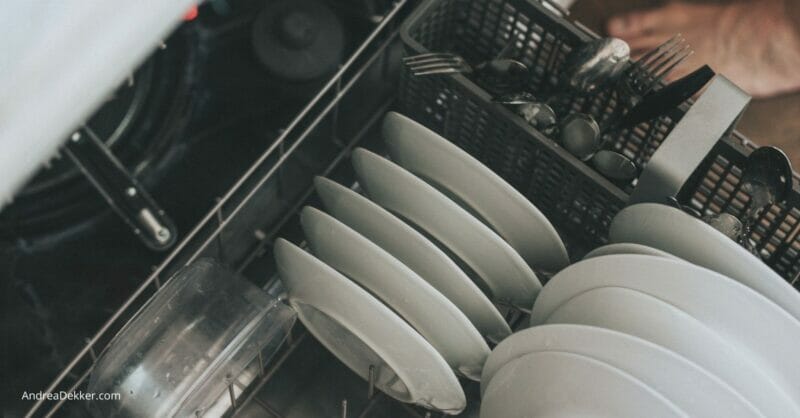 When we renovated our kitchen, back in 2011, we found the exact dishwasher we wanted at a scratch-and-dent appliance store for a fraction of the price.
It's a paneled dishwasher (it looks like the cabinets, not an appliance) and honestly, I still love it all these years later.
That's the dishwasher, down there on the right… it blends right in!
While it looks lovely on the outside, we soon realized that stainless steel dishwashers require a little extra maintenance to keep the insides clean and odor-free.
Nothing major or too time-consuming, but before getting a stainless dishwasher, cleaning our dishwasher (specifically our dishwasher drain) wasn't really ever a concern.
Now, several years later, I have the dishwasher cleaning process down to a science — and it really is quite simple.
As a result, we enjoy a mostly smell-free, clog-free dishwasher all year long.
If you've had issues with gross smells, clogs, or other dirty dishwasher issues, give my tips a try!
Let's start with the garbage disposal:
I know this post is about dishwashers… but I still suggest cleaning your garbage disposal (if you have one) before focusing on the dishwasher.
Most dishwasher drains are connected to the garbage disposal — so if the garbage disposal is stinky, that smell will be quite pungent every time you run your dishwasher (making you think it's a problem with your dishwasher drain).
Plus, cleaning the garbage disposal is even faster and easier than cleaning the dishwasher — which is why I always start here first!
STEP 1. Clear your garbage disposal.
To assure your garbage disposal is clear (not clogged), fill your kitchen sink about half full with water, then remove the drain plug while running the garbage disposal AND running more cold water from the tap. This should flush out any gunk currently in your garbage disposal.
NOTE: I do this every time I wash dishes.
STEP 2. Clean your garbage disposal.
Next, remove the rubber gasket around the opening of your garbage disposal and use a long-handled brush to scrub out the inside (being very careful not to turn the disposal on during this time!)
This will be pretty gross if you've never done it before. 🤢
After the debris is scrubbed away, put the rubber gasket back in place, throw a few ice cubes and citrus rinds into the disposal, turn the cold water on, and run the disposal for 30-60 seconds.
If you don't have a garbage disposal, this DIY drain cleaner should work for you.
Once your garbage disposal and/or drain are clean, it's time to focus on the dishwasher!
---
How to Clean the Inside of your Dishwasher
STEP 1. Remove and clean the drain.
This is the only step that requires physical work from you… so rest assured, once you have step 1 complete, it's smooth sailing.
However, step 1 is somewhat gross — I suggest wearing thick rubber gloves.
If you have a stainless steel dishwasher, chances are pretty good that you'll find a removable drain at the bottom of the unit (we never had a removable drain with our non-stainless dishwashers).
The drain is usually fairly simple to remove, your instruction manuals should offer advice on how to do this.
My dishwasher drain simply twists out.
Once the drain is out, use a small scrub brush to knock out all the gunk (I do this under running water).
If you have a screen that covers the drain area, remove and clean that too.
I also use a damp rag to wipe around the drain area (it can be pretty nasty if you've never done this before).
Once everything is clean, put the drain and drain cover back in place.
STEP 2. Run the empty dishwasher on the hottest setting with a dishwasher cleaner inside.
In general, I try to avoid commercial cleaners — preferring to clean everything with vinegar or one of my other homemade cleaners.
So for years and years, I used a cup of white vinegar for this step.
However, after our plumber assured me our dishwasher would get SO much cleaner (and be much less stinky) if I used a product specifically formulated for the inside of a dishwasher, I decided to give it a try.
Well, friends, he was right!
I picked up one "bottle" of dishwasher cleaner at the grocery store, used it that night, and was honestly amazed by how sparkling clean the inside of our dishwasher was when I opened it the next morning.
It looked brand new!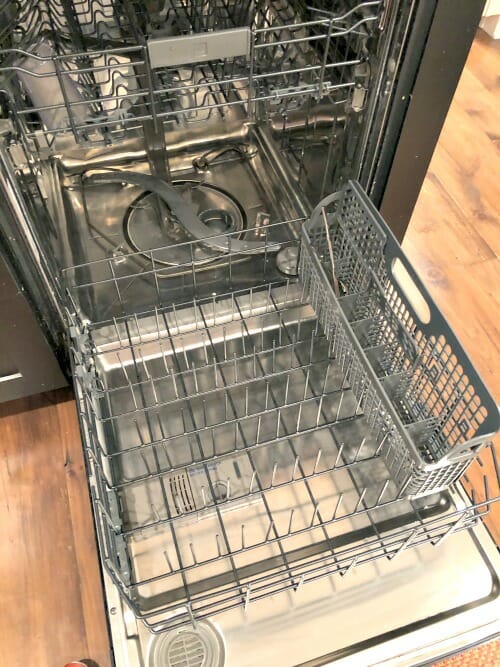 This step only requires that you follow the instructions on the back of the dishwasher cleaner — usually running an empty dishwasher on the hottest setting with the full bottle of cleaning solution inside.
I do this right before bed and it's perfectly clean the next morning.
In full disclosure, this cleaner has a very strong "chemical" smell (which is why I usually dislike using chemical cleaners.) I often run the empty dishwasher (on the quick cycle with no cleaners) one more time in the morning, just to flush out some of the chemically smell.
After that, it's good to go for another few months.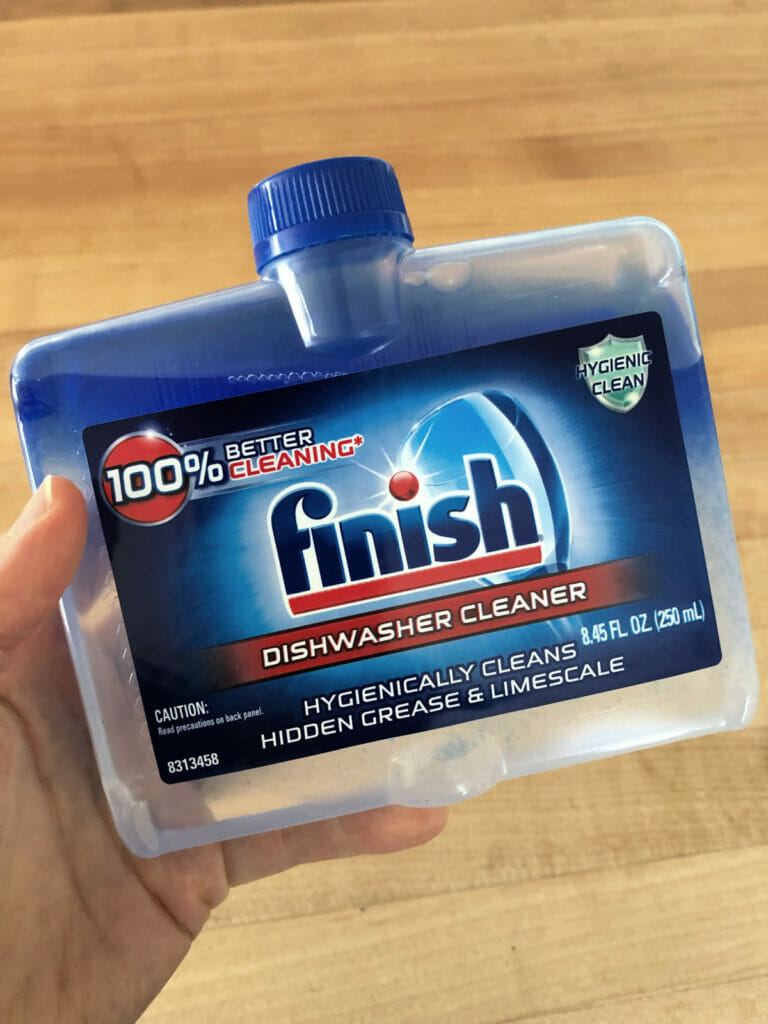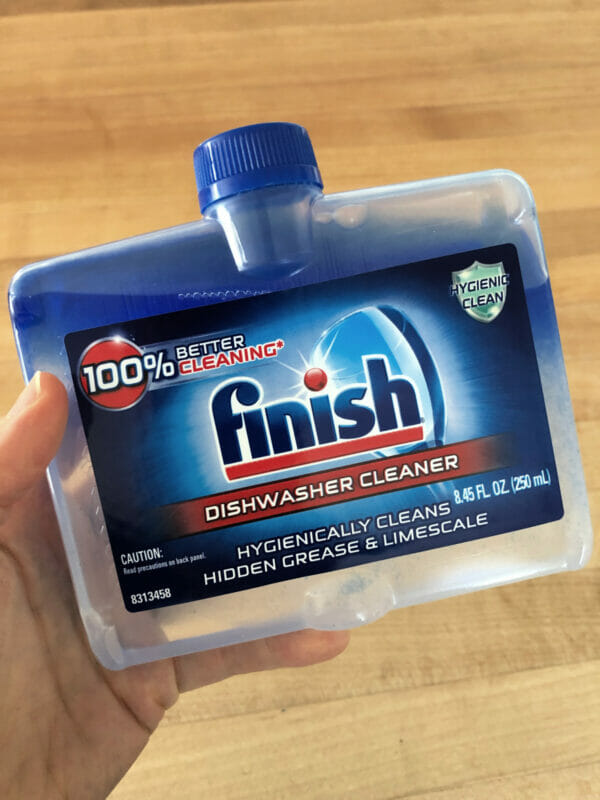 Note: this post is NOT sponsored. I have tried different brands of dishwasher cleaner over the years, but I always come back to Finish since it seems to give me the best results.
STEP 3. Add a rinse aid or white vinegar to the rinse cup.
This is another tip from our plumber…
Apparently, our dishwasher drain hose is a few feet longer than it should be based on the manufacturer's instructions. This is very common whenever a dishwasher is not located directly next to the sink.
Because the hose is a few feet longer than recommended, the pre-programmed amount of time the dishwasher has to "drain" the hose isn't actually long enough to fully drain all the dirty water from our hose — which can cause that gross smell.
I don't know the science behind it, but our plumber said that as long as we keep our rinse cup filled with white vinegar or another rinse aid (like Jet Dry) we wouldn't have a smell.
And once again, he was right!
Maintenance Moving Forward:
We run our dishwasher every single night after dinner (whether it's completely full or not) so I would be very sad if my dishwasher was out of commission for even a day or two.
To keep this much-loved appliance in tip-top working I do the following maintenance:
I clean out the drain every week (it's not that bad if I do it weekly).
I also make sure the rinse cup is filled with Jet Dry on a monthly basis.
And I use the Finish Dishwasher cleaner roughly every 3 months.
If it's been a while since you cleaned your dishwasher (or if you didn't even know you could clean your dishwasher), I'd suggest giving this simple 3-step process a try.
You might be surprised how much better your dishwasher runs (and smells) as a result!
---
Dishwasher Quick Tips:
Run hot water through your kitchen faucet right before turning the dishwasher on — this will increase the life of the heating coils in your dishwasher since the water will already be hot.
Use the quick cycle to speed up the cleaning process — we use the quick cycle every night and our dishes are sparkling clean 60 minutes later!
Clean more than just dishes in your dishwasher. Here's a huge list of things you could be cleaning in your dishwasher!
Running the dishwasher daily could be a game-changer for your routine — even if it's not 100% full, the routine of running the dishwasher every evening and waking up to an empty dishwasher every morning is so fantastic.
Cleaning out the dishwasher is a great job for kids — Nora has been cleaning out the dishwasher every night for a couple of years now. She gets to stay up after the other 3 go to bed and one of the things she does during that time is clean out the dishwasher. She times herself and can do it in 5-7 minutes (yes, she's my daughter!)
How to Clean the Inside of your Dishwasher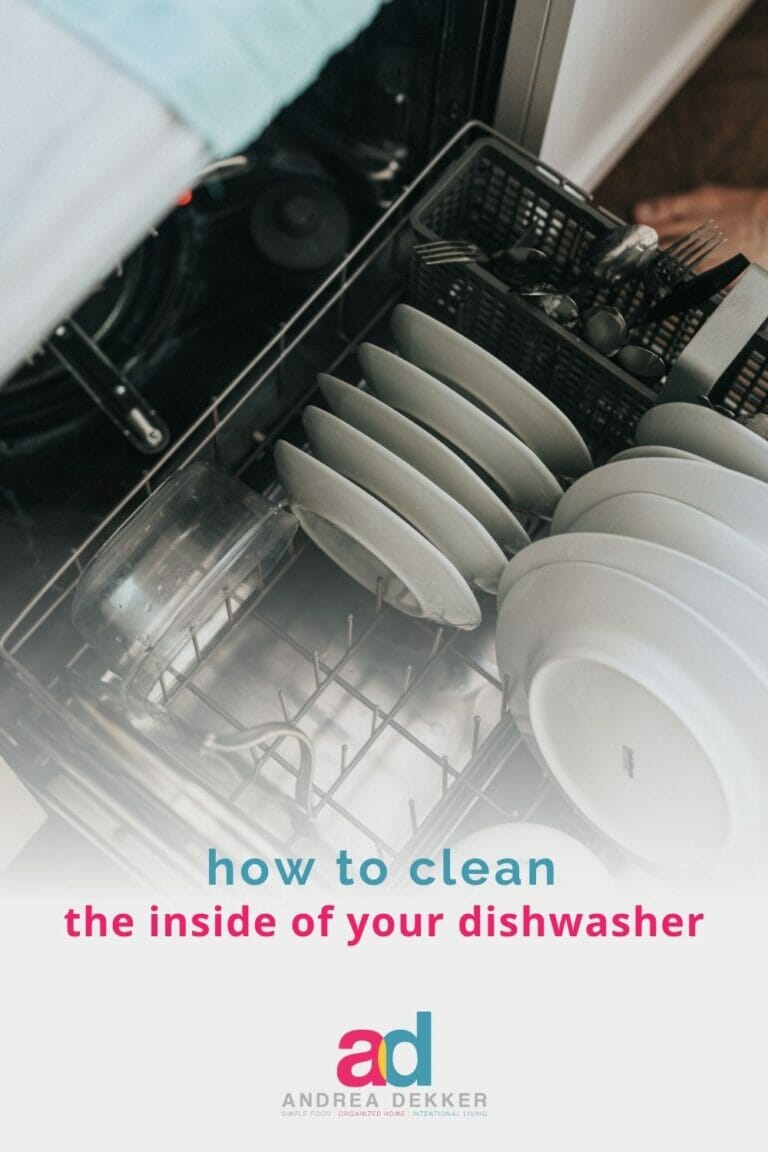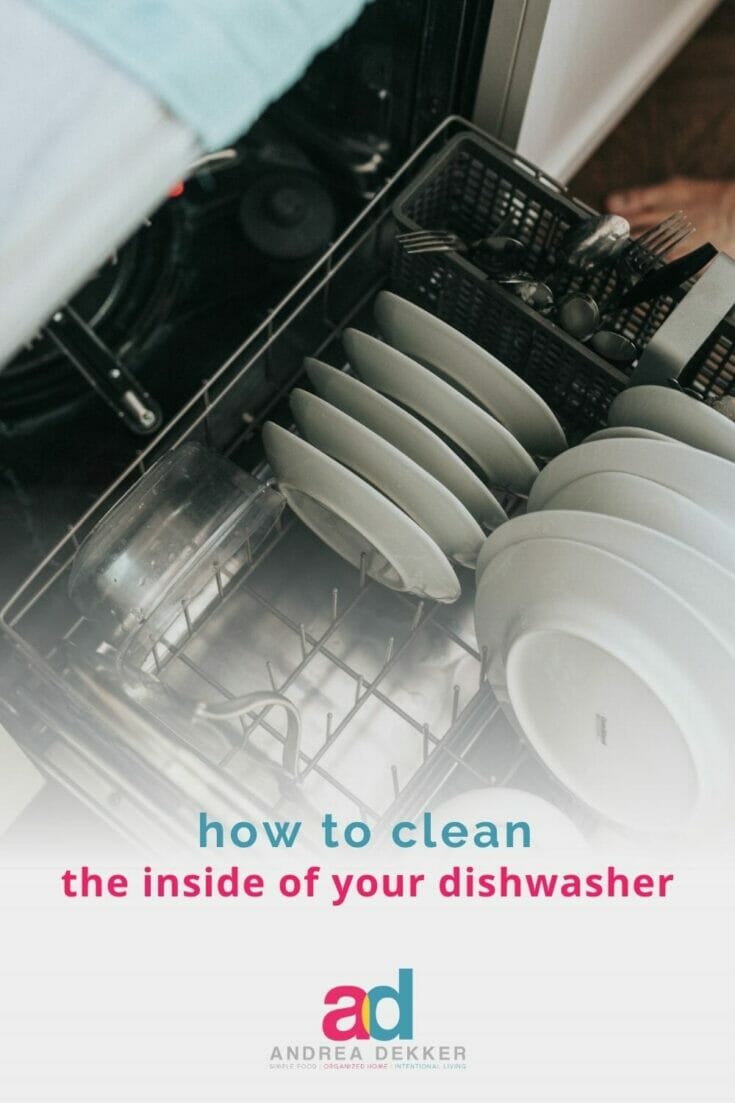 Use this simple cleaning process to get the inside of your dishwasher looking (and smelling) like new again!
Total Time
2 hours
10 minutes
Instructions
Remove and clean the drain at the bottom of the dishwasher
Wipe any debris and grim with a damp cloth
Run the empty dishwasher on the hottest cycle with dishwasher cleaner inside
Use a rinse aid to keep the drain smelling fresh
Notes
If you have a garbage disposal, you might also want to give that a little attention too as the drains for the dishwasher and disposal are often connected.
1. Fill your sink half-full of water, remove the plug, and run the disposal and tap water as it drains -- this will help to flush out any junk that could be clogging your dishwasher.
2. You can also scrub the inside of the disposal with a long-handled scrub brush, and/or use garbage disposal cleaning tabs.
Recommended Products
As an Amazon Associate and member of other affiliate programs, I earn from qualifying purchases.
My simple 3-step process to clean the inside of your dishwasher should work for the vast majority of dishwashers (even non-stainless ones) but if you're concerned, just read the manual that came with your appliance, ask your local plumber, or check with the store you purchased your appliances from.
In just a few minutes, and with less than $5 worth of product, your dishwasher will look and smell brand new again!
Do you have any other tips to clean the inside of your dishwasher?