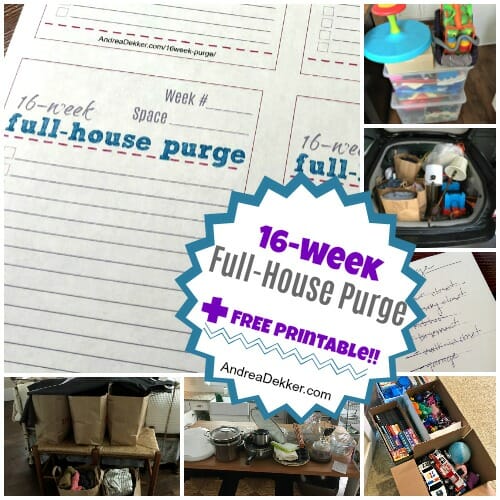 Exactly 1 year ago, I shared my personal challenge to complete a full-house purge BEFORE the New Year.
It was a very simple, very doable plan that I plugged away at little by little, each week for the last 16 weeks of the calendar year… meaning my house was purged, decluttered, and organized BEFORE the New Year!
It was glorious!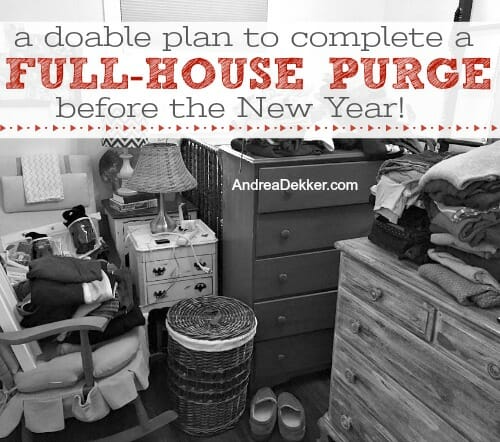 I shared my progress on the blog every 5 weeks, and from what I gather, MANY of you enjoyed following along with me and decluttering your own homes before the New Year!
Here are a few quick-links to my purging updates from last year:

My Initial Challenge and "Instructions"

My 15-Week Update (this was my final update as I didn't have 16 spaces.)
.
Since this post series was so popular last year, I thought it would be fun to try again… I even have a FREE printable this year too (it's editable!)
Feel free to download it and edit directly on your computer or print and fill it in by hand. Then use it to help you purge every space in your home!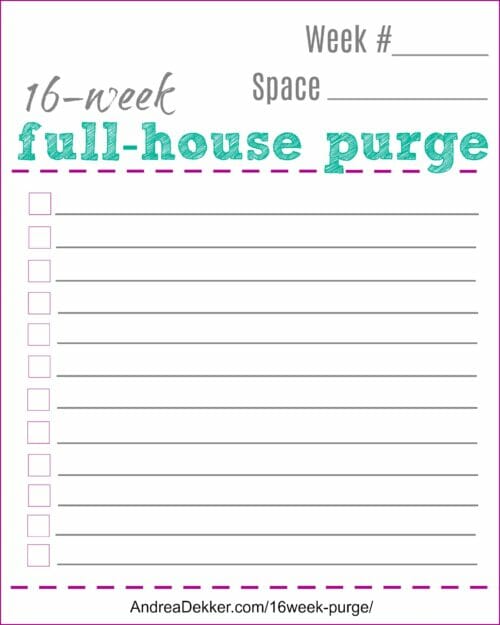 A FEW NOTES:
I intentionally left the printable blank because, in my opinion, there is no way I could create a functional printable for the vast majority if I chose the items to purge or the tasks to complete in each room of the home (I wouldn't even be able to identify each room for other homes).
Also, due to the way this challenge works, it can be started and stopped ANY time throughout the year, so please feel free to start whenever the timing feels right for you (however, don't use this as an excuse to put it off "until later"!)
If you don't have 16 spaces in your home, enjoy finishing your challenge earlier, or divide up some of your larger spaces into 2 weeks.
And finally, if you're really ambitious (and like fun number games), you could actually complete this 16-Week Challenge THREE times each calendar year — taking roughly 1 week off between cycles and one "bonus week" off for a vacation (for a total of 52 weeks!)
.
The Basic 7-Step Process:
** You may want to go back and read my initial post to familiarize yourself with the concept.
STEP #1 = Download and print (or edit electronically) 4 copies of my free printable (this will give you a total of 16 "cards" to fill out).
STEP #2 = Dedicate areas in your home/garage for Trash, Donations, Items to Sell, Items to Give Back, and a "Maybe" pile.
STEP #3 = Make a list of every space in your house and write/type the name of each space on one of your printable cards.
STEP #4 = Assign each space to one of the next 16 weeks and jot down some of the things you'd like to accomplish in that space on the provided lines.
STEP #5 = Allot a little extra time to each particular space in your home on the "scheduled week", doing as much as you can and stopping when the week is finished. Enjoy checking tasks off your list!
STEP #6 = Repeat Step #5 with every space in your home.
STEP 7 = Share your progress with me in the comments, by shooting me an email, and on social media (make sure to tag me if you do!)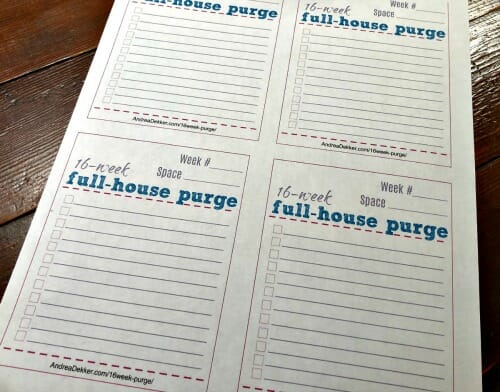 I know it might seem simple — maybe even TOO simple — but in my opinion, this 16-Week Full-House Purge Challenge is a GREAT way to quickly work through your ENTIRE house without getting bogged down by perfectionist tendencies, sidetracked by procrastination, or overwhelmed by everything else you COULD be doing.
Simply focus on ONE room for ONE week…

Do as much as you can in that space, then move on to the next space (even if you don't finish everything on your list).
So what do you say?
Will you join me this year?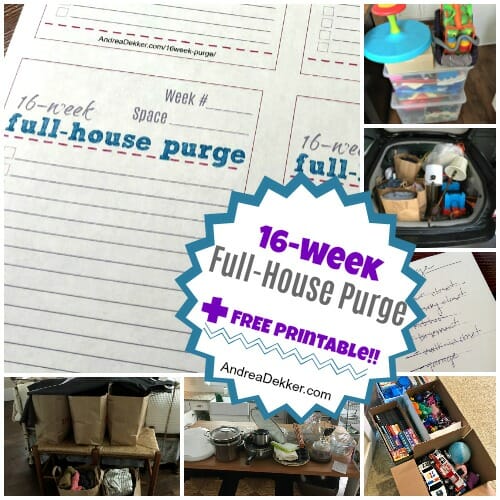 Just think, in 16 weeks, you'll be ringing in the New Year with a list of spaces you have ALREADY decluttered… instead of a laundry list of organizing goals waiting for you!
Won't that feel amazing!
As a little extra motivation for those of you feeling STUCK and PARALYZED by the clutter in your home and life, I created a mini workbook with 15-Minute Projects to Simplify Your Home.
If you're a procrastinator or a perfectionist, or if you have a hard time motivating yourself to get started, THIS workbook is just what you need!