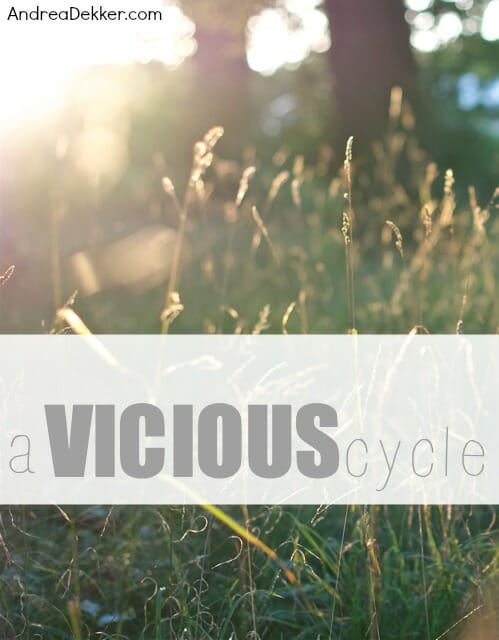 Several weeks ago, I heard a fabulous sermon that really got me thinking.
The sermon was about envy, and the main points (or at least what I took away) were:
1. When we criticize others, it's often because we are envious of them in some way.

2. When we are envious, we are not content.
I like simple messages like that — however, I'd like to go two steps further, and say:
3. When we are not content, we don't achieve simple living or enjoy life..

4. When we don't enjoy life, we tend to criticize others more… and then the vicious cycle starts all over again.
I realize the topic of this post is a little heavy for a summer weekend, but this message (along with a few emails and previous blog posts) got me thinking about an idea for another blog post… below are the thoughts and words that transpired!
.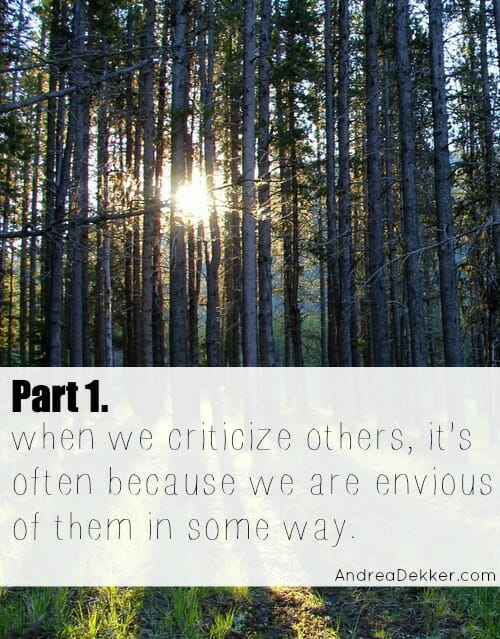 Part 1. When we criticize others, it's often because we are envious of them in some way.
This part of the message hit me hard for two reasons:
1. I am often the brunt of lots of criticism (from people I don't even know) via rude emails like this one, blog comments, and Facebook messages.
Sometimes these criticisms really bother me, but most of the time I remind myself that these people don't actually know me, and they are probably just envious of what they THINK my life is like.
2. I often catch myself mentally criticizing the way others do things.
Of course I'm "smart enough" not to verbally criticize straight to a person's face — and I don't think I've ever criticized anyone via email or on Facebook — but I still think it. However, I don't know the whole story either — and maybe deep-down, I'm a little envious of these people for some reason or another.
Either way, this message was a really good reminder that any time we criticize someone else, there's a good chance we are envious of them in some way.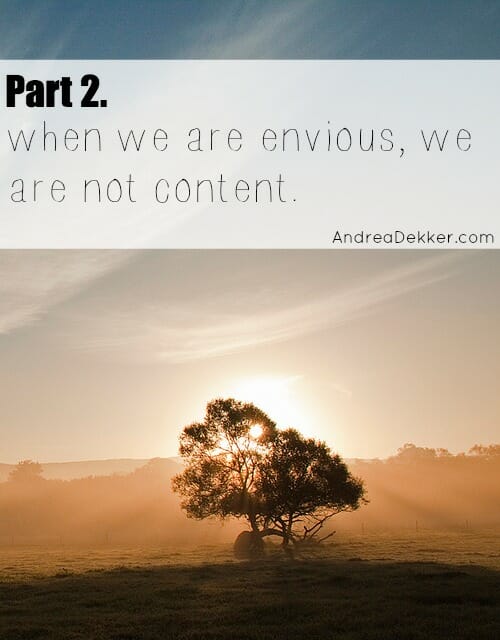 Part 2. When we are envious, we are not content.
It's hard (maybe even impossible) to be 100% content 100% of the time. Don't you think? I know I've struggled with contentment at points in my life, and I have a hunch I'm not the only one.
I do NOT think the problem is when we strive to do "more" or be "better" though.
You all know I'm a huge fan of personal growth, setting goals, learning more, trying new things, making life improvements, tackling house and yard projects, etc. etc. That's all fine (in my opinion), as long as we're doing it for our own personal satisfaction.
I think the issues arise when we strive to do "more" and be "better" ONLY to prove ourselves to someone we are envious of… or worse, to make others feel envious of us.
Do we keep our house clean because we like it clean or because we want to make our friends THINK that we have it all together and have a perfectly clean house all the time?
Do we bring gourmet foods to the party because we enjoy cooking and baking or because we want to show off to everyone else?
Do we volunteer to help on one more committee because we feel we have the skills and the time to serve, or is it just so we can gush about how much volunteer work we do at the next office party?
If we are jealous of what others have and are constantly striving to "one-up" our friends, neighbors, relatives, or co-workers, we will never be happy or content — and yes, I know this from personal experience 🙂
If you're nodding your head along with me, don't feel bad. You're not a horrible person, I promise! Like I mentioned earlier, it's nearly impossible to be 100% content 100% of the time. We've ALL been there, but it doesn't mean we can't try harder… right?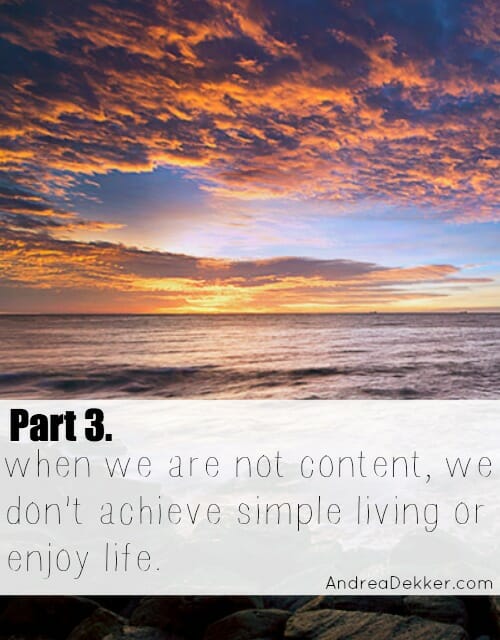 Part 3. When we are not content, we don't achieve simple living or enjoy life.
This is another biggie for me because simple living is one of my personal goals — and who doesn't want to enjoy life a little more!
I know from my own life and from helping so many others, that life is easier to enjoy when it is relatively simple and organized. No, your home doesn't have to be spotlessly clean and you don't need your meals planned out for the next 8 weeks — but a little breathing room, feeling comfortable in your surroundings, and having some sort of plan in place does a world of good when it comes to enjoying life and feeling more content (at least for me).
If we constantly wish we had more (time, money, organization, clothing, etc.) or better (jobs, homes, cars, vacations, etc.), there's a good chance we will spend way too much time focusing on what we don't have versus being thankful for all the wonderful things we DO have. Then we get bitter and think how unfair our lives are and how everyone else seems to have so much going for them while we have such a rough life.
.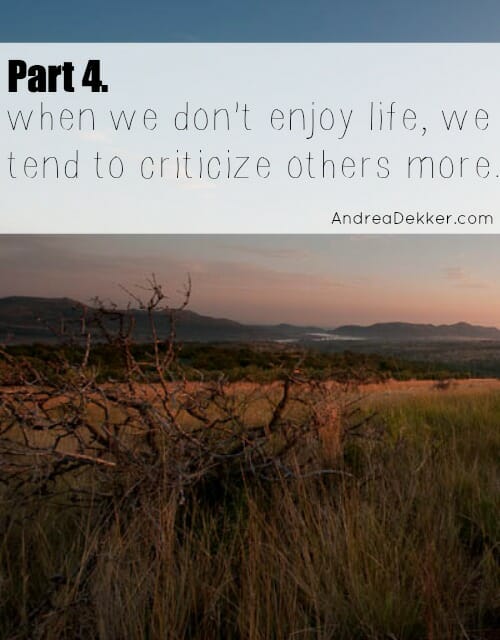 Part 4. When we don't enjoy life, we tend to criticize others more.
Life has many bumpy roads, hills, valleys, high points, and low points. I don't think we need to be happy all the time and I don't think it's bad to be frustrated (or even really really angry) when we feel we're being dealt all the crappy cards. However, there's a difference between being frustrated with your circumstances and totally hating your life.
After Nora was born, I honestly felt like I totally hated my life. I felt like everything I prided myself in was crumbling around me faster than I could pick up the pieces.
Nora was such a difficult baby, we had our very problematic international student living with us at that time, I was SO tired, and this was all during the holiday season when everyone is supposed to be happy and cheerful.
I can vividly remember how negative I was at that point — I mentally criticized anyone who posted pictures of their napping babies on Facebook, anyone who gushed about how great motherhood was, and anyone who "bragged" about how well their children were sleeping (this is unfortunately still a really hard topic for me).
In all of these situations I was definitely envious of those moms who seemed to be so happy with such good babies. Why did I have to deal with such a difficult baby? Why wasn't I so happy to be a mom? It's easy to criticize others when we don't have all the facts — which is why social media can be so dangerous.
Even earlier this week when I posted about my "don't do" list, I got rude emails accusing me of "judging" those who did spend time on the activities I didn't spend time on. But seriously, there was no judging! It's fine if you spend your time differently that I do; actually, I think that's to be expected. However, based on the emails I got, I have a hunch that the rude comments were said out of envy for what they THINK my life is like and the fact that they aren't content with parts of their own life.
.
And that brings us right back to #1 – criticizing because we are envious.
It's such a vicious (and sometimes, never-ending) cycle that we are all part of at some point or another.
Unfortunately, I have no awesome tips or advice to stop the cycle. I have no 3-step solution to solve the problem.
All I have are words that will hopefully resonate with some of you and encourage you to stop and think before you criticize someone else (mentally or verbally), the next time you start to feel envious or discontent with your life, or the next time you just feel a little blue.
I know the words of that sermon have stuck with me the last 2 months, and I just felt like I wanted to share my thoughts with you.
How's that for some 'light' weekend reading!