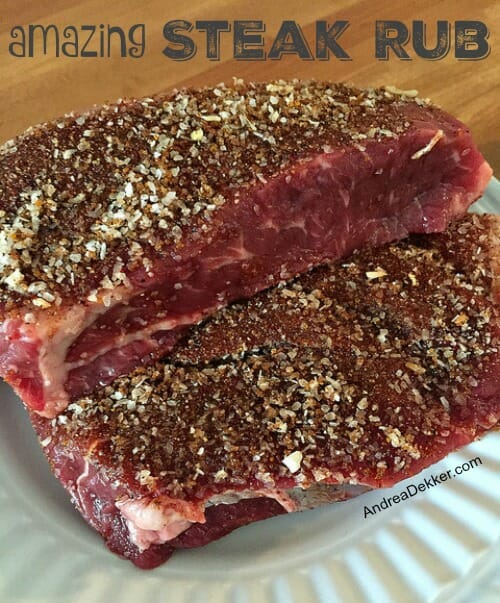 Last Christmas, Dave's parents gave us a quarter of a cow as our Christmas gift — everything from boatloads of fresh ground beef to delicious roasts and steaks. We got the meat in March, and 7 months later, we still have a nice supply of beef in our freezer!
Prior to our humongous meat delivery, Dave and I didn't eat steak all that often — partially because it's more expensive than other meats, but also because we didn't have a great recipe for seasoning it.
However, after I neatly stacked a pile of delicious steaks in our deep freezer last spring, I decided I needed to find a really great dry steak rub that I could make ahead and have on hand whenever we wanted to grill up a few steaks.
After the very first time I used this "amazing steak rub" on our steaks, I knew this would be my go-to rub for steaks and other meats!
The flavors in this spice rub are fabulous — strong enough, but not TOO strong that they take away from the taste of the meat itself.
This recipe is easily doubled or tripled if you want to make a lot at one time… and I'm certain it will still taste great even if you need to omit or swap out a few ingredients.
Recipe for Amazing Steak Rub
makes enough for 8-10 steaks
INGREDIENTS:
2 Tbl. coarse salt
2 tsp. brown sugar
1 tsp. black pepper
1/2 tsp. Paprika
1/2 tsp. Chilli Powder
1/2 tsp. Onion flakes or onion powder
1/4 tsp. Garlic Powder
1/4 tsp. Turmeric
DIRECTIONS:
mix all ingredients in a small bowl
rub mixture onto all sides of steak
cover and let sit for 30-40 minutes
grill or cook meat as desired
store leftover steak rub in a ziptop bag or an empty spice jar
I often make a double batch of this steak rub, and store it in my spice cabinet to use on steaks (or other meats).
I have a couple other meat marinade recipes (see below) we really like… but I love that it's a DRY rub so I can store it easily — or even take it with us if we're going to a BBQ at another house. Plus, it only requires 30-40 minutes on the meat to make a huge flavor impact, so it's great if you're short on time.
LIQUID MARINADE RECIPES:
If you're looking for a good dry rub that uses relatively "normal" spices and can be stored for several months, this rub is for you!
Do you have any favorite meat rub recipes?
Visit my virtual recipe box for more simple, delicious, family friendly recipes!