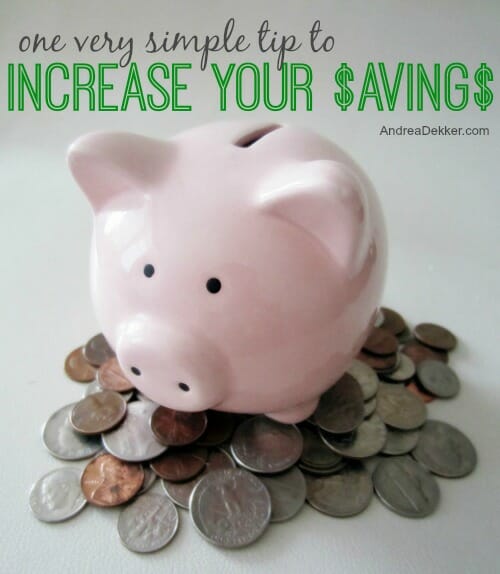 When Dave and I were first married and each working outside the home, we were fortunate enough to have 2 incomes. Granted, they were both very small incomes; but even still, we felt lucky to both have jobs with steady paychecks. Plus, we were used to living on a college student budget, so even our small incomes seemed like A LOT to us!
At the time we decided we would live on Dave's income only. We committed to saving my entire paycheck for at least one full year, with the intention to use it for "large purchases" or emergencies.
Every penny I earned was directly deposited into a separate savings account, while Dave's entire paycheck went into our checking account and paid our mortgage, all our bills, any other expenses, our investments, tithing, etc.
Our savings added up quickly!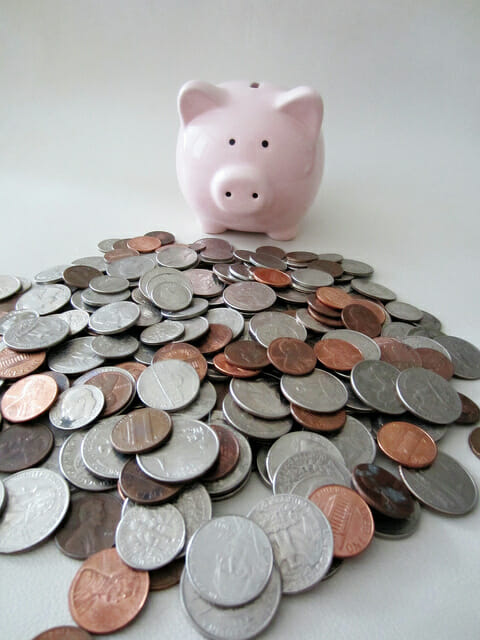 I can remember a couple time when I wanted to take money out of our savings account — either to pay for something we didn't quite have the money to pay for in our checking account, or just to give us a little extra "cushion" for our weekly and monthly expenses.
However, the fact that I would have actually had to go to the bank to transfer that money stopped me each time — it just would have been too much hassle as we didn't have home internet at the time, and obviously no smart phones or online banking!
.
After 1 full year of saving my entire paycheck, we had (what felt like to us) an enormous amount of money in our savings account.
Our plan for that money was to use some of it to replace my very worn-out car from high school and some of it for a few smaller home renovations. We kept the rest in our savings account — and we continued to put every penny of my income into that account.
As you can probably imagine, even with a relatively low-paying job, our savings grew ridiculously quickly with absolutely no thought or effort on our part.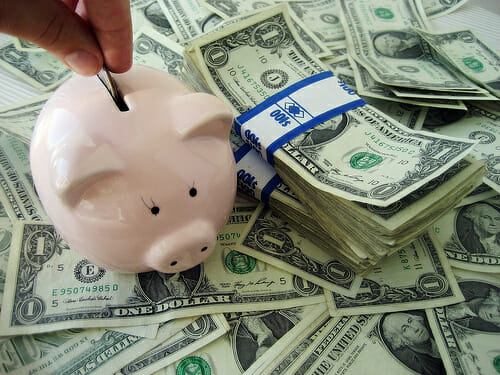 The money AUTOMATICALLY went into our savings account every payday while we continued to live on Dave's income.
And we never touched it.
Yes, we could have done more fun activities with friends, we could have gone out to eat more often, we could have spent more than $30 on groceries a week (back in the day of amazing coupons!), we could have done more home renovations, we could have traveled more, and we could have enjoyed more "luxury items"… but we didn't.
We survived on Dave's fairly small income, and we created the invaluable habit of prioritizing our savings.
We saved first… and made due with whatever money we had left.
.
I can remember feeling a little stressed whenever our checking account was low (especially in those first few very low-income years) — counting how many days until Dave's next paycheck, doing mental math as to if we would have enough to cover the bills, groceries, etc. — all the while, having thousands of dollars just sitting in our savings account.
As I mentioned above, there were a couple times when I knew it would be so easy to just take some of the money out of our savings account to give us a little more breathing room… but I'm so glad we didn't "cheat". We basically both decided that using the money in our savings account wasn't even an option (outside of our larger planned purchases) unless we had a true emergency.
So the money just sat there gathering a little interest and waiting for our planned purchases.
Now, 10 years into our marriage, we still handle our savings in much the same way.
Almost all the money I make goes into our savings account, while Dave's income goes into our checking account to pay all our daily, weekly, and monthly bills and expenses — including tithing and all our investing. We then use the money in our savings account to pay in-full for all our house projects, landscape renovations, new-to-us vehicles, and large principal-only payments on our mortgage.
Now that we are basically finished with all those bigger house/yard/car expenses (we have a couple more home renovations to tackle eventually — but nothing major) our plan is to use the money in our savings account to pay our children's school tuition, save up for family vacations, maintain a large emergency fund, and hopefully get a pool in a couple years!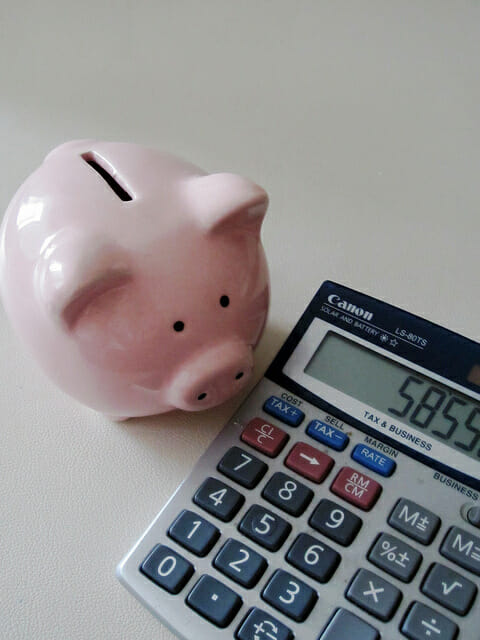 Even though Dave and I both know there is money in the savings account, and even though I could easily transfer money to our checking account in about 10 seconds (either from my phone or computer), I just don't do it.
I guess after 10 years of saving FIRST, it has become a habit to reserve my income for larger planned purchases (or keep it on hand for emergencies).
NOTE: We don't actually keep it all in our low-interest savings account now. We have some in money markets and other more "liquid" investments so the money is actually earning more than it would just sitting in our bank account.
Obviously, if our income source or amount drastically changes at some point, we will have to reevaluate how we structure our savings and spending (and probably our entire budget); but for the time being, saving my income and living off Dave's income seems to be the best, easiest, simplest, most effective way for us to quickly build up our savings account each year.
I realize this exact setup won't work for every household — the important thing (in my opinion) is putting the savings away FIRST — before you even pay your bills or buy gas and groceries.
Even if it's not your full paycheck, the habit of putting SOMETHING into your savings account before you spend any other money that month will ultimately help you grow your savings account so much faster than if you wait to "see if you have anything left over at the end of the month". Because you know as well as I do that there often isn't very much "left over" at the end of the month!
.
I am not a financial expert, I have no formal training in this field, I don't regularly read books or do extensive research on financial topics, and I don't follow any "financial gurus". However, I've always been good at saving my money… and I have a feeling most of you would be happy to have little extra money in your savings account.
Right?
Do you save FIRST? If not, try it for a few months… then let me know if it made any difference for you!