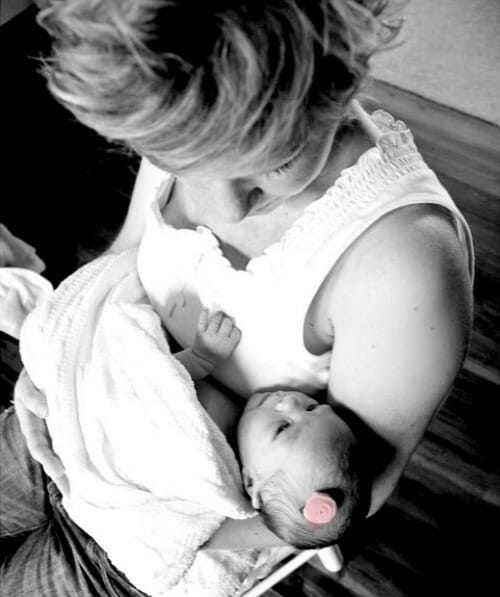 Today is the last day of Baby Week here on the blog. I've had so much fun celebrating Baby Dekker #2 with a full week of fun baby-related posts and giveaways — all geared to make life with a new baby a little simpler, more organized, and more fun!!

If you haven't entered to win the 12 fabulous giveaways yet, do so here!
Happy Valentines Day!
Today is a day of love — and although I truly don't buy into Hallmark Holidays, I thought today would be the perfect day to share a love story with you. It's not a traditional love story by any means — and it's not even about Dave 🙂
Today, I'm sharing my love story with Nora, and the whirlwind journey motherhood has taken me on these past 815 days (yes, I counted).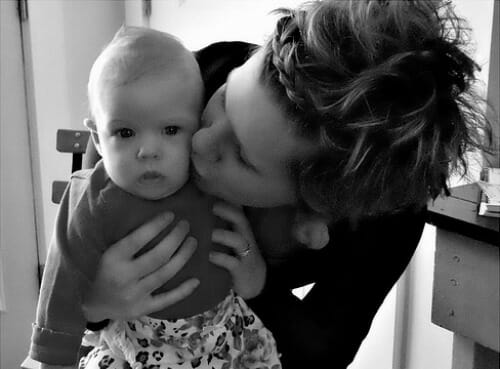 Although I officially became a mother on 11-22-11, my journey to motherhood started years ago — well before Dave and I ever met.
I always knew I wanted to be a mother, but never in the sense that I wanted to babysit, play dolls, or really even hold other babies growing up. I never understood my one sister's infatuation with tiny babies and her love for babysitting small children (that sister is now a Labor and Delivery nurse by the way!) and still to this day, I will almost never ask to hold someone else's baby or volunteer to watch other people's small children.
I just really don't like babies (and I'm honestly not saying that to be funny or weird).
No, when I pictured myself as a mother, it was never to infants or toddlers — although I did realize it would most likely need to start out that way.
Instead, I envisioned myself baking cookies and doing crafts with my 5 and 6 year olds; carting my 8 and 9 year olds to soccer practice, baseball games, and piano lessons; preparing my 11 year olds for their first day of middle school; and shopping for prom dresses with my 16 year olds.
I envisioned parent-teacher conferences at school, watching them sing in the church choir, and family vacations without the need for diaper bags, pack n' plays, sippy cups, or carseats.
I had a feeling motherhood would be difficult for me, but I figured I could do it (at least after age 4!)
So although Dave and I knew we wanted to have children some day, we were both totally fine waiting several years to start our family.
I told Dave how nervous I was to have an infant, and frequently asked him to consider adopting older children (yes, I was serious). Dave wasn't sold on adopting older children before we even tried to have our own — and I agreed that it might be better if we "started at the beginning" with a newborn baby so we could get some experience with the whole spectrum of parenting.
Fast-forward a few years…
I don't think either of us could have ever been prepared for how insanely life-altering it would be to bring Nora home on that Thanksgiving Day, 2011.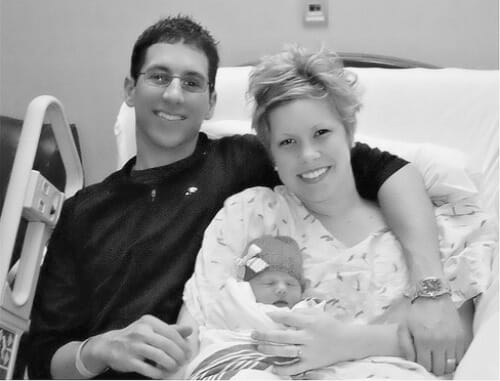 Although we had SO much to be thankful for, I don't even have a picture of Nora and I "coming home" because I was literally SOBBING the entire last day in the hospital, the entire ride home, and basically until we went to bed that first night.
The nurses kept asking me what was wrong and all I could say was, "there is no way I can take this baby home with me." They smiled and reassured me that everything would be fine — but I seriously doubted that.
Everything would NOT be fine.
I had no idea how to care for this tiny person who was now 100% dependent on me, and the thought of raising this child for the next 4+ years (to the point where we could finally start baking cookies and doing crafts) was simply too much for me to handle 🙂
I was told these overwhelming feelings of anxiety, depression, and fear would subside after a couple weeks… but they didn't. In fact, they got worse — but then I was told that it was just because I was so sleep-deprived and to wait it out a few more weeks until the baby was on a schedule and sleeping more regular hours (insert loud laughter).
.
Two years later, Nora is still not on a schedule and is still not sleeping regularly through the night — but at least I can say that some time in that 2-year period, I was finally able to move past most of that anxiety, depression, and fear.
It took a really long time (probably close to 18 months) and I was never once offered or encouraged to try medication.
Everyone told me it was normal to be overwhelmed, it was normal to feel slightly anxious and depressed — this was all part of being a first-time mom and it was probably because I was so organized before having kids. However, I really don't think these people understood what I was going through on a daily basis — and of course, it wasn't really something I wanted to have lengthy conversations about.
As someone who rarely ever cried or worried before I had kids, my days were now spent sobbing on the couch (usually with Nora screaming in my arms). And the few hours at night when I wasn't awake with Nora, I was laying awake in my own bed worrying and feeling anxious about EVERYTHING.
"What if our house starts on fire and I can't get to Nora?"
"What if I get in an accident in the cold weather and can't call for help so Nora freezes in her carseat?"
"What if I die — how would Dave care for Nora on his own?"
"What if Dave dies — I could never do it all by myself?"
"What if Nora stops breathing or starts choking and I don't notice or can't get help in time?"
"What if I pass out in the middle of the day and no one notices until Dave get's home from school and Nora is on her own all day?"
These might sound totally crazy to someone in their "right frame of mind" but these thoughts (and hundreds of others) were legitimate and real concerns that plagued me every single day — and night.
I loved my little girl more than words could describe, but I was an absolute wreck.
Surprisingly enough, I could usually hold it together pretty well whenever anyone else was around. Aside from a few really bad days, Dave was the only one who saw my anxiety, depression, and fear — and I don't even think HE realized how bad it was.
Honestly, I didn't even realize how bad it was!
It was only in the past 6 – 8 months or so when I finally started to feel totally "normal" again (yes, that was the exact same time I was finally able to stop nursing Nora) and I could look back and see how awful my first year+ of motherhood really was. Not "awful" in a sense that I don't have any happy memories of that first year, but simply from the standpoint that I know I NEVER EVER want to go through that again!
Yes, I'm still tired and I still find myself excited to move past the baby stage (I realize it will be a while yet)… but at least I can breathe, I can enjoy the day without feeling suffocated by my anxious thoughts, and despite my pregnancy hormones, I can go weeks without shedding a tear!
Although Nora still isn't quite old enough to really help me bake, and our "crafts" mainly consist of putting stickers on every stick-able surface within her reach, life is SO much better now that she is a bit older and I feel like my "normal" self again!
However, the anxiety is coming back.
With another baby on the way in just a couple weeks, I can't help but feel a little anxious about what life will be like when we bring him home. Yes, I realize the irony of this situation — I'm getting anxious about the fact that I may or may not have severe anxiety after our next baby is born 🙂
For the record, I'm 100% OK with taking medication from the day I give birth if I feel it's necessary. Dave and my doctors are totally on board with this too — which in itself is a huge relief for me. I know that no matter what, I will never feel as horrible as I did with Nora.
There is just no way I'm going to let another year of my life slip through my fingers again — and I honestly don't care what anyone else says!
I listened to everyone else's opinions with my first baby… this time, I'm trusting myself and doing what I feel is best for ME, for MY BABY, and for OUR ENTIRE FAMILY.
So what about that Valentine's Day love story?
Don't worry, I'm getting there!
As I'm sure many moms out there can relate to, my love story with Nora is so much different than my love story with Dave (you can read that story here and here!)
With Dave, I had plenty of time to get to know him, grow to love him, and learn to live with all those little imperfections we each have. Plus, it was ALWAYS a give-and-take relationship — meaning the more I invested into the relationship, the more I got out of it.
With Nora, she was just THERE, screaming in my arms and waiting for me to love her without ever really getting to know her. And as with all babies, it's just a give-and-give-and-give-and-give relationship (which is especially difficult for someone who doesn't naturally go gaga over newborn babies!)
There were plenty of days when I wondered (and of course worried) if my anxiety, depression, and fear meant that I somehow didn't love my baby enough — talk about mom guilt! But thankfully, I NOW know it was just the opposite. I loved her so much — which probably made it even harder to get my emotions in check.
Over the past two years, this little girl has completely stolen my heart — to the point that my chest literally hurts when she hugs me and says, "oh mommy, you're my favorite. I wove you so really vewy much!"
I would do ANYTHING to keep her from harm.
I would do ANYTHING to calm her fears.
I would do ANYTHING to make her smile.
I honestly can't even fathom being able to love TWO kids that much — but I know it will happen.
Nora and I have made it through a lot together (WAY more "junk" than Dave and I have ever had to trudge through) and we're both still standing tall!
In fact, I think our relationship is stronger because of it.
So to all the mothers who have battled with anxiety, fear, or depression for weeks, months, or years of their lives, and are also still standing tall… Happy Valentine's Day to you and all those kiddos you've loved unconditionally through it all!

Although they might not come out and say it so freely, I'm sure they "wove you so really, vewy much" too!