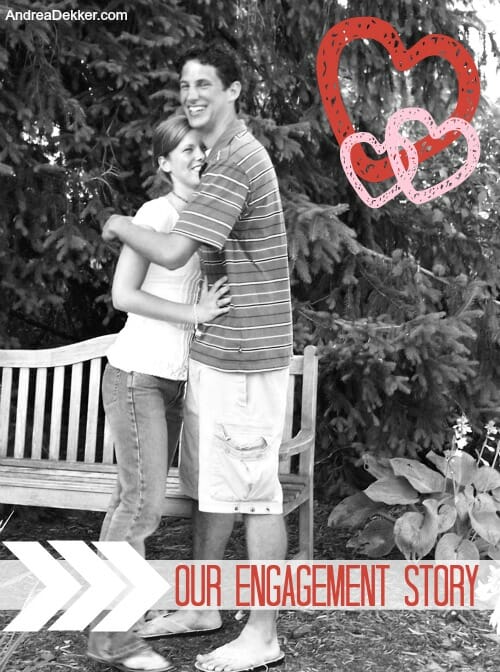 Next weekend, Dave and I will celebrate our 7-year wedding anniversary!
However, since I've already shared our 5th and 6th anniversaries with you, I thought that this year, it would be more fun to share our engagement story… especially since it all took place 8 years ago tomorrow.
It's such a fun story — probably the only time in my entire life that I've actually been 100% surprised! I still smile and get goosebumps EVERY single time I reminisce about our engagement story…
.
A Little History:
Dave and I went on our first date in October of 2004 — I was 19, he was 23. By December of 2004, I think we both knew we would get married.
We went ring shopping in May of 2005 (yes, I was still 19).
Dave was adamant that I pick out my ring… and thanks to my practical nature, I found the ring I wanted after about 20 minutes. Dave wrote the check that day, but we couldn't take the ring with us because it had to be sized.
Dave's sister was getting married on July 1, and we had both decided not to "steal their thunder" by getting engaged right before their wedding… so I prepared to wait. I didn't know when the ring would be ready, but I knew we wouldn't get engaged until after July 1.
One More Piece of the Puzzle:
Dave and I met via our college employment — we were both custodians for the college's field house (gym) and our boss actually set us up.
After talking with both of us at different times, our boss realized that we both liked the other person and she FINALLY convinced Dave to ask me out (after an entire summer of working full-time together — and I was definitely dropping lots of hints!)
Our boss was also taking some photography classes at that time, and she frequently needed to take photos of people, things, etc. for her class projects and her portfolio (this is a really important piece of the puzzle).
One day at work, our boss told me about an upcoming project she had for her photography class. She asked if she could photograph Dave and I for that project — she also said she would give us a CD with all the images in case we wanted to print any of them!
You know how much I love free stuff, so you can just about imagine how excited I was. I knew Dave didn't love having his picture taken, so I explained that I really wanted some nice pictures of us and I would try to keep the photo-shoot really short.
After some initial hesitation, Dave agreed (little did I know this was all part of his plan) and I picked the time, date, and location for the photo-shoot.
Our Engagement Story:
Although I knew we weren't going to get engaged before July 1, I still wondered if Dave might propose on my birthday (June 16); however, my birthday came and went with nothing more than some cheesecake and sparkling cider (still not 21 yet). I was disappointed… but at least we had a fun photo shoot to look forward to the following week!
June 22, 2005 — I was taking summer classes during the day and then working in the afternoon and evening. So after my classes were done for the day, I met Dave at the gym, we found our boss, and we headed out to the location I chose for our photo shoot (just a nicely landscaped area on our college campus).
Looking back, I can't even imagine how nervous Dave must have been. He didn't want to have the ring box in his pocket so he just put the ring in his big, bulky pockets. He later told me that he checked his pocket every 10 seconds to make sure the ring was still there — I never noticed!
We started posing for pictures — listening to our boss to try and replicate the exact poses she needed for "her project". She would tell us to stand a certain way, move to a specific location, do certain things, etc. etc. — because after all, this was a very important project.
I was trying to make sure Dave didn't get overwhelmed with all these pictures, so I kept things moving along. Finally, our boss asked us to go over to a bench next to a little waterfall because she needed some pictures of us sitting down.
Then, she told Dave that she needed a picture of him acting like he was proposing…
SIDE NOTE: I knew Dave would not want to do this, so I immediately protested. There were other people around this area and I didn't want Dave to feel self-conscious or like people were staring at us (and you can bet they were staring!)
Since Dave is so nice, he agreed to do the "FAKE" proposal pose.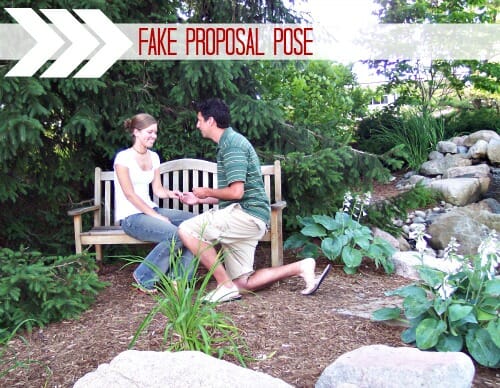 After the fake proposal photo was taken, I turned to my boss and said, "Dave really needs a ring to make this look official."
.
She just smiled and continued taking photos — because as I turned back around to face Dave, he had the ring in his hand and said, "How about this one?"
As you can see by the look on my face, I was 100% completely shocked!
After all, Dave didn't even want to do this photo shoot (or so I thought) and how did he magically have the ring in his pocket?
Was this really happening?
.
Dave continued on with his REAL proposal.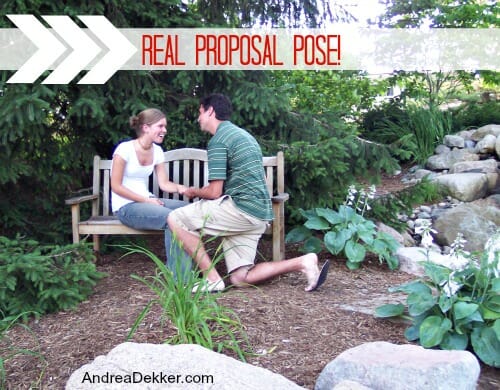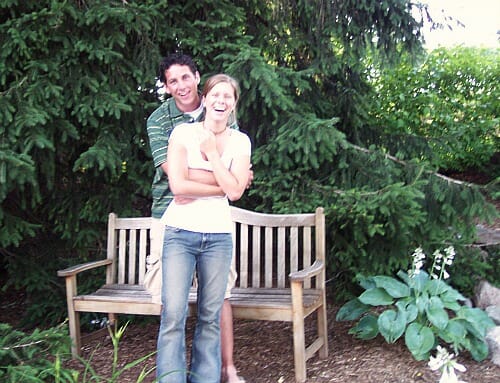 I have no idea what he said, but I do know I said, "yes!"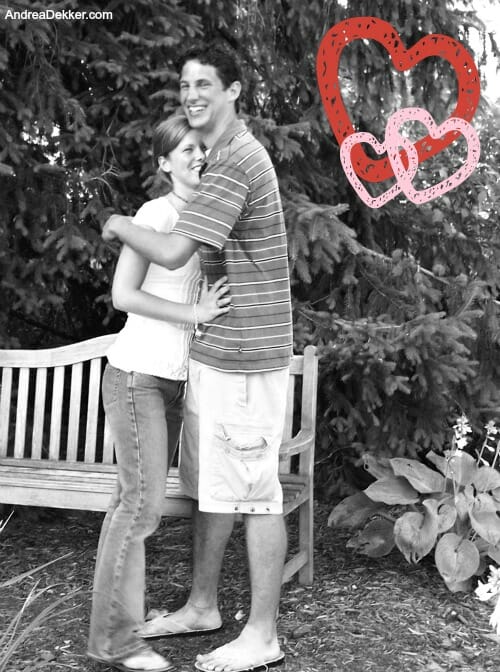 And then I started putting ALL the pieces of the puzzle together, realizing that Dave was behind this little photo shoot idea the entire time.
So sneaky!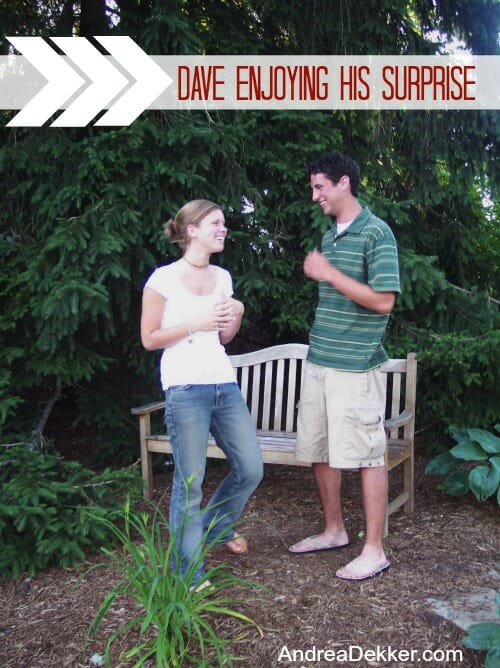 The rest of the story…
After I had a few minutes to process the entire situation, after our boss stopped snapping photos, and after Dave FINALLY stopped gloating about how he pulled off such a fabulous surprise, we drove to my parent's house to share our good news.
Then, we got on the phone calling the rest of our family and friends (this was before Facebook!)
Dave's parents were living in Washington at the time, but his mom happened to be flying in that night in preparation for his sister's wedding, so we surprised her with our news when she flew in.
His sister was actually glad we got engaged before her wedding because it made it an easy decision to "allow" me into their family pictures at the wedding 🙂
So not only did Dave pull off an amazing surprise proposal (seriously, I never saw it coming at that point), he also managed to get the entire thing photographed — which means we now have almost 100 candid, real life photos from that moment!
I told you it was a good story!