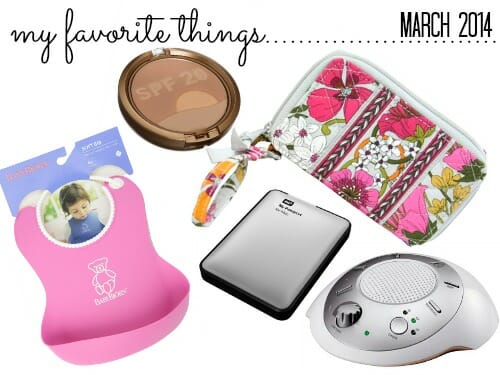 Here are a few of my favorite things for the Month of March. I was hoping to have "a new baby" on my list… but we'll just wait patiently for my due date — tomorrow!!
As always, be sure to check out some of my favorite things from past months.
DISCLOSURE: None of these products are sponsored in any way; however, some of the links below are affiliate links — which means I may get a VERY small percentage of the sale if you make a purchase through my links. However, I hope you know that I'm only promoting the products below because I use them EVERY SINGLE DAY in my own home and life! Read my full disclosure policy for more information.
All-In-One Wristlet Wallet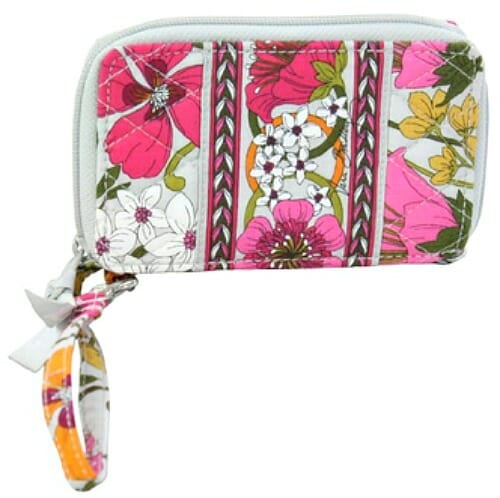 I've talked about my all-in-one wristlet wallet before — but I've never included it in my list of Favorite Things. So since I've been using and loving my Vera Bradley All-In-One Wristlet every day for over 2 years now, I figured it was about time it officially made my list of Favorite Things!
Obviously, the brand name doesn't matter — I know Thirty-One has almost identical wristlet wallets, and I've seen similar ones at Target too. The only reason I'm mentioning the brand is because otherwise I'll get 50 questions asking what exact wristlet wallet I have 🙂
And for the record, I got a really good deal on mine so no, I didn't pay $40!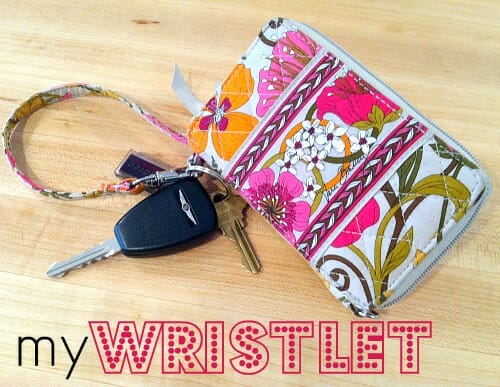 My keys clip onto the key ring, my cash and change easily fit in the appropriate places, and I only have a few cards that need to stay in my wallet. I use the cell phone pocket on the back side to store chapstick, gum, a pack of post-it notes, and a pen — so I literally have everything I need for my own personal use right on my wrist.
When I'm ready to head out, I simply toss the wristlet into the diaper bag (or whatever bag I'm using) and I'm good to go. If I'm fortunate to be going out without kids, then I can just take the wristlet!
.
HoMedics Sound Spa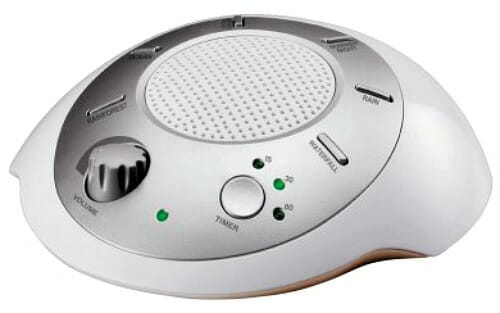 I'm sure you know that we've had a bit of a battle getting Nora to fall asleep and stay asleep these first couple of years — and one thing we tried very early on was creating white noise in her room.
We used a small portable fan for about 22 months, and that seemed to help a bit — if nothing else, it masked some of the sounds from the rest of the house to prevent her from waking up so easily. But the that fan died and Dave and I were left frantically searching for a small fan in October… which is not the best time to be looking for fan.
I asked around on Facebook for good white noise makers and got tons of suggestions — thanks for that by the way! I looked into many of the options and ultimately decided on the HoMedics Sound Spa (I purchased mine for a little less from Bed Bath & Beyond with a $5 coupon).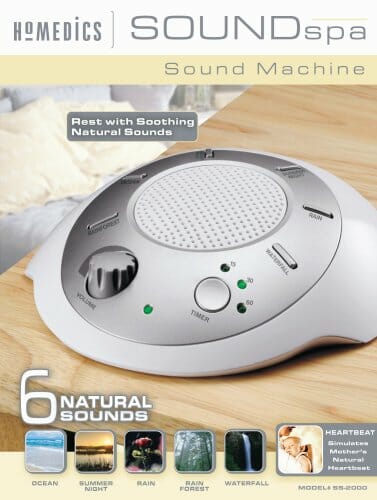 We absolutely LOVED it (for Nora) from day one, and now have one for our room and the baby's room too. It's so simple to use, gets REALLY loud if you want it to, and is one of the only noise makers I found that has a straight-up "white noise" setting that sounds like a turbo fan.
We're not fans of listening to the ocean or birds or a heartbeat — we just want static white noise without the cold air of a fan blowing on us. This sound spa give us that for a relatively reasonable price 🙂
.
Baby Bjorn Soft Bib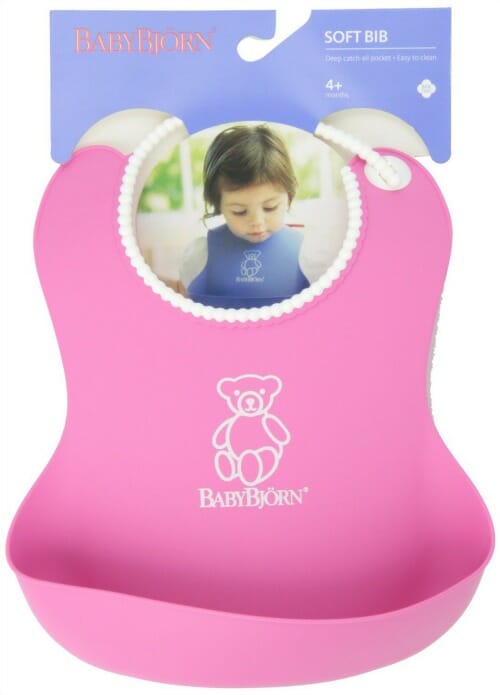 Last month, I mentioned how much I loved our Baby Bjorn Bib during the big Baby Week celebration — and I got lots of questions about it.
It's fun, because for a good 20-24 months, Nora absolutely REFUSED to wear any sort of bib so we just stopped fighting it since she didn't eat a whole lot anyway. However, over the past few months, she's started to actually REQUEST her bib before she'll eat a meal — which is fabulous for my laundry pile 🙂
Thankfully, we had our Baby Bjorn Bib ready to go when Nora was finally ready to wear it — and honestly, it's the best!
Clean-up is a breeze (just wipe it with a damp cloth) and almost any time Nora spills something, it falls right into the handy little "spill pocket" which means my stubborn little girl can feed herself without making a colossal mess — even though she's not extremely coordinated with her silverware yet!
It's a little bit bulkier to take along to restaurants or on-the-go — but still totally worth it in my opinion.
Oh, and if you're wondering, we already have a yellow bib ready and waiting for baby boy!
.
Physicians Formula Bronzer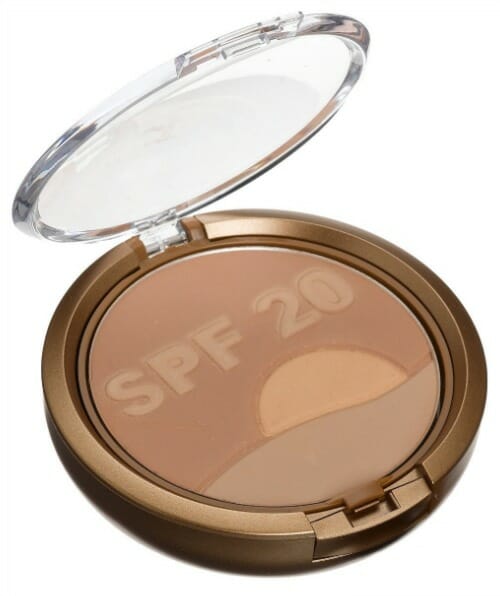 I've mentioned many times before that I don't wear a lot of makeup… but one of the two products I DO use on a daily basis is the Physicians Formula Solar Powder Bronzer (the other is mascara, by the way!)
I've been using this bronzer for probably 6 or 7 years and am still only on my 2nd compact — so yes, it's totally worth the $11.88 price tag on Amazon.com right now 🙂
I honestly don't remember what prompted me to try this specific bronzer (I'm sure it was a super good sale, rebate, or coupon), but I'm glad I did. It's by-far the best, most natural looking bronzer I've ever tried and it really just brightens up my entire face.
I've never had an issue with this pressed powder cracking or crumbling (and yes, I've dropped it many times). I'm not sure I totally believe that the SPF20 will REALLY protect my skin from the sun, but I also figure it can't hurt anything!
.
My Passport Portable Hard Drive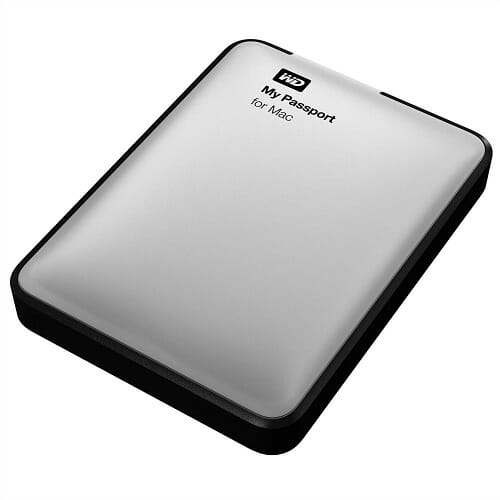 We've had some form of portable hard drive since we were married — but when we started switching over to Apple products a few years ago, we had to switch the portable hard drive we used as well.
At the suggestion of some Apple-loving friends, we purchased the 1TB WD My Passport for Mac portable hard drive and have been VERY happy with it ever since.
We back up BOTH our computers (via Time Machine) to this portable hard drive about once a week — which means that if anything should happen to our computers, we won't lose much if any data. I also regularly back up ALL our pictures and my digital photo albums on this hard drive.
And since the hard drive is relatively small, it easily fits inside our fire-proof safe or inside our computer bag if we need to transport it.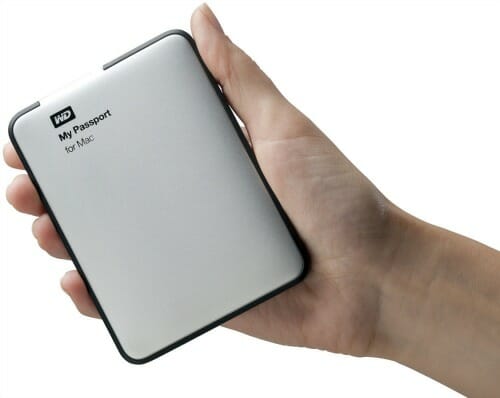 I've never actually had to utilize this backed-up information — until last month when our iMac's hard drive completely crashed.
The Apple Care technician said that in her 8 years of working in customer service, this was only the 2nd time she has seen a hard drive crash. Thankfully, I had done a back up just a few days before so I didn't lose anything important!
Thank-you portable hard drive!
.
That's all for me this month.
Make sure you check out my previous months' favorite things — and feel free to share some of YOUR favorite things in the comments below!