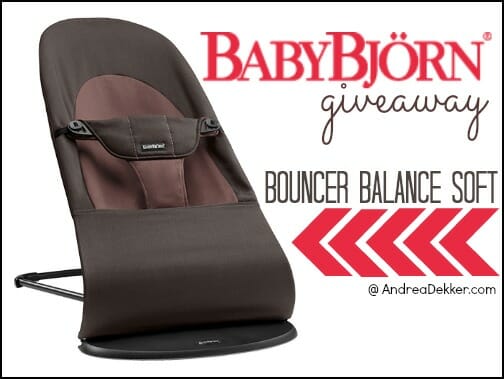 UPDATE: this giveaway is closed.
Congrats to Kris (kandjlading@…)! Look for an email from me today!
---
For those of you who have been following my blog for a while, you're probably not surprised that I'm over-the-moon excited to share another BabyBjörn giveaway today!
I've been loving, using, and freely promoting many of the BabyBjörn products for the last couple of years… and believe it or not, I first fell in love with the BabyBjörn brand BEFORE I had any children of my own. I was at a blogging trip to Chicago, and as one of the only bloggers without children, I just listened intently while the other moms chatted about their favorite baby gear. The name BabyBjörn kept popping up, so I Googled it when I got home.
For a variety of reasons (all mentioned below), I instantly fell in love with their Bouncer Balance Soft (formerly called the BabySitter Balance). I KNEW I wanted one for my baby — someday down the road.
Ironically enough, although I didn't know it at the time, I was actually pregnant on that blogging trip — and a few months later, I excitedly purchased my very own BabyBjörn Balance (here's the link to the exact one we have).
Since the day Nora was born, in November of 2011, we have used our bouncer EVERY SINGLE DAY — sometimes for hours and hours a day (no, I'm not exaggerating!)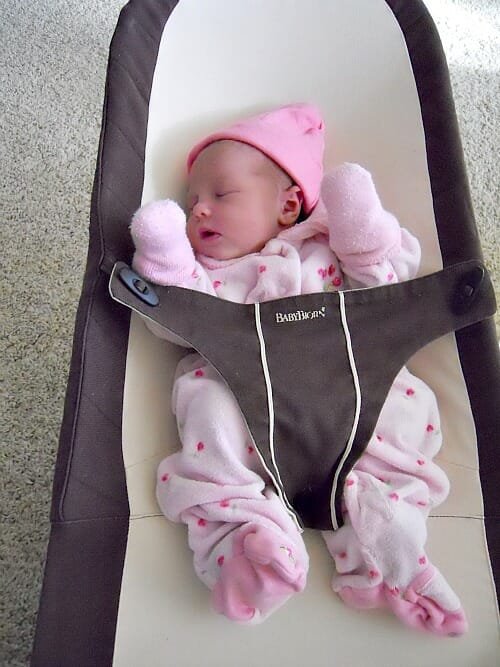 We take the bouncer almost everywhere we go — on vacation, to friends' houses, outside when we're playing with Nora, at the dinner table, etc. We've even thought about bringing it to our church nursery since they don't have a bounce seat (we decided that was a little much though, so we haven't done it yet!)
We had a couple months where Nora and Simon "fought" over the use of the chair — and then Nora finally decided she was too big and relinquished full rights to Simon 🙂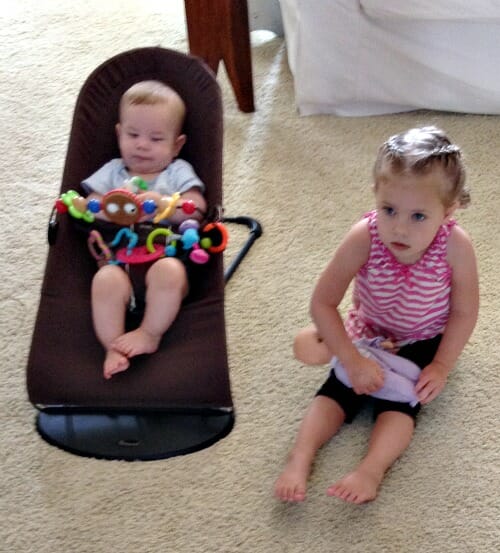 And yes, almost all the photos of Simon in the bouncer are blurry because he's bouncing like crazy (see video below)
if you're reading via email, you may need to click through to the post to see the video

My 5 Favorite BabyBjörn Features:
1. It folds completely flat and takes up almost no space — very abnormal for baby gear!
2. It's fully washable — just slide the fabric off, wash, dry, slide back on!
3. It has a very long useful "life" — from day 1 all the way through 2 or 3 years old.
4. It's "baby operated" — a.k.a. no batteries to replace, no cord to trip over, nothing to break, no motor to die, and no parent's foot required.
5. My babies LOVE it! You know how frugal I am AND how much I hate clutter. So for me to splurge on a pricier piece of baby gear, it has to be worth it. This bouncer seat is worth every penny and more based on the amount of sanity it has saved me over the past (almost) 3 years!
This might be a bold statement, but I can confidently say that our BabyBjörn bouncer is one of the best, if not THE best, piece of baby gear we've ever purchased. So yeah, I'm just a teeny, tiny, little bit excited that one of you has the opportunity to win one today!!!!
More About BabyBjörn:
BabyBjörn is a Swedish family-owned business started in 1961 by Björn Jakobson. Their business concept was, and still is: To make day-to-day life easier for parents of small children by developing safe and innovative products of the highest quality for children up to three years old.
Read the history of the BabyBjörn Bouncer here.
Visit BabyBjörn on the web:

Website: www.babybjorn.com
Facebook: BabyBjörn US
Twitter: @BabyBjörnUS
Pinterest: BabyBjörnUS
YouTube: BabyBjörn1961
Enter To Win This Giveaway!
Today, one lucky reader will win a BabyBjörn Bouncer Balance Soft.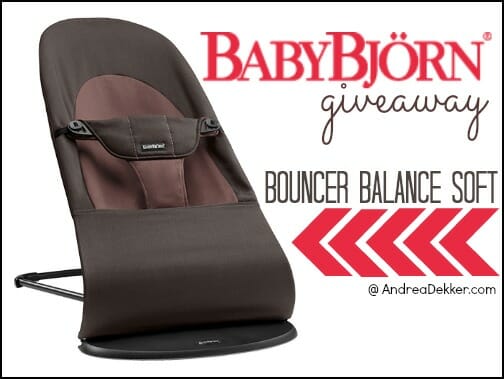 To enter, simply use the Rafflecopter widget below (it might take a second to load).
a Rafflecopter giveaway

This giveaways ends at 11:59 pm EST, Sunday, 8/24/2014 and is open to US residents, 18 years or older. The winner will be randomly selected via Rafflecopter and notified via email. I received a duplicate prize package in exchange for hosting this giveaway — all opinions are 100% my own. Please see my full disclosure policy and contact me with any questions you have. Good luck!