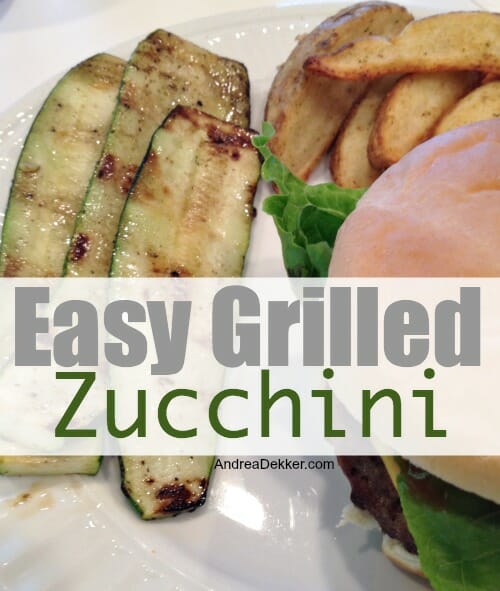 It's THAT time of year again — the time when zucchinis are over-producing in your garden and mere pennies at the grocery store. If you're like most people I know, you're scrambling for more recipes to use up all the zucchini!
This is actually the first year we've had any type of vegetable garden at this house. We always had a big garden at our first house, but I think we've just been too busy with babies and house projects to feel up to planting and maintaining a vegetable garden on top of everything else.
In the past, we've always received zucchini from friends or family who had too much — but this year, we finally planted our own garden (about a month late… oh well) and Nora could not be more excited.
We visit our garden every day to see what veggies are ready to pick, and the first time we were able to pick the zucchinis, she shouted, "Look mom! Kah-zee-nees!"
She's now a pro at correctly pronouncing and identifying ripe zucchinis — although not as thrilled with eating them 🙂
Thankfully, we only planted one plant — however, if you have multiple plants and are looking for a way to use up some of your bounty, I have a super fast and easy grilled zucchini recipe for you today!
Recipe for Easy Grilled Zucchini:
INGREDIENTS:
zucchini; sliced lengthwise into 1/4″ slices (figure about 3 slices per person)
oil (whatever kind you have in the house)
salt, pepper, and garlic powder; to taste
DIRECTIONS:
Wash zucchini and slice lengthwise into 1/4″ thick slices
Brush both sides of zucchini with oil
Sprinkle both sides with salt, pepper, and garlic powder (or any flavors you enjoy with zucchini)
Place slices on a hot grill for about 3 minutes per side
Serve immediately
This is such a simple way to cook and serve zucchini when you already have the grill out — just make sure you don't over-cook it as some grills might cook faster than ours.
We're big fans of grilled vegetables (like this grilled corn on the cob) as I feel like the grilling process really brings out the flavor of the veggies!
Oh, and if you're looking for more recipes to use up that zucchini… here you go:
Do you grill vegetables? If so, what are your favorite recipes?
Visit my virtual recipe box for more simple, delicious, family friendly, recipes!