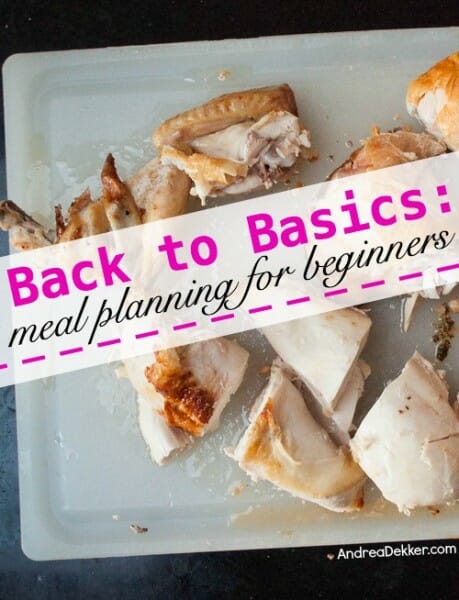 Over the past several years, I've shared so many posts about meal planning. Even still, "meal planning" continues to be one of the top questions I get from readers — how to start, what type of meals to plan, how I do it, ways to streamline and simplify it, etc. etc. etc.
Every time I get another question, I think to myself, "certainly, there is nothing else I can say about meal planning." But then I always seem to come up with more!
I suppose I feel somewhat passionate about the simplifying "power" of meal planning — mainly because I know how little effort it takes once you find your groove, and also how HUGE the benefits are. Not only do I save loads of time, energy, and stress (especially right around 5:00 when the house is already crazy)… I also save a considerable amount of money by planning my meals around what I already have in the house (so we don't waste food) and by what's on sale at the grocery store.
That said, I fully understand how overwhelming (and not extremely fun) meal planning can seem — especially if you've never done it before, if you're not a natural planner, if you don't particularly love cooking or being in the kitchen, if you've tried before and failed, if you have allergies or other picky eaters, if your spouse isn't appreciative of your efforts, if you are a perfectionist, etc.
If you fit into any of those categories, please know that meal planning most likely won't be quite as enjoyable or quite as quick and easy. However, if meal planning is something you really want to do, I am still confident that with a little extra effort and persistence on your part, you can learn to create very basic meal plans that WILL simplify your life — or at the very least, your dinner hour!
Also, before I go any further, I want to mention that it's totally fine if you're not into meal planning. I know LOTS of people who really have no interest in meal planning — and therefore, don't create weekly meal plans. These people still eat, they still live happy lives, and they still function as normal adults (well, most of them anyway!)

I certainly don't think everyone MUST create weekly meal plans — and if you're someone who doesn't have a strong desire to meal plan, don't feel pressured to start JUST because I do it (or because your friends or relatives do it).

If you have a good routine or system that works for you — or if you just like not having a meal planning system, that's fine. This post is geared for the people who DO want to meal plan but just don't know how to get started.
So… that's where I come in (hopefully!)
Today, I have 3 of the most simple, most basic tips I could think of for anyone who desperately wants to start meal planning but just can't find the right system or method for their family.
1. Don't Over-Think it
I cannot tell you how many emails I've gotten from people who say things like "I've been thinking about trying meal planning for XX number of months, but just haven't gotten around to doing it"
Seriously!
I realize many of these comments come from people with strong perfectionist tendencies and they don't want to do anything unless they think it can be done perfectly (I know how paralyzing that can be for so many people). Yet, at the same time, I don't remember ever THINKING about anything for multiple months without taking some sort of action-steps towards DOING it.
There is no magic potion or super-special tip I can give you to "stop thinking and start doing"… you must simply decide for yourself that it's time and you ARE going to plan a week's worth of meals.
I'm hoping the 2 additional tips I'm sharing below will offer you more encouragement and guidance, but for now, I'm going to steal Nike's tagline… JUST DO IT!
Meal planning is not an exact science. There is no "one right way"… so essentially, you can't mess up!
2. Don't Over-Complicate it
So…you want to start meal planning, but you're totally intimidated by the thought of it. After all, look at all those people out there planning several months worth of meals at a time, grocery shopping once a month, doing massive freezer-cooking days, and cleaning up piles upon piles of dirty dishes after their massive freezer-cooking days.
You can't make the time for that!
Well guess what, neither can I — but I still meal plan!
Take a deep breath and try not to make things too complicated. Don't worry about planning breakfast, lunches, or snacks (at least for now). Don't worry about keeping a spreadsheet or organizing everything with fancy printable meal planning documents. Don't worry about freezer cooking, shopping the sales, or even shopping your pantry. Just pick 4 – 7 meals that you and your family like to eat and write them down on a piece of scratch paper.
There… you have your first meal plan!
Now, make a list of ingredients you'll need for those recipes, check your pantry and freezer to see if you have any of them, and buy the rest from the grocery store.
Then next week, do the same exact thing over again — just maybe pick new recipes!
Meal planning is NOT complicated unless you overthink it (as I mentioned above) and put tons of pressure on yourself to do much more than you need to do.
I've been meal planning since Dave and I got married (going on 11 years now) and I've never planned for more than 1 week at a time. I've never planned breakfasts, lunches, or snacks. I've never done massive freezer cooking days, and I've certainly never gone grocery shopping for an entire month.
Oh yeah, and don't feel like you need to pick fancy or gourmet recipes either. We regularly have spaghetti and salad, grilled cheese with tomato soup, pancakes and bacon, or tacos on our menu plan. I also usually incorporate at least a couple fast food meals each month (usually once to Culver's, Arby's and Little Caesars).
The point of meal planning is not to make elaborate meals, its that you have a plan, you have the ingredients in the house, and you know you won't be stuck with nothing to eat at 5:00 when everyone is STARVING.
3. Don't Over-Do it
If you've never meal-planned before, you might be tempted to try out 7 brand new recipes the very first week — and unless you have an army of hungry teens to eat all your food, you'll probably end up with a boatload of leftovers after that first week (and you'll probably feel totally exhausted from all your time in the kitchen).
Although Dave and I both love leftovers, my suggestion (especially for smaller families, empty nesters, young marrieds, singles, people with small children, etc.) is to plan 4 or 5 meals per week, eat leftovers, salads, sandwiches, frozen pizza, etc. 1 or 2 times per week, and then go out to eat once. This seems to be a really good balance — especially if you're new to meal planning — and it almost assures you won't end up with a fridge full of leftovers at the end of the week.
Even for larger families, I would encourage you to plan 5 or 6 meals to start… and then use 1 or 2 nights as "freebie" nights. Either go out to eat, make something super simple that doesn't require much prep-work or cleanup, or polish off any leftovers.
I've gotten pretty efficient with my meal planning over the past several years, so I'm to the point where I only need to cook 2-3 meals per week (read more about that in this post) For me, just knowing that I don't need to need to physically prepare and clean up a meal every single night of the week is enough to make sure I don't get burnt out and to keep meal planning fun and worthwhile.
Even if you don't have the money or desire to "go out" to eat, you can still have an easy night by just making sandwiches or letting everyone fend for themselves (considering they are old enough to make their own food).
Are you encouraged and motivated to give meal planning another try?
Just say you'll try it for one week — no strings attached. Spend 10 minutes thinking of 4-6 meals your family likes… and then make a list of ingredients you need to buy to make those meals.
Then, for one week (you can do anything for a week!) be really diligent about looking at your meal plan, deciding what meal to make on what night, preparing any foods the night before or the morning of… and enjoying the fabulousness that comes when you don't feel frazzled and stressed out at 5:00.
What do you have to lose?
As I was typing this post, I was racking my brain trying to come up with any potential negative side-effects that could come as a result of meal planning for one week… and the ONLY thing I could come up with was the fact that you could potentially feel somewhat discouraged if the first week doesn't go exactly as planned.
While I hope that's not the case, I'd also like you to consider the fact that meal planning is a skill that needs to be learned — and how many skills have you learned (let alone mastered) on your first attempt?
That's what I thought 🙂
Give it a week… and hopefully you'll see some positive results. If not, email me and I'll motivate you to try it for another week!