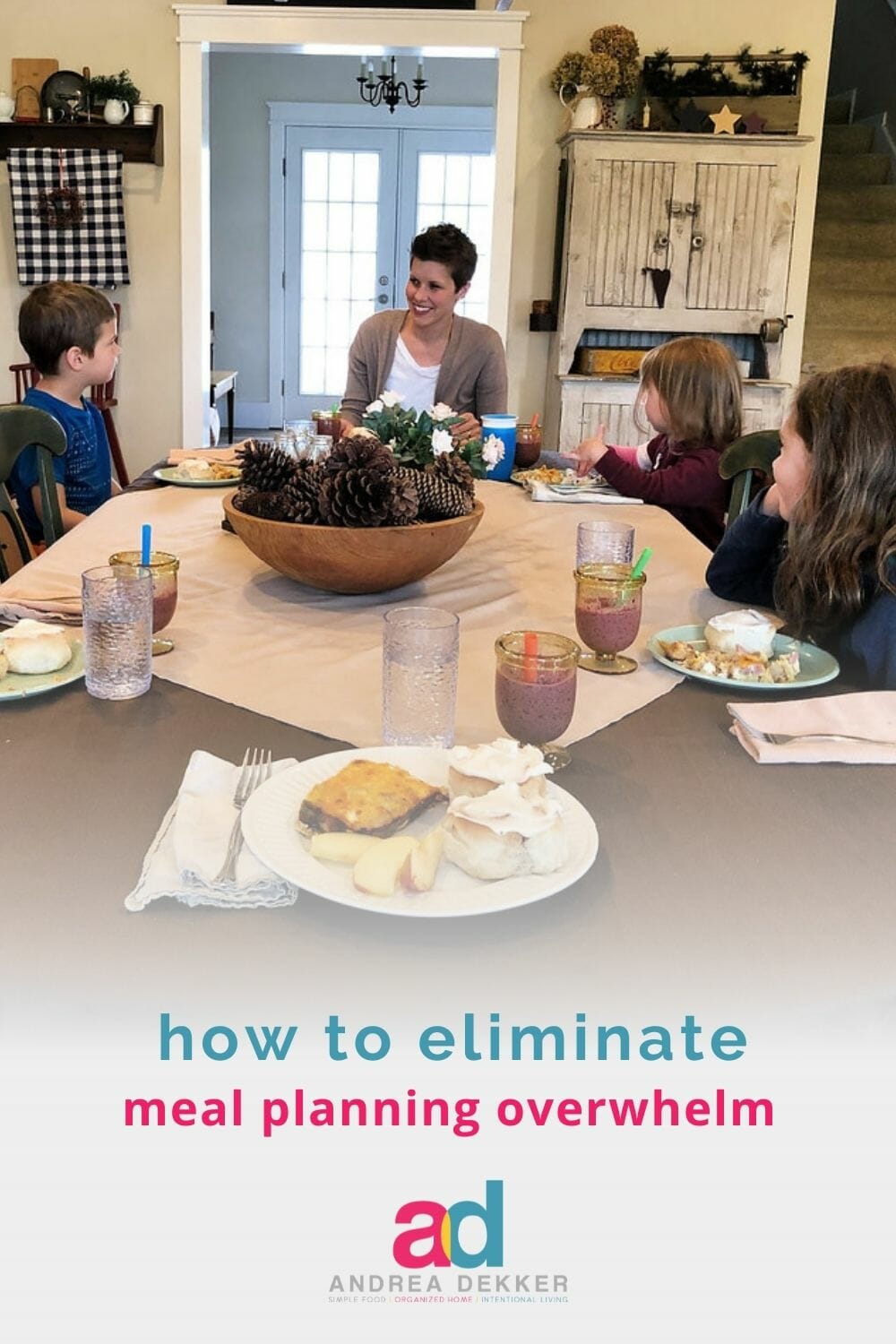 These 3 simple tips will help to eliminate meal planning overwhelm and allow you to enjoy family meal time once again!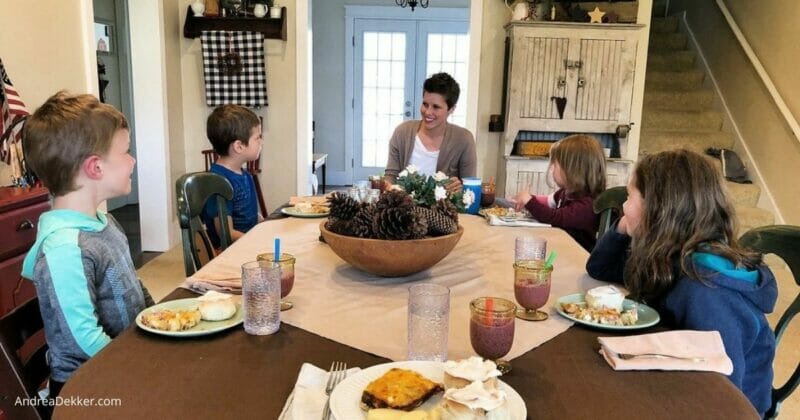 Over the course of my blogging career, the concept of meal planning continues to be one of the top requests I see pop up in my inbox each week.
I suppose meal planning feels like one of those really "adultish" things we all should do. And the fun Pinterest printables, trendy downloadable Apps, and digital meal planning services make meal planning that much more appealing… right?
Honestly… I strongly dislike meal planning and I don't think it's for everyone.
However, based on my own personality and the current stage of my family, I know my home and family run much smoother and feel less chaotic when I dutifully plan our meals (breakfast and dinner) 7 days a week… so I do it, even though I don't enjoy it.
#momlife 😉
Of course, the fact that I plan our meals does NOT mean I cook big elaborate meals from scratch each day.
It doesn't mean I spend hours upon hours filling out detailed menu planning spreadsheets and making mega grocery runs to buy all the ingredients I need for the next month of meals.
It doesn't mean we never go out to eat or order pizza.
It doesn't mean I do massive freezer cooking days or have a fully stocked freezer all the time.
It simply means that I have a plan for the food we are going to eat prior to when we are going to eat it!
In my opinion, I utilize one of the simple, fastest, and easiest meal planning methods around… and since so many of you have asked, I'll gladly share it with you!
Interested in simplifying your meal planning efforts?
Keep reading for 3 super-simple tips that will eliminate meal planning overwhelm and prove there really isn't "one right way" to meal plan!
1. Don't Over-Think it
Stop "thinking" about meal planning and just do it.
You don't need an App, a program, or a worksheet. You don't need a master grocery list or a detailed log of everything in your pantry and freezer. Just grab a sticky note or the corner of your planner and list out 5-7 meals you could make this week (preferably meals you already have some of the ingredients for).
Remember to also account for eating leftovers or going out to eat.
There… THAT'S your meal plan!
For the last few years, I've used the top right corner of my planner for my "meal plan". It's not fancy, but it works! I jot down a handful of meals on specific days, and I regularly shift things around based on changes in our schedule.
This method is extremely flexible and allows me to easily look back at what meals I planned for previous weeks (and then plan them again for future weeks).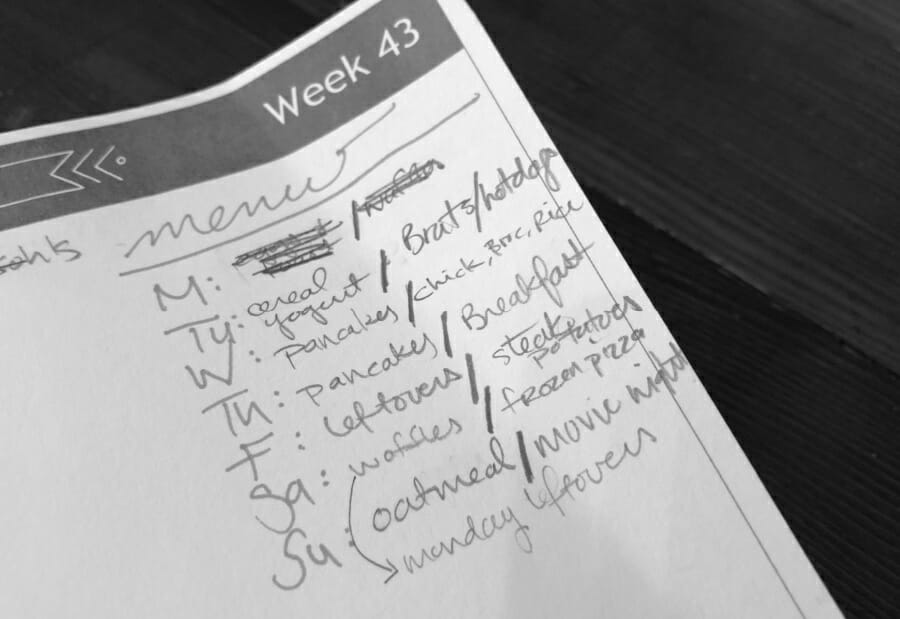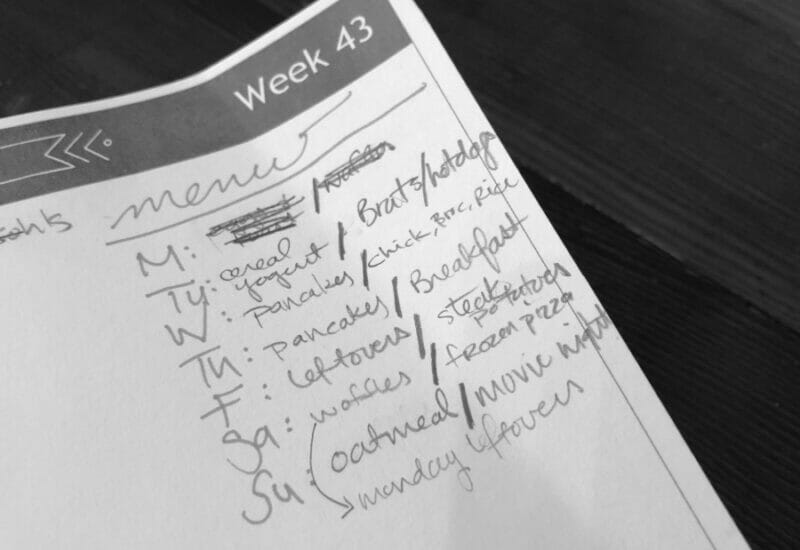 2. Don't Over-Complicate it
Start with one week (no need to plan a full month's worth of meals).
Stick with foods your family will eat (grilled cheese, pizza, leftovers, and eating out all count as a meal).
Stay away from meals with lots of prep work or clean up (just make foods you already know how to make).
Once you have a list of 7 meal ideas, then take a quick look at the ingredients and write down anything you don't already have in the house.
Now you have your meal plan AND your grocery list!
3. Don't Over-Do it
I know you're eager to jump on the meal planning bandwagon… but don't start off with 7 gourmet meals or 5 brand new dishes you've never made before. That's a recipe for disaster (pun intended!)
I usually cook 3-4 dinners each week (planning ahead for leftovers) and then I repurpose the leftovers to make 1 or 2 meals later in the week. I also plan one night for "movie night" (snacky foods), and one night for pizza, fast food, or eating at a friend's house.
The trick is to actually PLAN for the nights when you'll go out to eat, do something with friends, order pizza, or have leftovers — otherwise, you'll end up with groceries that go bad one week and nothing on the menu the next week.
That's WAY more do-able than planning 7 gourmet meals!
NOTE: I plan our breakfasts too — making double batches of almost everything so we get 2 breakfasts from one cooking session.
Are you encouraged and motivated to give meal planning a try?
As I mentioned above, I honestly don't think meal planning is necessary for every stage of life… however, if your afternoons and evenings feel stressed and frazzled, I urge you to give meal planning a try (or another try).
Just remember to keep it simple!
Don't over-think it. Don't over-complicate it. Don't over-do it.
More Helpful Resources
Click the images below for FREE resources to help you simplify meal planning and freezer cooking!
Also, click here for a detailed look at exactly how I meal plan each week.
Still feeling discouraged?
I know meal planning can seem overwhelming — especially if you've never done it before, if you're not a natural planner, if you don't particularly love cooking, if you've tried before and failed, if you're working around food allergies or picky eaters, if your spouse isn't appreciative of your efforts, if you are a perfectionist, etc.
Believe me, I don't claim that meal planning will be fun or enjoyable — rather that it will benefit you and your family by saving you time, money, frustration, and stress.
If meal planning is something you wish you could do, I'm confident that with a little extra effort and persistence, you can learn to create meal plans that will simplify your life — or at the very least, your dinner hour!
What do you have to lose?
Try it for one week — no strings attached. Take 10 minutes to jot down potential meals for this week, and then make a list of ingredients you need to buy to make those meals.
Then, enjoy the lack of chaos and stress at 5:00 when you gather your family around the table!