Fall is my FAVORITE… always and forever! I mean, just look at the beautiful tree I get to stare up into all season long! I'm sharing more favorites below!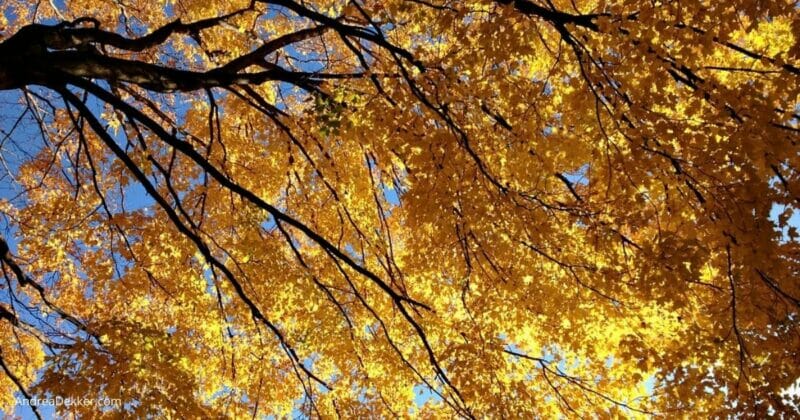 Over the weekend, our family made the 20-minute drive to Dave and my alma mater for Homecoming weekend. Despite the lack of miles, I honestly can't remember the last time I was back on campus — it's been YEARS!
The weather was perfect and the various on-campus events seemed specifically tailored for our family's interests. I'm so glad we set aside our lengthy list of fall yard work and weekend projects to participate in this fun, family-friendly event.
Nora enjoyed a couple of art exhibits, got to watch students make a screen-printed bag for her, and had the opportunity to do her own watercolor painting down by a wooded pond. She later announced that she wants to attend this college to become an art teacher one day.
Simon was super excited about his tour of the Minerology Museum… and was beyond thrilled to snag a giant rock as one of his prizes for a fun outdoor scavenger hunt later in the day! Simon's comment as we left the Minerology Museum was, "I am definitely going to be a geologist when I grow up."
James could hardly sit still as we watched the baseball scrimmage and soccer game — especially since "our" teams won both games. He is certain he will eventually be a professional athlete or a coach — maybe both.
Clara easily kept up with everyone else all day long (no strollers!!) and her favorite part of the day was the nature walk with a make-your-own trail mix station. She later told me that she wants to be a carnival worker when she grows up! 😂
Dave and I bumped into several people we knew but hadn't see in ages… and we were amazed by all the updates and improvements made over the last 15 years.
I have 2 pictures of the entire day, neither of which turned out great — I must have enjoyed our day so much I never thought to get my phone out.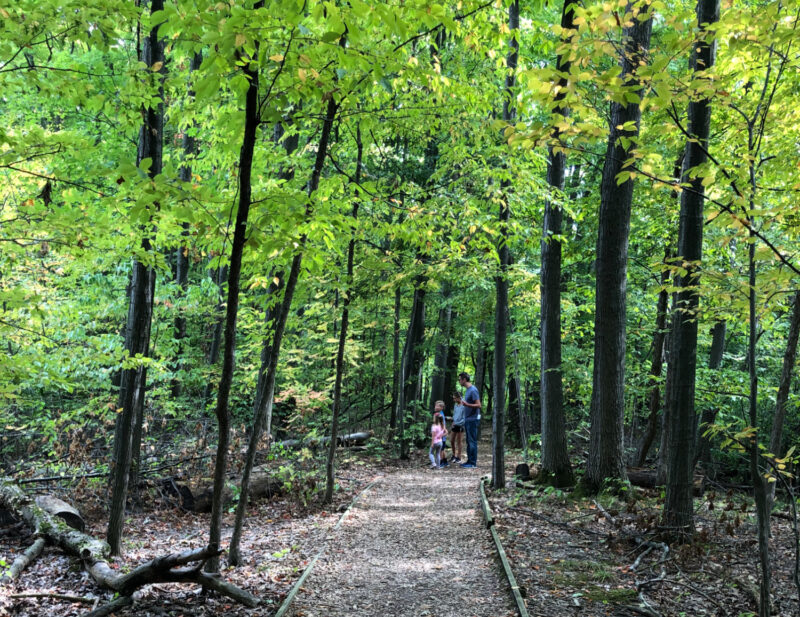 Now… onto my favorites for the month!
---
FAVORITE MOMENT = After School Snacks
One of my most favorite parts of being a stay-at-home mom of school-age children is having an afterschool snack ready and waiting for them when they walk in the door.
I know — I'm weird!
The snacks themselves are rarely ever fancy — usually just a salty, sweet, and fruit or veggie option — but Clara and I enjoy coming up with a variety of options each week.
Sometimes we surprise the kids with something extra special (like last week when we picked up donuts and cider from a local apple orchard) but mostly, it's just normal snack stuff we have in the house.
The reason snacktime made my Favorite Things list is because I love that the kids usually hang out in the kitchen to eat their snacks while I finish prepping dinner stuff.
The benefits of having a couch in your kitchen, I suppose!
Snack time is when they tell me all the happenings at school, on the playground, in the hot lunch line, on the bus, and in their "specials" classes. I want them to keep talking, so I'll keep feeding them!
Simon recently told me that his favorite part of the day is coming home so he can see what snacks I have for him. If you know Simon, you know he LOOOOVES snacks (and he also loves school). So it just warms my heart to know that he loves coming home after a fun day at school and playing with friends.
FAVORITE ROUTINE = A Cleaning/Laundry Day
Throughout the years when I had multiple little kids at home with me all day, I stayed on top of housework by doing little bits every day. I had a loose system of sorts — and things were usually clean enough, but I never had the satisfaction of a fully clean house at one time.
All that changed last year when I suddenly found myself with the house to myself for about 5 hours every Monday, after getting the older 3 kiddos on the bus and carting Clara off to her cousin's house down the road.
Since I actually enjoy cleaning, I decided to use my free time on Mondays to thoroughly clean the entire house in one fell swoop — all while listening to favorite podcasts and audiobooks. It was glorious!
Even though Clara is usually home with me on Mondays this year, my goal is still to clean the entire house (she enjoys "helping" me). I also added laundry to my Monday to-dos, and sometimes I even get groceries and do a little meal prepping too!
I know this might seem like a waste of a day… but I feel significantly more productive, more creative, and more rested when I live and work in a clean and clutter-free space. So for me, cleaning the entire house and doing all the laundry right away on Mondays is such a great way to start the week. I know the benefits I feel eventually trickle down to my family too.
NOTE: If you're not in a season of life where you can't thoroughly clean your entire home in one day, just do whatever works best for you right now. Something is always better than nothing!
PAST FAVORITE = The Every Mother Program
I've mentioned the Every Mother program a few times on the blog already… but that's because it's the best, easiest, fastest, and cheapest program I've used to fix my ab separation and alleviate my decades-long back pain.
In fact, it's really the ONLY treatment that has actually worked for me!
Below you can see a few pictures of my results after using the Every Mother program — what you can't see, however, is that the back pain I've had since I was 14 is now gone!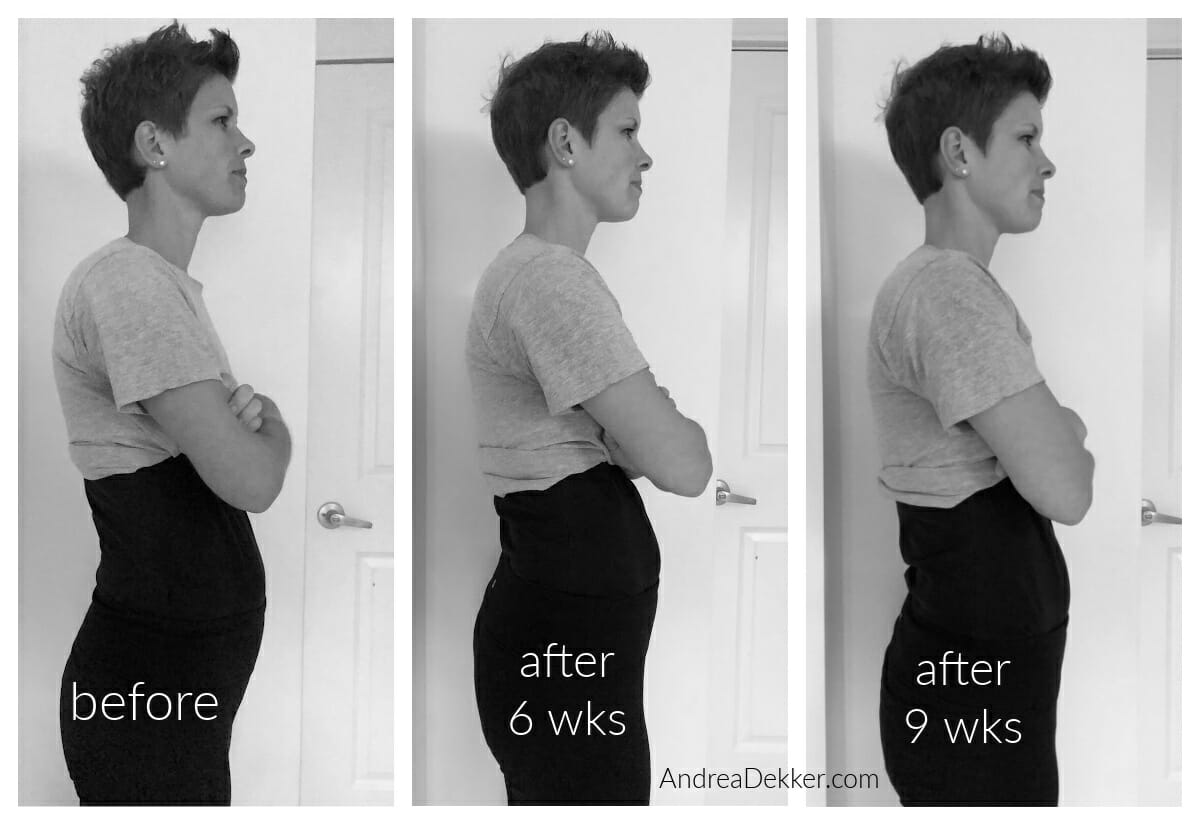 At roughly $15 a month and 5-10 minutes per day (all online whenever it works best for you), the Every Mother program has been a solid investment for me these last 15+ months.
AND… this week only (through Oct 8), you can try the Every Mother program completely FREE for 7 days — you don't even need to enter a credit card number!
Just use the code: TRIALEM
Try it for 7 days — do the breathing and stretching exercise she shows you how to do, and I'm confident you'll notice a difference within that first week!
Oh, and let me know if you do! I love hearing all the success stories from those of you who now use the Every Mother program — it's so exciting!
---
FAVORITE FALL TREAT = Candy Corn Trail Mix
Every fall, I make a gigantic batch of our favorite Candy Corn Trail Mix and divide it up in little plastic cone treat bags to hand out to all our favorite people — classroom teachers, bus drivers, school staff and administrators, GEMS leaders, Sunday School teachers, pastors, our mail lady, etc.
I didn't do this last year because of COVID, and I'm not sure if I'll do it this year. But it's still one of our family's favorite fall treats.
Every year I consider stocking up on Candy Corn and freezing it for later in the year, but there's something special about reserving this special treat for once a year! (Get my simple recipe here.)
---
FAVORITE BOOK = Raising Worry Free Girls
I found Sissy Goff's book, Raising Worry-Free Girls, over the summer, but didn't read it until the school year started. WOW! It's jam-packed with helpful information and encouragement for us parents raising girls who are prone to worry.
This book is written from a Christian perspective and is specifically geared towards younger girls (ages 8-12). She has another book, Brave, geared towards teens.
You can also listen to the audiobook free with the Hoopla App (through your local library).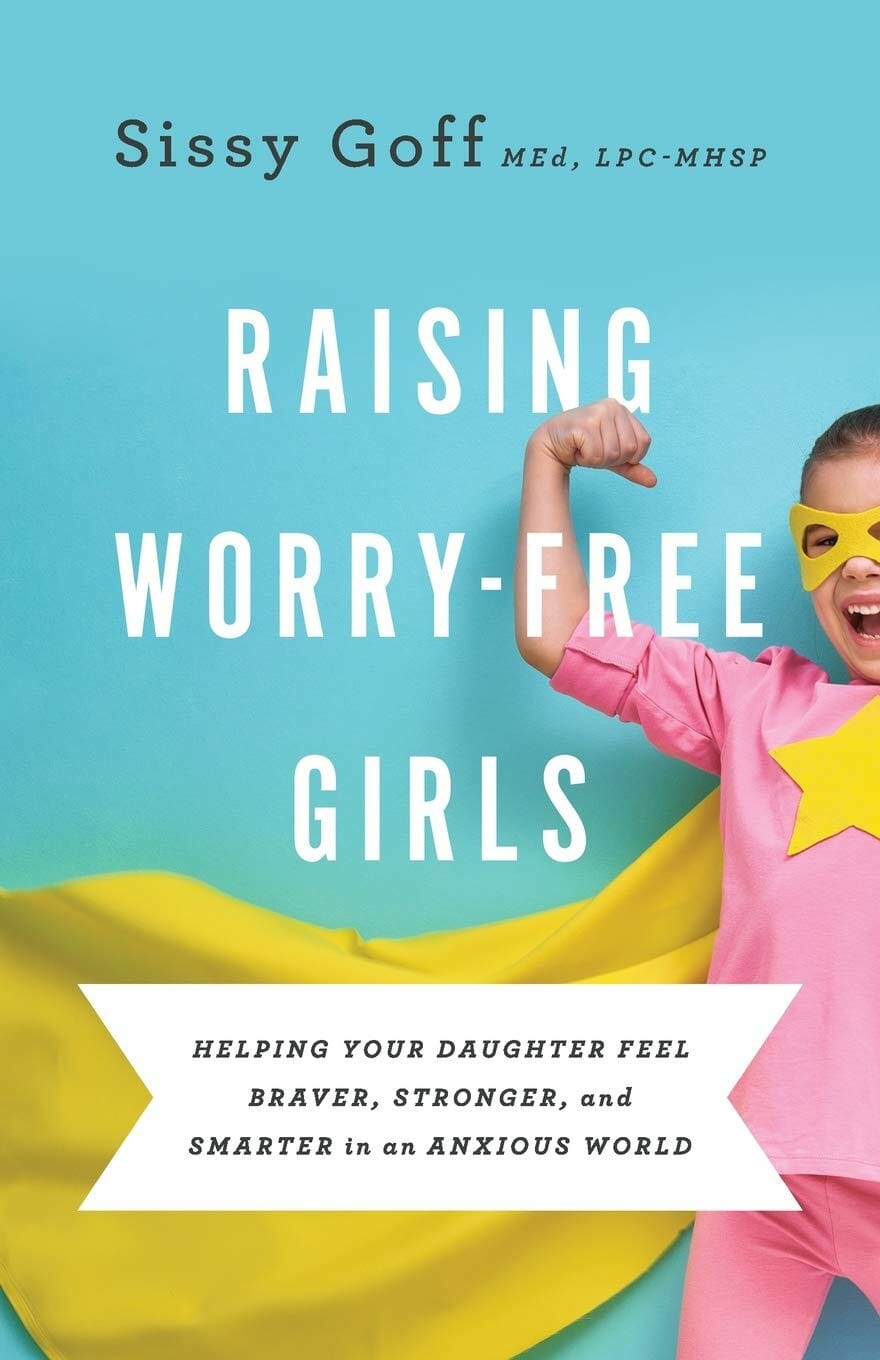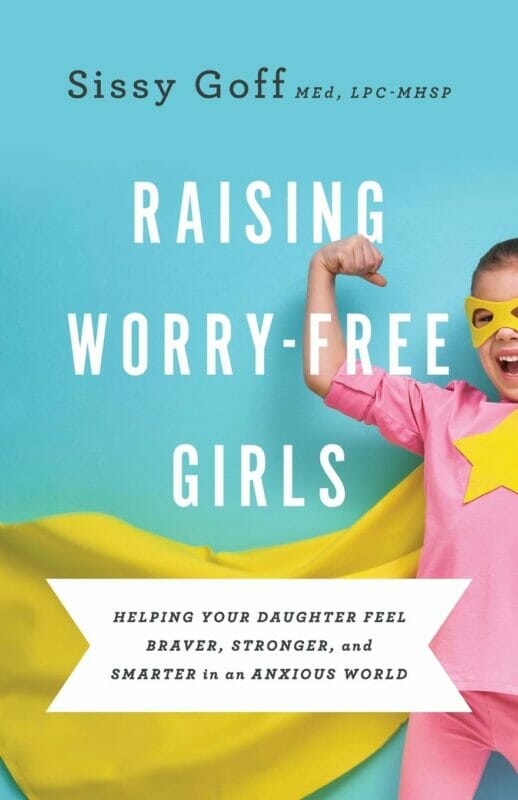 ---
FAVORITE MEDIA = She Reads Truth
I've enjoyed the She Reads Truth podcast for almost a year now, but they have so many really cool (totally free) resources too.
They have dozens of free Bible Reading Plans on their blog and if you join their email list, you get free daily devotionals.
AND… everything is SO well organized!
Each reading plan clearly states how many days it will take and lists each daily reading in order with corresponding podcast episodes, additional "food for thought" on each daily Bible passage, and links to other helpful passages throughout the Bible that tie in with the current day's reading.
If you're more of a hard-copy person, you can purchase their gorgeously designed Study Books instead.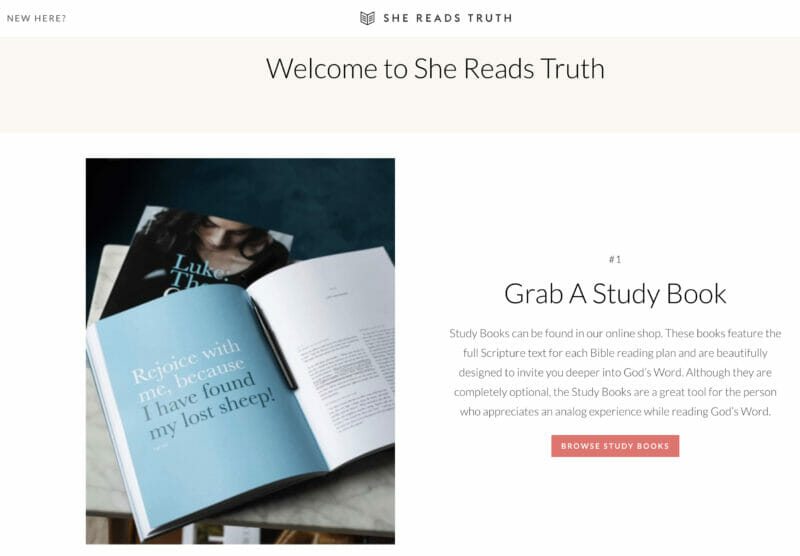 FAVORITE RECIPE = Easy Oven-Roasted Veggies
Our family eats roasted vegetables all year round — but the Fall season is a more traditional time of year to enjoy this delicious treat.
Fall is the perfect time to crank up your oven and throw in a pan or 2 of fresh veggies — coated with a little olive oil and your favorite seasonings.
This is my absolute FAVORITE way to eat veggies. In fact, I make several pans at one time and reheat them in my cast iron skillets throughout the week — they taste fresh from the oven and I save a bunch of time in the kitchen.
I even eat roasted veggies for breakfast on a fairly regular basis!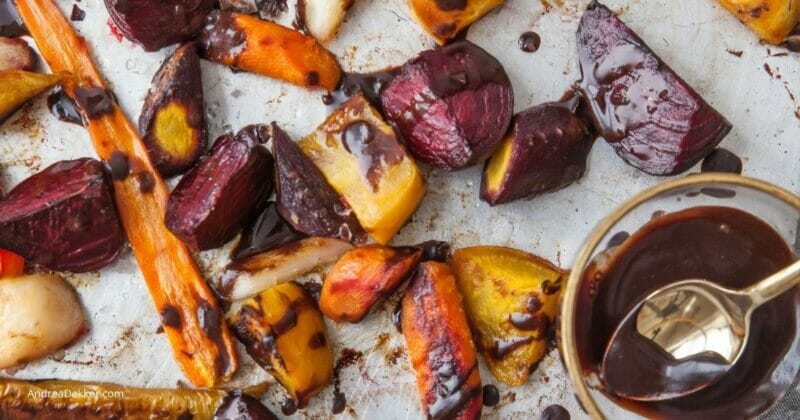 FAVORITE ARCHIVED POST = Gift Card Storage
For as long as I can remember, I've used a tiny photo album to store and organize all my gift cards (and other store cards or membership cards).
It's definitely one of my favorite things!
We love gift card gifts and since Dave is a teacher/coach, he often gets a fair amount of gift cards, so it's nice to have a really simple solution to keep them organized and all in one place.
I realize that much of this information can be stored in apps on my phone, but I prefer to keep the physical gift cards as that still seems simpler and easier for me.
If you'd like to try a super simple method to organize your gift cards (just in time for the holiday season), check out my tried-and-true method.
FAVORITE QUOTE = Isaiah 40:8
"The grass withers and the flower fades, but the word of our Lord stands forever."
Every fall, when I'm loading up our yard waste bin with hundreds of "faded" flowers and "withered" grasses, I think of Isaiah 40:8.
I actually like the version that says… "the word of our God endures forever" better, but I wanted to include the picture I made for one of our kids' teachers, so I used that version in the quote above.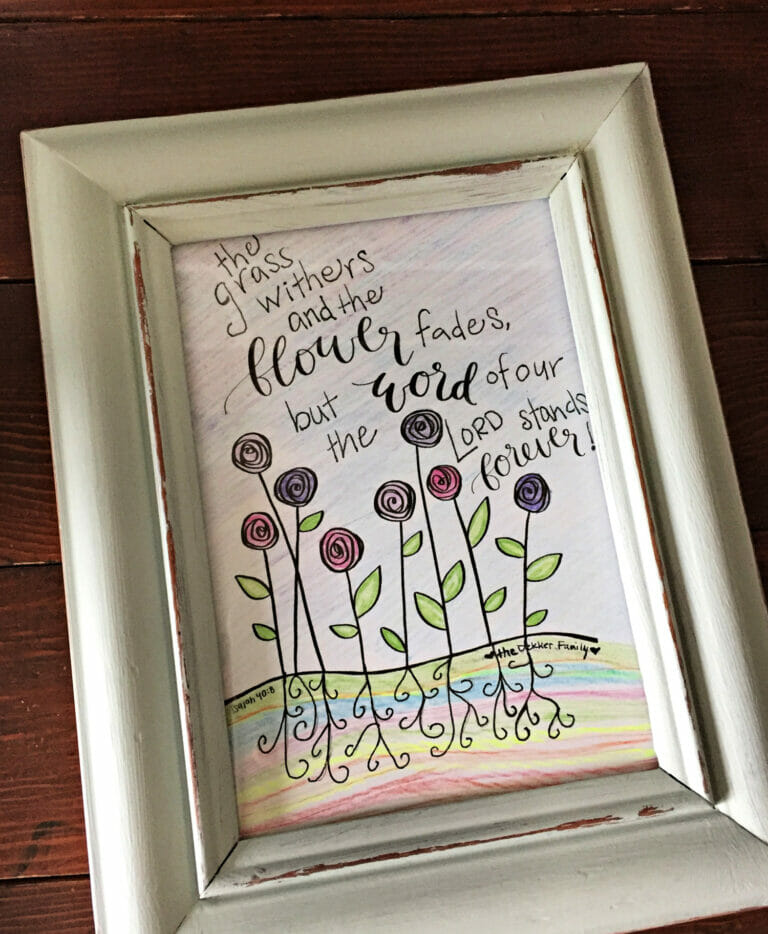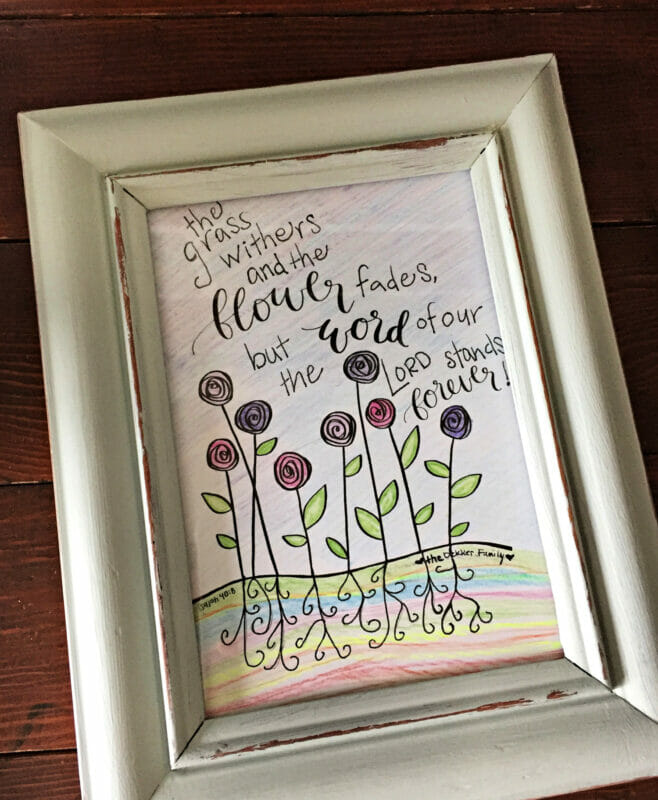 A few years back, we had a teacher who joked about how much of a brown thumb she had… so I thought this would be a fun gift for her at the end of the year (along with a gift card!)
NOTE: I did draw it myself, but I modeled it after something I found online — I'm not that artistic!
---
That's all for me this month!
If you're interested, you can scroll through ALL my Favorite Things posts HERE!