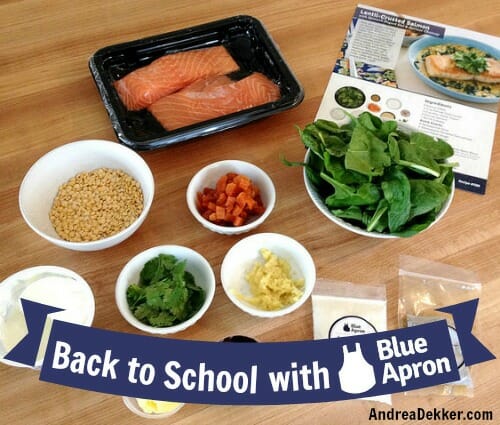 Over the summer months, Dave and I enjoyed several delicious Blue Apron meals.
We switched our summer orders to the 2-person plan (instead of the family plan) and often made them for lunch — after feeding the kids and sending them outside to play for a bit.
It was like a mini at-home date in the middle of the afternoon — SO FUN!
Both Dave and I agreed that our #1 TOP FAVORITE recipe was the Salmon and Cilantro-Lime Rice with Peach & Corn Salsa. Oh my word, every single bite was an explosion of flavor in our mouth. I'm SO thankful I can go back to Blue Apron's recipe page to recreate this recipe again!
A few of the recent "runner up favorites" for us were:
Crispy Catfish and Spicy Vegetable Curry — yummy!
Seared Steak and Salsa Verde
And, just last week, the Spicy Lemongrass Salmon with Green Beans and Herbed Rice
I'm definitely the type of home cook who enjoys a regular routine and pulling quick meals from the freezer — so it's super easy for me to fall into a rut of the same tried and true recipes month after month (which isn't necessarily all bad). However, all the recipes I listed above (and basically all the recipes we've ever made from Blue Apron) fall outside my "normal" weekly and monthly recipes.
And it's SO fun for a change!
Dave and I just love trying new recipes and using new ingredients — especially since Blue Apron sends exactly the right amount of pre-measured ingredients for each recipe, so there's no wasted food, nothing left to store or try to use up before it goes bad, and no wasted money on groceries I won't end up using.
I especially appreciated the convenience of using Blue Apron meals this past week as Dave was back in school for meetings all week and I was adjusting to being the sole entertainer for all 3 kiddos — while feeling extra big and tired!
It was fabulous not to worry about what to make for dinner or if we had the right ingredients in the house. I could just pull out my recipe card when Dave got home from school, and roughly 30 minutes later, we had a delicious meal on the table.
We usually get a delivery of Blue Apron meals once a month — depending on what the menu selection is. Obviously, there are meals we aren't super excited about (so we skip those weeks) and sometimes there are meals we want to try 2 or 3 weeks in a row (that happened this summer once!)
The nice thing with Blue Apron meals is that it takes 3 seconds to switch or cancel an order online, and you can skip as many weeks as you want and start back up again when you need a little meal planning inspiration, just want to try something new, or have an extra busy week — like back-to-school week!
Would you like a few FREE Blue Apron meals to ease your back-to-school transition?
Blue Apron is offering $60 off your first 3 weeks of food to anyone who places their first order via this link!!
Even as someone who is fairly diligent about meal planning, it sure is nice to have someone do the planning for me when I'm in the middle of the super busy back-to-school time of year with Dave gone for meetings, orientation, preparing his classroom, etc. etc.
Of course, even if you aren't in the back-to-school season of life, it's still fun to have a week off from meal planning and try a few fabulous new recipes every now and then… right!?!
What are your tips to get quick meals on the table during the busy back-to-school time of year?
This is a sponsored post on behalf of Blue Apron. All opinions are my own.