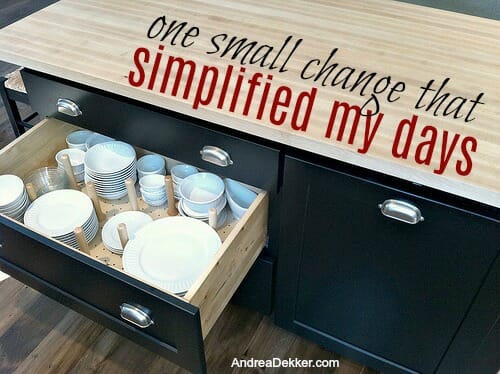 I've mentioned my hatred of cleaning out the dishwasher before — probably many times. It's weird though, I really have no idea why I dislike this chore so much — especially because I've timed myself and it rarely takes me more than 5-7 minutes (even if I need to dry several items off).
I'm fortunate that Dave is often willing to help out in the dish-washing and dishwasher-cleaning-out department — however, when he's in school, I often end up doing this task myself.
Again, it's NOT a huge chore and I really should just be thrilled that we have a dishwasher so I'm not forced to wash everything by hand!
I'm just saying… it's not my favorite chore, ESPECIALLY when I need to clean it out first thing in the morning when the kids are waking up, everyone is hungry, and I have 25 other things I could be doing besides messing with the dishwasher.
I must have mentioned something about cleaning out the dishwasher in a blog post a few months ago, because about a week later, I got an email from a reader saying that she simplifies her life by ALWAYS running the dishwasher after dinner every night, EVEN IF IT'S NOT COMPLETELY FULL.
The moment I read that email, I knew instantly that's what we were going to start doing at our house.
You see, our dishwasher is usually full after 4 meals, and I was always trying to fit as much as I could in the dishwasher — but that meant I would always be emptying the dishwasher at different times of the day. Often, the emptying needed to happen at very inconvenient times too — like when I was trying to make food for another meal, when a child was having a meltdown, or (as I mentioned above) right when everyone is waking up.
However, by running the dishwasher after every 3 meals (right after dinner every evening) I can now clean out the dishwasher at night, and have the kitchen clean and ready to go the following morning.
Plus, since Dave is almost always home at night, he can help more with this task too 🙂
Yes, sometimes there are a few empty spaces and it's not completely packed full of dishes, but I no longer have to worry about cleaning it out at inconvenient times during the day.
I always smile when I remember how Nora loved to "help" me clean out the dishwasher!
I realize this might sound ridiculously menial to many of you — but for someone who already doesn't love cleaning out the dishwasher at any time of day, this SUPER SIMPLE change has made such a big difference in my life (again, I know this sounds dramatic, but it's true!)
.
The dishwasher might not be your most-hated chore or something you procrastinate on — but I think the ideas in this post could be helpful in so many different situations.
Is there a specific household chore you just hate doing and always put off until "later"? If so, can you think of anything that would make it more bearable — or even enjoyable?
Is there a time of the day you always struggle with productivity? If so, is there anything you could do differently to boost your energy at this time each day?
Is there an activity you really dislike doing? Maybe something for your job, something for your kids' school, a volunteer organization, etc.? If so, is there a way you can get out of that activity and instead do something else more enjoyable?
There's not always a quick, simple fix for everything, but you won't know for sure unless you give it a little thought and try to come up with a solution.
It's always surprising to me how the simplest things can often make such a huge difference in our daily lives!
Have you implemented any small changes that made a BIG difference in your life?