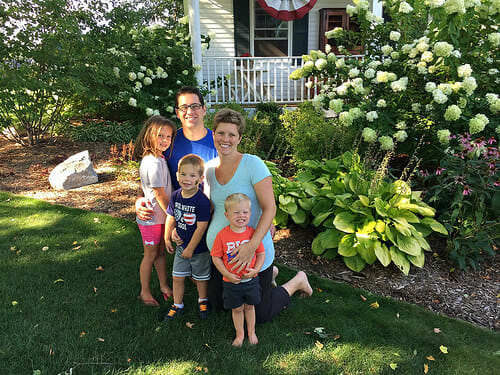 It's here — Dave's first week back at school for teacher meetings, orientation, setting up his classroom, etc. etc. and my first week adjusting to wrangling all 3 kiddos on my own (and I'm MUCH bigger and slower than I was last spring!)
Dave has been gone almost as much as a normal school day, but at least he doesn't have extensive grading or lesson planning to do all night (that will all start up next week!) He also has today off — making his first week back a nice short week!
Both Nora and Dave start school next week Tuesday, and although I'm happy to get back into a more regular routine again, it's always a little bittersweet to officially close the doors on summer vacation.
I haven't decided what I plan to do with these Week In Review posts now that summer is basically over — I REALLY enjoy writing them, and many of you have said how much you enjoy reading them (and combing through my archived posts in the process).
My original plan was to stop the Week In Review posts next week (after Labor Day). However, now I'm considering publishing them until I have the baby — at which point I'll be taking a somewhat lengthy blogging break (I'm planning to do one post a week for several weeks — but I'll share more on this in a later post).
We'll see what I decide as the next couple of weeks pass. (Let me know if you have an opinion!)
In the meantime, here's a look at what I blogged about this week in previous years.
2010:
I shared 10 of my personal favorite organizing tools — most of which I still use regularly today. I especially like the last one 🙂
This recipe for Simple Roasted Chicken is very easy and smells SO delicious when it's roasting in your oven — definitely very "fallish"!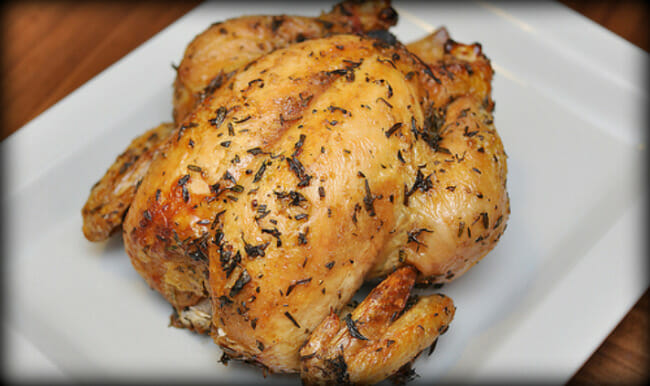 If you're a creative type, you'll love this post about turning paper clutter into creative gift wrap — I still use many of these ideas when we wrap gifts!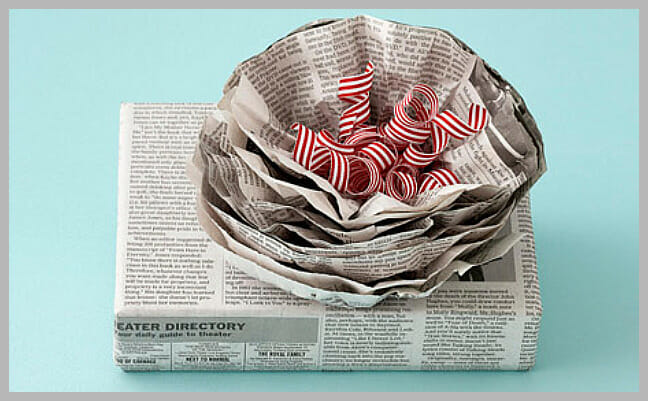 .
2011:
We just finished our master bathroom renovation and I shared pictures of our new shower (it was quite the transformation!) — along with a few of my favorite homemade shower products.
If you're looking for a super quick and frugal breakfast for busy school day mornings, these Homemade Instant Oatmeal Packets might be just what you need!
.
2012:
I LOVE this post about 5 Choices When You're Short on Time — because the fact of the matter is, we ALL have 24 hours in a day without the ability to make more time. If you feel like you're short on time, I hope that post will offer some helpful suggestions.
If you're the ultra-frugal type who feels bad splurging on anything… I think you might be encouraged by reading my post about how Splurging Isn't Always Extravagant!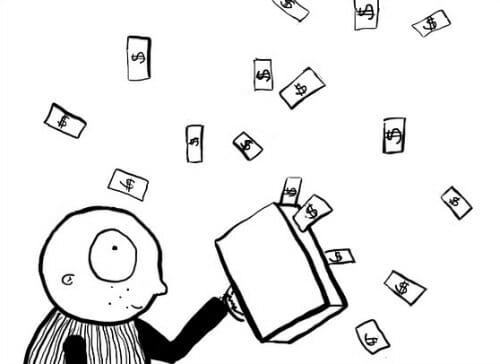 And finally, my 'recipe' for yummy BLT sandwiches — and it includes peanut butter! If you've never tried peanut butter on your BLT, you're in for a real treat!
.
2013:
No posts this month because of my month-long blogging break.
.
2014:
I did a massive closet purge and wardrobe analysis after Simon was born — and then I wrote this post about the questions I asked to help me purge roughly 75% of my clothing (it felt SO good!)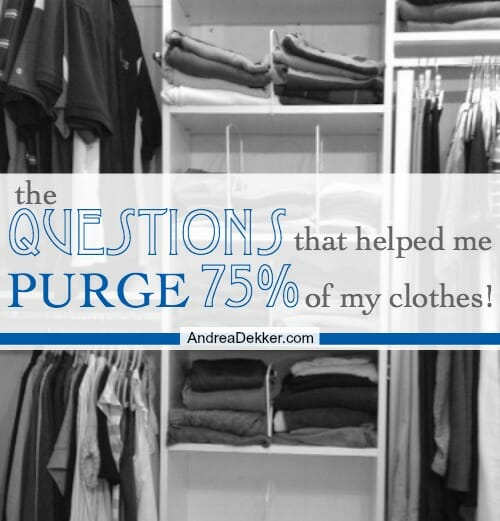 I loved writing this post about being an introvert and 5 things I've learned about myself as an introvert. Both Dave and I have strong introverted tendencies — however, we can be very outgoing, talkative, and adventurous in the right settings. It's so interesting for me to read and learn about all of this!
Oh, and in case you're wondering, my personality type is "ISTJ" — that might explain a lot for some of you!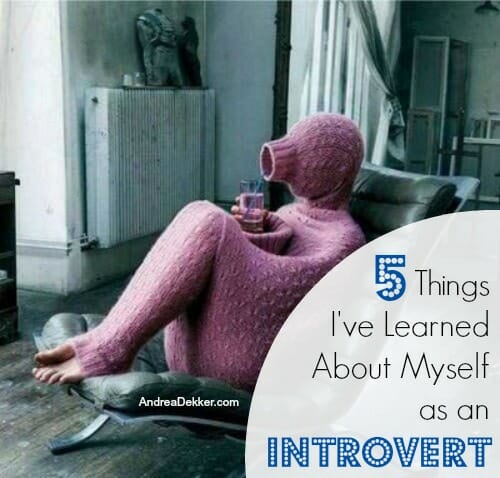 This is one of my favorite pictures from that week — we LOOOOOOVE our Boba Baby carriers!
Oh, and as we head back to school, I figured I'd throw out the reminder that packing lunches doesn't need to be JUST for students. Working adults can pack their own brown bag lunches too — you might be surprised how much money you can save each month over going out to eat!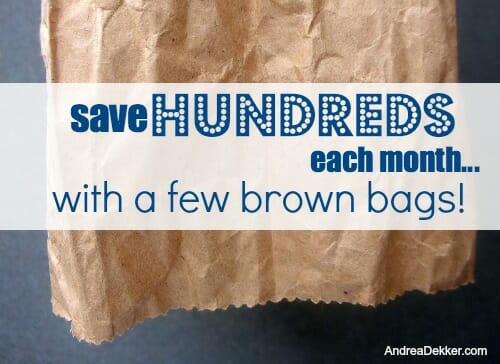 .
2015:
I shared our family's favorite Netflix shows — and although our preferences have changed over the past couple of years, it's still a fun post to read (and there are LOTS of good Netflix show suggestions in the comments too!)
And this recipe for Double Chocolate Zucchini Bread is still one of our family's favorite — there is no way anyone will taste zucchini in this recipe!
I love this picture of Nora and Simon holding the zucchini — Nora like a baby, Simon like a football 🙂
.
2016:
One of my personal pet peeves is when things come in huge matching sets — because I'm NOT a "matchy" person. And if you think about it, you rarely ever use the entire set, but rather, just a few favorites (think pots and pans, luggage, knives, bedding, etc.) I wrote this post about how I save SO much space in my home by separating sets and purging (or selling) the items I don't use — even if they are part of a set.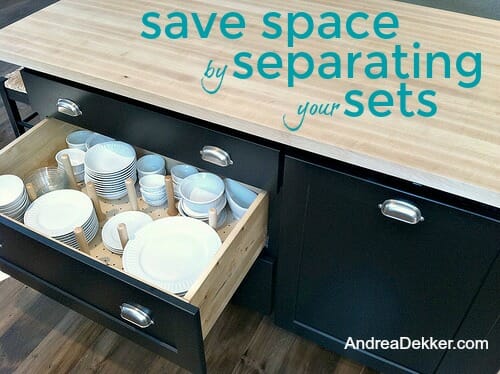 And another post about dealing with the always-busy back-to-school and pre-holiday time of year — The Importance of Margin Time.
As we continue to add children to our family, I'm learning more and more how important margin time is for my own sanity (and the happiness of our entire family). It might seem like a small thing, but it can have a huge effect on your day, your mood, your family's mood, etc.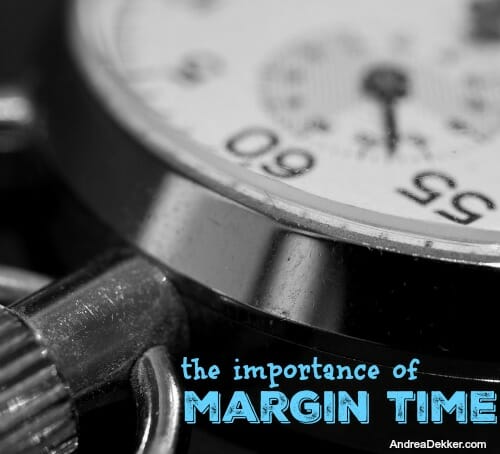 Dave and I decided way back in May that we weren't going to have a vegetable garden this year — not because we wouldn't have time to take care of it, but because I knew I wouldn't want to be harvesting all those veggies this fall when I'm hugely pregnant and don't really feel like being in the kitchen (or in the hot sun) more than I have to be.
I'm very happy we decided that, but I also love looking back at pictures of our huge garden last year. It may have been FULL of weeds, but we sure got a lot of veggies from it — and the kids sure had fun picking it!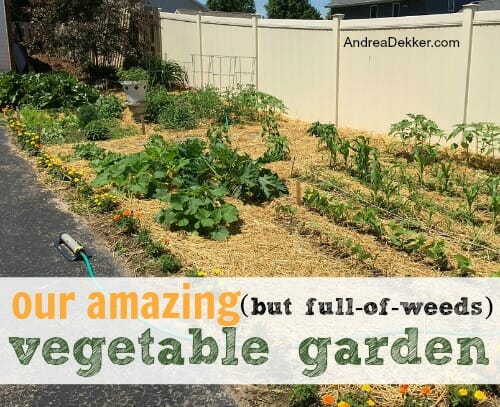 And finally, one of our family's most favorite breakfast foods — Belgian Waffles (and the recipe is a make-ahead recipe!)
Don't they look yummy!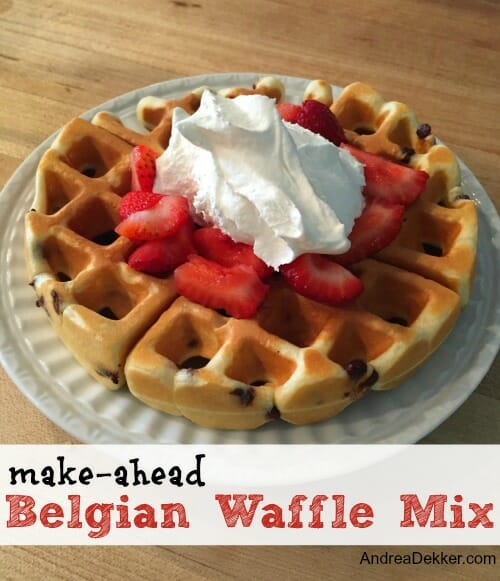 .
2017:
It's just over 3 weeks until my due-date, which probably should be freaking me out a bit, but I honestly feel like I have plenty of time yet! Maybe it's because I've delivered almost 2 weeks late with 2 of my kiddos — so I'm half expecting to have a couple more weeks of being pregnant. Or maybe it's just because I feel like I finally (sort of) know what I'm doing with this whole newborn phase of life.
I know it's going to be brutally hard those first few weeks, running on little to no sleep while trying to manage our home and wrangle 3 other kids… but I know the brutally hard phase will eventually become only slightly challenging, and then, before I know it, all FOUR of our kids will be sleeping through the night and eventually, I'll feel a lot more normal again.
In the meantime, I'll continue hobbling around, pulling my shirts down 80 times a day, and fielding all sorts of questions from shocked strangers wondering if I'll be going into labor any minute because I'm just "so low" 🙂
Truth… I AM "so low"!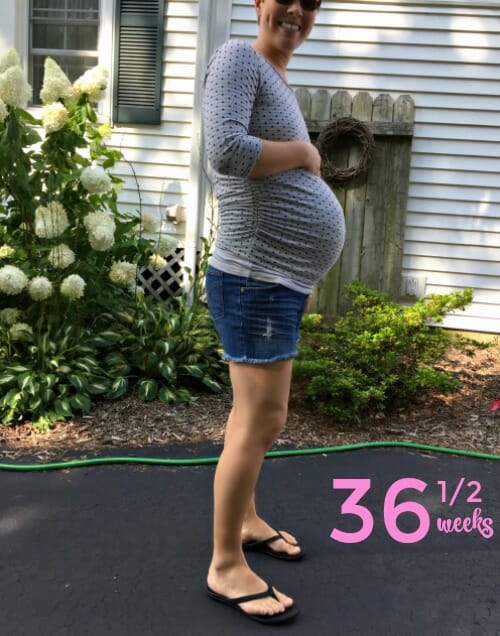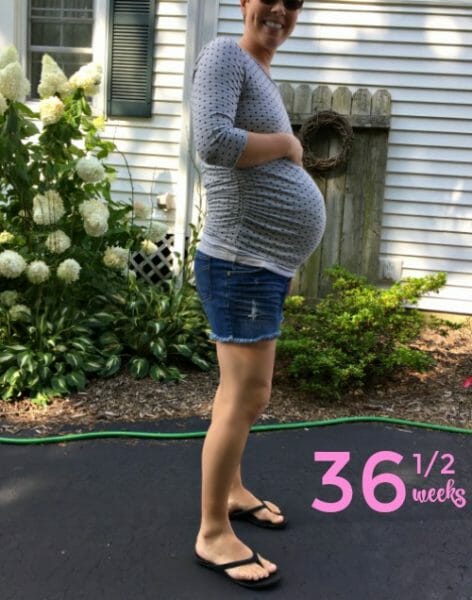 photo credit = Simon, age 3 🙂
Now that all our other summer house projects are completely wrapped up (hallelujah!) I've finally started getting the nursery ready this week.
I move all the furniture to the middle of the room, cleaned it from top to bottom (including the windows), touched up all the paint, and scrubbed the floors. Then I moved all the furniture back to where I want it to be, washed ALLLLLLLLLLLL the bedding, blankets, sleep sacks, car seat covers, baby carriers, and (or course) the newborn – 3 month clothing).
I'll share lots of pictures once I'm finished with the room — hopefully in another week or so!
For those of you who think I'm totally crazy to purge ALL my baby clothes (I know there are lots of you!) just take a look at the picture below. That's ONLY the newborn – 3 month clothes I've gotten FOR FREE from friends, family members, neighbors, people from church, etc. I hardly even had to ask for it — when they found out I was having a girl, they simply gave me bags of super cute girl things (way cuter than most of the stuff I had from Nora).
I have literally spent $0.00 on girl clothing or accessories yet!
Oh, and since I get asked all the time — I'm not planning to save Nora's clothing now that we have another girl. I find such cheap clothing that I'd rather spend a few dollars then save things for SIX years!
I also switched my Grove.co order to include newborn diapers and the first shipment arrived this week! I can't get over how TINY the diapers are!
I started using Grove right before Simon was born, and it has been SOOOOOOO nice to have all my diapers, wipes, cleaning products, hand soaps, and many toiletries delivered right to my doorstep every month. It's so much less I need to think about or try to fit in my cart at the grocery store, and their products are such high quality. Definitely a small sanity-saver for me over the past 3.5 years.
NOTE: You can get $10 off your first order right now!
.
We watched the Solar Eclipse on Monday afternoon — really cool!
Then on Tuesday we went to the Fair — which is a surprisingly HUUUUUUGE deal for our town!
It's definitely not my first choice of activities, but the kids love it, so it's one thing I vow to do every summer. I figure I can suck it up for 3 hours of craziness at the local fair because my kids will literally talk about it for the REST OF THE YEAR!
I also gave them all haircuts this past week — Nora wanted hers to be "short". I went roughly shoulder length but she thinks she wants it even shorter. We'll see if I give in or not — I'm not sure how much shorter we can go and still have the ease of a simple ponytail.
Simon is gearing up to celebrate his HALF birthday next week — and he's already requested my famous Triple Chocolate Bundt Cake, donuts, and basically any other sweet we will give him!
That boy LOVES his desserts!
He also loves any type of "struction" vehicle, all emergency vehicles, and basically anything that has any type of flashing lights!
Earlier this week, I shared the "after pictures" of our landing area (the room pictured above).
James is turning into a little man — he basically talks non-stop during all his waking hours, asks so many questions, and sings constantly. It's really cute (most of the time!)
And next week… school starts!
Farewell summer, you were very good to us this year!