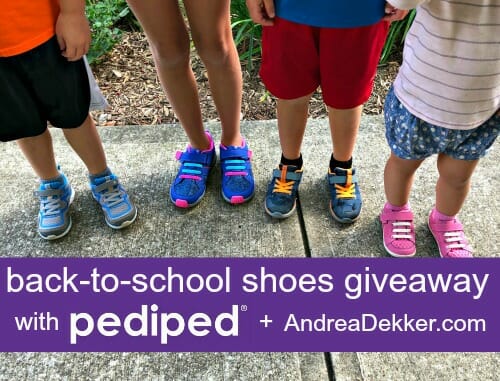 This post is sponsored by pediped. All opinions are my own.
I have a love-hate relationship with back-to-school shopping — especially now as a teacher's wife!
One one hand, I LOVE looking through all the fun back-to-school items for sale and stocking up on markers, crayons, glue, tape, and Post-It notes for the whole year. I love helping my kids find everything they need. And I love the idea of getting back into a daily schedule and routine again.
On the other hand, I always feel a little sad and anxious as the summer comes to a close — Dave will be going back to school full time again, which means I need to adjust back to being the only adult home with the kids. And there's always the bittersweet day when I put my older kiddos on the bus (Simon for the first time ever this year) and send them away ALL DAY!
We actually didn't have many school supplies to get this year — we already had our lunch boxes, bags, and water bottles… and Nora had almost everything she needed saved from last year.
Simon and James did need a few inexpensive school supplies, and I found backpacks from Land's End for only $7.99 a month or so ago! Nora has had her Land's End backpack for 3 years already and it still going strong — I'm hoping the boys will also get several years out of their new back packs!
The only thing we needed yet was new school shoes!
As I'm sure you can relate, our kids feet grow really fast — so the shoes that fit them last year are now VERY tight!
Since they all need a pair of good "inside shoes" to wear for P.E. and various other inside activities, I try to get one good pair for each of them at the beginning of the school year, and I cross my fingers the shoes fit for the entire year!
For the last few years, I've worked closely with pediped (an amazing line of high-quality children's shoes) to outfit our children with fantastic back-to-school shoes.
If you've never heard of pediped or if you've never tried their shoes, let me just briefly share a few reasons why our family loves them SO much.
The shoes are SOOOOOOO easy to get on and off — even for pudgy baby feet and toddlers who want to do it "on their own!"
They are super high quality and we've never yet had a pair get worn out before the kids grow out of them (even for Simon — and he is hard on his shoes!)
They are comfortable for the kids. Nora often complains about how her shoes feel — but she never complains about her pedipeds.
The larger sizes come with an insert so you can buy a size up and use the insert until the kid's feet are larger… this way, you can get more wear out of the same pair of shoes!
They are designed to ensure healthy foot development for kids of all ages.
The shoes are also really fun for the kids with bright colors and patterns!
pediped has three different lines of children's shoes:
1. Original: Best for infants and small children learning to walk.
2. Grip 'n Go: Best for active toddlers who are already walking.
3. Flex: Perfect for more experienced walkers.

We are to the point now where the older 3 are all wearing Flex and Clara wears the Grip 'n Go. Soon, her feet will be big enough for the Flex too!
Our kiddos are loving THEIR "back-to-school shoes" and I'm excited to be able to give away a couple pairs of pediped shoes for those of you who might still need to pick up a pair of back-to-school shoes for your kids!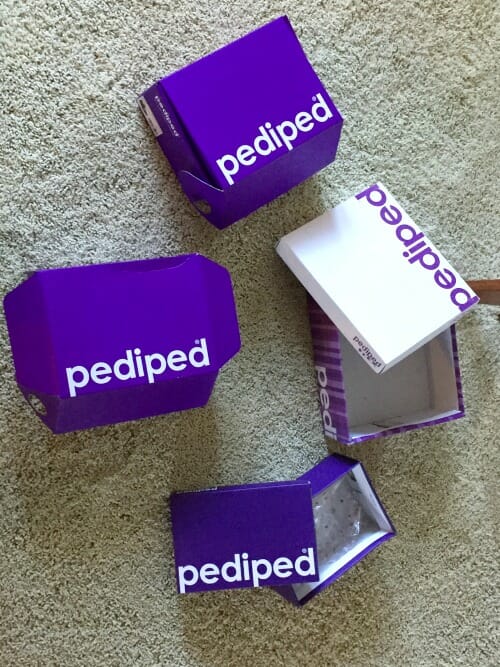 More about pediped:
Whether your child is crawling, learning to walk, or running around, pediped has a stylish shoe that fits comfortably and ensures healthy foot development. It all started with a mom's hunt to find the best shoe for her little girl. Five years later, pediped is one of the most loved children's shoe brands around the world.
Visit pediped on the web:

Website: www.pediped.com
Facebook: pediped footwear
Twitter: @pedipedfootwear
Pinterest: pediped footwear
YouTube: pediped official
Instagram: pedipedfootwear
Enter To Win This Giveaway!
Today, TWO lucky readers will win their choice of pediped children's shoes.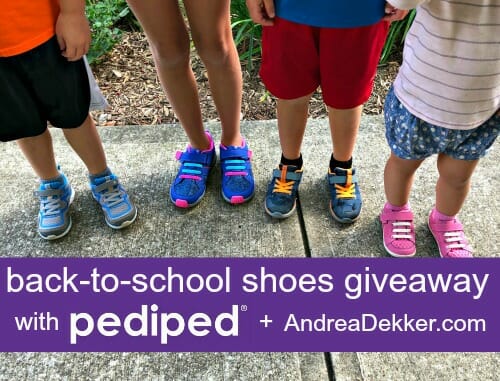 To enter, simply use the Rafflecopter widget below (it might take a second to load).
This giveaway ends at 11:59 pm EST, Monday, 8/26/2019 and are open to US residents, 18 years or older. The winners will be randomly selected via Rafflecopter and notified via email. I received a duplicate prize package in exchange for hosting this giveaway — but all opinions are 100% my own. Please see my full disclosure policy and contact me with any questions you have. Good luck!