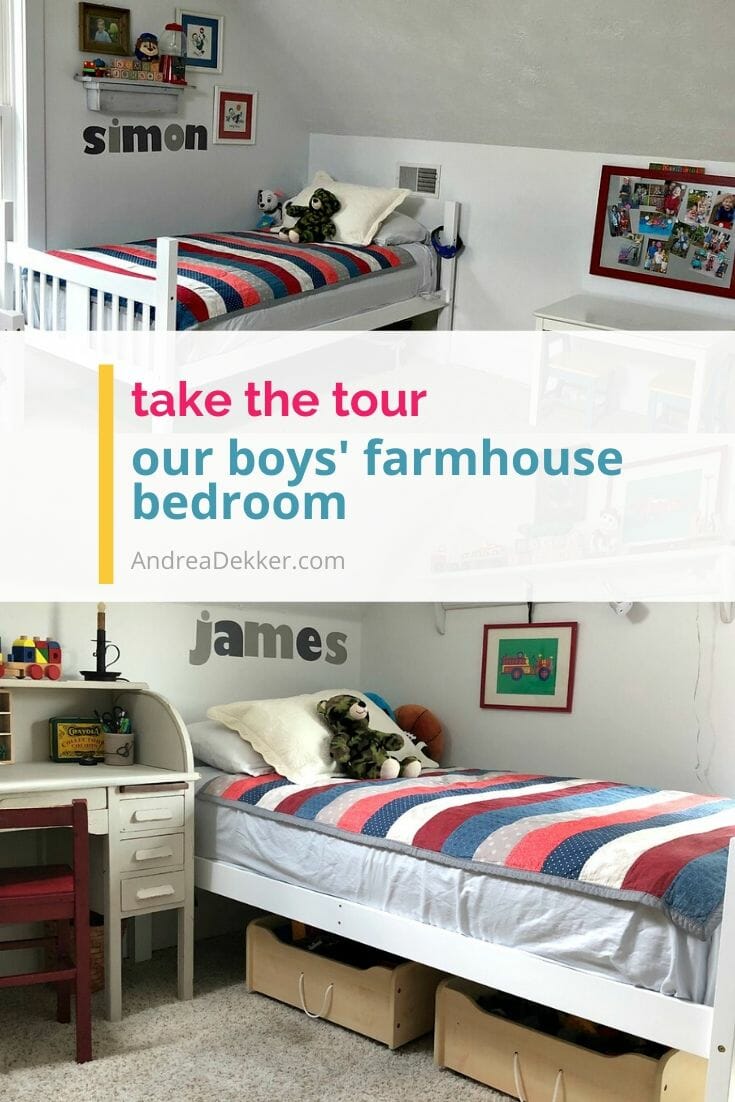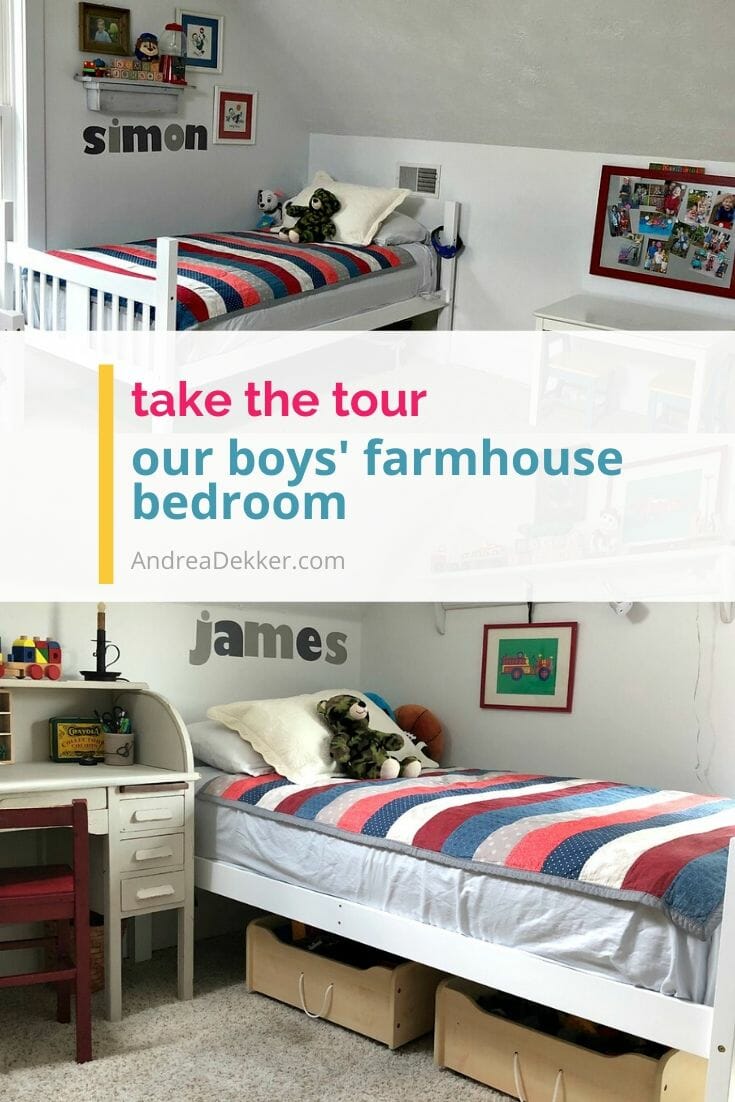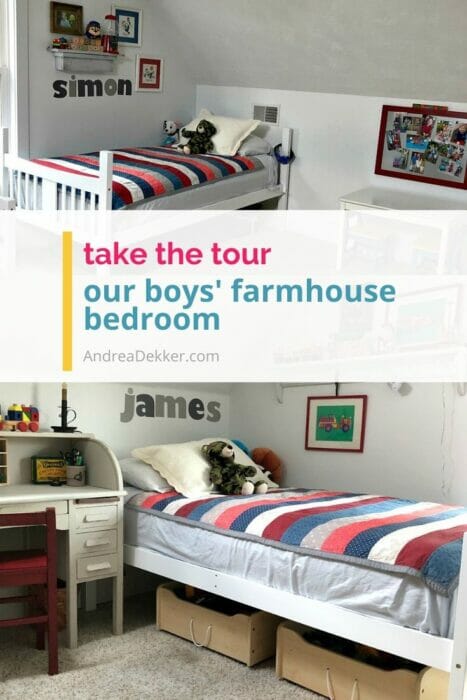 Oh my word! I had SOOOOOOO much fun with our boys' bedroom makeover last month! I think it was even more fun than decorating Nora's room because the boys didn't really have their own opinions or ideas, so I could just run with whatever I wanted to do in this space!
I tried my best to tailor it to the boys' personalities, likes, and interests — and I must have done a pretty good job because they were THRILLED when they saw their finished space after coming home from a weekend away with Dave.
The boys have ample toy storage, a very creative closet area, tons of space to spread out and play on the floor, and even a special place to store all of their treasures!
Could life get any better when you're 4 and 5!?!
I shared the girls' bedroom tour last week, and I'm excited to share the boys' bedroom makeover today!
NOTE: This post contains affiliate links. If you click through and take action, I will receive a small compensation (thanks!) Read my full disclosure here.
.
Watch the video tour of our boys' bedroom makeover!

Reading this via email? Click through to the live post to watch the video.
.
Honestly, I'm so happy with how well this room turned out… and so are the boys!
Of course, the fact that we needed to buy beds made this renovation a little pricier than most projects we do. However, outside of the beds, we spent less than $50 on the boys' bedroom makeover!
$30 for the train table + under-bed storage bins on Craigslist
$11 for the desk at our favorite thrift store
$3 for the shelf above Simon's bed, from the same thrift store
We had everything else in the house, most of it was already being used in this room in its former "playroom state" so it was just a matter of moving things around and making it look "fresh" again!
A NOTE ABOUT THE BEDS:

We purchased their beds on Amazon ($230 total for BOTH beds).

The beds can be bunked OR used separately, which is a nice feature. So far, we are very happy with them. They were easy to put together, they seem quite sturdy, the finish is very smooth, and the boys love them!

Dave put the beds together (per the instructions) before he left for his weekend away with the older 3 kids. However, since the instructions were for a BUNK BED set up, Dave didn't think about the fact that he needed to switch the headboard and footboard around so each bed had a taller headboard and shorter footboard.

So, in some of the pictures below, the footboard on Simon's bed is taller than on James' bed. We have since switched them around, but I couldn't do it on my own when Dave was gone, and I wanted to take the pictures before everyone got home again!

This is what the beds look like now.
I'll walk through the rest of their room with a bit more detail below…
Looking Into the Boys' Bedroom:
This room is so big and bright — I just love walking into their bedroom!
I also love that both beds are clearly visible from the doorway. Dave's mom made their quilts and the patriotic materials fit so well in their room and in our home.
James' Bed Area:
This is actually James' first time sleeping in a bed that's up off the floor. He was previously sleeping on the bottom bunk of Nora's bunk bed — which rested on the floor. I was a little nervous about him falling out — but so far, so good!
James requested the fire engine picture next to his bed… and all the other decorative items were things we had in the house.
I'll give you a little tip for "hanging" pictures next to beds — use Command Picture Hanging Strips to secure it to the wall so the child can't actually knock it down in their sleep.
One of the reasons we chose these beds for the boys' bedroom makeover was because we wanted beds that were high up off the floor WITHOUT a center support post. This allows for more under-bed storage options.
We are currently storing all our LEGO's under James' bed — in 2 roll-out crates that came with the train table we purchased on Craigslist.
This setup is working PERFECTLY for now.
It keeps the floor space clear, it is easily accessible, and it makes cleanup time super quick because they just dump everything in the bins and push them back under the bed.
The other item I purchased for the boys' room is this old roll-top desk.
The boys each have a drawer in the desk to keep their special things — and it's the PERFECT companion for the little red chair I've had forever!!
I think this was the purchase I was most excited about for our bedroom renovations!
Simon's Bed Area:
As I mentioned above, we had pretty much everything in this room already — we just moved things around to create different collages on the wall for each boy.
Simon REALLY wanted the 2 "sports pictures" by his bed… so that's what I gave him!
Simon has the train table top and trains under his bed.
We DO have the full table frame as well. We originally planned to cut off the legs and add castor wheels, however, the boys usually build the track on the tabletop, and then continue it onto the carpet. It's nice for them to not have any "barrier" around the tabletop, so for now, we just keep the tabletop under his bed (the frame is broken down in our storage closet).
We put our small white table with a couple of kiddie chairs in the boys' room as well — and they use it more than I anticipated.
They often set their LEGO or block creations on the table to 'display' for the day (or a few days) and they also use this area for doing "homework" — assigned to them by big sister!
The Closet Area:
The wall opposite the beds is where the closet, dresser, and toy cabinet is located.
They each have 1 drawer for pants, shorts, socks, etc. in the dresser. The top drawer is for clothing that is still a little too big, and the bottom drawer has a blanket for each of their beds (we use it in colder months).
As for the closet, I shared more specifics about how we organize this crazy sloped-ceiling space a few weeks ago.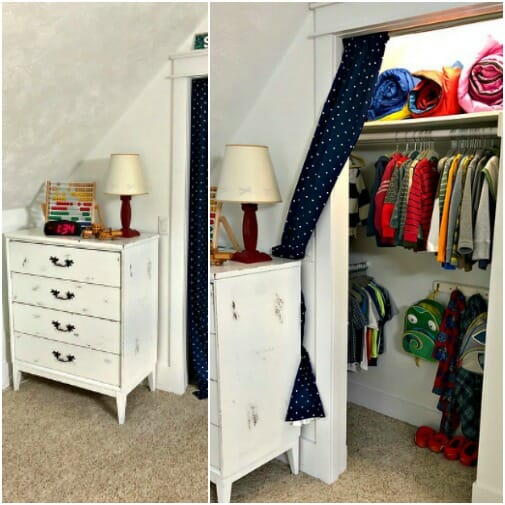 We purged, donated, and sold a HUGE number of toys when we switched the rooms around… and our current goal is to keep the boys' toys limited to under their beds or in a small wooden toy cabinet we've had for many years.
We got the cabinet from my great aunt after she passed away. It had sliding doors on it but we removed those.
We use a set of Cresbi Crates to organize various toys — they fit perfectly on these shelves and I was given a bunch of them years ago to review on the blog!
That's it: our boys' bedroom makeover tour!
The boys' room has become the designated "singing room" before the kids go to bed (we often let Nora stay up a bit later to read and Clara is still sleeping downstairs).
The girls each choose a brother to "bunk up with" and everyone is happy (most of the time!)
A LITTLE BEDROOM HISTORY:
Here are a few of the ways we've used this room over the past 5 years!
As I mentioned above, I really am SO happy with how well this room turned out.
I love it, Dave loves it, the boys love it… and although we spend a good amount of time outside right now, I have a feeling this bedroom will be the "place to play" once it gets cold and nasty outside!