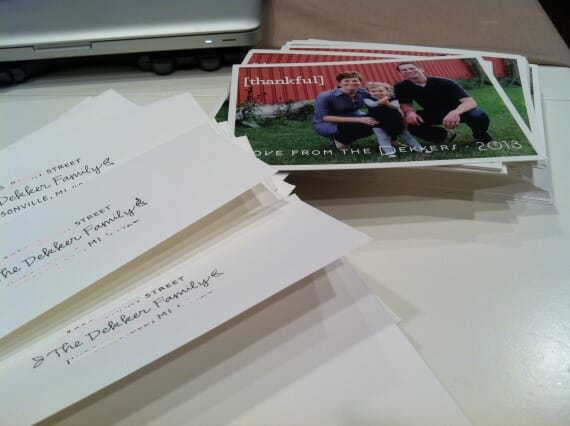 Every year for the past several years, I've shared our holiday card here on my blog (see them all in this post). I love sending out holiday cards, I love thinking about what type of card we'll send, what picture(s) we'll use, what message we will include, and what time of year we'll send it out.
Last year, we sent out a Thanksgiving card. This year, we're tentatively planning on a New Year's card — but I haven't officially ordered or made anything yet.
As much as I love sending out cards, I also really love receiving cards, pictures, and notes from friends and family — especially because many of them live across the country.
We proudly display all our cards and photos on our "picture post" in the kitchen until the end of January.
But then what?
While I love looking at all the pictures and cards on our "picture post" I certainly don't want them there year round — and there's just NO WAY I'm willing to save years and years of Christmas cards from family and friends.
I usually let Nora color on the actual cards and then play with some of the picture cards (she pretends like she's making a photo album or other craft project). Sometimes I'll scan a few of our immediate family's picture cards to use in our digital photo albums, but definitely not all of the cards.
After another week or so… they are all trashed.
.
Last year, my overly-sentimental, overly-emotional (and not at all like her mother) Nora was practically devastated when I tossed "her beautiful pictures". She sobbed and even tried to take them out of the trash when I wasn't looking.
I explained that Christmas was over and we had already put all the decorations away so it was time to put the cards away too. She ended up coming to terms with the trashed cards when I assured her we would get more the next year (please everyone, send us a card!)
I'm sure I'll face a similar fight this coming January, but for me, it just doesn't pay to save piles of holiday cards that I won't ever look at again anyway. It's just extra stuff to store, extra clutter to clean around, and extra junk for Nora to stash in one of her many bags upstairs!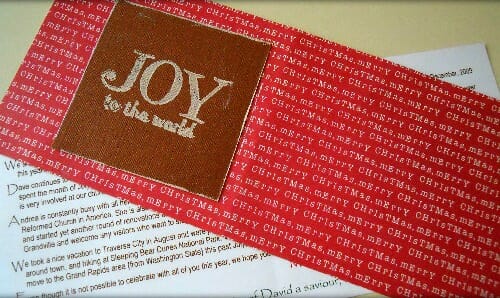 I'm often asked if I have any creative ways to re-use holiday cards — and besides cutting the fronts off traditional cards to reuse them later, or letting your kids color on them, I've got nothing.
And since the majority of the Christmas cards we receive are photo cards, I can't really think of any way to reuse those.
So I'd love to know if you have any simple ways to reuse holiday cards.
Of course, there's no shame if you just trash them like me!