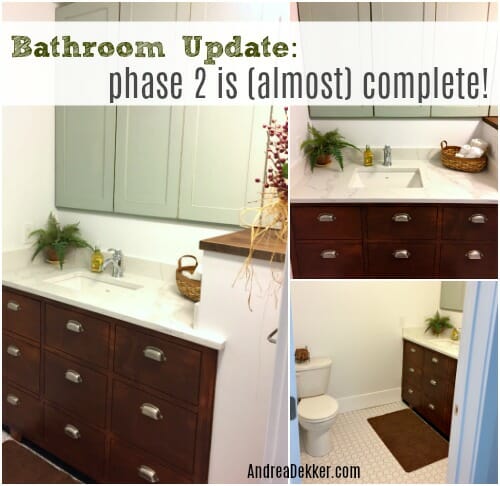 WOW… this post has been a LOOOOOOOONG time coming!
Some of you probably even forgot we were in the process of renovating both our bathroom and laundry room.
If you want to go back and remind yourself of the journey so far, here are 2 posts I wrote about our ideas, our decision, our progress, etc.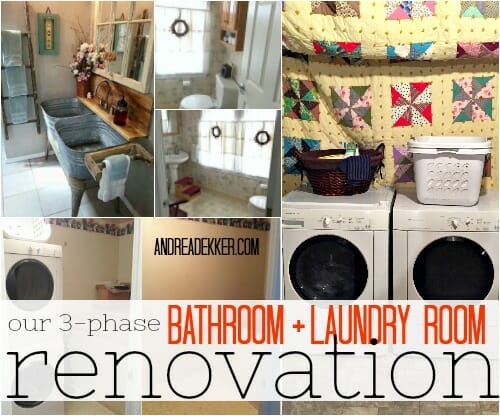 The first post was way back in April, the second post was in June, and now it's late August… so I figure it's time for another update.
The Good News!
We are essentially finished with "Phase 2" — which means our laundry-room-turned-new-half-bathroom off the kitchen is now useable (as of just a couple days ago!)
We still need to add cabinet door knobs, towel bars, mirrors, and lots of little decorative touches, but it's usable! I also need to figure out how to best utilize ALL the extra storage space we have… but at least the mess is over and the bathroom is functional.
I'm extremely happy with how the room has come together so far, and I will definitely do another post (soon) once this room is 100% completely finished!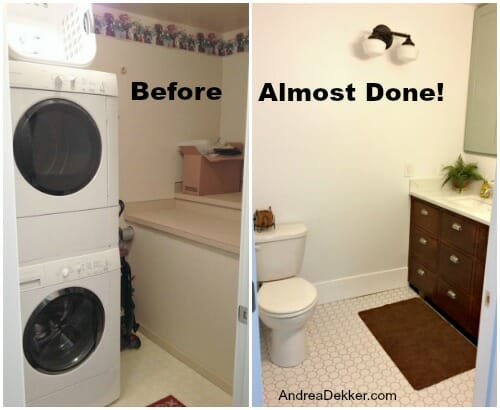 .
The Bad News…
We were hoping to finish the entire 3-phase project BEFORE Dave went back to school, but progress went so slowly that we still have the entire bathroom-to-laundry room transformation to tackle… and Dave went back to school earlier 2 weeks ago already. 🙁
.
We made tons of progress earlier this spring (from early May through early June) but then we hit roadblock after roadblock, pushing our progress further and further back.
Drywall delays:
Our first drywall guy was suddenly unavailable
Our 2nd drywall guy got a new job (not doing drywall) the day after I called him so he had to cancel.
Our 3rd drywall guy canceled on us the morning he was supposed to arrive
Our 4th drywall guy (someone who does it on the side) did a fantastic job and finally completed the space in early July
Cabinet delays:
The upper cabinet doors were slightly too big for the space (even though they measured correctly)
I couldn't find anyone willing to professionally paint 4 upper cabinet doors, so I decided to do chalk paint myself (it actually turned out amazing, so I'm super happy with this delay in our progress as it saved us a few hundred bucks!)
The fake vanity front was a little trickier than my uncle anticipated, so we had a few snafus with the door and hinges, taking more and more and more time.
Tile delays:
The store was out of the tile I wanted to use
The tile guy we LOVE working with couldn't make it out to us until mid-August… but he's worth the wait.
Counter delays:
We've purchased all our counters from Premier Granite, so I wanted to work with them again. However, after picking out the slab of stone I wanted to use for our counter, we realized it was already spoken for by another client
I had to go back and choose a different slab… which pushed that installation back at least another week.
So yes, we had many delays… but, the delays gave us plenty of time to think through our decisions, and we never felt rushed, which was nice.
.
That said, I'm getting antsy to be finished with projects — however, we still have a LONG way to go.
Now that the half bathroom is finished, we'll start demo on the full bath, with the intention of turning it into a laundry room WITH a shower! I cannot wait to get rid of that wallpaper, the oak trim, the fiberglass shower, the medicine cabinet, the impractical pedestal sink, those lights… and everything else in this space!
This is the very last room we need to renovate in our house!
It feels weird to even type that!
I know we will continue to tweak and change various areas of our house, but it sure is fun knowing that we've successfully renovated every single space in our home at least once already!
I'll keep you posted as we finish Phase 3 of our bathroom / laundry room renovation… in the mean time, I have to admit that I really don't mind walking to the basement to do our laundry. It's not as convenient as having it right off the kitchen, but it's not nearly as bad as I thought it would be!
Here's one last before and "almost done" picture of our newly renovated half bath.
I can't wait to get it decorated and accessorized!