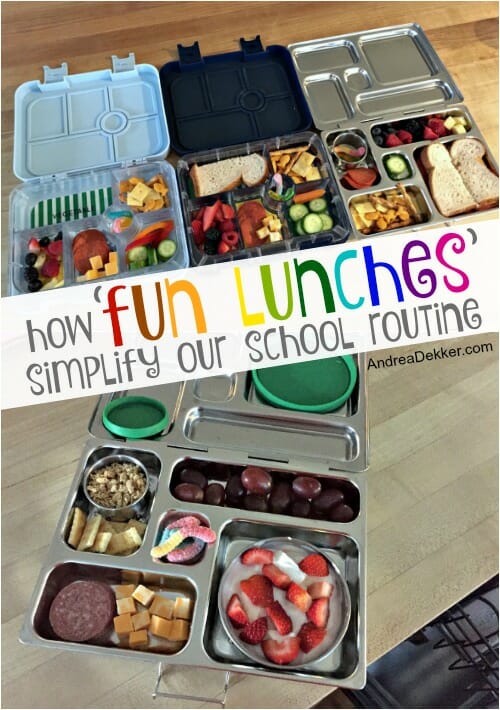 Dave has been back at school for classes and meetings for over 2 weeks already… and Nora officially has 2 full days of first grade under her belt!
So far, so good for our little girl who LOVES school!
(Simon starts preschool in 2 more weeks — seriously, I still can't believe he's old enough for school!)
As we've been gearing up for the back-to-school season, stocking up on school supplies, anxiously awaiting our class list and teacher assignments, attending various school open houses, parents' night, meet-the-teacher night, etc. the 2 things I hear almost all parents "complaining" about (or at least offering up disgruntled remarks about) are:
getting their kids to bed on time so they can wake up earlier
packing lunches every day
Our kids are still young enough that they go to bed on time (and wake up bright and early) all throughout the summer months — so the bedtime thing isn't an issue for our family right now.
And when it comes to packing lunches, it's definitely not my most favorite thing on my list of daily to-do's, but I certainly don't despise it the way some of our friends, relatives, and other school families seem to!
In fact, after thinking about lunch packing more this past month, talking with several of our friends about school lunches, and stocking up on lunch and snack foods… I (think) I might know at least one reason I don't dread or despise packing lunches…
I Pack Fun and Easy School Lunches that My Kids Want to Eat!
Yes, that means…
Sometimes their lunch food is processed.
Sometimes their lunch food has lots of extra sugar.
Sometimes their lunch food costs more per item to buy it individually wrapped.
Sometimes their lunch food is not even remotely healthy for them.
BUT it also means…
They love the foods I pack.
They look forward to lunch time at school.
They eat quickly.
They eat ALL their food.
They don't spend time or money standing in line for hot lunch.
They don't waste food by throwing it away.
Their bellies are full for the entire school day so they can learn and play without feeling sluggish or tired.
In my opinion, the fact that my kids eat all their food QUICKLY (and actually enjoy it) far outweighs the fact that their lunches might not check off every single box on the food pyramid.
Especially since they all have a big, home-cooked meal for breakfast and for dinner each day.
As I've mentioned before, I make a hot breakfast every morning — complete with bacon or sausage, scrambled eggs with cheese, fresh fruit, and either pancakes, waffles, french toast, oatmeal, or muffins. We also eat a home-cooked meal every evening with meat, potatoes/pasta, vegetables, fruit, bread, etc.
My children do not go hungry and they do not lack fruits, veggies, meats, dairy, or whole grains in their diet.
They are happy, they are thriving, they are healthy and growing well… and they enjoy really fun lunches!
Before we get too far into this post, I want to make it VERY CLEAR that I do NOT spend tons of time packing their lunches!
I don't use cute cookie cutters or make fun creations out of their foods.
I don't draw on their food with food markers (yes, there is such a thing as food coloring markers and they are actually pretty cool!)
I don't have themes for their meals.
I simply load up their lunch boxes with fun foods I know they will enjoy and eat well… and that will hopefully fill them up!
On occasion, I will do a little something special — like last year when Nora was the "star of the week". I tried to come up with some fun star ideas for her lunches that week, but that was an exception and definitely not normal!
Our Favorite Fun Lunch Foods:
PB & J sandwiches (yes, I often cut the crusts off)
Meat and Cheese Roll-ups (sour cream, thinly sliced meats, and shredded cheese wrapped up in a tortilla)
Salami and/or Pepperoni and cheese slices (sort of like a homemade lunchable)
Cold pizza
Pizza Lunchables (these are pretty gross in my opinion, but the kids LOVE them, so I usually buy them once a month)
Yogurt + fruit + granola
Gogurt
Applesauce pouches
Cheese sticks / string cheese
Granola bars (one mom of Nora's classmate said she puts a few boxes of granola bars in her kid's locker every couple of weeks so she never has to worry about forgetting their snacks!)
Pickles!
Fresh fruit (usually berries, grapes, and/or clementines)
Craisins + peanuts + M&M's
Fruit snacks
Any type of chips, Chex Mix, Cheetos, Bugles, pretzels, Goldfish, Veggie Straws, etc.
Store-bought cookie (the kids request store bought goodies in their lunches… Dave and I think they are nuts!)
Candy — yes, they get candy every day
For the ages of my children, for the lack of time I want to devote to pack lunches, and for the fairly short amount of time they have to eat lunch at school, quick and simple fun lunch options definitely work well for our family right now!
Our Lunchboxes (Planet Boxes)
Nora has been using a Planet Box (the Rover style) for 3 years now and we absolutely LOOOOOOOOVE it!
It's a stainless steel Bento Boxy style lunch box with 5 different-size compartments for various foods. It comes with magnets for the cover of the box, a carrying case (with drink and snack compartments), an ice pack, a stainless steel fork and spoon, and 2 stainless steel round containers that are perfect for more liquidy items (yogurt, pickles, dips, juicy fruits, etc.)
The whole system retails for around $80 (which I realize is pretty pricey) but they are amazing!
.
The boys also have BentoBoxes from Stuck On You, which are cute (and completely leak-proof)… but after using them for over a year now, I realize they are not nearly as functional or practical as the Planet Box.
The Planet Boxes just pop into the dishwasher (they are thin, so they fit in the same compartment as a dinner plate) and it's perfectly clean and dry an hour later. The boy's lunch boxes need to be disassembled, washed by hand as the little compartments never come fully clean in the dishwasher… and they take forever to dry.
Since they boys don't use their lunch boxes on a daily basis like Nora does, it's not a huge deal, but we'll switch Simon over to the PlanetBox system next year, when I start packing his lunch every day!
.
Why We Use Bento Boxes:
Before we had children, I assumed Bento Boxes were one of those gimmicks that got parents to waste money on yet another cute, but completely unnecessary, product.
Now, 7 years later, I will attest to the fact that Bento Boxes ARE cute, and they ARE unnecessary… but the amount of time these boxes save me, my children, AND my children's teacher is 100% worth the cost of the boxes!
Packing their lunches is SO quick and simple for me — just fill the compartments with foods they like and pop the boxes into the fridge (I pack lunches the night before).
Also, my kids usually don't need to unwrap anything at school, which means they don't need to ask for their teacher's help (when she's already trying to help 20 other kids). They also don't need to put their food on their desk — which is often fairly sticky, germy, and gross.
Their lunch boxes go straight into the dishwasher when they get home, we run the dishwasher after dinner, and I pack it again after they go to bed. DONE!
I definitely do NOT think you need a Bento Box in order to pack "fun lunches" your kids will actually eat; however, if you are frustrated with your current method of lunch-packing, I'd highly recommend some sort of Bento Box.
Here's a link to several more-frugal varieties on Amazon.
.
I realize there is a huge push for "healthy lunches" right now — and I completely understand and can appreciate why. However, I also don't allow myself to be guilted into packing my kids piles of raw veggies, hard boiled eggs, sushi, chicken salad, or other trendy things I know they won't eat (especially when I'm not there to watch!)
My goal for lunches (both at school AND at home) is to get my kids excited about eating, provide lots of fun options they will eat quickly, and to fill their bellies until dinner time (or at least until their mid-afternoon snack!)
If that means they get a fair amount of processed junk food, then that's what it means.
Last year, several parents from Nora's class mentioned the fact that their kids had all talked about how "Nora always gets candy in her lunch" and "Nora's mom packs 'good food' in her lunch, and "Nora always has fun lunches"… I just smiled and nodded, because that was my goal for her lunches!
I just want my kid to eat their lunch and move on with their day. Period!
I dislike wasted food, I dislike unnecessary battles with my kids, and I dislike crabby kids who are hungry after school because they didn't eat enough.
Fun lunches is my simple solution to all of this!
What is your philosophy on school lunches (or kids' food in general)?