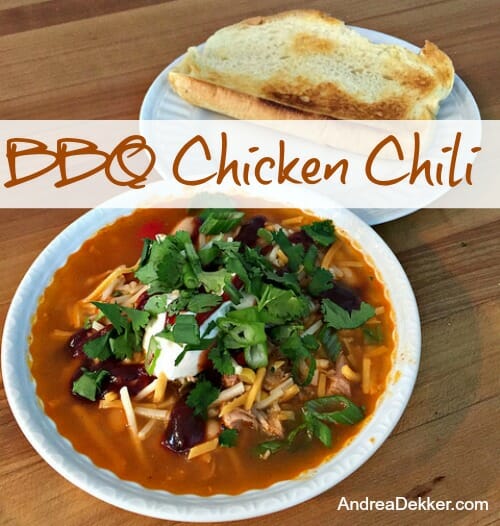 Dave and I have always loved any type of soup or chili — but in the process of feeding 4 small children over the past 7 years, I've noticed that I stopped making it as often since it's a pain to feed toddlers liquid foods (and SO messy when they try to feed themselves!)
Now that our kids are getting a bit older and more self-sufficient, I've started making soup and chili much more often again.
I've also started baking bread from scratch again… and soup + bread just seems to be the perfect cold-weather meal!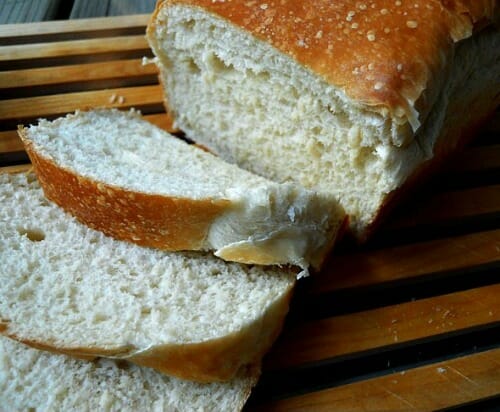 Today's recipe for BBQ Chicken Chili was one I tried first a few months ago with huge success. It is so quick and easy to throw together, and the BBQ sauce gives great flavor!
At the time, I was in the middle of "cleaning out our pantry and freezer" so this soup was a big hit as it used up several canned goods and a handful of chicken from our freezer!
As added bonuses, our kids liked it and it heated up REALLY well as leftovers!
I have yet to try freezing this soup as we always eat it all before I have time to freeze it, but based on my history of freezing similar chicken/chili recipes, I'm certain it will freeze and defrost well. .
Recipe for BBQ Chicken Chili
serves 4
INGREDIENTS:
oil or butter to sauté veggies
1 small onion; diced
1 bell pepper; diced (I used some green, red, and orange and left the rest raw for snacking)
3 garlic cloves; minced (or 1 t. garlic powder)
1 T. chili powder
1 t. paprika
1 t. ground cumin
1 t. salt
1/2 t. pepper
2-3 c. broth or water (more or less if you want thinner or thicker soup)
1 can (15 oz) corn; drained (or use fresh or frozen)
1 can (15.5 oz) white beans; drained and rinsed
1 can (15.5 oz) kidney beans; drained and rinsed (not pictured)
1/2 lb. to 1 lb. cooked chicken breasts; diced or shredded (he's my tip to quickly shred chicken)
1/2 c. BBQ sauce
Shredded Cheese
Cilantro (optional garnish)
Green onions (optional garnish)
Sour cream or plain Greek yogurt (optional garnish)
More BBQ sauce (optional garnish)
DIRECTIONS:
Heat oil or butter in a large pot.
Add chopped onions, pepper, and garlic. Sauté until soft (roughly 5 minutes).
When veggies are soft, stir in seasonings, salt, and pepper until fragrant (2-3 minutes)
Add in broth, corn, beans, chicken, and BBQ sauce and bring to a boil.
Reduce heat, cover, and simmer for 10-15 minutes, adding more liquid if necessary (depending on how thick or thin you want your soup).
Serve hot, garnished with cheese, cilantro, green onions, sour cream, and/or more BBQ sauce.
NOTE: I did NOT use all the broth pictured above, I just put the whole slow cooker in the picture as I had just finished making another batch of broth when I was making this soup.
The soup pictured above was more watery than normal (I got a little carried away with the broth and added too much extra). However the taste was still fantastic!
Want to make it in a slow cooker?
Go for it!
Just dump everything in and heat on low until warmed through. Or, put raw chicken breasts in the bottom of the slow cooker, topped with all the other ingredients, and cook on low for 6-8 hours.
Mix up the flavors with different BBQ sauces!
You can easily change up the flavor by using different BBQ sauces — or omit the BBQ sauce from the recipe and let everyone choose their own flavor as a garnish.
And of course, if you actually have leftover BBQ chicken, this recipe would be a FANTASTIC way to use it up! Simply shred or chop it and add it to the pot! YUM!!!!
.
This chili has been on regular rotation in our kitchen these past few months — it's such a quick weeknight meal I can have on the table in roughly 30 minutes.
Plus, it gives me an excuse to make more bread!!
If you're looking for a yummy warm-weather comfort food, give this BBQ Chicken Chili a try!
What are your favorite soups?
Visit my virtual recipe box for more simple, delicious, family friendly recipes!