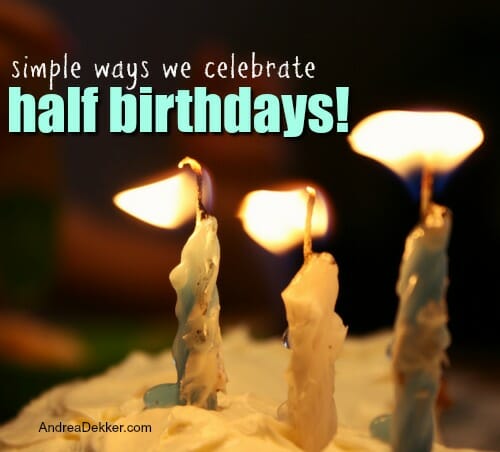 In general, I'm not someone who goes over-the-top to celebrate any holiday, birthday, or special occasion.
I don't put weeks and months of work into preparing for them, and I certainly don't spend much money celebrating.
However, we DO still celebrate in our own way!
I recently shared more about what we did (and didn't do) for Christmas this year… slightly non-traditional, but it works for now!
We don't go crazy for Mother's Day, Father's Day, Valentine's Day, Halloween, or any other holidays either — usually just some special paper napkins, maybe a few special snacks, and we try to dress "festively" on the actual holiday.
When it comes to birthdays, we still don't have a set tradition, but I do love making them a special breakfast with a special plate, a special straw, etc.
They usually don't even care about the gifts, as they are more excited to see what special thing might be waiting for them at their birthday breakfast table!
I also enjoy making special cakes (per their request) and letting them help bake or frost them when appropriate.
Sometimes, we even let them have a piece of their birthday cake for breakfast the next morning — I figure it's not any worse than a donut!
.
However, one of my favorite things to celebrate with my children is their half birthdays!
There's no toys, no gifts, no parties, no hoopla… and other rarely ever remember their half birthday. It's just a super fun day to help them feel extra special and loved… and it's SO easy to pull off!
Our kids now look forward to their half birthday, often counting down the days, as they know it will be a day when they get to do a few extra special things, pick the books and TV shows we watch, choose some of their favorite meals, etc. etc.
Since we just celebrated James' half birthday earlier this week, I figured it was a perfect time to share some of our simple (but super fun) half birthday traditions.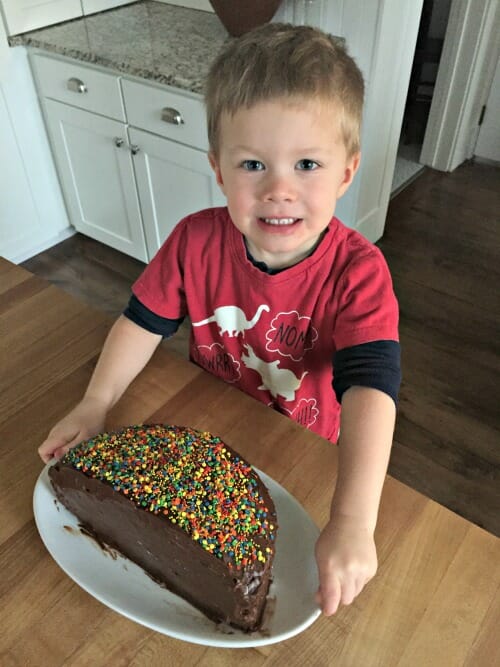 .
NOTE: We are NOT the type of parents who feel pressured to do something for ALL our kids just because we did it for one of our children. They all get special treatment on their birthdays and half birthdays, but we don't ALWAYS do the exact same things every time. I can't handle that type of pressure or rigidness!
Here are some of the small things we (usually) do to celebrate…
We make a countdown chain about a week before
They get a special napkin, plate, and straw for breakfast (always a big deal in our house)
They get to help me bake a simple boxed cake mix (nothing fancy) but we always cut it in half and pretend it's a "half cake" for their half birthday. I just put the other half in the freezer for later!
We usually do something special for lunch — maybe a frozen pizza or swing by Wendy's or Arby's for a sandwich and fries.
They get to choose the majority of the books, TV shows, and activities throughout the day
We measure them on our growth chart (we don't actually mark it down)
We look through their old photo books
They get to choose a favorite food for me to make for dinner
They get the piece of cake with the most frosting
We sing "Happy Half Birthday To You" as one of the songs before they go to bed
They know they will not get any tangible gifts on their half birthday, but I guarantee they still look forward to this special day!
Of course, it does take a little extra planning on my part to make sure I have a cake mix in the house, make sure I have a "fun" breakfast ready to go, think through different crafts or activities we could do on their special day — but it's really not much work, and certainly not much expense. It's something I personally enjoy at this point in my life, so I'm willing to put forth some effort.
I definitely do not think we will celebrate half birthdays always and forever, and I'm totally OK with that.
But for now, when the kids are still little and home with me all day, it's just one simple way we 'Upgrade the Everyday', as I like to say!
Do you do anything special for half birthdays (or for any other special event)?