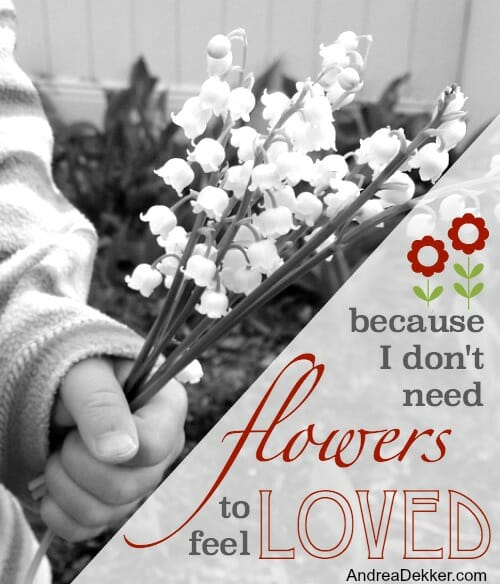 Today is my birthday — 29 years old!
I love birthdays; however, I'm pretty sure today will simply be another very normal day in the Dekker house.
I'll wake up early to finish a few things in the mudroom because I'm meeting with a company who might be designing and installing a closet system for us.
I'll take a quick peek at our online bank statement to make sure the mortgage payment came out today.
I'll enjoy the various people leaving birthday wishes on my personal Facebook wall.
We'll eat leftovers for lunch, and then I'm getting my hair cut and colored — a little lighter for summer I think.
I'll probably clean pee off the floors and spit-up off my clothes at least 2 or 3 times.
Then I'll do some yard work or take Nora and Simon for a walk if the weather cooperates. If it's raining, I might get groceries instead.
When I get the mail, there will most likely be a card from my grandma and from Dave's grandma (because neither one ever forgets birthdays!)
We'll load up the kiddos for a quick dinner out at a local restaurant (using free birthday coupons) and stop by another local spot for a free slice of my favorite cheesecake (another birthday coupon).
Then it's baths, PJ's, and snacks (for the kids, not me!)
Then I'll convince Dave to turn the basketball games off and let me watch an episode of The Office on Netflix — while I skim through emails and do a bit of blogging before heading off to bed.
There will be no flowers or gifts, but I'm certain I'll be smothered with slobbery kisses from Nora, a bunch of drool from Simon, and a smooch or two from Dave.
Yes, this is basically what every day looks like for me (besides the birthday cards and free birthday coupons) but that's OK, I don't need flowers or gifts or a surprise party to feel special and loved on my special day.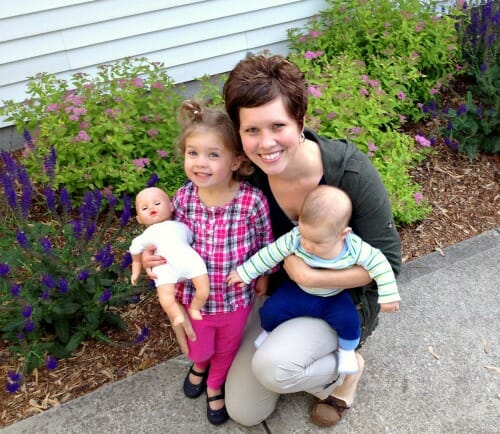 Yesterday was Father's Day — Happy Father's Day to all the dads out there (including my dad, my grandpa, Dave's dad… and of course, Dave!)
We actually didn't see either of our dads or my grandpa yesterday as everyone was busy doing other things with other people.
We didn't do anything extra special to celebrate — although Dave did get a bunch of cuddles from his two favorite kids and free custard from Culver's thanks to a Father's Day e-coupon.
No gifts, no parties, nothing out of the ordinary (no flowers for Dave either) — just a normal Sunday with church and naps and relaxing.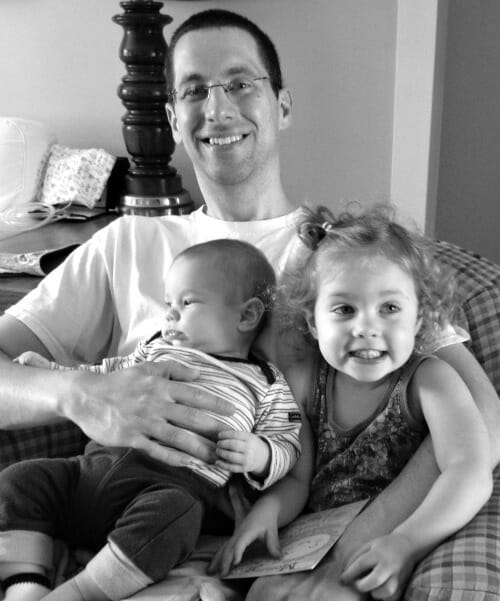 Father's Day and my birthday — although they are both very special days, they really aren't any different from every other day. Not because I don't love Dave or because he doesn't love me. Not because we don't care about our fathers. Not because our families don't care about my birthday. Not because we didn't have the time to celebrate. And certainly not because Dave can't afford to buy me flowers.
It's simply because that's how real life is.
Contrary to what you might see in movies, on reality TV shows, in magazines, or on Pinterest, real people with real lives don't get lavishly pampered every single birthday, anniversary, Valentine's Day, Mother's Day, Father's Day, or other special date on the calendar.
Real people don't get fancy parties and expensive gifts for every occasion. Real people don't get YouTube videos documenting a secret surprise that has been in the works for months. Real people don't get whisked away on a luxury vacation to celebrate their special day.
The real people I know rarely even get flowers 😉
Yes, there are exceptions to this rule (I know real people who REALLY love to pull out all the stops for special occasions, and it's fabulous) however… for the most part, I personally feel like the media and various marketing efforts set real people up for so much disappointment when their special days turn out to be normal days… just like all their other days.
Believe me, I get it.
My top love language just so happens to be "gifts" — so yes, I LOVE getting and giving gifts as much as anyone else. I love the idea of getting flowers or a special surprise; however, I also realize that Dave is NOT a gifts person. He's more of a "let me wash the dishes and play with the kids all day" kind of person.
I know Dave loves me whether or not I get flowers or any other tangible gift to show it. And honestly, who's going to complain about clean dishes and a few hours without kids bugging them every second? Not me, that's for sure!
.
Yet the media has us convinced that unless we get an elaborate party, an extravagant surprise, an expensive gift, or at the very least, flowers, we are getting slighted. After all, if the special people in our lives really love and value us, they would take the time and spend the money to do those things for us. Right?
Wrong!
I have absolutely nothing against buying flowers, giving gifts, planning surprises, or showering those we love with extra special things on their extra special days — but I also know that those material things are not what really matter, nor do they offer any reflection on how much we are loved.
They are simply marketing… and probably a little bit of "keeping up with the Jones'".
.
So tonight, I will go to bed one day older — with no flowers or gifts or parties to think back on. I am not sad about this, nor do I feel I was slighted in the least.
It was just another normal day. A day no different from every other day, but filled with the people I love most.
Cheers to finishing out my twenties with a bang!