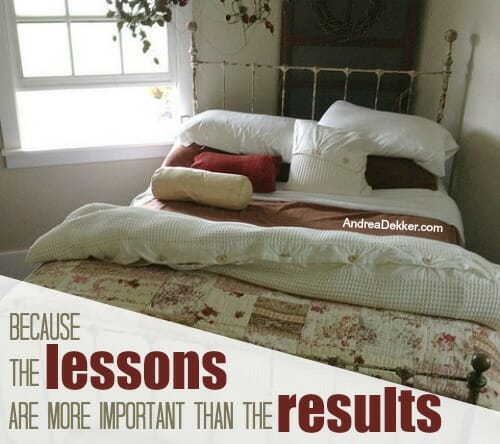 Growing up, my sisters and I helped out a lot around the house. We were all fairly close in age, so by the time we were all in school, my mom had us "trained" to dust, vacuum, sweep the floors, empty the dishwasher, clean the bathroom, wipe down mirrors, shake out rugs, make the beds, fold laundry, etc.
We certainly didn't do all those chores all the time, we definitely didn't always do them willingly, and I KNOW we didn't always do as good of a job as my mom would have done, but she didn't care. She always told us how good we were at dusting and vacuuming and other various chores.
In fact, I can remember when I was finally old enough to realize that she was probably just complimenting us so that SHE didn't have to do the chores — but at the same time, I also didn't care because I was happy to be doing something well (at least in her eyes) and be helping out around the house. What can I say, I guess I've always enjoyed cleaning 🙂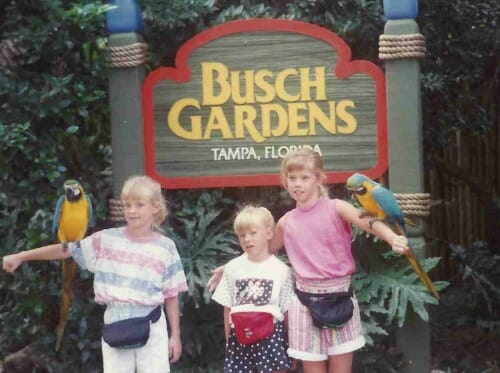 (this picture is simply to show you how super cool my sisters and I were back in the day — I'm on the far right!)
In general, I'd say my mom was pretty laid back about housework — as long as it was DONE, she didn't really care how we did it. However, I can remember her telling us stories of when she was little and my Grandma (basically Martha Stewart on steroids) would re-do everything after they did it because it wasn't good enough for her standards.
Please know that my grandma is basically a saint and probably one of the most helpful, giving people I know. But the woman is a perfectionist and a clean freak… to the point that I look like a slob compared to her.
When my mom would tell us those stories, I remember thinking that I never wanted to be "that mom" who always picked up and re-did chores after her kids because it wasn't good enough for my own standards.
Many times already, I've reminded myself of this "promise" I made to myself, but I honestly never expected that I would be putting my promise into practice already!
Lately, little miss Nora has been very interested in "helping" me out around the house — and more than just picking up her toys or books. Everything I do, she wants to do it too. And if she can't do it, she wants me to teach her how to do it.
Although this obviously makes everything take SO much longer for me, I've really enjoyed the process of teaching her something that I love and watching her get so excited when she feels like she is mastering her new skill.
Some of her favorite things to help me with are:
watering the plants — or anything with gardening in general
baking or cooking anything
feeding Simon
making the bed
scrubbing or dusting anything (table, counter, floors, window sills, etc)
emptying the dishwasher
folding laundry
washing dishes (she just stands on a stool and watches while making endless commentary)
sweeping — especially outside
clearing the table (this can get ugly, especially when syrup is involved!)
I promise you, I am NOT a perfectionist, but it honestly took every ounce of self control I could muster up to not go back into my bedroom and remake the bed — or at least fix the pillows 🙂
.
Nora has also been insisting that she dress herself every morning. Sometimes she'll let me pick out her outfit (with her approval, of course) but then SHE has to be the one to put it on.
Everything is usually backwards (sometimes even her underwear) and at least one item is usually inside-out — but she is proud as a peacock that she did it "all by herself."
Oh, and don't even get me started on the fact that she now wants to do her own hair (notice the inside-out, backwards shirt!)
I think if Nora hadn't been so extremely stubborn from the moment she was born, I would probably be more frustrated by her independent nature; however, after living with her for 3.5 years, I know that it is so much better for both of us if I just let her do her thing.
Unless she is physically harming someone or something, acting totally disrespectful, or breaking a law, it is so much easier in the long run if I simply let her try and fail and try again. If she gets frustrated enough, she'll ask for help. If she gets cold in her shorts when it's only 55*, she'll ask for pants. If she gets dirty enough, she'll eventually asked to be wiped up. However, if I offer my help without her wanting it, the temper tantrums ensue!
.
Due to my ultra-productive nature, it's often hard for me to sit back and watch her SLOWLY learn to do something I could do in 10 seconds… especially since I can obviously do it so much better as well.
But at the same time, it's also extremely rewarding for me to see her so interested and excited about learning new skills — even something as simple as FINALLY being able to blow her own bubbles!
She is always SO proud of herself whenever she figures it out (whatever "it" is), and eagerly waits to tell Dave (or whoever crosses her path next) about how helpful she was, and how big she's getting, and how she's learning so many new things.
Even before we had kids, I always guessed that 3-5 would be my most favorite age… and boy is that proving true so far.
Life with Nora is most definitely NOT all butterflies and roses — she is a difficult personality to be around ALL day long and she pushes me to my limit almost daily. But she also makes me smile and laugh and beam with motherly pride!
(This picture was exactly one year ago today… I can't believe how big she has gotten!)
In some ways, I actually feel proud of myself for giving in and letting my VERY stubborn, strong-willed, independent little girl learn the way she learns best (trial and error). Believe me, it's not always easy — after all, she had to get her stubbornness and strong will from someone, and it sure wasn't Dave 🙂
I know that the lessons she is learning are much more important than how well she's doing the chores. Plus, if we can keep her enthusiasm up, I might be able to pass off my housework to her in a couple more years.
Oh, and yes, she enjoys "helping" Dave as well!