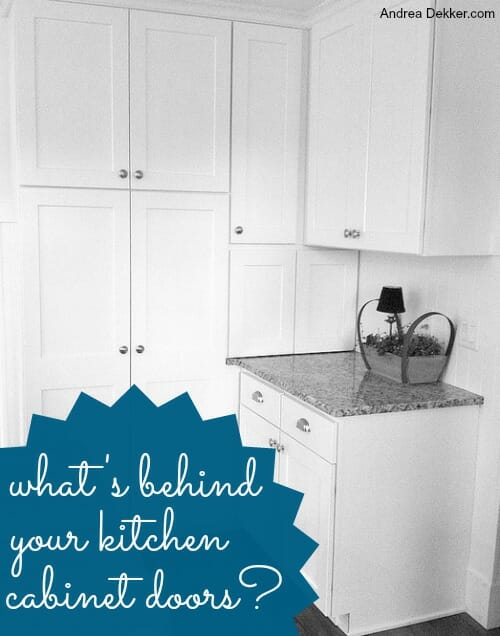 Question: What's behind your kitchen cabinet doors? And no, I don't mean the actual stuff on the shelves. I'm literally referring to the back side of your cabinet doors.
If you answered "nothing", my goal is to change that by the end of this post!
The inside of your cabinet doors is prime real estate for all sorts of goodies — and who can really afford to waste space in the kitchen?
That's what I thought 🙂
The inside of several of our kitchen cabinets are lined with papers, sticky notes, grocery lists, to-do's, contact information, take-out menus, etc. etc. all easily accessible at any given moment, but all completely out of site, off the counters, and out of the way.
It's glorious!
Baking Cheat Sheet:
The inside of our upper corner cabinet has a mess of papers taped up inside — all of which help me when I can't remember something while I'm baking.
Some note the different conversion rates (Celsius – Fahrenheit, cups-ounces, etc. etc.) Some remind me of proper cooking temperatures for different meats, candies, etc. Some list common substitutions and a whole bunch of other information I use on a regular basis but haven't taken the time to fully memorize yet.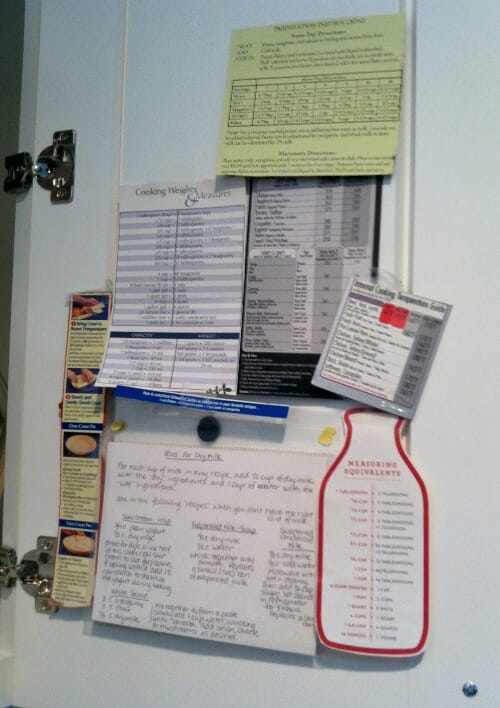 Grocery Central:
I use the inside of our large pantry cabinet to hold 2 little dry-erase "tablets" — one for our grocery list and another for our weekly menu plan. We got these little tablets in a packet of junk mail trying to get Dave and I to sign up for something (I don't remember what). I almost threw the whole thing away, but then saved these little sleeves for our grocery list and menu plan.
Any time I think of something we need to buy or start running low on an ingredient while I'm cooking, I jot it down on our grocery list. This makes it super easy to quickly make my finalized grocery list each Sunday afternoon.
I also have one other plain pad of paper for other things I might need to buy that I can't get from the grocery store. This way, if I'm heading out to run errands, I simply grab the paper with my list of things to buy and if I see any of them at good prices, I know to buy them.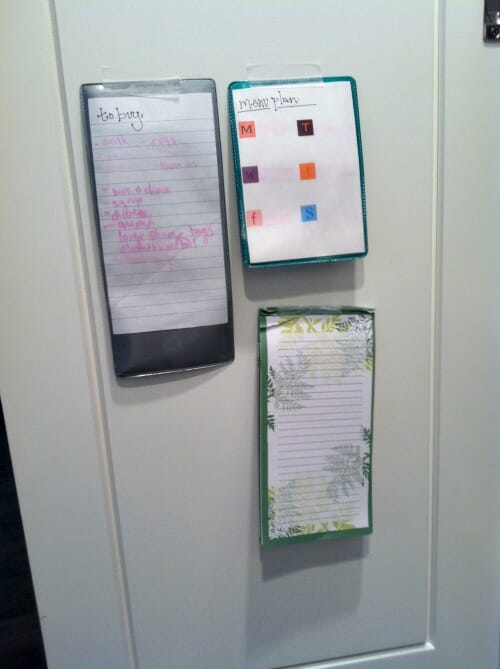 Contact information:
Inside another cabinet, we have a whole bunch of contact information for people, businesses, restaurants, and more.
Dave and I aren't necessarily the best at remembering names of people we've met — it's awful and we both wish we were better at remembering, but we're not. So to compensate for this, we drew up a mini map of our neighborhood and marked out the names of all our neighbors and where they live. This way, if (when) we forget, we can just open our cabinet door and look it up again — because seriously, after 2.5 years, we really can't keep asking for name refreshers 🙂
We also keep business cards of people we might need to call (the guy who helped us with our roof, the guy who changes the oil in our car, etc. etc) We don't necessarily need to program these numbers into our phone (because we often can't remember their name to search for them anyway!) but we still want their numbers handy for the 1 or 2 times a year we might need to quickly get a hold of them.
Important information:
This isn't something we've implemented yet, but once our kids start getting older and/or once we have more babysitters, we'll probably create an "important information" zone on the back of a cabinet door with emergency phone numbers and other information.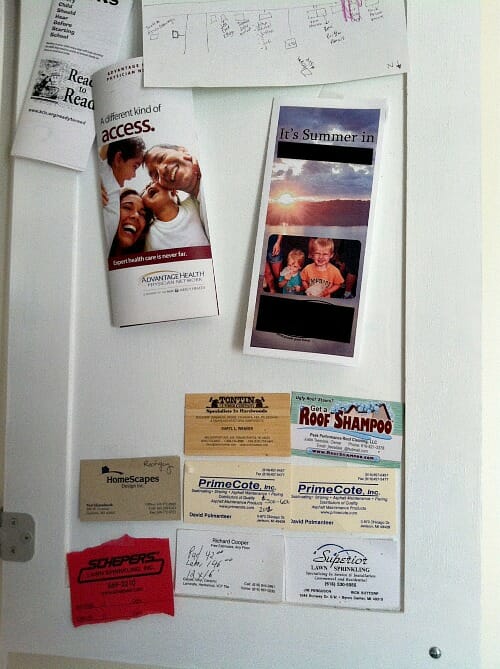 Laundry Cheat Sheet:
On the inside of one of the cabinets in our laundry room, I have a stain chart that details how to remove different types of stains from different types of fabrics. It's so handy, but so out of the way — and I never have to worry about it getting wet or ruined!
.
If you're not using the inside surfaces of your kitchen (or laundry room) cabinet doors, you're "wasting" a whole bunch of prime real estate. Depending on the type of cabinets you have, anything that's somewhat flat and relatively light-weight could work for hanging on the inside of a cabinet door.
I know plenty of people who put white boards, magnetic boards, spice racks, and more all on the inside of their cabinet doors.
And while I realize my "presentation" of information isn't amazing or Pinterest worthy, it still works fabulously for us and it allows us to have all kinds of information at our fingertips — but NOT on our counters!
Oh, and if you'd like to see how I organize the insides of my cabinets, read this post.
How do you use the inside of your cabinet doors?