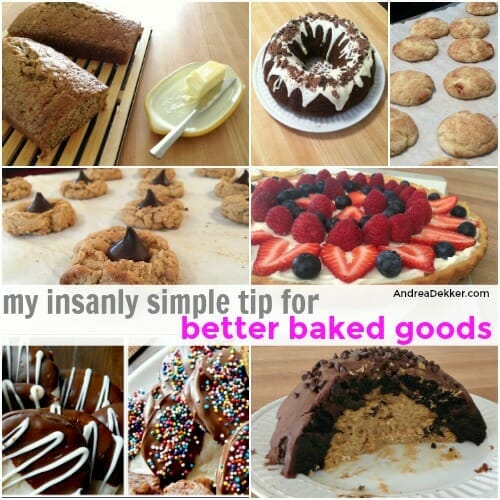 Baking is one of my favorite pastimes — much to the delight of my husband and children 🙂
Although there are plenty of times I start with a boxed mix and "doctor it up" a bit, there are even more times when I bake completely from scratch — simply because I enjoy the baking process.
I try to let Nora and Simon help me a fair amount (usually while James is napping) but there are also plenty of times I wait to do my baking until everyone is in bed for the evening so I have the kitchen all to myself.
Then Dave and I get to enjoy fresh-from-the-oven cookies or warm brownie sundaes as our late-night snack!
I am definitely not an expert baker, but I've done enough baking that I DO have a few little tricks up my sleeve… and about a month ago, I realized that I have never shared one of my simplest tips for better baked goods here on my blog.
This tip requires no skill, no special ingredients, no monetary cost, and really no extra effort on your part…
So what's my ingenious tip?
Preheat the oven 25 degrees hotter than you need it and turn it down immediately after you put the item in the oven.
For example:
If a cookie recipe says to bake them for 10 minutes at 350ºF, I preheat my oven for 375ºF. When the oven beeps to let me know it's preheated, I put the cookies in the oven and then immediately turn the temperature down to 350º.
By doing this, I don't have a huge temperature dip right at the beginning of the baking process thanks to the fact that I just had the over door open for several seconds. The cookies start out baking at 350º instead of 325º with scalding heat as the oven tried to heat back up to 350º again.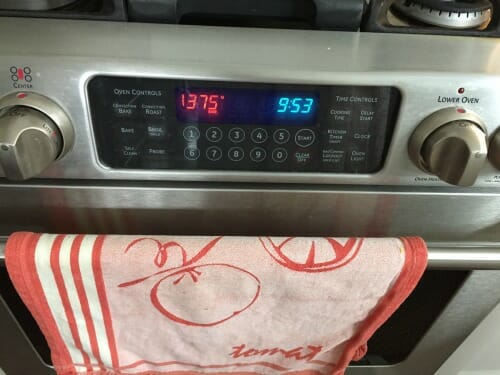 .
This tips is especially helpful for baked goods with shorter cooking times (rolls, muffins, cookies, etc.) because a large drop in the oven temperature could easily affect the first 5-10 minutes of baking time and result in undercooked bars and cookies, flat muffins, and sunken-in rolls or cakes.
So like I said before — this tip requires nothing but a few extra minutes to preheat your oven to a hotter temperature, and you will enjoy more evenly-baked goodies!
Oh, and if any of the foods in this post look yummy, you can find all my dessert recipes here!