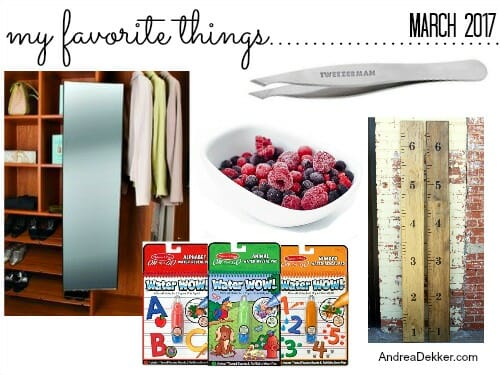 It's a new month… and I'm sharing a few new favorite things (not listed… an amazingly cute little boy who turns THREE on Saturday!)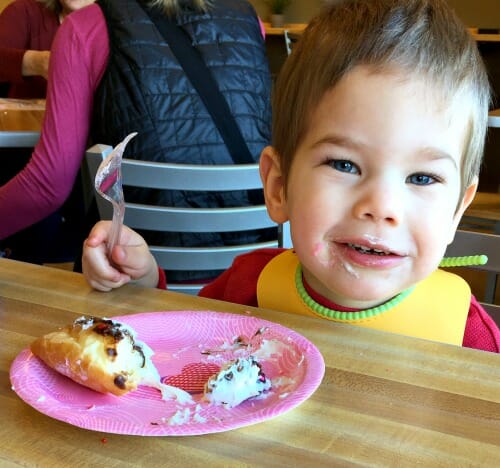 DISCLOSURE: None of these products are sponsored; however, some of the links below are affiliate links — which means that at no cost to you, I may get a small commission. Please know that I use these products daily in my own home and life. Read my full disclosure policy for more information.
Melissa and Doug Water Wow Books: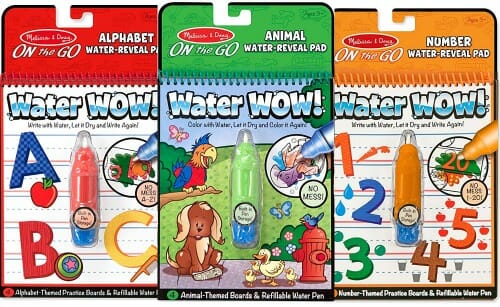 I thought I had mentioned these books last month — but I just checked and realized I didn't. So I'm definitely including them this month!
I got these Water Wow books for the kids a few months back, figuring they would be a fun indoor activity for a few weeks until they got "old" or ruined (I got them for $2 each from Hollar.com).
However, much to my surprise, these books have been used by all 3 of my kids almost daily for the past few months. They are still holding up fabulously well and the kids just love them!
They do fight over which person gets to paint which book, but once everyone agrees, they sit happily and paint away for 10-15 minutes at a time — glorious!
In case you're wondering what's so amazing about these particular watercolor books, let me explain…
The books come with a really fat brush that is easy for little hands to hold, and the brush is stored in the book cover.
The brush contains the water right inside (meaning no spilled water bowls).
The pages are VERY colorful and immediately change color when the water is applied.
The pages dry in a matter of minutes so you can start all over again!
These books would be great for traveling, waiting in a Dr. office, or just for having fun at home!
.
Frozen Fruit
Such a silly thing to include on my list — but I recently realized that I use some sort of frozen fruit almost daily!
My children will rarely eat any fruit that is even slightly over-ripe, so anytime our banana peels start turning brown, or our apples or grapes get a little mushy, or strawberries and blueberries get "soggy" I cut them up and put them in the freezer.
I keep several quart and gallon freezer bags in our freezer with different fruits in each bag, so I simply add the new fruit to the appropriate bags. Then, when I make smoothies, muffins, breads, or pancakes, I simply pull out the desired amount of frozen fruit and I'm good to go.
I don't need to wash it, peel it, or chop it up because I do that all before I put it in the freezer.
In my experience, you can truly freeze almost any type of fruit (even watermelon!)
I freeze rhubarb from my garden and use it for Rhubarb Muffins. I free any type of berry after we pick them in the summer (or if I just get a good deal on them at the grocery store). And I actually prefer the taste of frozen bananas in my smoothies and muffins compared to fresh bananas!
Cherries are another good frozen fruit (just make sure you remove the pits first!) and my kids will actually eat frozen grapes and blueberries right out the bag! Frozen peaches and pineapple are great for smoothies too!
.
Pointed Slant Tweezers

I'm not one to go crazy plucking my eyebrows (or really any body hair) but I can not tell you how often I use my tweezers!
I have what is described as a "pointed slant tweezers" and I've honestly used the exact same tweezers since high school (so roughly 15-16 years already!)
I've used my tweezers for everything from pulling splinters out of fingers, picking up tiny beads for Nora's jewelry projects, pulling tiny toys out of tiny spaces, random sewing needs, and (of course) tweezing occasional stray hairs!
In case you're interested, here is a big list of different types of tweezers and what they are intended to be used for! I'm happy to see my "pointed slant" tweezer is the personal favorite on the list below!

.
Our DIY Growth Chart: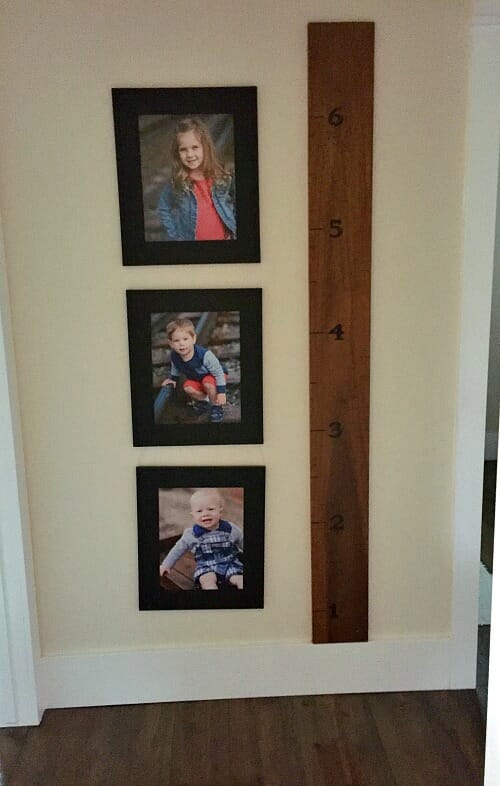 As I've mentioned before, I'm not necessarily the most "crafty" person ever. I'm creative, but I'm not crafty — if that makes sense!
However, after Nora was born, I knew I wanted to make some sort of growth chart for us to measure our children's yearly height… and I wanted it to be something we could take with us if we ever moved.
After looking up a few ideas, I created a pretty cute growth chart within an afternoon. I used one of the extra old boards we took out of our house during the demolition phase and I literally used a black Sharpie to add the lines and numbers (SO EASY!)
For those of you with no time or desire to make your own, there are LOADS of cute options on Amazon… and if you're willing to pay a bit more, search Etsy for "growth charts" and you'll find some fabulous ones!
These would be such fun baby shower gifts (or new baby gifts or housewarming gifts) and something the recipient would treasure for years to come!
Here's Simon's 2-year old pictures — I can't wait to see how much he's grown when we measure him this weekend 🙂
.
In-Closet Mirror: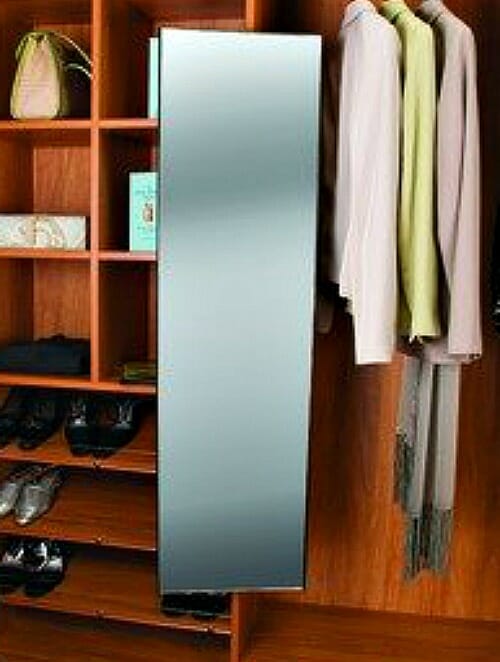 Dave and I do not have a fancy walk-in closet. In fact, we have a very normal size reach-in closet that we both use for ALL of our clothing… and it is plenty of space for both of us.
We do have a dresser for socks, underwear, t-shirts, and PJ's, but everything else goes in the closet (we don't store seasonal clothing anywhere else either).
Anyway, even though we don't have a fancy walk-in closet, we DID have a pretty nice closet system installed in our closet back when we were renovating our bedroom (6 years ago already!)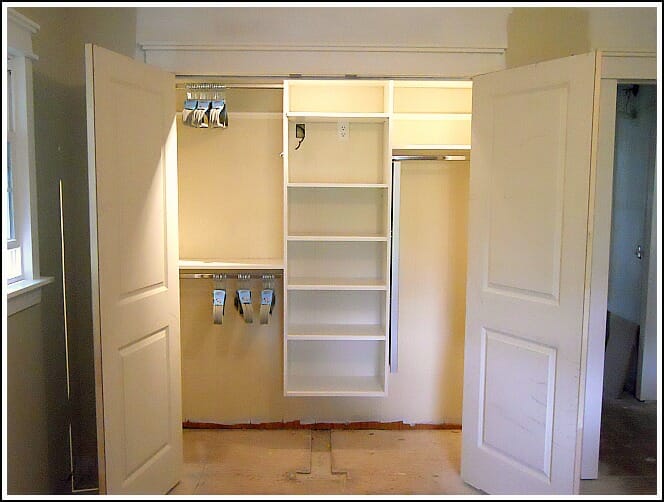 As part of our custom closet design, we installed a pull-out valet rod (which Dave uses EVERY SINGLE DAY), a cable hookup in case we ever want a TV in our closet, and a super handy pull-out mirror.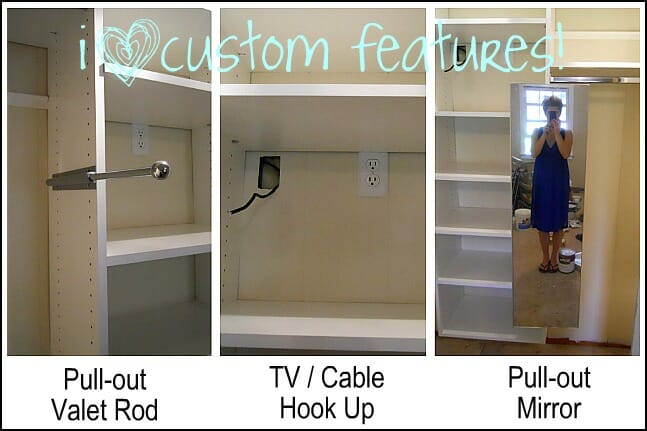 Dave's favorite feature would definitely be the valet rod (it might be the TV hookup, but we currently don't use that!) and mine is most certainly the pull-out mirror. (You can buy one on Amazon for less than $100!)
It's so handy to pull out, view my outfit, and push it back in — out of sight, out of the way. It takes up almost no space (you can hardly even see it next to Dave's hanging pants and my dresses below) and it's a huge asset to our closet.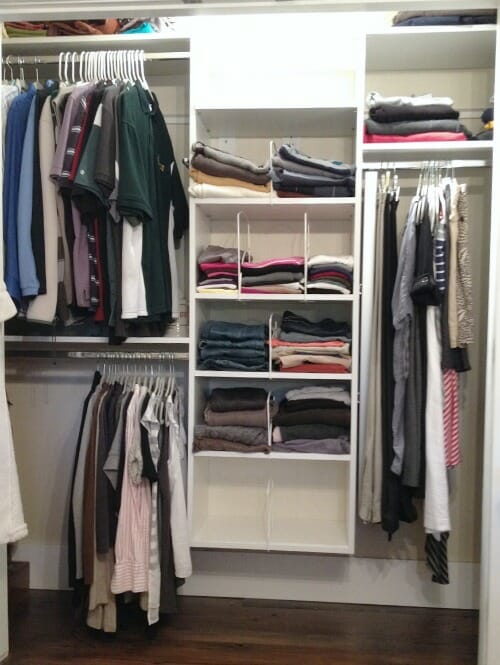 .
That's all for me this month.
Make sure you check out my previous month's favorite things — and feel free to share some of YOUR favorite things in the comments below!