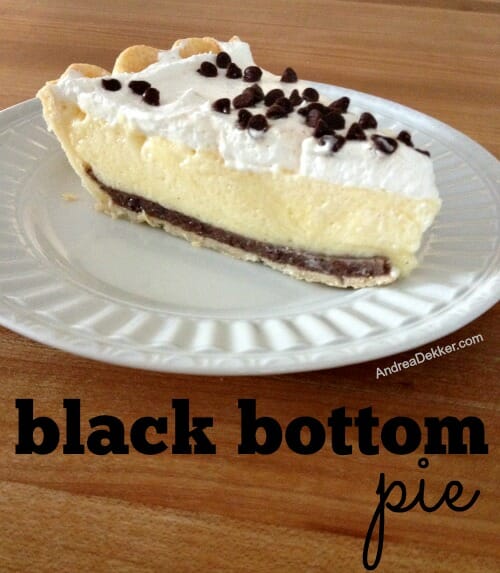 One of my favorite no-bake pies is Black Bottom Pie.
My mom and grandma made it frequently when I was growing up, but I've only made it once or twice (from scratch) since I've been married. Instead, I've often opted for the much faster, much easier "from a box" version of this pie using vanilla and chocolate pudding mixes instead (click here for that recipe).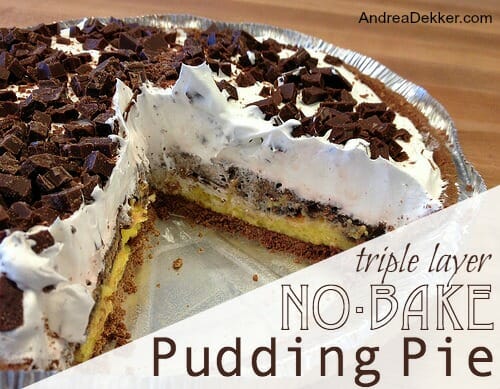 Don't get me wrong, the simple "from a box" pudding pies are fabulous, and no one in my house complains when I make them. However, since we hosted my family's Christmas party this year, and since Dave was home for Christmas break, I broke out my recipe box and made a bunch of from-scratch baked goods that I normally don't get around to making during the year.
My mom's Black Bottom Pie was at the top of my "To Bake Over Christmas Break" recipe list… and although it is slightly more involved than most of the recipes I share here on the blog, it's still very manageable — even for those of you who don't bake all that regularly!
This pie looks as good as it tastes, and I love that I can easily make it a day ahead of time and just keep it in the refrigerator (unlike most baked pies that are best right away).
If you're looking for a really good and fairly straight-forward from-scratch recipe to try, I'd suggest this one 🙂
Recipe for Black Bottom Pie
Makes 1 pie
INGREDIENTS:
1 already baked (and cooled) pie crust for a 9″ pie
1 envelope (.25 oz.) unflavored gelatin powder
1/4 c. cold water
3 eggs (you will separate the whites and yolks)
2 c. milk
1/2 c. sugar
2 T. cornstarch
1 t. vanilla extract
1 square (1/2 oz.) unsweetened baking chocolate
1/4 tsp. salt
1/4 tsp. cream of tartar
1/4 cup sugar
cool whip topping
chocolate garnish (optional)
DIRECTIONS:
In a small bowl, dissolve gelatin in cold water and set aside. (This will turn into a thick paste)
Crack 3 eggs — putting the whites in a medium mixing bowl and the yolks in a medium saucepan.
In the saucepan, beat 3 egg yolks, milk, sugar, and cornstarch. Heat over medium heat, stirring constantly until the custard thickens.
Remove from heat and add dissolved gelatin and vanilla.
In a small bowl, pour 1 cup of the hot custard mixture and add chocolate square to it, stirring until melted. Pour chocolate custard in bottom of already baked pie crust. Refrigerate to cool — and also let the remaining custard cool slightly.
When custard is cool beat the 3 leftover egg whites in a medium bowl until stiff.
Add salt, cream of tartar, and sugar; then fold in cooled custard.
Pour yellow custard mixture over chocolate custard.
Spread Cool Whip over yellow custard and sprinkle with chocolate shavings to garnish (optional).
Refrigerate until ready to serve.
Like I mentioned above, there are a few more ingredients and steps to this recipe than many of my other recipes — but it honestly only took me about 30 minutes total to get this pie in the refrigerator (and that was with taking pictures of every step).
Of course, if you're short on time, just use my Triple Layer No-Bake Pudding Pie recipe instead. You can have that ready in less than 10 minutes!
What are your favorite holiday pies?
Visit my virtual recipe box for more simple, delicious, family friendly recipes!