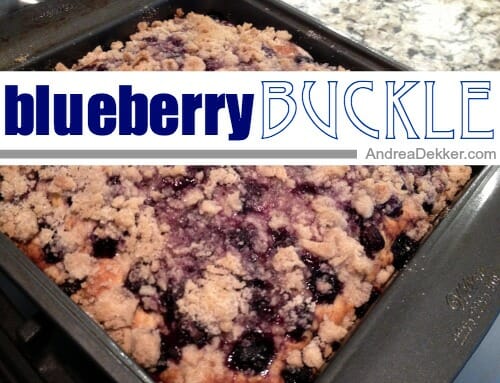 Every time July rolls around, I immediately start thinking about blueberries and all the delicious ways I can incorporate them into our breakfasts, snacks, and desserts.
Here in West Michigan, U-pick blueberries are pretty easy to come by — and in just a couple more weeks, they will be ready to pick (the picture below is of the 20 pounds of blueberries we got last summer)!
Growing up, I never liked blueberries but, over the years, I've grown to love them — especially when they are baked into yummy desserts. Nora's favorite way to eat blueberries is frozen (she calls them 'blueberry ice cubes') but Dave definitely shares my love of blueberry desserts.
The blueberry buckle recipe I'm sharing today is one of our favorites — and it's SOOOOO easy. Much easier than a pie, and even simpler than muffins because you can just dump everything into one pan and bake.
The original recipe is one I tweaked from the Better Home's and Garden New Baking Book (one of my favorite cookbooks) — so you know it has to be pretty good! There's almost no way you can ruin this recipe unless you bake it for way too long; and as long as you set the timer, you shouldn't have to worry about that.
If you're wondering what a "Buckle" is, it's a country-style dessert of cake topped with fruit and a streusel topping. It's officially been around since the early 1940's and if you ask me, you can definitely get away with eating it for breakfast too 🙂
Recipe for Blueberry Buckle:
CAKE INGREDIENTS:
1/2 c. softened butter or shortening
1 egg
3/4 c. granulated sugar
2 c. all-purpose flour
2 ts. baking powder
1/4 ts. salt
1/2 c. milk (maybe a bit more)
2 c. fresh or frozen blueberries
STREUSEL TOPPING INGREDIENTS
1/2 c. all-purpose flour
1/2 c. granulated sugar
1 ts. cinnamon
1/4 c. cold butter
vanilla glaze or melted frosting to drizzle (optional)
DIRECTIONS for the CAKE
Preheat oven to 350*F
Grease a 9″ x 9″ pan and set aside
In a medium bowl, mix butter, egg, and sugar with an electric mixer.
Add in milk, flour, baking powder, and salt. Mix until just combined.
The batter will be quite thick — feel free to add a couple extra Tablespoons of milk if it's too thick.
Spoon cake mixture in greased pan.
Sprinkle blueberries to completely cover the cake mixture. Lightly press them down.
DIRECTIONS for the STREUSEL TOPPING
In a small bowl, combine flour, sugar, and cinnamon
Cut in butter (I squeeze it in with my hands) until mixture is crumbly
Sprinkle over blueberries
Bake in preheated oven for 60 minutes or until the center is set and the top is golden brown
Drizzle with vanilla glaze (optional) and enjoy
This blueberry buckle is so delicious warm out of the oven (or reheated as leftovers).
NOTE: I would not suggest making this in a 9″ x 13″ pan as it takes too long for the center of the cake to fully cook and the outsides will end up burning (ask me how I know this!) If you want to make a double batch, simply make two 9″ x 9″ pans instead 🙂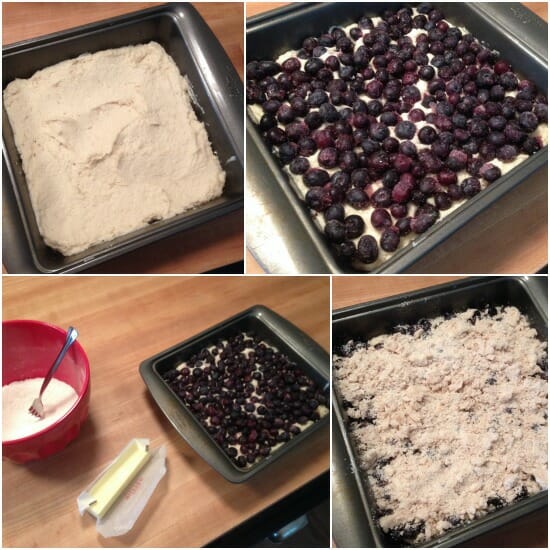 When I told Nora I was making "blueberry buckle" I figured she would be really excited since she loves blueberries. However, she started crying saying she didn't want to eat "buckles".
I explained that it was basically "blueberry cake" and then she warmed up to the idea. The photo below is of her face after the first bite — I think she liked it 🙂
I think one of the main reasons I love this recipe so much is because I like cake — just not the frosting. So this is basically like a dense cake with blueberries and streusel topping instead of super sweet sugary frosting. The optional vanilla glaze (which is just powdered sugar and milk) is the prefect amount of "frosting" for me.
As blueberry season approaches here in Michigan, you can bet I'll be making this recipe a couple more times — and of course, putting LOTS of blueberries in the freezer for later in the year!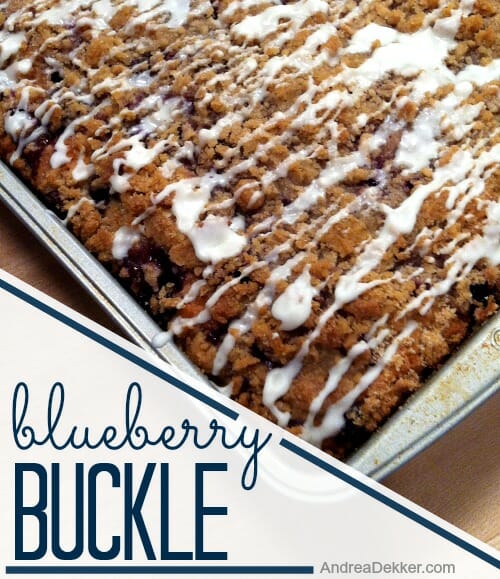 What are your favorite blueberry recipes?
Visit my virtual recipe box for more simple, delicious, family friendly, recipes!