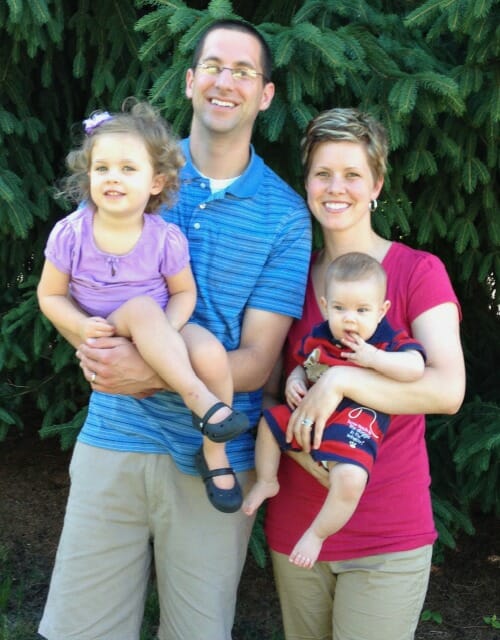 Today is Dave and my 8-year anniversary!
We honestly aren't doing anything out of the ordinary to celebrate — but that's OK.We have plans with some out-of-town relatives tonight, and I'm sure we'll be busy with house and yard projects throughout the day.
As I mentioned a couple weeks ago, I'm at a point in my life where I don't need elaborate gifts for my birthday, anniversary, or any other special occasion. I know buying gifts is not Dave's thing — and to be perfectly honest, I really enjoy finding great deals on the things I want and need when I want and need them. I have no problem letting Dave off the hook for these sorts of things 🙂
Even though we won't be doing anything crazy to celebrate today, I did want to share an "anniversary themed" post. As I was thinking of what I might share, the idea of frugal (or free) date ideas came to mind.
I'm often asked what we do for fun or what types of dates we go on — especially now that we have kids. I thought about this a bit and realized that frugal or free dates are pretty much the ONLY types of dates we have these days!
So in honor of our 8th anniversary, I'm sharing 8 of those date ideas with you today!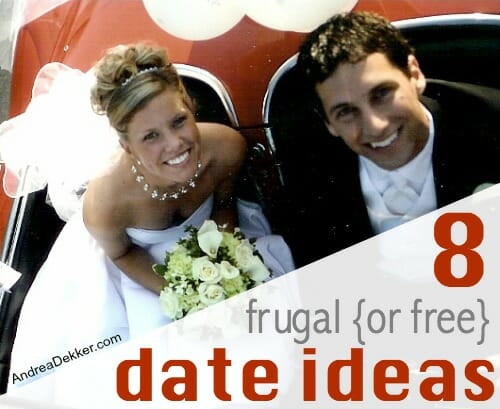 1. Go for a walk.
Dave and I went for walks all the time, even before we had kids. However, with kids, walking is probably my new favorite "date". When Nora was a baby, there was almost nothing that would calm her down like going for a good long walk — so we went for lots of walks. It was a great opportunity to catch up on the day, de-stress, get some fresh air, and burn a few calories in the process.
Simon doesn't love walking as much as Nora does, but as long as we stay moving, he's still good for a 20-30 minute walk.
Sometimes, we'll just walk and talk. Other times, we'll have a destination in mind — like a local ice-cream place, a fast food restaurant, a friend's house, the grocery store (if we need to pick something up), the bank, etc. We're fortunate to live SUPER close to so many attractions that walking is a perfect freebie date for us!
2. Go for a drive.
If you don't want to walk — or can't walk due to the weather or a health condition — try going for a drive.
Here in Michigan, we have "color tours" in the fall. These are basically excuses to drive around (or take a bus) and look at all the breathtaking fall colors (side note: if you've never been to the Midwest in the fall, you are totally missing out!)
We would frequently go for drives (especially in the fall) even before kids — but after Nora came around, "going for a drive" was a very normal phrase around our house.
Putting Nora in her carseat and taking her for a drive was one of the only ways we could get her to sleep — so there were many MANY days when Dave, or I, or both of us would put her in the car and head out driving. We had no destination in mind, we just drove and kept driving — we didn't even care that the price of gas was ridiculously expensive. Our kid was sleeping and that's all that mattered.
So far, Simon isn't loving car rides (so we haven't gone for a drive in a few months) but if you have kids and they like riding in the car, going for a drive is a great way to carry on an adult conversation up front while the kids enjoy songs, a movie (if you have a tv in your car), or car games in the back.
3. Buy gourmet groceries.
Ok, so this might sound crazy to some of you — but since I'm used to being a pretty frugal grocery shopper, I usually just get the basics and rarely ever splurge on anything that's not on our list.
However, ever once in a while, I'll surprise Dave with gourmet chips and salsa, fancy chocolates, pricier cheeses, higher-quality alcoholic beverages, special ice-cream treats, or gourmet coffee — and we'll have a "date night" snacking on these foods while watching our favorite TV show later at night.
It's something SO simple, it honestly doesn't cost that much more, and it gives us something to look forward to (however dorky that might sound)!
4. Run errands.
Since having kids, Dave and I are HUGE advocates of "productive dates" like running errands together — especially since neither one of us loves doing these types of activities alone.
We're fortunate to have BOTH sets of grandparents within 15 minutes of our home, so we'll drop Nora and Simon off at one of their houses for an hour or so and go run various errands around town. We get so much accomplished in such a short time and can carry on a grownup conversation without any interruptions — glorious!
We will often grab a quick bite to eat on the way home — or sometimes we'll bring food back to our parent's house and all eat together.
This is probably my favorite frugal date idea because we get a bunch of lingering tasks crossed off our to-do lists, we have a little quality time without the kids around, and we can work it around our kid's schedules and do it any time during the day (provided our parents are around).
And honestly, if we didn't live by our parents, I would definitely be willing to hire a babysitter (or trade babysitting with a neighbor) to do this — but that might be because I HATE running errands with kids in tow!
5. Head out for a really early dinner.
Dave and I don't go out to eat all that often… but when we do, it's usually on a weekday for a really early dinner (like at 4:30pm!) This is partially because the earlier timing works out better with our kids' bedtimes, but also because it's easier for us to find frugal childcare during the day.
By going early, we can capitalize on "early bird" pricing and happy hour deals that often cut our bill in half — plus, the restaurants are often much less busy earlier in the day, which means we never have to wait for a table, and our food comes out right away.
NOTE: since Dave can be home by 3:30 on school days and is home all summer, it's relatively easy for us to get somewhere by 4:30 (or earlier) if we're planning an early dinner date.
6. Plan an at-home movie night.
Dave and I have never been big on going to the movie theater for a movie — and to be perfectly honest, we really aren't huge movie fans. We do watch some TV or a Netflix show/movie together after the kiddos are in bed — however, we're almost always multi-tasking. He's doing school work, I'm doing blog work, we fold laundry, and cross off other various to-dos, but it's certainly not a "date".
However, at least a few times a year, we'll rent a movie (or get one from Netflix) and actually schedule a "date" to watch that movie. We don't do any other work, we just eat a snack and watch the movie in the comfort of our own home. Best of all, we can pause it if one of our children wakes up 🙂
7. Make a fancy meal at home.
As I'm typing, I realize that we haven't done this nearly as often since kids — maybe because I don't have as much time for cooking or because fancy food and kids don't mix well!
I really enjoy cooking, and baking when we were first married and I tried out new recipes all the time. Most of them used frugal and inexpensive ingredients, but there were always a few recipes that used pricy cuts of meat or more gourmet ingredients. I would often save those meal ideas for a special date and set the table nicely for a fancy meal at home.
It was fun for me to try out a new recipe, it was fun to splurge a little on fancier foods, and Dave will never complain about eating good food.
Another idea (if you like baking more than cooking) would be to bake a really fancy dessert and enjoy it after the kids are in bed (or after your fancy meal!) Use fancy dishes, put a nice tablecloth on the table, drink out of fancy glasses — you could even get dressed up for the occasion!
NOTE: I also think this would be REALLY fun to do as a family once our kids are a little older.
8. Do a mini splurge.
Dave and I often get gift cards to various local stores — mainly because Dave has done a lot of coaching over the years, and gift cards seem to be the gift of choice for coaches. We absolutely LOVE getting these gift cards as they allow us to do lots of fun things for free or at a much less expensive price.
When we have gift cards, we'll often pair them with coupons or sales to stretch them as far as we can — however, sometimes we'll decide to do a mini splurge with one of our gift cards.
For example, we recently got a gift card to a restaurant we don't normally visit (and a restaurant that doesn't offer coupons). So instead of trying to stretch the gift card to cover one full visit and then part of another visit, we just decided to "force" ourselves to use it all up on one visit. We could order a drink, get dessert, get a pricier meal, etc. It was a fun change-of-pace that didn't cost us anything out-of-pocket.
Also, we'll sometimes use a BOGO coupon for Culver's frozen custard as a special mini-splurge date that costs less than $5.00.
One time, we even had a "mini splurge" date at Office Max… I returned a gift for store credit, and since we rarely ever go to Office Max, I told Dave that I wanted to spend the store credit that day so we didn't need to come back. We got a couple practical items (ink cartridges) but then we both got some of the money to splurge on anything we wanted. It didn't matter if the item was on sale or if we had a coupon — we just had to stay within our allotted amount.
NOTE: I know people who do something similar with loose change — they will save up their change for a month or so and then see how much they can buy with it as a fun and frugal date.
These are just a few of our favorite frugal ways to hang out, do something a little out of the ordinary, and enjoy each other's company.
I should mention (if you haven't already guessed) that Dave and I are not big "crowd" people. We both tend to be a little more introverted and much prefer staying home to going out — I realize this makes frugal dates much easier to come by.
However, I think there are probably ways that even extreme extroverts can adapt many of the ideas above to work 🙂
And just for fun, here's the recap of my previous anniversary posts:
What are your favorite frugal date ideas?