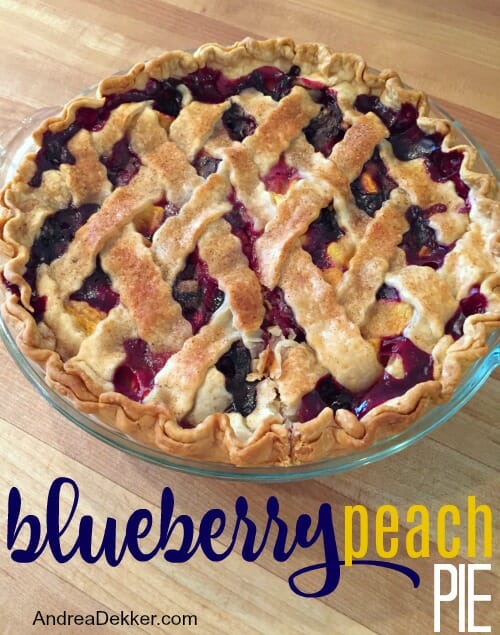 Dave and I LOVE pie — all types of pie. Cream pies, fruit pies, savory pies, sweet pies, meat and potato pies, chocolate pies, etc.
However, our favorite type of pie is fruit pies — and we like almost all fruit pies!
Fortunately for Dave, I really enjoy making pies, too. I love using my little dough cutter to cut lattice strips for the crust, I love playing with different flavors and ingredients, and I love trying new combinations of in-season fruit.
Blueberry + peach is one of our favorite pie combinations — but I usually only make it in August (and maybe September) because that's when both fruits are ripe here in West Michigan.
Our family has gone through over 20 pounds of blueberries and a full bushel of peaches this past month — and that's just eating them fresh and making muffins, breads, pies, cobblers, and other desserts (not canning them!)
Contrary to what most people believe, making fruit pies is extremely simple — especially if you use the refrigerated store bought crusts like I do (seriously, they are amazing and I always get compliments on my crust!)
Simply compile 5-ish cups of your favorite "pie fruit", add some sugar, flour, and maybe a few seasonings, bake it until the crust is golden brown, and serve it with ice cream or whipped cream.
The most time-consuming part is simply cutting up all the fruit — but since half this pie is blueberries, there's not nearly as much peeling, slicing, or dicing.
It's seriously SO easy!
If you're looking for a new dessert for your family or for an upcoming party, this blueberry peach pie will surely be a hit!
Recipe for Blueberry Peach Pie:
Makes one 9″ pie
INGREDIENTS:
2 crusts for a 9″ pie (I use refrigerated crusts from the store, but feel free to make your own)
2 c. fresh or frozen blueberries
3 c. fresh peaches; peeled, pitted, and cut into slices or chunks
3/4 c. granulated sugar
1/2 c. all-purpose flour
1 t. cinnamon
1 T. cold butter; cut into super thin slices
1 T. milk for the crust (optional)
cinnamon sugar for the crust (optional)
DIRECTIONS:
Preheat oven to 400ºF. Place bottom crust into a 9″ pie pan.
In a large bowl, mix blueberries and sliced peaches. Stir in sugar, flour, and cinnamon until all fruit is evenly coated.
Pour filling into bottom crust.
Dot the top of the fruit with thin shavings of butter and place the top crust over the fruit (if not using a lattice crust, you'll want to cut several slits in the top crust to let the steam vent).
Crimp the edges of the crust, brush the top crust with a little milk (optional) to give it a golden brown color, and sprinkle with cinnamon sugar (optional).
Bake in preheated oven for 20 minutes. Leave the pie in the oven and reduce heat to 375ºF. Continue baking for another 35 minutes.
Let cool for 2-4 hours at room temperature before serving — otherwise your pie will be a soupy mess!
So like I said — this pie tastes absolutely AMAZING, and it doesn't look half bad either!
A Few More of Our Favorite Peach and Blueberry Recipes:
Blueberry Stuffed French Toast
What are your favorite fruit pie combos?
Visit my virtual recipe box for more simple, delicious, family friendly recipes!