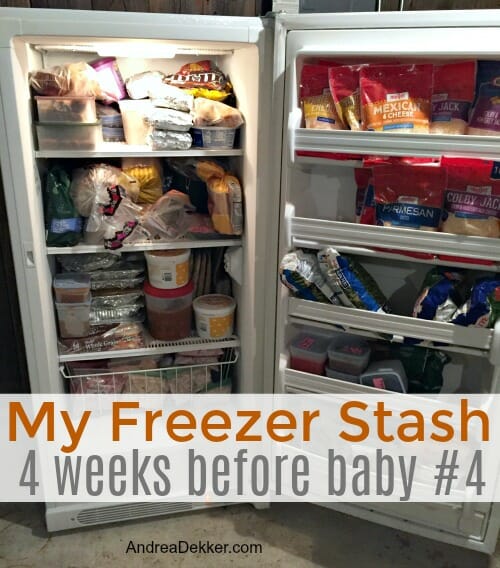 Today marks 4 weeks until my due date for baby #4 — yup, we're getting close!
In the past, I've always tried to put a few extra meals and baked goods away in the freezer a few weeks before my babies arrive — however; this time around, I really tried hard to fully stock my freezer with many meal options and lots of pre-cooked ingredients to make dinner prep much simpler and easier those first few weeks and months at home with 4 kiddos.
In general, I'm NOT a fan of big freezer-cooking marathons as they seem too overwhelming and needlessly time-consuming for me. Instead, I make double and triple batches of food on a regular basis so I always have a few meals in the freezer.
That said, since Dave was home all summer and could keep the kids out of my hair while I cooked, I decided to have a "freezer cooking week" a couple weeks ago where I made several meals for the freezer each day.
It was a LONG week and I was VERY tired of being in the kitchen by the end of it — but the results were definitely worth the effort because I ended up with a freezer that is basically packed to the gills with delicious ready-to-bake meals and baked goodies!
I tried to be fairly methodical with how I planned for and executed my freezer cooking week, and I'm honestly really happy with how it went.
Oh, and I do realize that our freezer looks extremely disorganized! It's just SO full that I couldn't make it look neat and pretty. However, I promise there is a method to my madness… everything is labeled, like items are stacked together, and I know where everything is!
Day 1: Cook all the meat.
I roasted a 17 pound turkey
I roasted a large ham (at the same time as the turkey)
I fried up about 10+ pounds of ground beef (I kind of lost track after 10!)
I fried up about 7 pounds of ground sausage
Some of the meat was pre-portioned into 2-cup servings and put into small freezer bags, but a lot of the meat simply went into my fridge to make meals the next day.
We also defrosted our deep freezer on this first day to make sure the freezer was nice and clean for all my incoming freezer meals!
.
Day 2: Make chicken/turkey meals.
We ate a big dinner of turkey, mashed potatoes, veggies, rolls, fruit, etc. the night I roasted the turkey. Then the next day, I cut all the turkey meat off the bones and shred it or chopped it into bite-size pieces.
As I mentioned above, I froze some of the meat in 2-cup freezer bags, then I used the rest to make the following meals.
.
Day 3: Make ground beef/sausage meals.
I used most of the meat to make the recipes below — but anything extra, I froze in 2-cup portions.
I will most likely be frying up a few more pounds of ground beef and ground sausage just so I have plenty of pre-cooked meat to make additional casseroles and soups.
A double batch of Sweet Potato Chili (we ate some for dinner that night and put the rest into 2 containers for the freezer)
3 Aluminum foil pans of Lasagna
3 Small meatloafs (obviously, I made this with uncooked ground beef!)
1 batch of Wet Burrito Filling and sauce (divided into 2 separate portions for our family)
4 bags (2-cups each) of seasoned taco meat mixed with black beans, sauteed peppers, onions, etc.
5 small aluminum pans of Savory Sausage Pasta Bake
.
Day 4: Make meals with ham and additional side dishes.
I made our kids' favorite Ham and Potato soup for dinner this night and then froze the majority of the ham "as is" — either in slices or cut into small cubes.
I did make this Cordon Bleu Casserole in 2 aluminum foil pans for the freezer.
I also made 5 smaller aluminum foil pans of Cheesey Hashbrown potatoes.
.
Day 5: Baked Goods!
.
As you can tell, we currently have a VERY stocked freezer — and most of it is food that is ready to go into the oven with little to no effort on my part. Simply pull out the meal we want to eat the night before, let it defrost in the fridge overnight, and pop it in the oven when Dave gets home from school.
Most of meals will go great with a simple salad, steamed veggies, fruit, a roll, or slice of crusty bread — so no time-consuming kitchen prep work required. And since I used mostly aluminum foil pans from the dollar store, cleanup will be a breeze as well!
Additional Store-bought Freezer Foods:
Chicken nuggets and chicken tenders
A few frozen pizzas
A large package of frozen burger patties, ready for the grill
Several package of frozen brats and brat burgers, ready for the grill
Several packages of hot dogs, bacon, and smoked sausage
4 pre-marinated pork loins (they are small and the perfect size for a meal for our family)
A few bags of pre-portioned, pre-marinated pork chops (I split up the family packs and added some marinade)
A few steaks and roasts
Tatertots and french fries
Several bags of frozen shredded cheese
Several pounds of frozen butter
Several bags of frozen corn, peas, chopped peppers, and shredded zucchini
Several bags of frozen blueberries, strawberries, raspberries, rhubarbs, etc (we picked most of this fruit over the summer, but some was store bought)
Several bags of baking chips (chocolate, butterscotch, peanut butter, white chocolate, mini, M&M's, etc)
A few loaves of bread, rolls, buns, and bagels
I'm sure I've forgotten something — but basically, our freezer is really, REALLY full!
It feels so great to know that I have a bunch of meals ready to go — even if everyone else forgets about the 4th-time mom! 🙂
Oh, and I also purchased a few Culver's gift cards because the Culver's by us had a deal in August where you could get 2 free pints of frozen custard for every $25 gift card purchase!
Now that my freezer is stocked, it might be time to focus on getting the nursery ready!