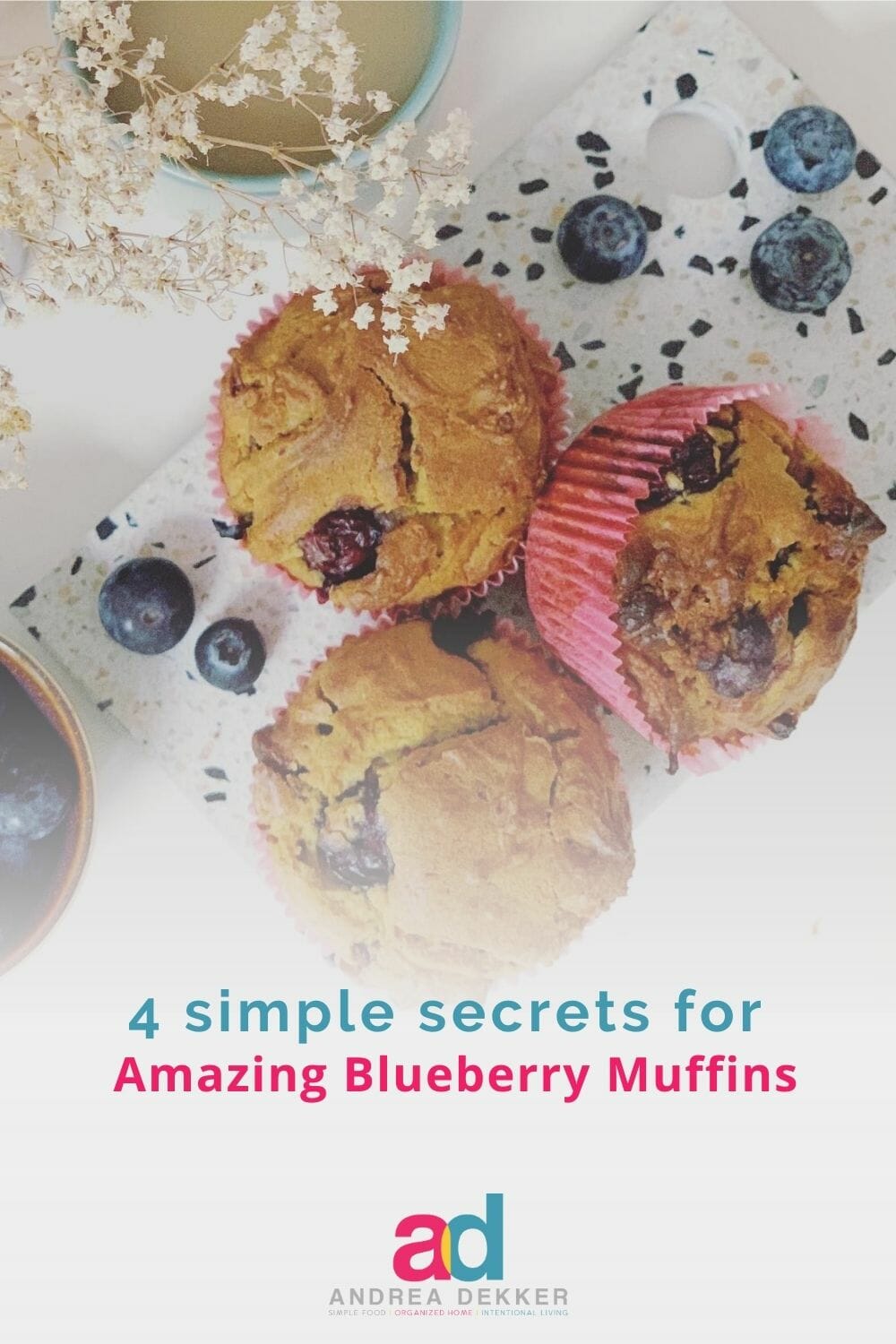 Inside: Impress your family with these amazingly easy blueberry muffins. My 4 simple tips are guaranteed to push your muffins over-the-top!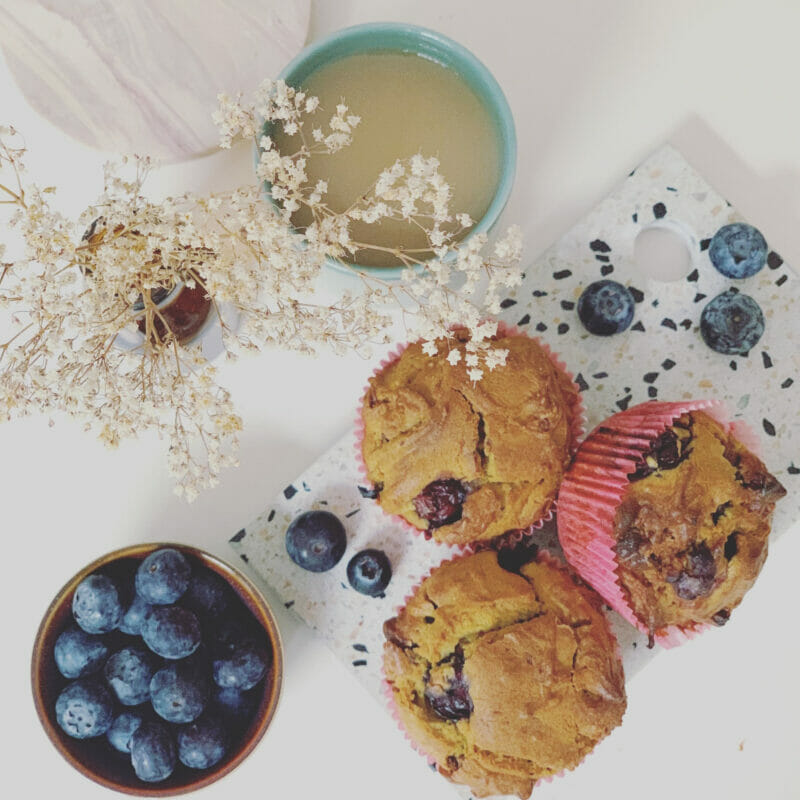 When it's that time of year and you're looking for yet another way to incorporate blueberries (and probably zucchini) into every dish you make, look no further than these amazingly delicious and oh-so-easy blueberry muffins.
Whether your berries are picked fresh from a local farm or from the freezer section at Costco, this recipe is just what you need to turn delicious seasonal fruit into mouth-watering muffins — perfect for breakfast, brunch, afternoon snacks, or even dessert.
This is a fun and easy recipe for little hands… especially if you let them munch on blueberries as they "help".
Believe it or not, there was a time in my life when I didn't like blueberries… until these muffins converted me.
Since then, I've made them regularly all year long as I always keep a stash of frozen blueberries on hand for smoothies, quick breads, french toast, and just eating as a snack.
Fun Blueberry Fact:
Did you know… blueberries rank extremely low on the glycemic index, making them a perfect treat for diabetics. (Thanks to my former English teacher for that tip.)
If you love blueberries or even just love a great muffin, you must add my easy blueberry muffin recipe to your menu plan this week.
BONUS TIP: Set your alarm 30 minutes earlier and surprise your family with fresh-from-the-oven blueberry muffins for breakfast. You'll win "mom of the year" and enjoy a bit of quiet time while the muffins bake.
Win-Win!
Why You'll Love This Recipe
It uses really simple, easy-to-find ingredients. In fact, I bet you have most of them in the house already!
The sour cream adds so much moisture — you'll never have to worry about dry, flaky muffins with this recipe.
The honey is a great way to cut down on some of the refined sugar (although I have instructions for granulated sugar too).
It's QUICK… need I say more!?!
Yield: 12
Amazingly Easy Blueberry Muffins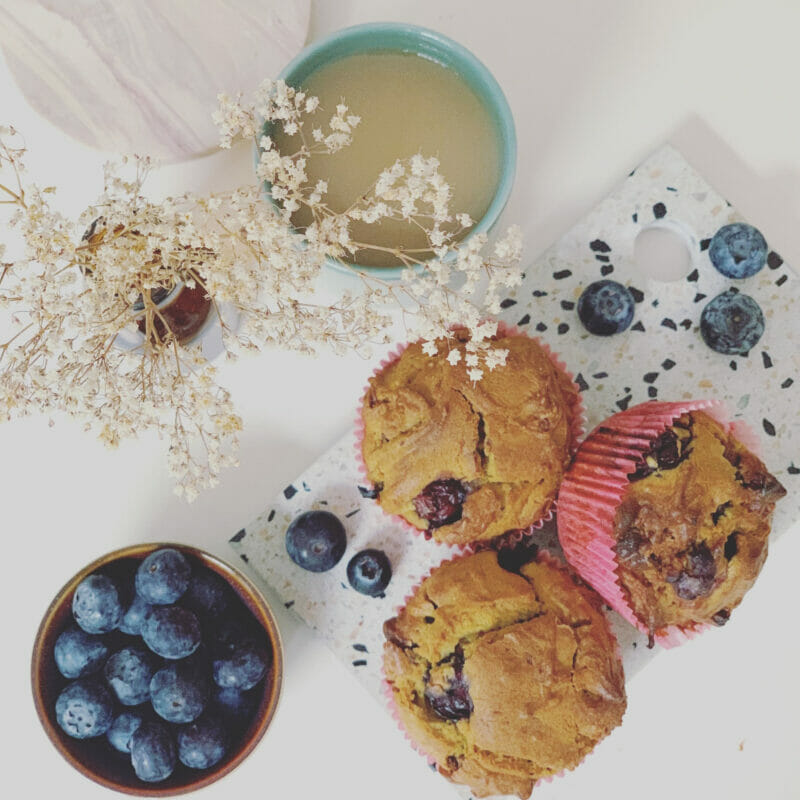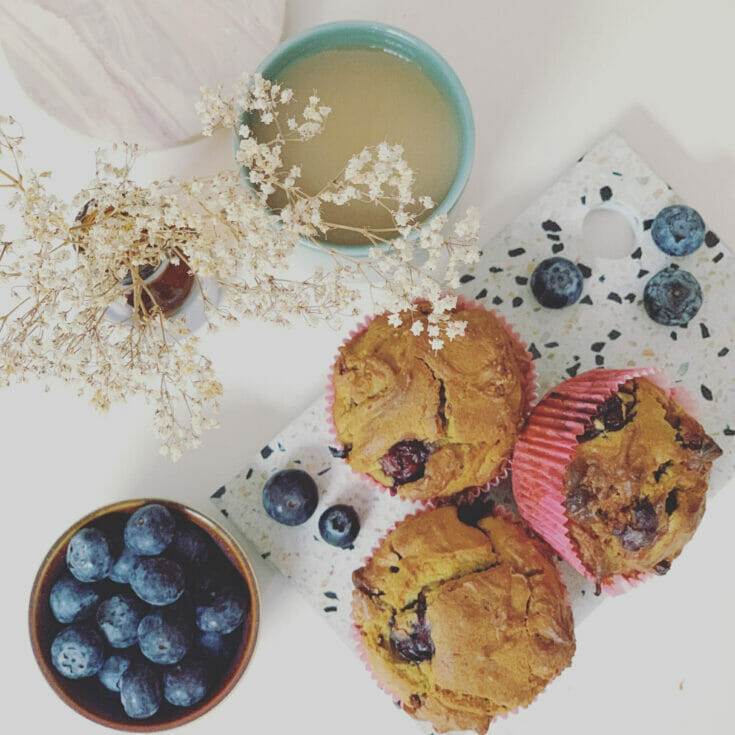 When it's that time of year again and you're looking for yet another way to incorporate blueberries into every dish you make, look no further than these amazingly delicious and oh-so-easy blueberry muffins.
Ingredients
1/2 c. softened butter
1/2 c. honey (or white sugar)
1/2 c. milk
2 eggs, lightly beaten
1/4 c. brown sugar
1/4 c. plain Greek yogurt or sour cream
2 c. all-purpose flour
1 T. baking powder
1/2 t. salt
1 c. blueberries (or 1.5 c. if you really want lots of blueberries!)
coarse turbinado sugar (optional)
Instructions
Preheat oven to 375ºF
Grease (or line with paper) 12 muffin cups
In a medium mixing bowl, combine "wet" ingredients (butter, honey, milk, eggs, brown sugar, yogurt)
Stir in flour, baking powder, and salt until just combined.
Fold in blueberries -- it's OK if the batter is lumpy.
Scoop batter into muffin cups until they are almost full.
Sprinkle the tops of muffin batter with coarse sugar (optional).
Bake in preheated oven for 20-23 minutes or until middles are set and tops are golden.
Cool on wire rack
Notes
Learn how to substitute whole-grain flour in this recipe.
I usually use frozen blueberries -- if you use frozen, do NOT thaw them first.
Make one 9" loaf of bread instead of 12 muffins. Increase baking time to 40 minutes.
Recommended Products
As an Amazon Associate and member of other affiliate programs, I earn from qualifying purchases.
Nutrition Information
Yield
12
Serving Size
1
Amount Per Serving
Calories

231
Total Fat

9g
Saturated Fat

5g
Trans Fat

0g
Unsaturated Fat

3g
Cholesterol

53mg
Sodium

201mg
Carbohydrates

34g
Fiber

1g
Sugar

17g
Protein

4g
Nutritional information is approximate and does not account for additional ingredients or added toppings.
More Easy Blueberry Recipes: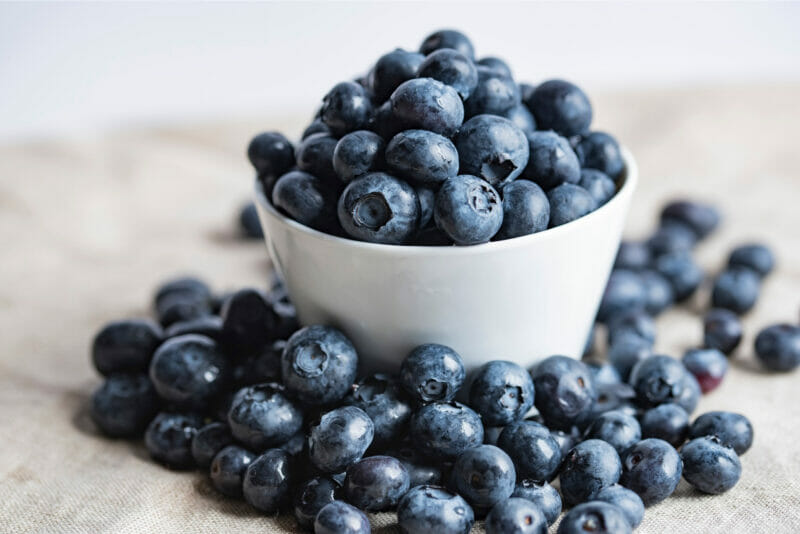 4 tips for extra delicious blueberry muffins
This easy blueberry muffin recipe is my personal favorite, but even still, there are a few specific things I do to make them extra delicious withOUT any extra work.
1. Less mixing = lighter muffins.
I thoroughly mix the wet ingredients before adding the flour, baking powder, and salt so I don't need to overmix once the flour is added. This helps create a lighter, fluffier muffin.
It's OK if the batter is still a bit lumpy when you put it in the muffin cups, just try to break up any obvious flour clumps.
2. Frozen blueberries = less "blue" muffins.
In my experience, using still-frozen blueberries results in less runny blue color AND firmer berries in the finished muffins.
3. Full muffin cups = nice high muffins.
Most muffin recipes call for the cups to be filled only half-way to 3/4 full — but that produces flat muffins (at least in my opinion).
The batter for this recipe is quite thick, so I've had good luck filling the cups almost all the way full, which then creates a lovely high crown that looks extra appetizing.
4. Coarse sugar = yummy crunchy topping.
I love a good crunchy topping on my muffins but I rarely take the time to go through the extra steps to create a true "streusel topping". Instead, I sprinkle a little coarse turbinado sugar on top and call it good!
It adds so much texture to the muffins with just a few seconds of extra work (and no extra dishes to wash!)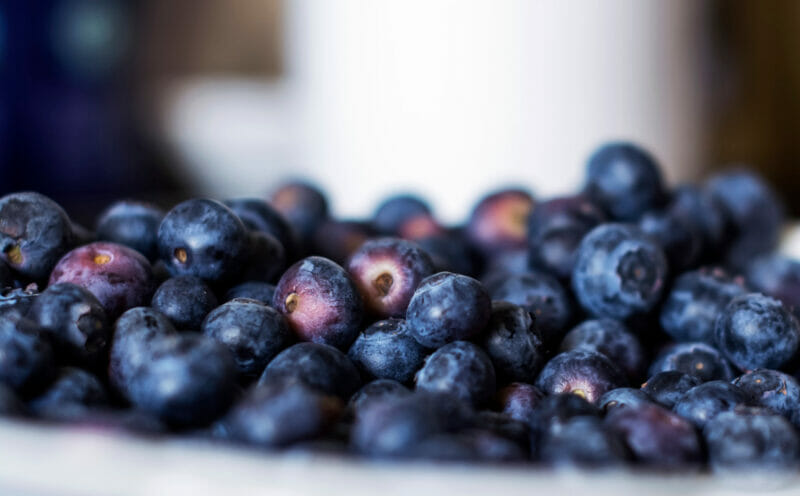 Do blueberry muffins freeze well?
I'm always asked about the "freezability" of my recipes — I get it, you want to maximize your efforts in the kitchen. Me too!
I have successfully frozen these muffins many times; however, I do think they taste quite a bit better fresh out of the oven.
Since they are so quick and easy to whip up, I often make them fresh and we eat all 12 in one day (sometimes for one meal!)
YUM!!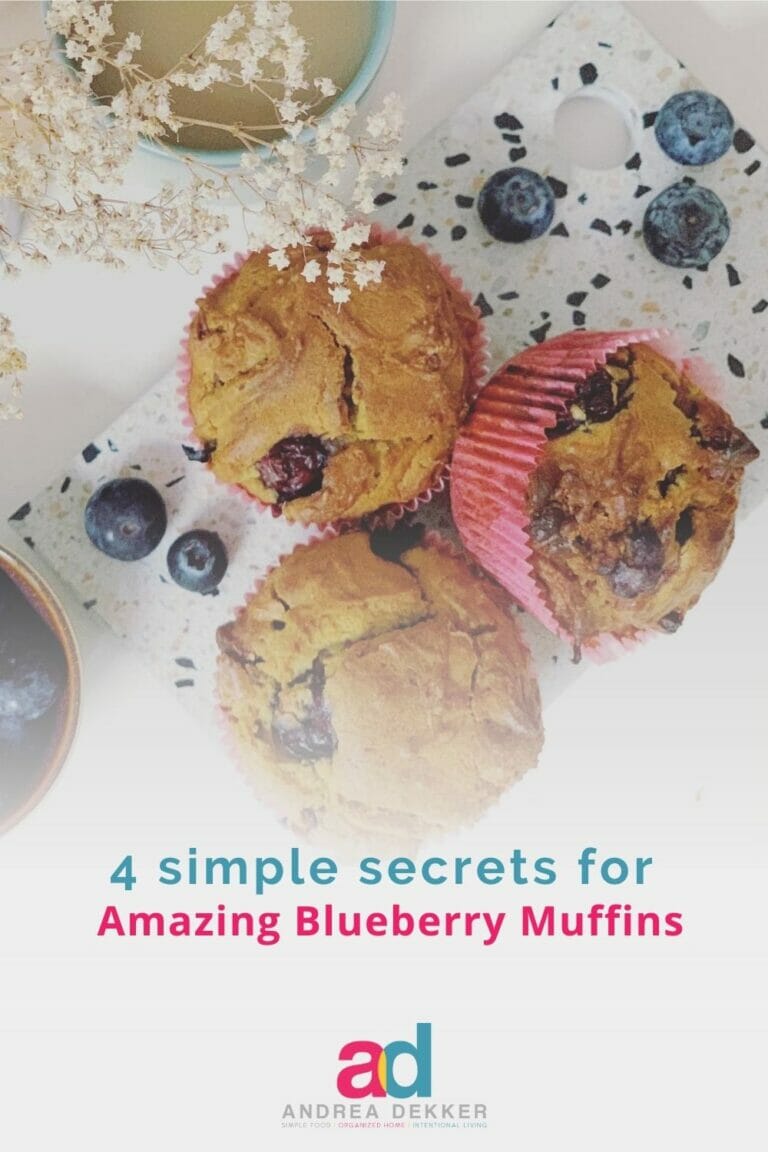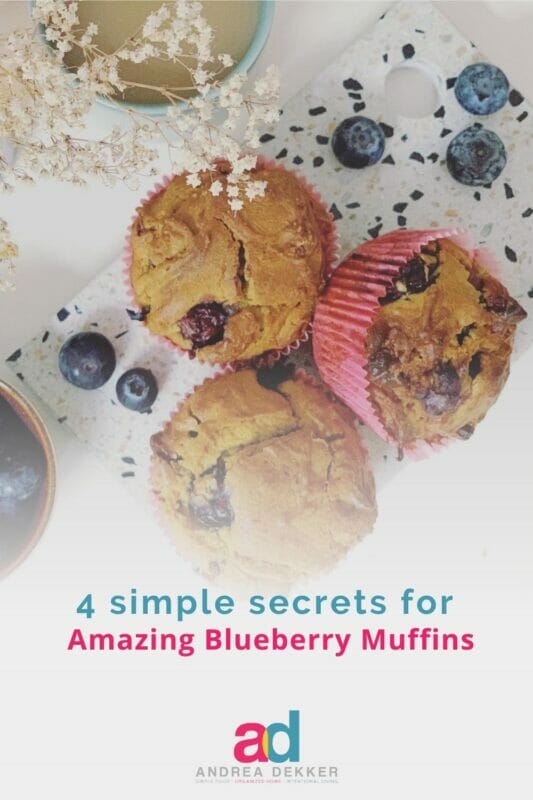 What are your favorite easy blueberry recipes?
Visit my virtual recipe box for more simple, delicious, family-friendly recipes!