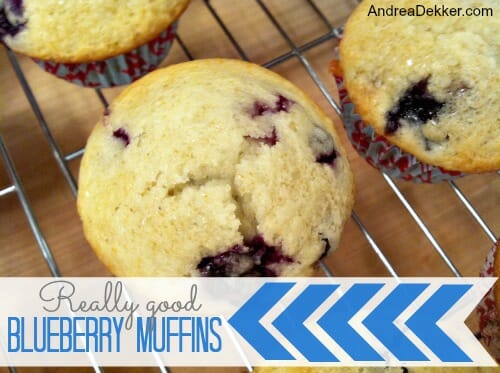 Can you believe that until a few years ago, I absolutely did NOT like blueberries?
No, I'm not a picky eater and yes, I would eat blueberries if you served them to me; I just couldn't get over the "smushiness" of blueberries — especially cooked blueberries like in a pie or in muffins.
But then I made this recipe for blueberry muffins (per my blueberry-loving husband's request) and I was hooked. The muffins were so delicious and the smushiness didn't bother me one bit.
It's been a few years now, and although blueberries still aren't my all-time favorite fruit, I regularly eat blueberries in fruit salad, pancakes, muffins, and many other baked goods.
If you are a blueberry lover — or even just a muffin lover, today's recipe is definitely one you'll want to try.
Recipe for Blueberry Muffins:
Makes 24 regular muffins.
INGREDIENTS:
4 c. all-purpose flour
1.5 c. granulated sugar
2 T. baking powder
1 t. salt
4 eggs
1.5 c. milk
1 c. melted butter or oil
2 c. blueberries (I always use frozen)
coarse sugar (optional)
DIRECTIONS:
Preheat oven to 375*F
Grease (or line with paper) 24 muffin tins
In a medium mixing bowl, combine dry ingredients (flour, sugar, baking powder, and salt). Set aside.
In another mixing bowl, combine wet ingredients (eggs, milk, and butter or oil)
Add wet ingredients to dry ingredients all at once and stir until just moistened
Fold in frozen blueberries — it's OK if the batter is a little lumpy
Scoop batter into muffin cups until they are almost full
Sprinkle the tops of muffins with coarse sugar (optional)
Bake in preheated oven for 20-25 minutes or until middles are set and tops are golden
A Few Tips and Tricks:
As I mentioned above, these blueberry muffins are our favorite, but this specific time, they seemed EXTRA delicious… and I think it was because of a few minor alterations I made. Not alteration of ingredients, just HOW I mixed things together.
The less mixing, the better:
When I bake, I rarely ever mix the wet and dry ingredients in 2 separate bowls because it's extra dishes to wash 🙂 However I know that when it comes to muffins and breads, the LESS you mix the wet and dry ingredients together, the fluffier your end results will be. So, I mix the dry ingredients really well in one bowl and the wet ingredients really well in another bowl — then I briefly stir them together with as little "disruption" as possible. The batter is still lumpy but mostly all wet.
Use frozen blueberries:
I could be crazy, but I swear that if I use frozen blueberries instead of fresh, they "bleed" less in the muffin batter and the end results are firmer berries with less runny blue color.
Fill the cups almost ALL the way full:
Almost all recipes I see for muffins say to fill the cups 1/2 to 3/4 full — but that leaves really flat muffins (at least in my opinion). The batter for this recipe is quite thick, so I've had REALLy good luck filling the cups almost all the way full — which then creates a lovely high crown on the tops of the muffins. I also dusted the tops of the batter (before I put them in the oven) with some course sugar which added a nice crunch.
I put 12 muffins in the freezer and kept 12 out to eat — and although they still tasted delicious several days later, I will admit that they are the VERY best within the first 24 hours because they still have the crunchy tops. They are still super moist and rich after 24 hours, it's just a nice bonus to have a crunchy sugary topping.
Oh, and they freeze marvelously.
YUM!!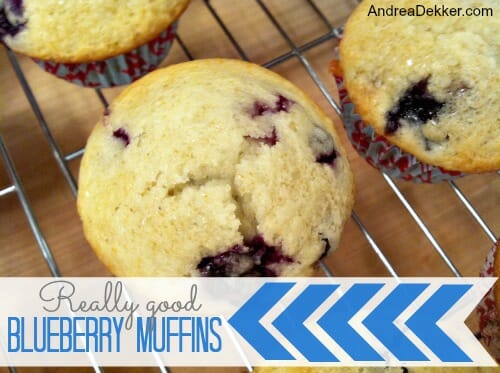 What is your go-to muffin recipe?
Visit my virtual recipe box for more simple, delicious, family friendly recipes!