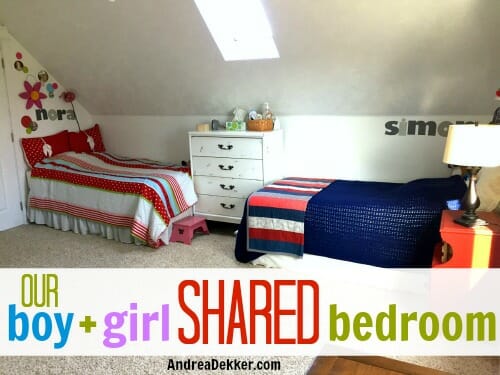 Growing up, Dave and I both shared a bedroom with siblings at some point — I shared with one of my sisters until 5th grade and Dave shared with his brother until he left for college!
When we started our own family, Dave and I were both in favor of our kids sharing bedrooms… but we figured it wouldn't happen until we had more children than we had bedrooms.
However, this summer, after rearranging the furniture in Nora's and Simon's bedrooms, the two of them unanimously decided they wanted to share a bedroom. At the time, Simon was still sleeping in his crib and refusing to move to a big-boy bed, so we used the shared bedroom as an incentive to move him into a big-boy bed.
It worked like a charm!
He immediately decided he was ready to move into a big-boy bed and never once went back to his crib.
After 3 weeks of them successfully sleeping in the same room, Dave and I decided to take down the crib in Simon's old bedroom, get rid of Nora's double bed, rearrange the furniture once more, and officially create a boy-girl shared bedroom with both of their beds, clothes, toys, stuffed animals, etc.
.
Here's what we came up with, using only things we already had in the house.
We already had 2 twin beds… and we realized they fit perfectly against the wall behind the door. Simon's white dresser (formerly my dresser) also fit PERFECTLY between the ends of the beds. The kids each have their own "side" of the room and their heads aren't too close together that they hear each other's sleeping noises.
One of the reasons I feel this room came together so well is because it is very neutral — white walls, white trim, light carpeting, etc.
Plus, I already had a mixture of navy and red in both of their bedrooms — Nora's was mixed with light pink and Simon's was mixed with light grey — so while nothing actually "matches" I do feel like it coordinates pretty well.
Simon keeps all his clothes in the white dresser, Nora keeps her clothes in the red hutch, and they each have a few things hanging in the closet.
We will eventually re-work this closet to allow for more storage, but right now, they both like playing in the bottom of the closet (it goes back really far into the corner of the room!)
The other side of the room (and the huge amount of floor space) is all for playing.
We don't keep a ton of toys in their bedroom — but enough to have lots of fun and make a huge mess 🙂
Basically, the only toys in the playroom now play food and other kitchen-related toys. It's nice to have this small space feel a bit more open.
We use Simon's old (now empty) bedroom as our "truck, doll, and dress up clothes headquarters".
I made roads on the carpet with masking tape and Nora has a hidden area for all her dolls and doll things. We also turned the walking closet into a cute dress up area!
I am thrilled with how the room turned out, with all the extra space we seem to have to play, and with the fact that we did it all without spending dime!
.
I did have some reservations about letting them share a bedroom… but as you'll read below, nothing has bothered Nora or Simon.
They are different genders — this doesn't really seem to matter since they are so young.
Nora is almost 5 (next week), Simon is only 2.5 — now that Simon is talking more, they can do so much more together and have SO much fun with each other!
Nora is in school 2 days a week — they both wake up fairly early so we've never had to wake Simon up in order to get Nora ready. We also usually pick out both of their clothes before they go to bed and have them ready in the living room so they can get dressed even if the other person is sleeping.
Simon still sometimes takes an afternoon nap — This hasn't been an issue at all. We just make sure Nora grabs any toys or blankets or animals she wants to play with before Simon goes down for his nap.
Nora often gets up in the middle of the night — we purposely put her bed closest to the door because she will often come downstairs in the middle of the night and she is almost always awake before Simon. So far, she has only woken him up once — on the very first night they slept together 🙂
.
Nora and Simon absolutely LOVE sharing a room together!
In fact, one night when Simon was being very difficult, I told him he would need to sleep in a pack n' play in the other bedroom if he didn't go to bed "right now". Nora immediately burst into tears and said she wouldn't go to sleep if Simon slept in another room.
They are very protective of each other, and they both want James to move up to their bedroom next summer after he turns 2. Thankfully, it's a HUGE room so we could actually make that work pretty easily — we'll see if James can handle it!
Do you (or did you) ever have a boy-girl shared room?