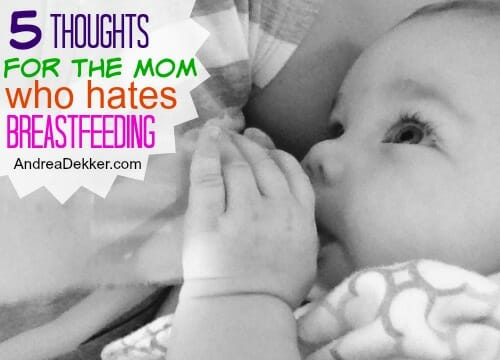 Over the past 2 months, I've had a handful of conversations with various mothers of brand new babies — neighbors, friends from church, friends from high school and college, moms with kids in Nora's class, and even a random lady at Meijer!
The conversations always started out very light-hearted — How many weeks old are they now? Did you find out the gender or were you surprised? Did you get newborn pictures? How did you decide on the name? etc. etc. — but in each situation, the conversations circled back to the topic of bottles and formula versus breastfeeding (yes, even with the lady in Meijer!)
For those of you who don't know me, I am NOT one to start a conversation about breastfeeding versus bottle feeding — in fact, I will pretty much avoid that topic at all costs.
I was not the person to start these conversations either — but over and over again, I sensed the moms' frustrations with their efforts to breastfeed. It wasn't going well, their babies were still hungry, they were tired and wanted a break, they didn't want to pump at work… BUT they felt so much pressure to exclusively breastfeed that they weren't even considering formula.
More and more, I've sensed a ridiculously huge pressure on moms (usually from the internet, but also from medical professionals) to exclusively breastfeed NO MATTER WHAT.
The baby doesn't have a good latch? Work with a lactation consultant.

You're worried about milk supply? Drink special tea and pump after each feeding to increase your supply.

You're going back to work and don't want to pump in a bathroom stall? Suck it up. After all, it's for your baby.

Your baby is hungry ALLLLLL the time? Great! Feed her ALLLLLL the time.

It hurts like hell? Just keep trying.

You hate nursing? Don't worry, it's "only" for a year.
Certainly, I realize ALL the benefits of breastfeeding — and if it's important for you to breastfeed your babies, then I don't think there is anything wrong with sticking with it, pushing through some pain, and working with a lactation consultant.
BUT… if you just hate it and want to be done, I'm fairly confident that using formula will not harm your baby's growth and development.
Yes, formula is also more expensive, but speaking as a very frugal person, I'm 100% positive the monetary cost of using formula for Simon was worth it based on how much it "saved" me (namely, my sanity!)
Now, before I go any further, I should probably clarify a few things…
I have 3 children — 2 were breastfed exclusively, 1 was bottle-fed exclusively starting at 6 weeks old.
Breastfeeding was/is VERY easy for me. I never had one single issue with pain, discomfort, poor latch, low supply, etc.
I've always been a stay-at-home-mom, so my choice to use bottles for my middle child wasn't for my career — it was for my sanity!
After all the feeding issues we had with Nora, there was never a doubt in my mind that I would use bottles with Simon — and I've honestly never regretted that decision.
On the flip side, after using bottles with Simon, I was fairly confident I would breastfeed James — mainly because I was tired of washing bottles and they were so close in age that Simon was actually still drinking a couple bottles a day when James was born. 🙂
I'm a fairly confident person, so I didn't really care what anyone thought of my choice to use bottles and formula.
After my recent conversations with these new moms… and after 5 years of collective experience nursing, pumping, and washing bottles, I'm sharing 5 thoughts that I hope will be encouraging to any mom struggling in their breastfeeding journey.
1. Breastfeeding is NOT for everyone.
I'm very thankful breastfeeding was easy for me (especially since Nora refused bottles) but I can't tell you how much of a relief it was to use bottles for Simon.
If breastfeeding is not easy for you, or if you just hate it, try something else.
I can't think of many areas of life when we would continue to do something we hated or that wasn't working for us when there was another perfectly suitable solution to our problem right in front of our faces.
There are enough things to worry about as a new mom — feeding our babies doesn't have to be stressful!
2. Formula shouldn't be a "last resort".
Formula is a fabulous option for working moms, stay-at-home moms, full-time bottle-fed babies, and occasional bottle-fed babies. It's suitable for fussy babies, calm babies, happy babies, and grumpy babies.
Formula is a great option for the mom who has tried EVERYTHING and still can't breastfeed. But it's also a great option for the mom who works outside the home, the mom who doesn't want a baby attached to her for a full year, and the mom who just wants an occasional break.
Using formula was not a "last resort" with Simon — it was completely planned out ahead of time, and I'm so glad I didn't change my mind!
I'm annoyed with the current stigma of "inferior" or "bad" associated with using formula — especially since using formula can have such a positive effect on the mother's quality of life — which will most likely transfer over to her baby (because babies can definitely sense our stress).
3. Most people really don't care.
Yes, there will always be attention-seeking celebrities posting breastfeeding selfies all over the internet, there will always be crazy ladies chanting "breast is best" to anyone who will listen, and there will most likely be a few "special" people in your life that will let you know they don't approve of bottle feeding — but for the most part, other people really don't care about how YOU feed YOUR baby.
As I mentioned above, I'm a fairly confident person, but even still, I braced myself for the negative comments that would surface once I shared my bottle-feeding journey on my blog and with my real-life friends.
Would you believe that I only ever got ONE slightly negative comment the entire time I was bottle feeding Simon? Other than that, everyone was very supportive — to the point that it wasn't even a 'thing' or a topic of conversation.
I know it might seem like you'll be the outcast of your fellow mother's group if you switch to formula, but I have a feeling no one will really even care!
4. The myths aren't necessarily true.
I've heard everything from "bottle fed babies get sick easier" to "bottle fed babies won't have the same attachment to their mothers" and even "you'll lose your weight quicker if you breastfeed", and I honestly don't believe any of it.
I know it's all individual case-by-case scenarios — but just using the 3 examples I gave above, Simon is the LEAST likely to get sick of any of our kids, and if you think that little boy isn't attached to me, you are SO wrong! Also, James' pregnancy was the hardest for me to lose the weight, and I basically breastfed him around the clock for months!
Simon is (and always was) our best sleeper, he was our best infant and toddler eater, he is the least "sensitive", he is extremely tough and resilient, and he loves me more than anyone in the whole world.
If you think giving your baby a few ounces of formula everyday will somehow corrupt him for life, please think again. These myths, theories, and assumptions are not necessarily true!
5. We are so fortunate!
We have options, and resources, and assistance — we are SO fortunate!
We are educated and informed and can choose the best plan for our family, our baby, and our life — we are SO fortunate!
We have government programs that assure women and children have access to healthcare and nutrition — we are SO fortunate!
We live in America (or another developed country) and don't worry about our children literally starving to death — we are SO fortunate!
If you think of the fact that there are thousands of children and babies who starve to death every week, the decision to use formula as opposed to breast milk just seems so small and insignificant.
Our babies are fed, they are safe, they are loved… that's all that really matters.
I know it still might seem like a HUGE deal to switch over to formula — but I promise it won't be the end of the world!
If breastfeeding is difficult, painful, causing unnecessary stress in your life, affecting your mood or your relationship with your baby, or if you just need a break, I would highly encourage you to give formula a try.
The sense of relief I felt after switching Simon over to bottles is something I can't really even explain. It was just the "break" I needed to feel like I could be independent if I needed to be — and Dave really enjoyed feeding him at times too!
Even though I switched back to breastfeeding for James, I will always be thankful for Simon's bottle-feeding experience as it really did put so many things in perspective for me.
There is absolutely nothing I regret about using bottles for Simon… except maybe the time Dave and I spent washing them 🙂