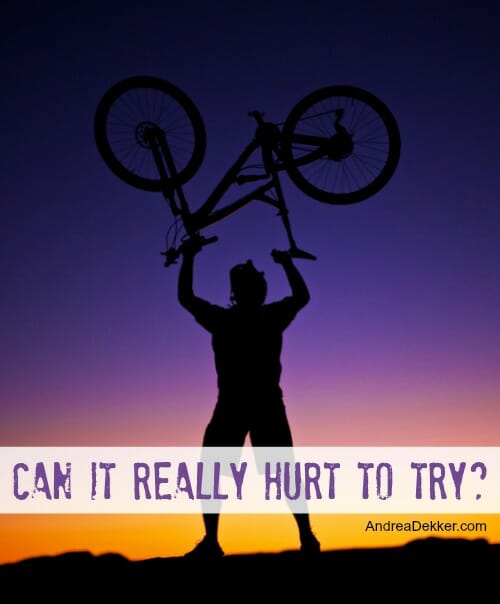 I realized very early in my life that I learn best from first-hand experience. You can TELL me how to do something over and over and over again, you can even SHOW me how to do it multiple times, but I will never fully master a skill until I actually DO IT MYSELF.
A perfect example of this is driving 🙂
You can tell me how to get someplace until you're blue in the face…. you can give me all the land markings, street names, en-route cues, etc., you can even provide me with GPS and a map, but I will never be able to memorize the route until I drive it myself. In fact, I could sit in the car while someone else drives to the same place over and over and over again, and there's a pretty good chance I wouldn't be able to tell you how we got to that particular destination.
All of this to say — I've always been the type who wants to "do it myself" because I know that's how I personally learn best.
I very rarely shy away from giving something a try — even if I've never done it before, even if I have no idea if it will work or not, even if I have no experience with whatever I'm doing — because in my experience, I won't actually KNOW if I can do it until I give it a try.
And MOST of the time, I've learned that it really can't hurt to just try.
Sure, I might mess up a recipe and waste a few ingredients — but at least I now know that substituting applesauce for oil in our favorite waffle recipe does NOT produce nearly as tasty of a finished product.
I might spend a little extra on a gallon of paint I thought would look good in a certain room, only to find out I hated it and went back to get my most favorite shade of antique white.
I might waste a bit of time on a craft project, only to realize that super glue and fabric glue are not interchangeable!
I might kill a few perennials that I should have planted in a shadier location but wanted to test them in a sunnier location just to see if they would thrive. Now I know better.
I might learn that taking 3 children to the grocery store is not my most favorite way to spend the morning… but that I CAN do it if I need to!
I could go on and on and on and on — the point I'm trying to make is that I'm usually not afraid of failing. And if you ask me…
Life is better when we aren't afraid to fail.
.
Over the last 7+ years of sharing my thoughts and ideas here on my blog, I have received hundreds and hundreds and HUNDREDS of emails and comments asking things like:
Your recipe calls for ground beef; do you think I could use ground turkey instead?

You mentioned using OxyClean in your laundry; do you think it will work for my kid's baseball uniforms?

I know you use the Boba baby carrier; do you think it will help my baby who is ___ months old and sort of fussy?

My husband doesn't like cottage cheese; do you think I could omit it or sub in ricotta cheese instead?

Do you think I should try your homemade ______ cleaner in my own home?

My kids are really picky eaters; do you think they would like this recipe?

I'm gluten and dairy free; could I substitute gluten-free flour and almond milk in this recipe?

Can I freeze ________?

What do you think will happen if I added ______ to this recipe instead of ________?

Do you still use your homemade oil cleansing method for your face? If so, do you think it would work on my _______ (oily, dry, combination, acne-prone) skin?
.
I completely understand that it's often easier and safer to ask someone else's advice than to experiment for yourself, and I do always reply to these emails and comments with my opinions. However, I also almost always say something like "just remember, it probably can't hurt to just give it a try" or "you'll never really know until you try it for yourself".
I have so many people in my own life (almost exclusively women) who question every decision they make, always seek out other people's options for everything they do, waffle for days (and weeks and months) over simple decisions, and constantly second-guess themselves because they don't want to be wrong or make a mistake.
It seems like such an exhausting way to live!
(NOTE: this is coming from an extremely decisive, self-sufficient, non-perfectionist who doesn't care all that much what others think of me!)
I know there are different personality types for a reason, and certainly I don't expect everyone to act and react just like I would in every situation… but I do think there is a lot of freedom that comes with simply giving something a try without worrying about failing or making a mistake.
Give that new recipe a try and have frozen pizza as your back-up.
Swap out those ingredients and see what happens. If it doesn't work, it doesn't work… at least you know for next time.
Try a new cleaning product, a new laundry method, or a new skin care regimen. If you don't like it, you can always switch back.
Try a new hobby or exercise routine and see what you think. You're not locked in for life, you know!
.
Certainly, there are some situations where it actually could "hurt" to try — like trying to do your own electrical work without proper safety techniques (ask me how I know this one) or other more dangerous activities.
We should all use some common sense when applying the "does it really hurt to try" philosophy to our lives. However, for the most part, I am a firm believer that you won't know unless you give it a try… and what can it hurt to just try it?
It might be out of your comfort zone, but the next time you're tempted to text a friend, ask for suggestions on social media, or convince yourself you can't do it, I'd love it if you simply try doing it yourself to see what happens.
You might be surprised how much you learn in the process!
What was the last new thing you tried?