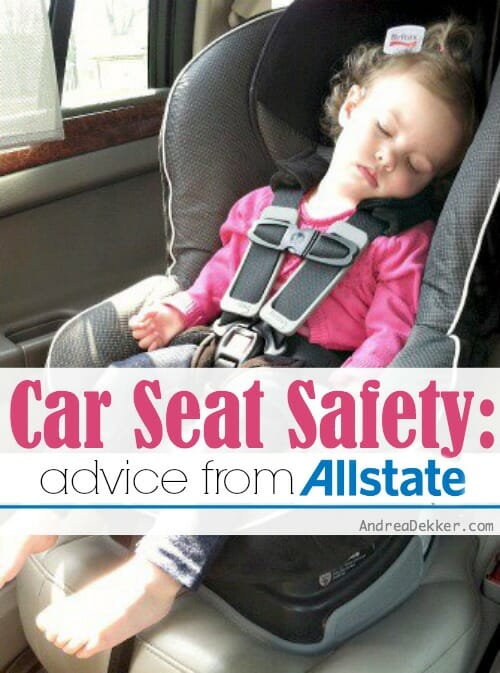 Over the last few years, I've gotten many questions about the car seats we've chosen for our kiddos — especially since some of the pictures I share are of them in their car seats. I've also gotten a decent number of questions about car seat safety — most of which I never felt qualified to answer 🙂
So when the people over at Allstate insurance recently contacted me and asked if I would be interested in writing a few blog posts about anything home or auto related, I knew exactly what I wanted to talk about — car seat safety!
Over the past month or so, I've been able to email back and forth with Allstate and ask them a ton of the car seat safety questions (including all those questions from readers). I learned a lot in the process and am excited to share some of my findings today!
Before I get started with the expert advice, I'd like to first share what type of car seats we use for our kiddos, the reasons why we chose those car seats, and our opinions about the different seats.
Our Infant Car Seat:
We have the Peg Perego Primo Viaggio SIP 30-30 infant car seat.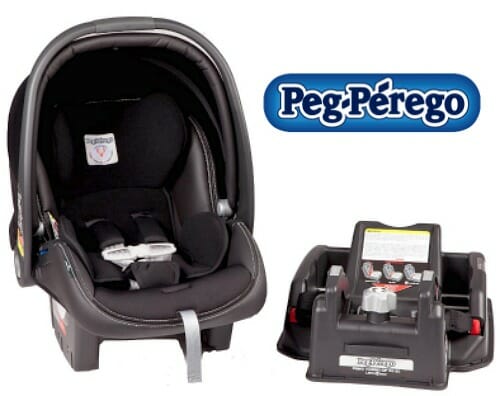 The main reason we opted for this infant car seat is because we had a couple friends who highly recommended it — AND I found an amazing deal on a Peg Perego single stroller via Craigslist. So since the car seat fit the stroller (and I loved the stroller), we figured it was a no-brainer.
I also loved the extra SIP (side impact protection) and the fact that this particular infant seat could accommodate an infant up to 30 pounds (which could potentially be helpful if Simon keeps chunking out like he is!) There are tons of awesome features I love about this car seat and I'm SO glad we opted for this seat.
The only somewhat negative thing about this seat is it does seem like it's quite "tall" from the bottom of the base to the top of the car seat. This is not an issue for my vehicle, but it might be more difficult to get in and out of a smaller car.
And speaking of the base, we purchased 3 extra bases (all off Craigslist) so Dave and my sister can each have a base in their car — and then we have one extra base to loan out if a grandparent is taking Simon.
Our Convertible Car Seats:
We have 2 of the Britax Marathon 70-G3 Convertible Car Seats.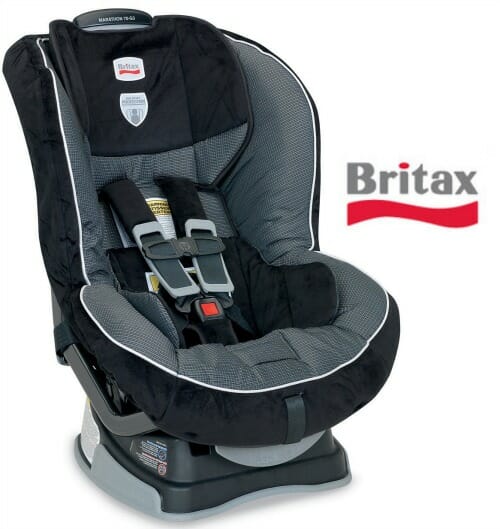 We received our first Britax free after a freak car accident when Nora was 6 months old. We loved the seat so much that we eventually started looking for another one for Dave's car. We were fortunate to find one used (from a friend and not expired) that works wonderfully for the few times Nora rides in Dave's car.
The main reason I chose this car seat is because when I asked around on Facebook, the overwhelming majority recommended a Britax convertible seat. I looked around on Amazon and decided on this one as it had one of the largest weight/height range — as well as several other features I was looking for.
Although we didn't use it for Nora until she was a year old, this seat is apparently safe for even tiny infants (in the rear-facing position).
Nora loves her seat and so do I. It's SUPER comfortable and easy to get her in and out of — she can actually climb up in it by herself and get the chest strap buckled on her own!
Our Extra Car Seats:
We purchased 2 of the Cosco 40RF car seats for our parents' cars.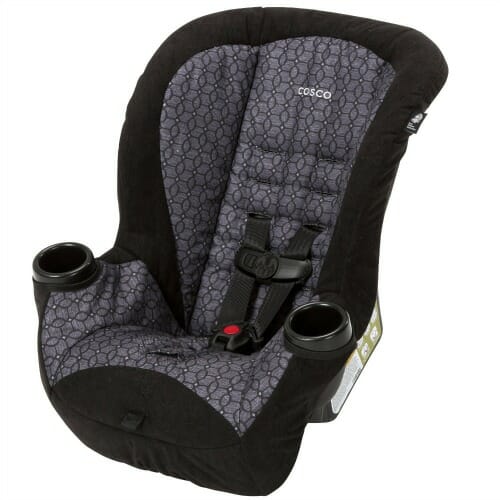 Since both Dave and my parents live only a few miles away, we decided to purchase a less-expensive Cosco car seat for each of them. This way, they can have a car seat if they want to go on an outing with Nora and we don't have to hassle with moving seats around.
From what I've read and heard from friends, these car seats are actually really great for the price (we got ours for $40, with a coupon, from Meijer). So far, we've been very happy with them and Nora seems to like them as well.
As far as safety is concerned, I feel like the Cosco seats are excellent — the cheaper prices are simply because they don't have all the "bells and whistles" or other convenient add-ons like our Britax car seat. I'm not sure if I would love the Cosco seat for our everyday car seat, but for the few times Nora sits in our parents' vehicles, this car seat is fabulous.
OK, so these are the seats we currently use. Obviously, we're not ready for booster seats yet, but when that time comes, I'm sure I'll do an updated post with that information 🙂
Now, it's time for Allstate's answers to my car seat questions…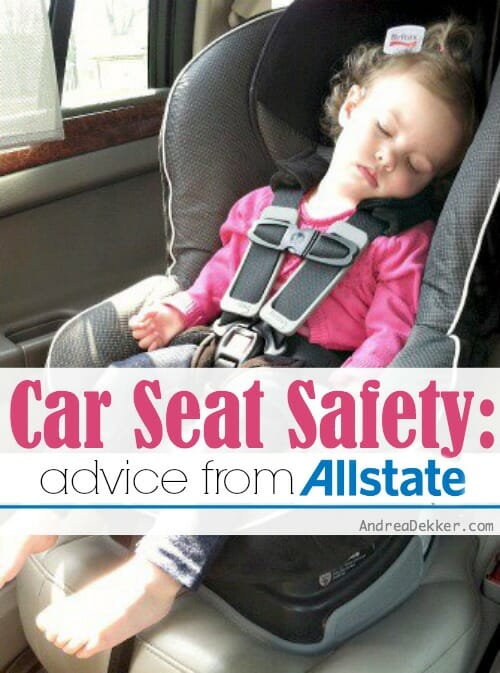 Is it safe to fasten an infant car seat with a seat belt instead of using a base?
We almost always use the base to secure the infant car seat in our vehicles, but there have been a few times when we need to travel in a different vehicle so instead, we secured the car seat with the seat belt (as directed on the car seat instructions). I always felt a little guilty every time we had to do this — like it wasn't nearly as safe, but apparently, it is OK!
Here's what I learned from Allstate…
It IS ok to use the seat belt to buckle the car seat in, BUT also use the tether system if possible. All child safety seats and vehicles manufactured after 2002 must be compatible with the LATCH system (Lower Anchors and Tethers for Children). Also, some cars manufactured between 1999 and 2002 also have the system.
How long should children be rear-facing? And why?
I feel like this has been a hot topic among parenting circles over the last 18 months or so. When Nora was born, the "rule" was 1 year rear-facing — but now I've been hearing 2 years (or even longer!) I was definitely anxious to hear what Allstate said regarding these questions.
Here's what I learned…
Birth – 1 year: Rear-facing child car seat in the back seat of the car.

1 – 3 years: Rear-facing child car seat in the back seat until they outgrow the weight and height limit of the car seat. (Normally, when children are over 1 year old and weigh over 20 pounds, you can switch to a forward-facing seat.)

2 – 7 years old: Forward-facing child seat in the back seat until they reach the weight and height limits recommended by the manufacturer.

8 – 12 years old: Booster seat in the back seat until your child is big enough to use the car's seat belt (80 pounds is currently the weight when a child can "graduate" from a booster).
Are expensive car seats always better?
You know me, I'm always looking for a deal! The only reason we have a couple more expensive car seats is because we either bought them from friends, got them for free, or found a REALLY good deal on Amazon (and used Amazon gift cards earned from Swagbucks). If it wasn't for those deals, we most likely would have much less expensive car seats — and thankfully, based on the answers below, that wouldn't have been bad!
Here's what I learned…
We looked at a variety of sources including Consumer Reports, NHTSA safety ratings, and the Baby Bargains ratings to make our decision. We found that some cheaper brands actually held up better in comparison to the more expensive ones.

One expert personally used a cheaper car seat that had better ratings than a much more expensive model, so more expensive does not always mean better and safer.
Is it OK to buy used car seats if you have them inspected?
We have personally purchased used car seats — but we knew the previous owners and felt confident that the car seats were still in very good condition. I realize buying used isn't for everyone, but in our situation, we did not feel like we were compromising the safety of our children in any way.
Here's what I learned…
Try as best you can to buy a brand new (rear-facing or convertible) car seat — that way you won't have to worry about whether or not it had been recalled for safety reasons. And also, you will get more use out of a brand new car seat since the car seats have expiration dates.
Is it OK to attach toys to a car seat?
In the past, we have attached small toys to the handle bar of our infant car seat — but then I learned we weren't supposed to do that. Now I just keep that toy in the diaper bag and attach it before and after the car ride so Simon can still play with the toys while we're in the store or going for a walk.
Here's what I learned…
NO this is not OK. The toys can become dislodged and turn into a projectile in an accident. Unfortunately, there is no way to safely attach toys to a car seat. Your best bet would be to give your child something soft she/he can just hold in her hand.

One rule of thumb is that a toy is not safe for the car if it hurts when you toss it at your head or your spouse's head 🙂
What is the purpose of car seat expiration dates?
I'll be honest; car seat expiration dates have ALWAYS bugged me. After all, if it's not in an accident, how can something that simply sits in a car expire? I never really paid any attention to car seat expiration dates before — but after reading Allstate's response (see below) I realized that there is actually a reason for the expiration dates.
If you're wondering, car seats usually expire 6 years after they are manufactured, and you should be able to find the expiration date (or the manufactured date) somewhere on the car seat itself.
Here's what I learned…
There are a few valid reasons why you need to stop using the car seat once it passes the expiration date:

1. Technology Improves and Standards Change. A good example of this is that back in 2002, car seats were not equipped with lower anchor and tethers for children. Now, however, they are a standard feature in nearly all car seats. Car seat expiration dates ensure that seats being used are current with updated technology.

2. Materials Wear Down. Car seats were not made to last forever. Over time, the seat base can develop hairline fractures which may shatter in a crash and belts can become slightly elastic after years of use.

3. They are Only Tested for a Certain Period. After a certain amount of time, manufacturers stop testing older seats. This means they cannot attest to how older seats will perform in an accident.
OK, so those are the questions I asked and the answers straight from Allstate! I know I learned a few things from my Q&A session with Allstate — and I hope you did too.
Obviously none of us would ever knowingly put our children in danger, but I was surprised by how many of these car seat "best practices" I wasn't following (and a few rules I was breaking too!)
Do you have any other questions you'd like me to ask? Or any other car seat tips or advice you'd like to offer? Leave them in the comment section and I'll pass them along to Allstate!
This post was written as part of the Allstate Influencer Program and sponsored by Allstate. All opinions are mine. As the nation's largest publicly held insurance company, Allstate is dedicated not only to protecting what matters most—but to guiding people to live the Good Life, every day. For more helpful tips like this, visit the Allstate Good to Know community.