Landscaping
posted by Andrea | 06/18/2012 | 9 comments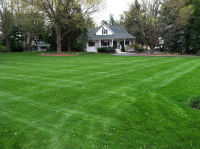 First of all, let me just start by saying that I am far from an expert on grass maintenance… but since Dave and I love a nice green, lush lawn, we're doing our best to figure out how to appropriately take care of our HUGE front lawn and keep it healthy and green all summer long.
Today, I'm sharing a few of the tips we've learned about lawn maintenance over the past few years.
posted by Andrea | 05/2/2012 | 10 comments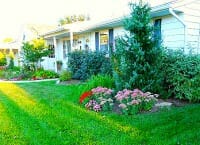 Last week I showed you a few pictures of how we transformed the landscaping at our old house. We did almost all of the work ourself, and we actually got most of the plants completely FREE.
Now that we are slowly starting to "freshen up" the landscaping around our farmhouse, I've started to hunt for more inexpensive plants — here are 4 ways I've been able to find free or almost free plants.
posted by Andrea | 04/24/2012 | 25 comments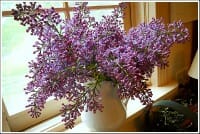 I learned so much about different plants during the 4 years we gardened at our old house. And now that we're in our new house — with tons more land area — I've been itching to start doing a bunch of yard work.
However, while I love planting, I don't love all the maintenance involved in taking care of my plants — especially now with a baby and all the other projects we're working on INSIDE our home. So this year, I'm sticking to low-maintenance perennials… and these are a few of my favorites!
posted by Andrea | 07/16/2011 | comment
The following is written by Jakob Barry of Networx.com:
posted by Andrea | 07/9/2011 | 9 comments
Many of you already know about my obsession with old farmhouses! I've dreamed of living in one for as long as I can remember. And one of the many things I love about our old farmhouses is the mature landscaping. Even though our yard is not nearly as nice as it could be, I have fallen in love with the HUGE hydrangea bushes on the north side of our house. They are absolutely stunning and currently in full bloom! Do […]
posted by Andrea | 04/14/2011 | 7 comments
The weather is finally starting to warm up here in West Michigan, and we even opened the windows a few times! After a long, cold winter, it's hard not to love everything about spring. But the one thing I look forward to the most is watching the first flowers start to pop out of the ground. And since we moved in the middle of winter, I have been SOOOOOO anxious to see what type of plants were covered by all […]
posted by Andrea | 08/11/2010 | 13 comments
When we bought our house over 4 years ago, my dad promised to build us a shed "someday". Well, someday happened last Fall. He finally had the time to build it and I got to customize it! I still have a ways to go with the outside, but the inside is super organized! I wanted to make it functional for all our storage and gardening needs but not go crazy, spending money on expensive storage. Here is what I came […]
posted by Andrea | 07/18/2010 | 3 comments
It's the middle of July which means my vegetable garden is finally starting to look good — it always seems to take too long! My garden is very small this year but I've already picked herbs, rhubarb, beans, zucchini, summer squash…and the tomatoes starting. I don't know about you, but I never get tired of cooking with produce I picked earlier in the day — it's amazing to eat food that's only a few hours old. However, this time of year […]
posted by Andrea | 07/12/2010 | comment
I love to garden. In fact, if I had my way, I would spend most of my summer hours outside in my garden. It's definitely not a perfectly groomed garden, nor is it professionally planned — I simply took plants that I liked and planted them where I thought they looked good. For the most part, my haphazard ways worked; and I learned so much in the process. However, since I don't have all day to spend in my garden, I made […]
posted by Andrea | 06/4/2010 | 2 comments
I decided to be very unproductive today and spend time taking (and editing) lots of picture from my garden! They turned out great; hear are a few of my favorites: Wave Petunias Verbena Pink Verbena Chives Iris Columbine Clematis Snowball Verburnum It seems that the "fruit" of all my extremely hard labor is finally starting to show…and I'm excited! We'll see what turns up the rest of the season. What are you growing in your garden this spring and summer?
posted by Andrea | 06/2/2010 | comment
Over the weekend, I was able to squeeze in a few hours of time to prepare and plant my vegetable garden. Since we are currently in the process of redesigning and re-landscaping our backyard, my vegetable garden had to be smaller than what it was in previous years. Because of this, I was forced to get a little more creative with the way I planted…good thing I love a challenge! So, I did a little research and found a bunch […]