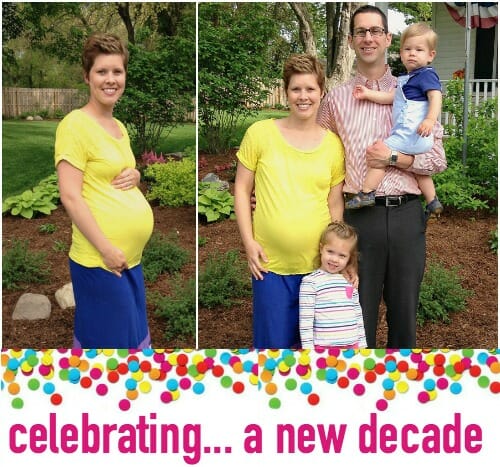 Today is my 30th birthday!
I definitely don't feel "old" — in fact, I feel like I'm finally "old enough" (if that makes any sense!)
Most of my friends are several years older than me, so although I'm the oldest of my siblings, 30 really doesn't seem like a big deal at all. I promise there is no part of me that feels depressed or sad or upset or anything negative.
However, it IS definitely a reason to celebrate — which we're doing all week long here on the blog!
In case you missed it yesterday, I'm giving away over $1500 of prizes this week, click here to see them all and enter to win!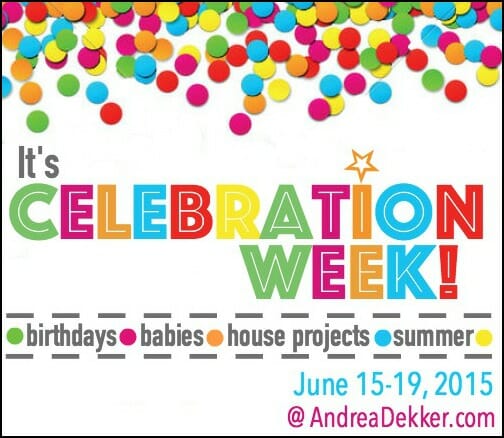 Sometimes I think about what decade of my life I'll love the most. For the record, I predict my 50's or 60's — as long as I have good health.
I think my 30's will mostly be crazy and SO filled with taking care of babies and little people that I probably won't have a ton of time for myself — and that's OK. I'm told I will look back on these crazy years and miss them one day — you know, because they go so fast 🙂
I also often wonder if my 20's will be the decade with the most change. Obviously, there's no way to tell right now, but when I think back over the past 10 years, it's crazy to think of ALL the changes that occurred.
Only 10 years ago I was in college, completely "free" to do what I wanted to do, no real knowledge of what it would be like to be married, have a "real job", buy a house, have children, start a business, etc.
I went from living with my parents (during the summers) to being a parent myself!
I went from listening to college lectures to speaking in front of hundreds of people about simplifying and organizing.
I went from hardly even checking my email on a regular basis to running a full-time business completely from my computer!
Certainly, a lot has happened over the past decade — and most of it has been really good.
10 years

9 (almost) wedding anniversaries

8 new in-laws (not including nieces and nephews)

7 different jobs (full-time and part-time)

6 different vehicles

5 years of blogging

4+ years of farmhouse renovations

3 (almost) babies

2 different homes

1 fabulous guy who experienced it all with me
One thing that struck me as I was making the list above is that my 20's were the first decade that Dave has been a part of (maybe that's why my 20's were so good!)
I didn't meet Dave until I was almost 19, and he proposed a week after my 20th birthday — so we spent the entire decade together, and hopefully many more to come!
In case you're wondering how I'm "celebrating" today… here's a rundown of how I think my day will go.
Hopefully sleep in a little bit
Donuts from a new place in town (Nora's request)
Dr. appointment at 10:30 (I get to hear my baby again!)
Lunch and maybe work on a few house projects during Simon's nap
An early dinner — probably going out somewhere with Dave so I won't need to cook!
Play with the kids after dinner, maybe go for a walk
Watch some Netflix with Dave after the kids are in bed and scroll through my facebook birthday wishes 🙂
Hopefully get to bed more on time than I have been
No, we're not doing anything special to celebrate — but I'm completely fine with that.
Over the years, we've had enough 30th birthday parties and surprise parties within our groups of friends and relatives to make it feel like "old news" now. Plus, when your 30th birthday is in the middle of the week, you have 2 little kids, and you are hugely pregnant, there's not a whole lot I feel like doing!
We'll save the crazy party for my 40th birthday… maybe!
Just for kicks, here's how I spent my last 4 birthdays here on the blog:
My 29th birthday (I loved writing this post)
My 28th birthday (another giveaway)
My 27th birthday (gave away 27 of my favorite things)
My 26th birthday (celebrated with a week of 26 giveaways)
Although we're not doing anything super special today, I'm certain I will still feel loved, appreciated, and celebrated. I'll probably get lots of sloppy Simon kisses, a bunch of handmade gifts and pictures from Nora, and maybe some extra free time to relax thanks to Dave being home all day.
Sounds like a pretty good 30th birthday to me!
Cheers to celebrating another decade of life!