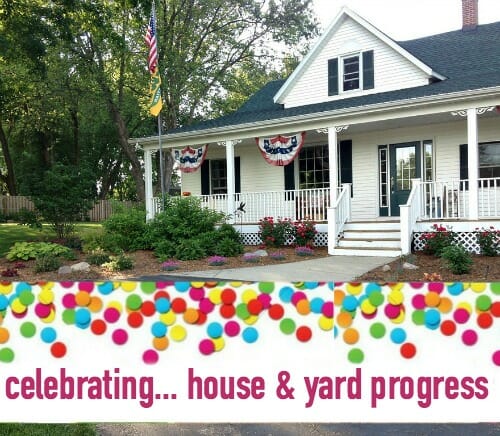 No, we're not completely finished with everything on our "summer to-do list" (and you know there are ALWAYS more projects when you live in a 125 year old home) but we have made REALLY good progress over the past 10-12 weeks!
Although I can't share all the official "after" photos just yet (because we're not quite finished) I CAN share a whole bunch of "progress" photos so we can celebrate how far we've come in only a few weeks! And yes, I will most definitely be sharing many more before/after photos in future posts throughout the summer and fall as we officially finish all the little details of each project.
Just a quick reminder… if you haven't entered to win all the fabulous Celebration Week Giveaways, you might want to take a moment to do that (after you finish reading this post!)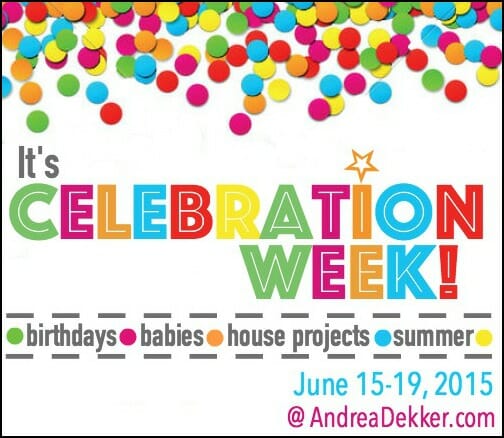 I think the best way for me to "organize" this post and not totally overwhelm you is just to start making a LONG list of everything we've done in chronological order.
Then, at the end, I'll list off the things we still need/want to do.
.
APRIL, 2015
Although we usually try to wait until closer to summer to tackle house and yard projects, we knew we wanted to get a jumpstart on them this year, in an effort to finish as many of them as we could before the baby arrives.
So the week after we got back from our Spring Break vacation, we had tree trimmers come to chop down 11 trees and grind out the stumps (something we definitely can't do ourselves).
That same week, we had the roofers come to tear off and replace our new roof (yay for no more leaks in our bedroom and attic!)
After that, Dave got to work finishing the last stretch of privacy fence where the previous trees and stumps had been.
I worked frantically to prune shrubs, deadhead perennials, and clean up all the yard waste, leaves, pine needles, etc. that were in our existing planting beds. I also dug up, split, and transplanted some of our existing perennials to new places in our landscape.
I spent a fair amount of time deciding on (and ordering) our bathtub, shower fixtures and tile for the upstairs bathroom… and picking out paint colors for Simon's new bedroom renovation. For the record, I did NOT go with a shade of white. I totally branched out to light grey 🙂
MAY 2015:
My dad helped us with some demolition in the upstairs bathroom and then we had a plumber come to install the tub. Then we could prepare the walls for the tile guy to come… and THEN our kids were finally able to enjoy having a "swimming pool bathtub" for the first time ever!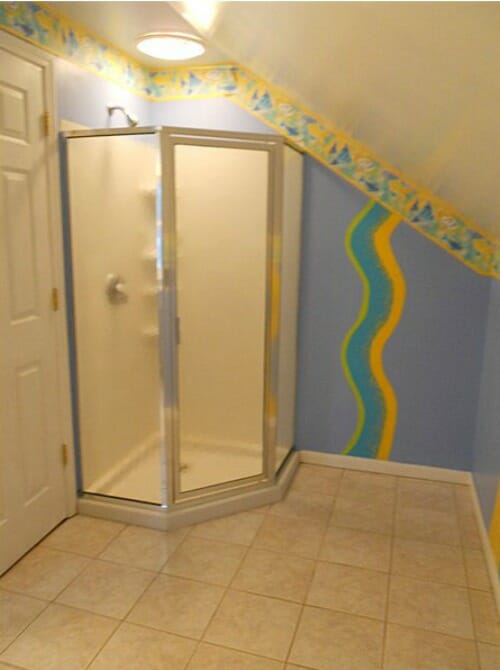 We tackled a MASSIVE amount of landscaping in May — and nearly finished all the landscaping projects on our list!!!
We had a 3-year plan for our landscaping and this was the third year, so aside from a few minor details (like a nice-looking vegetable garden) we are essentially finished with big landscaping "projects"! Of course, we still have lots of maintenance to do, but that always seems more manageable and enjoyable for me than one big project.
This year, the plan was to have several trees and shrubs planted along our driveway and East side of our house, along with hundreds of perennials (many of which I transplanted and split from other areas in our yard). The plants still need to grow and fill in quite a bit — but we've definitely come a LONG way in 3 years!
After the plants were in, Dave fixed and tweaked a bunch of our underground sprinklers (we needed to add a few lines and some extra valves to make sure all the new plants got water) and then Dave and I spread 35+ yards of mulch!
Nora "helped" me plant over 500 annuals and vegetables for our vegetable garden, and then I spread a bunch of fertilizers.
When it was too dark or rainy to work outside, I squeezed in a little time to finalize Simon's one-year book — and then ordered it when a really good Blurb sale popped up (35% off!) I'm all caught up on our 2015 family photo book too — right through last weekend 🙂
JUNE, 2015:
We had our entire house, garage, and extra garage professionally power washed at the beginning of June. We do this every few years as our white siding gets SO dirty and professional equipment does a much better job than our "amateur power washer!"
We took a couple hours one afternoon to clean out our main garage and spray down the floor… and we totally cleaned out our extra garage, selling a bunch of things we no longer needed on Craigslist (including Dave's car). We made over $3500 in one weekend!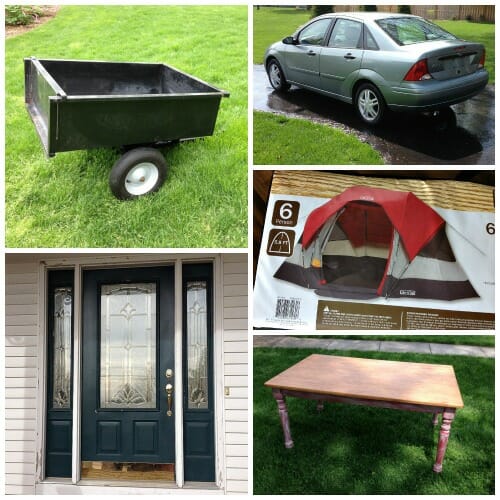 After the outside of the house and garages were taken care of, we switched our attention back to the inside and officially moved everything out of our former "guest bedroom" in order to make a space for Simon's new big boy bedroom. Then we had all our carpets cleaned (nothing better than professionally cleaned carpet!)
The day after the carpets were cleaned, I gave Simon's new room a fresh coat of paint, repainted all the trim white, and started moving furniture in.
We have BIG plans for this room down the road, but we just don't have the time or energy to start a huge messy construction project before this baby arrives. So for now, his new room is cute enough and good enough for him to play and sleep.
In another year or so, we'll do a complete overhaul, tearing out much of the drywall, adding a 2nd closet to recoup some wasted attic space, a fun wall-treatments (to cover how uneven the walls currently are), a new light, new trim, and DEFINITELY new carpeting! !
I can't wait to share all of our before and "current" photos with you soon — but I still have a few things to wrap up yet. Until then, you can see what it looks like currently — which is still A LOT better than it looked a week ago!
After we got the furniture into Simon's new room, I turned my attention back to the upstairs bathroom while I waited for Simon's bedding and curtains to arrive in the mail.
I hung hooks on the back of the door, finished painting that room and added a few new features. As I mentioned in this post, the upstairs bathroom is another room that we're renovating "half way" right now. We have BIG plans for this space — including knocking out a wall, expanding it, adding a larger double vanity, and potentially separating the shower area from the sink/toilet area. But we aren't ready to do that just yet.
For now, a fresh coat of paint, new storage cabinets, some new towels and rugs, and a beautiful new bathtub are just going to have to do it.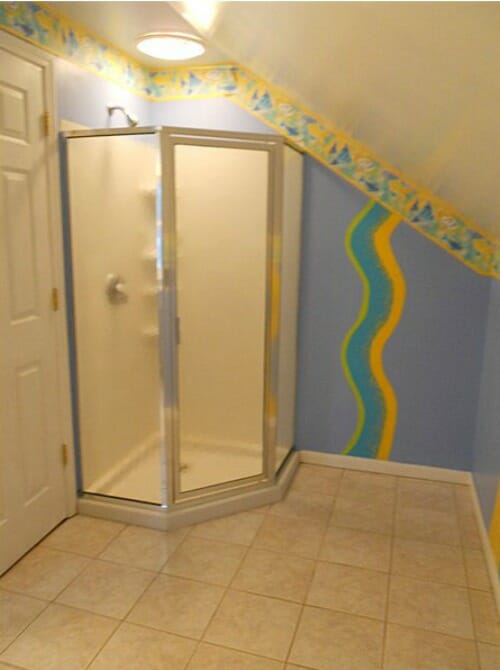 Obviously, we still have several finishing touches to put on this bathroom "mini makeover" — like a mirror, a new light, and a counter over those cabinets… but I'm honestly REALLY happy with how great this room looks (considering how hideous it looked when we moved in).
At this point, I'm OK with waiting a couple more years to do the major renovation since this bathroom is completely sufficient for our needs. And yes, I'll be doing a full before/"after" post sometime later this summer!
.
The most recent projects we tackled were cleaning out the gutters (Dave's job) and majorly cleaning out both our cars, and washing all the carseats (my job).
We also rearranged how the car seats are situated in my car to make room for another infant car seat. Wow — was that A LOT more work than I planned… but at least it's finished.
What's Next On Our List:
My next priority is to finish Simon's big boy room and the upstairs bathroom. Then I'll FINALLY get the nursery ready for the new baby (with about 10 days to spare until my due date!) All the clothes and bedding are washed and ready to go — and I won't be changing furniture or paint colors in the room. So basically, just giving it a good deep clean, filling the drawers with newborn diapers and clothes, and getting a few of our newborn toys and infant things out.
I'm also hoping to put a few more things in the freezer before the little guy arrives, but that's not a major priority right now as I know I have plenty of simple go-to meals that I can quickly and easily whip up, even with a new baby. Plus, Dave is home… so he can always grill 🙂
Dave's next projects are to finalize a couple more things with our underground sprinkling and then put in a new mailbox.
We're also hoping to build another shed off our driveway. It will be larger than the shed we built last spring, but I'm hoping it will have a very rustic feel to it again. We're thinking something like this — isn't it cute 🙂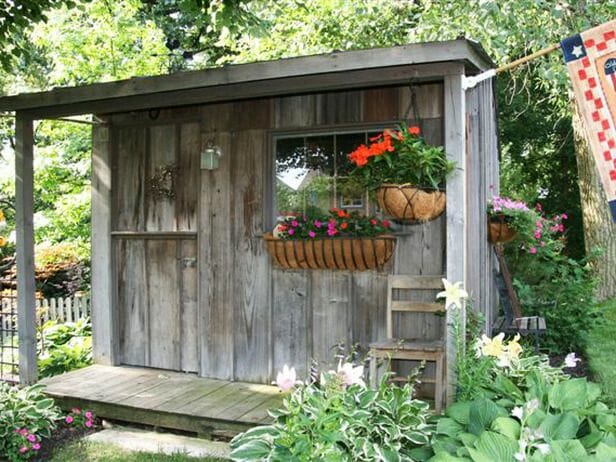 After that, we promise to take a break for a while!
.
Yes, we have A LOT to celebrate in terms of the number of house and yard projects we've crossed off our list the past 10-12 weeks… all in an effort to hopefully NOT be as busy the next 10-12 weeks.
Dave and I have had many late nights and early mornings trying to squeeze in a few more projects while the kids are sleeping — and I'm happy to say, those extra hours have paid off.
We are both extremely happy with everything we've accomplished so far… we keep saying "I can't believe how much we did in just a few weeks!"
I think we're also excited to spend a little more time relaxing after the baby arrives — which is what we're celebrating here on the blog tomorrow! Make sure you come back!