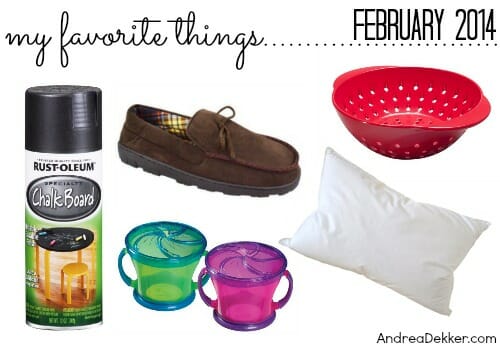 After skipping the month of January (I had too many other posts I wanted to write) I'm back with more of my favorite things. I had such a long list of things I wanted to share with you — but I just picked a few and will save the rest for next month! And as always, be sure to check out some of my favorite things from past months.
DISCLOSURE: None of these products are sponsored in any way; however, some of the links below are affiliate links — which means I may get a VERY small percentage of the sale if you make a purchase through my links. However, I hope you know that I'm only promoting the products below because I use them EVERY SINGLE DAY in my own home and life! Read my full disclosure policy for more information.
Mens Slippers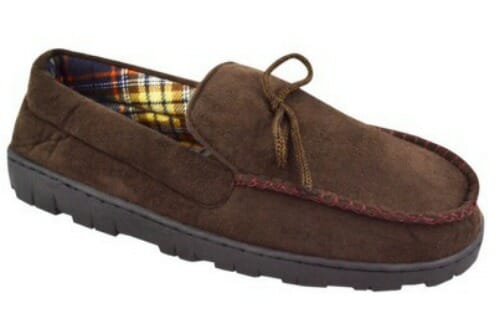 Yes, you read that right!
For my entire adult life, I've been buying a new pair of women's slippers every single fall (not super abnormal, I realize this). However, since I basically wear my slippers all day, every day, starting in September, they were almost always worn out by February. This meant I often had to buy a new pair of slippers mid-winter to last me through the rest of the cold MI winter and cool spring days with our wood floors.
I could almost always get the 2nd pair deeply discounted via the clearance rack — but it still bugged me that one pair of slippers couldn't make it through an entire season for me.
Then, in the fall of 2012, Dave told me he was in need of a new pair of slippers (probably for the first time in several years) and when I got to the mens' slipper aisle to scope out potential options for him, I started thinking… I wonder if mens slippers would work for me too?
I found the pair I wanted for Dave and actually ended up purchasing the exact same pair for me in the smallest mens's size. I normally wear a women's size 8 (which probably transfers over to a mens size 6); however, the smallest mens size they had was a 7. So I bought it and figured they would work well with nice thick socks.
It's officially been 18 months since I purchased my first pair of men's slippers and they are holding up fabulously! I've saved a bunch of money by not needing to replace them multiple times each winter, and Nora thinks it's hysterical that Dave and I have matching "swippers" 🙂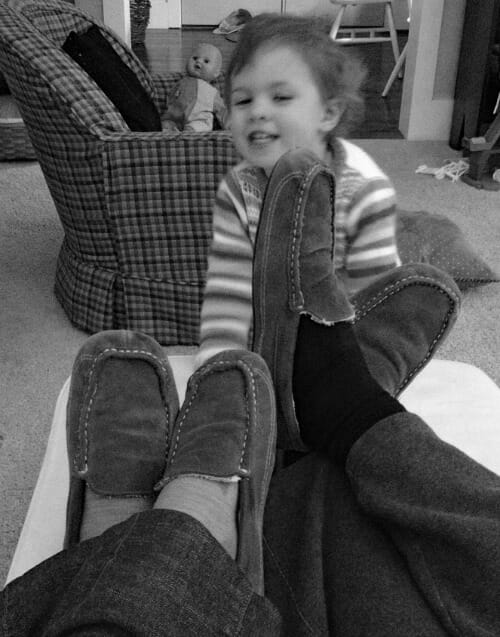 I have a feeling these slippers will hold up just fine through the rest of this winter / spring and even into next year.
Oh, and if you're wondering, I got them from Target on a BOGO 50% off sale back in 2012. I don't know the brand name, but I've seen similar ones at Target since. (NOTE: The top slipper picture is not the exact pair we have — just a similar pair on Target's website)
.
Chalkboard Spray Paint

Over the years, I've tackled my fair share of painting projects — and have really come to enjoy painting furniture especially. It's amazing how I can totally transform something old and worn into something new and useful with a simple can of paint!
And lately, I've been doing a decent amount with chalkboard paint. I used it once a few years ago — and then again when I made the chalkboard for Nora's play closet under the stairs. However, I recently broke it out again to spray paint a couple thin pieces of wood board we had lying around the house to create more chalkboards for Nora (she's REALLY into chalk these days).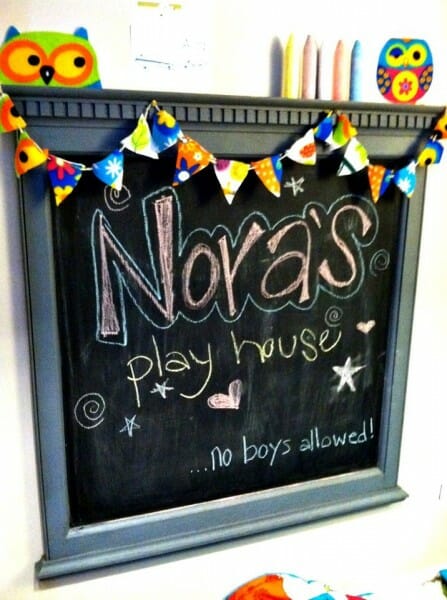 Within 24 hours, Nora had an instant chalkboard that she could color on to her heart's content!
My favorite brand of chalkboard spray paint is Rust-Oleum — I think it gives the best coverage and the over-all best finished results. However, I obviously haven't tried every single brand out there, so I'm sure plenty of other brands are adequate 🙂
.
Miniature Kitchen Colanders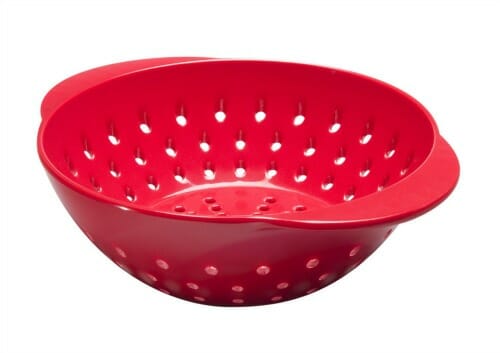 As some of you already noticed (and questioned about) when I made Nora her DIY play kitchen for her birthday this past fall, I stocked it with some teeny tiny (but actually real) kitchen gadgets and utensils.
I found some tiny spatulas, spoons, bowls, and plates at a local thrift store, and I splurged and paid $2.99 for a super mini colander I found at the grocery store (totally by accident!). It's only about 5″ in diameter across the top — and literally the PERFECT size for her tiny little hands and her miniature kitchen!
After watching her play in her kitchen, I realized that I could get a lot of use out of a tiny colander too — so I picked one up for myself a few months ago and have been using it multiple times a week ever since!
I use it for rinsing small amounts of fruits, veggies, small portions of pasta (Nora and I eat lots of pasta for lunch), and for draining grease from smaller portions of ground meat. I think it has honestly been in the dishwasher every single time I've run it since early December — and we run the dishwasher at least every other day!
Such a handy little kitchen tool and so inexpensive!
I couldn't find the exact product on Amazon (I purchased mine from Meijer, by the way) but here's the link to a VERY similar colander.
Down Pillows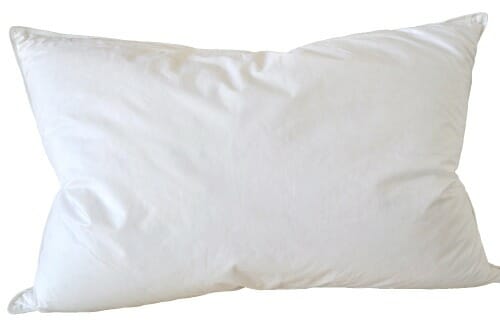 For our wedding, Dave and I were gifted with 4 amazingly comfortable down pillows from The Company Store. At the time, I didn't realize how nice they were compared to normal pillows — nor did I realize how expensive they were — all I knew is that we loved them!!
Well almost 8 years later, we're still using (and loving) those pillows — and although the tag says "dry-clean only" I've been washing them twice a year, every year, in our washing machine with absolutely no issues.
These pillows are amazing — and for the last couple of months, I've basically been packing them all around me to get comfortable at night — some behind my back, one between my legs, etc. etc. They literally mold to my body and make my restless nights a bit more comfortable!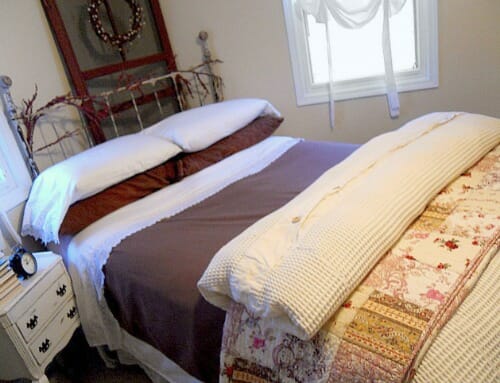 While true down and feather pillows are more expensive than other options, I honestly don't think I'd hesitate to buy more if we ever needed to replace ours. They have held up so fabulously over the last several years and really do make the time I actually get to spend in my own bed much more relaxing and enjoyable!
.
Munchkin Snack Cups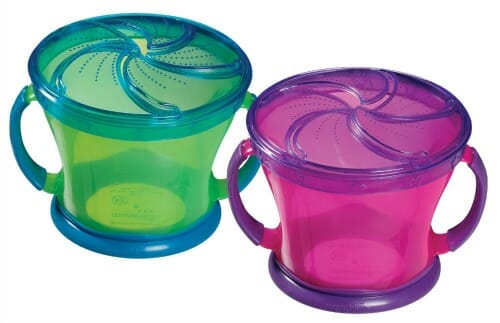 I realize it's probably a little late in the game for me to FINALLY be sharing these snack cups with you — but since Nora was also "late to the game" when it came to eating any type of solid food, we're just now starting to find all these really fun toddler feeding accessories.
These Munchkin snack cups are some of our favorites — and I'm honestly amazed at how well they prevent spills and crumbs from getting everywhere around our house.
And with a price tag of less than $5 for 2, they were definitely worth the investment.
Nora loves eating out of her "nack cups" and I love that she's eating anything independently. They're also super nice for the car or bringing along anywhere as they honestly don't spill.
We fill ours with everything from fish crackers, pretzels, and chips to grapes, apple slices, blueberries… and the occasional marshmallows and chocolate chip treat!
.
That's all for me this month.
Make sure you check out my previous months' favorite things — and feel free to share some of YOUR favorite things in the comments below!