Yummy BrocoSlaw
posted by Andrea | 12/12/2013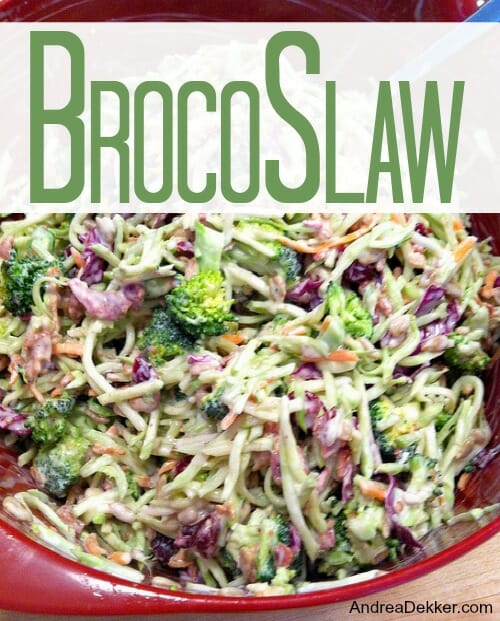 Although I absolutely LOVE cooked cabbage, I've never been a huge fan of coleslaw — even the really good homemade stuff.  If someone serves it to me, I'd eat it — but I'd never choose it on my own.
However, when it comes to BrocoSlaw, I'll almost always go back up for 2nds or even 3rds. I love the stuff!
BrocoSlaw is such a simple side dish to make, and it's versatile enough to work with backyard BBQ's, a simple sandwich buffet, or even a ham dinner.
Recipe for BrocoSlaw:
Serves 12-16
INGREDIENTS:
2 12 oz. packages Broccoli Slaw mix (it's by the lettuce in most grocery stores and usually only $1-$2 per bag)
1 head broccoli; washed and chopped into small bite-size pieces
1 16 oz. bottle Coleslaw dressing (or you can make your own)
OPTIONAL INGREDIENTS:
Add 1/2c. to 1c. of any of the following ingredients for some added flavor
craisins, raisins, or dried cherries
bacon bits or chopped bacon
nuts (I like sliced almonds or candied peanuts)
sunflower seeds
**I often add all the optional mix-ins as I love the sweet and salty together.
DIRECTIONS:
Mix all ingredients together in a large bowl (reserving a little of the dressing for later if necessary).
Cover and let sit for a few hours (I usually make it in the morning if we're going to eat it for dinner that night)
Stir well before serving and add more dressing if needed.
See, I told you it was easy 🙂
I made this as a side dish for Nora's birthday party, and several people asked me for the recipe — so I know I'm not the only one who loves this simple side dish.
Not only is it really easy to make and delicious, it's also easily customizable for your own tastes, and it can be made several hours ahead of time so there's no last-minute prep work — making this the perfect dish to bring along for holiday parties or other functions.
What are your favorite make-ahead side dishes?
Visit my virtual recipe box for more simple, delicious, family friendly recipes!