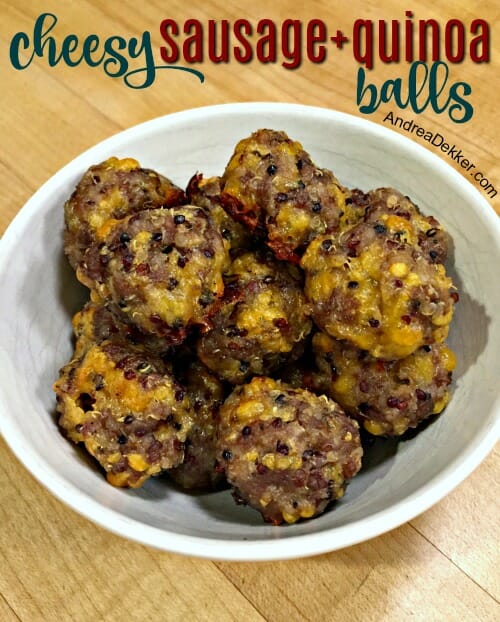 Our kids LOVE my meatloaf and homemade meatballs — I suppose it's because the meat is so soft and easy for them to chew (versus steak or pork chops). They also love breakfast sausage…
So a while back, I decided to make "breakfast meatballs" as I called them — using sausage, oatmeal, egg, seasonings, etc. Basically my normal meatloaf recipe, just with sausage instead of beef, and oatmeal instead of breadcrumbs.
The results were OK, but not amazing.
Awhile later, in an attempt to use up some leftover cooked quinoa we had in the fridge, I combined ground sausage and the cooked quinoa… and added a little cheese (because who doesn't love cheese!)
The results were FANTASTIC!
I skipped the egg entirely as ground sausage is much "stickier" than ground beef, and I didn't need any seasonings (not even salt) as ground sausage already has seasonings mixed in.
These Cheesy Sausage and Quinoa Balls have been a welcome addition to our hot breakfast rotation, a quick snack (yes, we eat them cold from the fridge) and even quite yummy with zoodles, spaghetti squash, or regular pasta noodles!
And just wait until you see how quick and easy they are to make!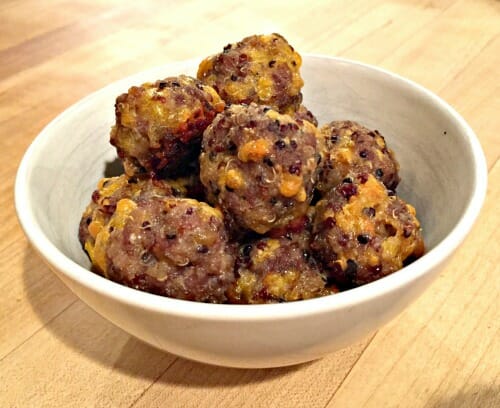 Recipe for Cheesy Sausage and Quinoa Balls
Makes 35-40 1″ balls
INGREDIENTS:
1 pound ground sausage
1 c. COOKED quinoa**
1 c. shredded cheddar cheese
1 T. cornstarch
pinch of black pepper (you won't need salt)
**NOTE: you can sub 1 c. cooked rice, 1 c. cooked oatmeal, or 1/2 c. bread crumbs if you don't have any quinoa on hand. However, the quinoa really does give great flavor and texture!
DIRECTIONS:
Preheat oven to 375ºF.
In a medium bowl, mix all ingredients until combined.
Scoop out heaping teaspoons of meat mixture, form into balls, and place on large baking sheet.
Cook sausage balls in preheated oven for 18-20 minutes, or until cooked through (longer if you make them larger).
Eat and enjoy, or refrigerate for later!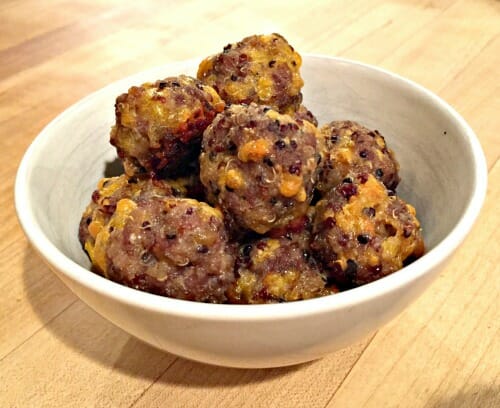 You can easily make these sausage balls in advance and store them (cooked or uncooked) in fridge or freezer. Just make sure to "flash-freeze" uncooked balls on a cookie sheet before you dump them in a bag together, otherwise they'll freeze together and you most likely won't be able to separate them!
Since I use cooked quinoa in my recipe, I can have these sausage balls ready for the oven in 10 minutes (seriously, I've timed myself)! If you need to cook the quinoa first, just follow the directions on the package and let it cool for a bit before adding the sausage, cheese, corn starch and pepper.
Thanks to all my research on grains, I've learned how amazing quinoa actually is, and we try to eat it very regularly!
I cook large batches of quinoa in my rice cooker, let it cool, and freeze it in zip-top bags or food storage containers. It goes well with so many different types of food, and I frequently add it into various casseroles, soups, stews, egg dishes, and even salads!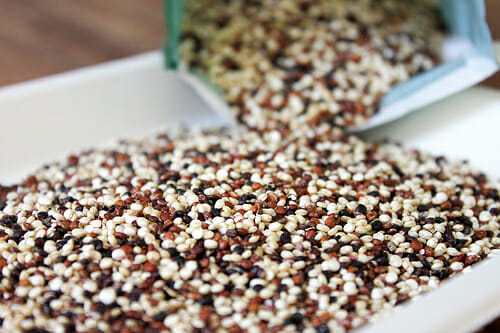 Quick Quinoa Facts!

Quinoa (pronounced KEEN-wah) is a gluten-free seed that acts like a grain (I sometimes grind it into flour for baking!)

It's a complete protein, providing ALL nine essential amino acids our bodies need (including Lysine, which is absent from almost all other grains).

Quinoa is loaded with healthy fats, iron, calcium, and vitamins. It's also super quick and easy to make, readily available in almost all grocery stores, and really tasty!
So there you have it — healthy, nutritious, tasty, and extremely simple!
What do you think, breakfast… dinner… or both!?
Visit my virtual recipe box for more simple, delicious, family friendly recipes!